New Leadership, New Energy
After a 30-year political career that includes stints in Congress and the state legislature, Nathan Deal won election last year as Georgia's second modern-day Republican chief executive, following Sonny Perdue.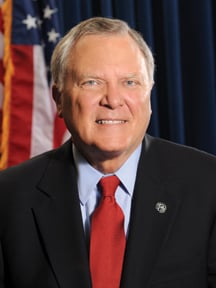 Georgia Trend's editors talked to Gov. Deal in his office at the Capitol last summer, in a wide-ranging interview that touched on immigration, water, education, ethics, criminal justice, tax reform and economic development.

Since the interview, the 11th Circuit Court of Appeal reversed an earlier ruling by Federal Judge Paul Magnuson that had endangered the metro area's access to water from lake Lanier.

Following are edited highlights from the interview.
GT: How is being in the Governor's office different from being in Congress?
Deal: The major difference is that the pace here is exceedingly fast compared to the pace in Washington. Also the feeling of accomplishment is much greater here because you operate within a shorter time frame and you can at least see the handiwork of what you've had a part in within the scope of the 40-day legislative session. In Congress, many times what you do is hidden in committee work.
GT: How has your legislative experience – in Washington and in Georgia – helped shape your leadership style?
Deal: My experience at the state level certainly gave me a feel for the way state government operated. I think my legislative experience at the federal level has given me a clearer understanding of where the federal government and the state government interact and hopefully a better way of defining where the state can assert responsibility. It's certainly been a good experience to know that some of the major players at the federal level are people I have personal relationships with, whether it be Ray LaHood, secretary of transportation, who I served with in Congress; whether it be John Mica, the Republican chairman of transportation in the House; or John McHugh, who is Secretary of the Army and has jurisdiction over the Corps of Engineers. All of those relationships come into play when dealing with issues like water, like transportation, which are major issues for our state and inextricably linked to what happens in Washington.
GT: While the federal appeals court was reviewing Judge Magnuson's Lake Lanier ruling, were you continuing to talk to the governors of Florida and Alabama?
Deal: Mainly with Alabama. We have felt we are in a much better posture to negotiate on the ACT [Basin] – Alabama, Coosa, Tallapoosa, which is just between Alabama and Georgia.
GT: Would you talk about the reservoir legislation that passed this year?
Deal: We put bond money in this year for a water project, and I think the general media concept is that it's only for reservoirs. It's not. There are other alternatives that are in some cases less expensive and certainly have a shorter time frame for becoming operational.
GT: Like what?
Deal: Things like deep wells in some parts of our state, things like aquifer storage in other parts. We're going to be looking at all of those. If all you are talking about is building reservoirs, you are not talking about a short-term solution. Probably a decade is about the shortest [time] you can realistically expect a reservoir to come into operational status. We need some things before that time. I've been encouraged about some other options [with a] much shorter time frame and much less expensive – increasing the height of some of our conservation dams already in place.
GT: How would that help?
Deal: They were initially created for flood control. Some of them, I am told, could be converted to water storage for human consumption and use. I hope the negotiations may include increasing the holding capacity of our existing federal reservoirs. I think raising the storage capacity of those is first of all a lot less expensive than building alternate reservoir sites. That's got to be a part of these final negotiations with Alabama and Florida. It makes sense that the linchpin of these negotiations is going to be what is going to be the water flow at the state line as it crosses out of Georgia to either Alabama or Florida. The more capacity you have within the state of Georgia to hold and be able to release in times of necessity, the greater your opportunity to be able to live up to whatever guarantees are being made about water flow at the state line. In the absence of that capacity in your reservoirs, you're out of luck. You can't meet the obligations. You have to depend on your reservoirs to at least augment and sometimes guarantee water flow at the state line.
GT: Do you worry about another prolonged drought?
Deal: Georgia is further ahead than many other states in terms of being able to have a water planning agreement in place. I think from a negotiation standpoint, that puts us in a very good posture. The metering of our water usage for agriculture in South Georgia is also a very important component. In the past, people could pick figures out of the air and say you're using X million gallons of water for irrigation. Now we know what we're using.
GT: Let's talk about the immigration law.
Deal: A substantial portion of the potential challenge to our statute was actually removed by the U.S. Supreme Court, by their ruling on the use of E-Verify. E-Verify is a component of the Georgia statute that had been challenged when put in place in Arizona. The court has now said that is a legitimate requirement a state can impose in terms of verifying the status of potential workers. I think there may even be more states that pass similar legislation at the state level, banding together by virtue of legislative action hopefully to send a message to Washington: It's time for you to address this problem. We acknowledge that we cannot solve this problem at the state level. But we can attempt to deal with the parts we have jurisdiction over.
GT: What about the effect of the new Georgia law on the agricultural workforce?
Deal: I did request that [Agriculture] Commissioner Gary Black do a very quick survey of the needs of agricultural workers in our state because we were in the middle of harvest season for some of our products – especially berry products. That came back with a little over 11,000 individuals needed. If you look at the breakdown, some of them were needed for only one day, some for a week, some for two months. A much smaller portion was needed for year-round. The legislation passed required the commissioner to do a more detailed report to legislature at the end of the year.

I think everyone pretty much acknowledges that the existing federal guest worker act program is not adequate. Not adequate in terms of the undue cost associated with it, undue regulatory burden of just trying to get the applications in and most important of all, the uncertainty of it. It is not a reliable program. I hope all this accumulation of state action as well as information gathering will furnish the impetus for Congress to address it.
GT: Do you worry that the law will have a negative impact on legal immigrants?
Deal: I don't see it as having any effect on anybody who comes here in compliance with our laws. Our nation and our state is a very welcoming state to those who come here appropriately. The ones we don't invite, that come anyway, are the real problem that we are addressing here. I think it [legislation] is an appropriate way for states to deal with the issue. When the federal government fails to do its job, as a general rule, it's the state and local communities that bear those costs. And there are three big [cost] areas: education, healthcare and law enforcement.
GT: Education has suffered some severe cuts over the last few years. What are your plans for Georgia's K-12 system?
Deal: Even though we faced a $1.4-billion shortfall, we added more money back in to K-12 funding. It was about $30 million. We are in the process, as a result of legislation passed this year, [of having] a study commission looking at the funding formula that we use for K-12 education.
The challenge is about how you deliver education and how you deliver dollars that drive education in a different way. We have been stuck in the past with some very rigid ideas about what improves education. Class size, for example. We don't want class size to get out of proportion, but I think most people would say an incremental increase of class size [is acceptable] if the quality of teacher [is there].

We have to change the dynamics of the way we look at public education. If there is one chink in our armor in Georgia in terms of recruiting business to come to our state, or encouraging the growth of those that are already here, it is the fact that our K-12 education system has some deficiencies. Our challenge is to figure out in a fair and equitable fashion, how do we put money into the system that brings everybody up?
GT: Georgia has a strong public system of higher education – technical schools, colleges and universities. The outgoing chancellor warned there may be caps on enrollment in the face of budget cuts. Are you worried about losing ground?
Deal: No. Those two areas we can be extremely proud of – our technical colleges and our colleges and universities. I am very encouraged with Hank Huckaby as the new chancellor. I think he brings the kind of background and experience we need. He will be a good voice for the Board of Regents in talking to the General Assembly. Even though they [public colleges] operate independently, they depend on appropriations from the General Assembly. Our technical college system – we're going to continue to see strains on that system. The economy has created part of it, but also as people not only lose their jobs but need additional training to evolve into the job requirements of the future, our technical colleges are called upon to provide educational support. Of course they are funded directly by the state, and we have control of that through our technical college board.
GT: What about the regional transportation vote coming up next year?
Deal: A unique part of the regional approach is that through the roundtable processes you give people in local communities a say-so about what the projects are going to be. In the past, projects have been dictated at the state transportation level. I think many communities have felt they were isolated from the process.
GT: The state Ethics Commission has seen some budget cuts and some staff turnover. Will this affect its ability to do its job and find new leadership?
Deal: First of all, with regard to budget cuts, I've gone back and looked at that. They took absolutely the same percent of cuts as most other state agencies. When you're making up a $1.4-billion [deficit], we had to continue to cut. They were somewhere in the 7 percent range – same as the governor's office. I don't think anybody looked at that [cuts] in terms of any kind of political agenda. It was just the realities of trying to keep our budget in balance, trying to keep all agencies as stable as we could. I will simply allow the board to continue its work and select the leadership they think is appropriate. I don't think it should be something I get involved with, and I've avoided that.
GT: Tax reform efforts last session had a bumpy ride. What's likely to happen in 2012?
Deal: Last year the General Assembly was operating pretty much within the parameters set by the Tax Reform Council. The issues and the areas for consideration were defined pretty much by that council's recommendations. The question I still don't know the answer to is, will the legislature feel constrained in the next legislative session to be bound by the parameters of the tax reform council's recommendations? There is a new ingredient in the mix, and that is the Competitive Initiative that I have instituted.
GT: What's that?
Deal: It is a committee that is headed by me, by Chris Cummiskey as head of Economic Development and by Chris Clark as head of the Georgia Chamber. It's a committee of business leaders scattered throughout the state. My charge to them was to try to come up with ideas that you think will make Georgia more competitive in a business environment. I would think we're going to see some of that in the area of tax reform. I know one that is repeatedly discussed is the removal of sales tax on energy use for manufacturing. I think that is one of those we do need to remove. But it has a price tag attached to it. If you approach tax reform on a budget-neutral formula, then if you lose revenue there, you have to make up for it somewhere else. The making it up is the hard part.
GT: Let's talk about economic development and job creation.
Deal: Very few days go by that the Economic Development department doesn't tell me of new prospects. We are constantly following up on leads. One of the things we did this session was to put back [money] into our REBA funds, funds for closing [deals] in the metro area. It was about $5 million. We put another $10 million into OneGeorgia for closings on rural deals.
GT: North Carolina uses pension funds for investing in startups. Is that something Georgia could consider?
Deal: That very well could be one of the issues that the Competitive Initiative addresses, because the lack of capital funds especially for small and startup businesses is one of the weaknesses our state has. One of the proposals I had during the campaign was to use some of the revenue paid by insurance companies in premium tax. Some states have used that very successfully to allow insurance companies to pay in into a CAPCO [customer asset protection company] as they call it, an independent entity that would take revenue and use it on a revolving loan basis instead of having to come up with capitalization money.
GT: What about criminal justice reform?
Deal: We want to protect the safety of Georgia. We don't want to do anything that's going to jeopardize that. But at the same time, we recognize that we are incarcerating a very large portion of our population, disproportionately large [compared] to other states. That is a very expensive part of our state budget. As a matter of fact, I don't see how we sustain that path. We know there are things that work – our accountability courts that we have in place in some parts of the state, whether they be drug courts, DUI courts, family courts, mental health courts. We do know that they reduce part of that strain. But we don't have an adequate funding mechanism now to expand their operations. These are going to be things that this council is going to be looking at.
GT: How would you characterize your relationship with city and country governments? Your collaboration with Atlanta Mayor Kasim Reed seems to be setting a new tone.
Deal: With regard to Mayor Reed, I have appreciated his friendship and have appreciated his willingness to join with me on promotion of mutual interests in not only projects of interest to the City of Atlanta but to the state of Georgia. A classic example is the deepening of the Savannah harbor. I think that goes a long way to dispelling the idea of the two Georgias, when you have the mayor of the largest city in the state being willing to address an issue that is hundreds of miles away from his city limits. In terms of other city and county relationships, that is important because they're political subdivisions of the state of Georgia. What we do affects them; what they do affects us. I hope there is a growing understanding that we've got to put aside some of our parochialism sometimes for the greater good. It doesn't do us a whole lot of good to put in a lot of time and effort and money at the state level to recruit a business to come to a local community and facilitate state permits only to run into permitting problems at the local level. We all have to come together.
GT: Are you optimistic?
Deal: I think there's a new sense of cooperation. I don't think I can claim credit for that, but I want to encourage it.