Gwinnett County: International Growth Spurt
Welcoming foreign businesses and visitors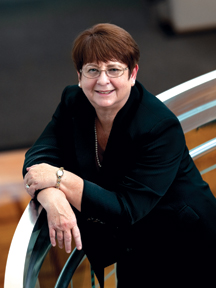 A motorist leaving I-85 North at exit 99 in Gwinnett County and driving east on Jimmy Carter Boulevard will pass strip malls and commercial properties before reaching Rockbridge Road, where neighborhoods of ranch style and split-level homes appear, the remnants of explosive subdivision growth in the 1960s and '70s. Then the view changes, and the BAPS Shri Swaminarayan Mandir, an ornate Hindu temple, rises 60 feet above the suburban landscape.
In many ways, the subdivisions and the mandir are historic markers freezing in time significant moments in the evolution and growth of Gwinnett County, once known primarily as a bedroom community in the lengthening shadow of Atlanta.
On a late summer morning, the Hindu faithful are fully prostrate on the cool marble floor of the mandir, praying while tourists step around them in a dramatically lit interior that conjures up the image of an ice cave. The mandir scene underscores part of the growing population diversity in Gwinnett unlikely to be matched anywhere in the South.
Even without new citizens from across the world, Gwinnett has been on a decades-long growth spurt. From the census of 1950 to the one of 1980, Gwinnett's population grew from 32,000 to 167,000. By 2000, that number had jumped to 588,488, then grew again by 36.9 percent to 805,321 in 2010. The state Office of Planning and Budget projects the county's population to be one million by 2015.
Some commuters still live in the county and work elsewhere, but there is a rising number of new residents who were born in foreign countries and have found a home in Gwinnett. More than 100 languages and dialects are spoken in the homes here, leading the local school system to put a corps of interpreters on call.
Diversity is the word of the moment here, and it darts in and out of conversations with local government leaders and economic developers looking to understand and cash in on the evolving demographics. Four years ago, the county's leaders signed on to an economic development initiative and managed growth master plan, Partnership Gwinnett, that is having a dramatic effect on present and future community cultures, and there are plenty of them. Gwinnett County has 15 municipalities, with another one, Peachtree Corners, likely to be voted into existence in November.
"We are getting ready to come out of this economy with new ordinances in place, and we clearly will grow more international than we were 10 years ago," says Nick Masino, Gwinnett County Chamber of Commerce vice president for economic development and Partnership Gwinnett. "But we are going to grow differently." Coinci-dently, the county created a comprehensive plan that was way beyond anything they have ever done before.
"We're going to grow more dense along I-85, and we're going to grow more vertical. People on the other side of the planet, Korea, China and India, are used to living in a more vertical residential environment, and that's going to be a part of our future as we continue to grow."
More Visitors
As Gwinnett County continues to grow with transplants from across the world, Lisa Anders is preparing to welcome more foreign visitors and sightseers who will help boost the county's nearly $1 billion a year impact from tourism. The mandir, she says, is just one of the tourist attractions in the county.
"The mandir hosted almost 400 tour groups in the fourth quarter of last year," says Anders, deputy director of the Gwinnett County Convention and Visitors Bureau. "The thing about the mandir is that it is the only one in the Southeast. When you count tourism in Gwinnett County, the mandir is the most visited attraction."
According to Anders, Asians seem especially attracted to Gwinnett. "Primarily Koreans and Chinese," she says. "You can translate our website into several languages, and the top two are Korean and Chinese, and that trend is going straight up. To meet public demand, the CVB is tweaking one popular event. "We've always done a Restaurant Week, but this year it's going to be International Restaurant Week," she says.
Another international touch is landing in the trees around the Gwinnett Environmental and Heritage Center, where a French company has gone out on a limb to build the Canopy Adventure Exhibit, a family-friendly recreational and educational site. Constructed by Treetop Quest, Inc. in partnership with Enterprise Rhone-Alps International and the Gwinnett Environmental and Heritage Center Foundation, the center will feature a rope-climbing network and a zip-line course that will carry thrill seekers hanging from cables through the tops of trees at breath-catching speed. "It has multiple levels for all ages," Anders says. "It also has different kinds of rope courses for full hands-on climbing and swinging for the whole family."
Gwinnett County not only attracts international tourists and new residents, it has also begun landing new industries from foreign shores. Earlier this year, global bio-medical manufacturer Graham-Field Health Products, Inc. (GF), announced the relocation of another production line from Taiwan to Gwinnett. GF was the second international company this year to announce a move into the county. GF is making a $1.75-million capital investment in a facility for the manufacture of its Lumex Recliner, a chair used by blood donors and dialysis patients.
The plant will bring 17 new high-paying jobs to the county. In March, Silicon Valley chip maker Advanced Micro Devices, Inc. (AMD) announced a $100-million investment in Suwanee, in a move to consolidate some of its North American data centers in a state-of-the-art facility. There were immediate published reports that the Suwanee site could see a total of $250 million invested over the next 10 years. AMD will initially employ about 20 workers.
Such investments, with relatively small employment numbers, can't always attract state incentives such as tax breaks for the new or relocating companies, so locals crafted an incentive package of their own that appealed to AMD, says Gwinnett's Masino.
"As we looked at it, it was a $250-million project in investment to the community, with about 20 jobs," Masino says. "With those job numbers down, the state was unable to contribute any incentives. But locally we were able to make about, I believe, a $4-million offer in tax abatements. In Gwinnett County, we don't give away money or tax abatements unless the county and the municipality and the school system benefit the same during the life cycle of the project."
Masino says the community will benefit from millions in taxes that it otherwise would have never received.
Partners And Jobs
The four-year-old Partnership Gwin-nett initiative reached into every corner of county life to find its partners, including government, healthcare, economic development and private business and industry, and its benefits are returning to every facet of life here. "We've counted at least 11,000 jobs we've had a hand in creating," Masino says. To make sure the diversity theme includes the county's employment base, local existing companies and startups are chipping in with their own jobs creation through expansions.
Gwinnett's Brand Mortgage Group swam against the tide of home foreclosures that began in 2007 and added 100 employees to its staff during the Great Recession, with plans to add several new offices in the Southeast to sustain what is predicted to be about a 30 percent growth over the next four years. "We started the company in 2006, so we really didn't have any [lending] legacy problems," says Greg Shumate, president and managing partner of Brand.
"We're tied to a 105-year-old community bank, Brand Bank, that's owned by the same family in Lawrenceville, and it has a good reputation." Shumate believes timing is everything in the mortgage business. "Gwinnett County and Metro Atlanta housing prices are at historic lows; interest rates are at historic lows, so there is a lot of potential in this market," Shumate says. "Gwinnett County has historically been a bedroom community, but that is changing and efforts are under way to create more jobs here to lessen the commuting."
The idea of living and working in the same Gwinnett community has moved a step further with plans for the Towne Center @ Snellville, a mixed-use development in that city's central district. Land acquisition has begun on the revitalization effort, with a design calling for retail and office districts, as well as green areas and a walking network linking all sides of a community now divided by two highways, U.S. Highway 78 and Georgia Highway 124.
"I think of those highways as rivers," says Snellville Mayor Jerry Oberholtzer. "And how do you cross a river? You go over it on a bridge or under it in a tunnel." Both kinds of walkways are part of the design plans.
With land purchases under way for the Towne Center project, Oberholtzer says there couldn't be a better time to be a real estate buyer. "It's a buyer's market," he says. "The city acquired a piece of property recently that several years ago was priced at $6.4 million, and we got it for $680,000. Other property owners are coming forward now." A best-case scenario has groundbreaking beginning in 2013, Oberholtzer says.
Edge Cities
Charlotte Nash, longtime county finance director and now chair of the Gwinnett County Commission, can trace her family's presence here back to 1820, a fact she uses good-naturedly whenever the word sprawl is used to connect Atlanta to her community's growth.
"Here's some trivia for you," Nash says. "In 1820, what would be the future site of the City of Atlanta was in Gwinnett County. Gwinnett County was established before DeKalb and Fulton counties. As far as I'm concerned, I'm not sprawl because I've been here before the term was even coined."
Nash believes Atlanta will continue to play a part in Gwinnett's growth, but in a way different from before. "What I think we're going to see in the suburbs around Atlanta – and we're always going to be tied to Atlanta – is edge cities that continue to develop in the urbanized parts of Gwinnett [and Cobb] and go around the Perimeter. Our objective relating to the sprawl issue is let's grow jobs right here in our own community and make it possible for folks not to have to commute longer distances to get a job."
That's just what happened earlier this year when Duluth-based entertainment company Cadillac Jack expanded its North American headquarters to accommodate 170 employees, 40 of them new hires, with plans for another 40 employees next year. Cadillac Jack designs and manufactures electronic games for domestic and international sales.
New Gwinnett residents were also likely to be among the 530 additional teachers hired by the Gwinnett County Public Schools (GCPS), which was expecting an additional 1,700 new students for the beginning of this school year.
With more than 162,000 students, GCPS is Georgia's largest school system, but the growth of the student population has recently tapered off considerably, according to school officials. "It slowed a bit after the [downward] change in the housing market back in 2007," says GCPS spokesman Jorge Quintana, director of the system's media relations department. "Back then we were growing by 7,000 students every year. And we do have a team of interpreters that translate a lot of material into Spanish, Korean, Vietnamese, Bosnian and Chinese, which are the main languages that our students speak at home. "
More homegrown jobs sprouted in June when Gwinnett's BagcraftPapercon celebrated the completion of a 225,000-square-foot, $7.3-million addition to its plant. The growth adds nearly 200 jobs to the company's workforce. BagcraftPapercon is the leading provider of paper-based packaging for the food service industry in North America.
The motorist traveling through Gwinnett County will pass through city after town after village in rapid succession, with some of the towns having populations as small as 1,500.
"This is like traveling through Texas," a visitor to Gwinnett once noted. "There seems to be a city limits sign every 10 miles." So what is it in the Gwinnett DNA that leads it to be the most citified county in Georgia? How did there come to be 15 municipalities in the county, with another one on the way?
"Actually, if you think about it, there are more than 15 cities," says Partnership Gwinnett's Nick Masino, the former mayor of Suwanee. "We have five TADS (Tax Allocation Districts), and they are like cities, with taxing powers and public safety and transportation responsibilities. So I think the new municipality will give us, in a way, 21 of them. There are 159 counties in Georgia, and none have more municipalities than we do. Fulton County has been chasing us, but hasn't caught us yet.
"I think the reason people want municipalities is that they want more local control. That's not unique here or anywhere. People just want more of a say in their governments; they want government to be more personal."
Community Snapshot
Local Leaders
Charlotte Nash
Chair
Gwinnett County Commission
770.822.7011
charlotte.nash@gwinnettcounty.com
Nick Masino
Vice President for
Economic Development and Partnership Gwinnett,
Gwinnett Chamber of Commerce
678.584.2267
nick@gwinnettchamber.org
Lisa Anders
Deputy Director
Gwinnett County Convention and Visitors Bureau
770.814.6044
landers@gcvb.org
Population
(2010 and 2009)
County, 825,818
Lawrenceville (county seat), 29,837
Per Capita Income
(2008)
County, $33,527
Georgia, $34,849
Unemployment
(May, 2011 preliminary)
County 8.8 percent
Georgia, 9.8 percent
Top Employers
Gwinnett Medical Center, Cisco Systems Inc., Fiserv, Inc., Primerica Financial Services, NCR Corp.
Sources
U.S. Census Bureau, Georgia Department of Labor, Gwinnett Chamber of Commerce