Pharmacists For The Future
Increasingly, Georgia pharmacy schools are preparing their students for more patient-oriented jobs in settings outside traditional drugstores. The aging baby boomer population will likely keep them busy.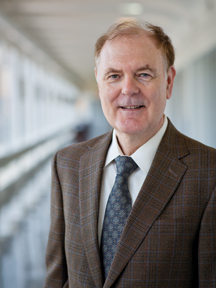 Neal Florence estimates about 150 people a day come by the Medi-Thrift Pharmacy he and wife Carolyn operate in LaFayette, a fast growing community in the Georgia suburbs of Chattanooga. Florence says he never knows if his customers are in the store to discuss prescriptions or potholes.

"When they come in and say, 'I need to talk to Neal,' I don't know if they have a city problem or a drug problem or if they owe me money," says Florence, who is also the mayor of Lafayette and has been since 1989. Neal and Carolyn are independent pharmacists, a resilient breed who survived the time when big-box stores and national chains pressed the demand for pharmacists during the 1990s by growing exponentially.

"A couple of years ago, Wal-greens was opening a new pharmacy every 19 hours in the United States," says Jim Bracewell, executive vice president of the Georgia Pharmacy Association (GPA), "And every time you open one of those pharmacies, you're creating a demand for about a half-dozen pharmacists because of the longer hours and the seven-days-a-week service. We're seeing the [pharmacy] schools increase the size of their classes. So now we're at the junction where the number of new pharmacies has slowed down and the number of new school of pharmacy graduates has increased." But at the same time, career paths for those graduates have multiplied.

"What we see is a downward trend in our students going to the traditional community pharmacy or the chain drugstores," says Dr. Svein Øie (pronounced Oy-ah), dean of the Univer-sity of Georgia College of Pharmacy.

"We see an increasing trend toward much more clinical, the specialty that can be in the hospital, in ambulatory care; it can be in a number of different settings where our graduates are now working. In contrast to where we were 30 years ago, when we educated our students [primarily] to be knowledge-based about various compounds and drugs, we now are training them to be more patient-oriented."

At UGA that training can last six years and result in a doctor of pharmacy degree. "That's a professional doctorate, not a research degree," Øie says. "But many [students] will have a lot more than six years [of study]. We encourage our students to look at advanced education pharmacy."

Kevin Florence, son of Neal and Carolyn, fits Øie's description of the trend toward specialty pharmacy by recent UGA graduates. The younger Florence is a 2009 graduate of UGA's College of Pharmacy who decided to work neither in his parents' community pharmacy nor in a chain drugstore. "When I went to college, I said I wanted to do anything but pharmacy," he says. Now he works for two pharmaceutical companies in the Athens area, where he assists in compounding drugs or packaging specialty drugs for use in the treatment of cystic fibrosis, hepatitis and other illnesses and for patients of long-term care facilities and assisted-living homes.

"There is a lot more counseling, monitoring, mixing and making than working with insurance companies," he says. "I'm doing a lot of different things, and I like that."
More Variety
More career variety in the pharmaceutical field opened up six years ago when UGA's College of Pharmacy began its Regulatory Affairs Program in response to pleas from members of the Georgia Biomedical Partnership (GBP, now Georgia Bio), an economic development group seeking to land life science companies in Georgia. "I was and am a member of that organization," says Dr. David Mullis, UGA College of Pharmacy director of Regulatory Affairs graduate program. "Back in the late '90s, it became very clear, as Atlanta and Georgia tried to establish a life science industry, and as more of the [Georgia Bio] members were coming from established companies in the pharmaceutical industry, medical devices and animal health [companies] were having a hard time recruiting talented people in regulatory affairs."

In the past, regulatory affairs specialists were often recruited from a company's research and development labs and were likely to get their training on the job, Mullis says. But navigating the regulatory maze of agencies like the Food and Drug Administration required far greater skills, according to Mullis. So UGA's Regulatory Affairs Program was established to meet a new need in the state's workforce for people who could assist companies in maintaining regulatory compliance in the development of new drugs and medical devices.

"It takes 12 to 15 years for a new molecular entity to traverse all the phases that are involved with new drug development, and it can be anywhere from $700 million to $1.25 billion to do that," Mullis says. "The key to that whole thing is having these regulatory affairs professionals, individuals who come from a very strong science background and different walks of life. Most of our students are full-time professionals."

The Regulatory Affairs Professional Program offers both certificate and master's studies and normally takes two years to complete; the program is growing in popularity. "There are far more job openings for regulatory affairs professionals than there are people to fill them," Mullis says. "We have a number of students who have Ph.D.s in other areas but they want to change careers. And we are finding companies that will send employees to us for further education or training."
Numbers Growing
In 2000, there were 6,020 registered pharmacists in Georgia, and today there are about 13,000 pharmacy licenses held in Georgia, according to a report by the U.S. Department of Health and Human Services. But there are mixed opinions on whether the next generation of pharmacists will have the numbers to meet the rising demand for their services coming from the aging baby boomer generation and the accompanying rise in prescriptions.

"About 3,000 of the Georgia licenses belong to people living in other states and holding dual licenses, so we have roughly 10,000 licensed pharmacists living in Georgia," GPA's Bracewell says, adding another significant number in the highest prescription user demographic. "There are 10,000 people in America turning 65 every day," he says.

In the past six years, the number of schools of pharmacy in Georgia has doubled from two – the public University of Georgia and the private Mercer University – to four, but the two most recent pharmacy schools to open in the state, one private and one proprietary, have come from outside the University System of Georgia or the traditional in-state private college sphere.

Their administrators say they see a current shortage of pharmacists in the state with the very real possibility of that shortage widening as the economy improves. There are indications in surrounding states that more pharmacy schools have been added to meet anticipated needs of the future, according to Alan Wolfgang, assistant dean for student affairs at the University of Georgia's College of Pharmacy.

"Tennessee has opened probably five or six more in the last half-dozen years," Wolfgang says. "And the University of Florida has four campuses now where they teach pharmacy; South Carolina has added two more in the last couple of years. Even if we do have a greater demand in the future, and I think we will, I still think we're going to be fine because the [pharmacy graduate] capacity has in-creased so much." Wolfgang says there are and will continue to be "pockets" of shortages in the rural areas.

Dr. Mark Okamoto is founding dean and a professor at Georgia's newest school of pharmacy at the private Philadelphia College of Osteopathic Medicine (PCOM) in Suwanee. The pharmacy school started last year with 79 students and expects 90 this year. PCOM administrators were itching to add a pharmacy school to its main Philadelphia campus, but there was already one at Temple University in the City of Brotherly Love.

"So they started looking down South at our campus in Suwanee," says Okamoto. "We started doing the [needs] analysis, and at the time the school was conceived, about 2005 or 2006, pharmacy was the No. 2 needed profession, right after nursing. They talked to the pharmacy organizations in the state, and they all supported the idea; that's how it came to be."

In 2003, South College in Savannah, a proprietary or for-profit institution, added a School of Pharmacy and became South University (SU). According to a pharmacy school administrator, the school filled a void.

"[Founder] John South's business model has been to focus on career paths for individuals in basically underserved types of populations, especially where there is a need. And pharmacy, especially over the past 10 years or so, has developed a significant shortage of pharmacists," says Curtis Jones, SU's pharmacy school associate dean for Administration and Academic Affairs. South has an accelerated program, allowing students to receive their pharmacy degree, a pharmD, in three years instead of four, according to Jones. In most cases, the doctor of pharmacy is earned with two to four years of study following the baccalaureate degree award. "The program is fully accredited by SACS, the Southern Association of Colleges and Schools," Jones says. "And our school is accredited by the Accreditation Council for Phar-macy Education, ACPE."
The Changes
UGA's Wolfgang has perhaps had the best vantage point to observe the changes in Geor-gia's pharmacy schools over the past 30 years or so, first as a pharmacy student in the late 1970s and now as the assistant dean of student affairs at UGA's College of Pharmacy. He's seen the most dramatic change in the composition of pharmacy students in what could be called the pharmacy gender switch. "We have more females in pharmacy than ever before, though that has kind of leveled out," says Wolfgang. "We've been around 65 percent [female pharmacy student population] for about the last 10 years, whereas 30 years ago it was about a 65 to 75 percent male population."

The reason for the growth in the number of female pharmacy students has more to do with the marketplace demand and job flexibility than the evolution of social mores, Wolfgang says. "It is one profession in Georgia that is so easy to move in and out of," he says. "The salaries are so much higher, so if you want to start a family and focus on that, you can leave the profession or have your hours reduced and then come back full time when you're ready. There are always plenty of jobs available."

Meanwhile, the curriculum and training has slowly changed in the 32 years since Wolfgang finished his studies. "The biggest change in the coursework to me is that when we were in school we were taught to fill prescriptions correctly, and that is about as far as it went,"he recalls. "We really didn't talk about how you interacted with other health professionals; we didn't talk a whole lot about helping people manage their health like pharmacists do now. Now pharmacists give immunizations, and we would never have dreamed of a pharmacist doing that when I was in school."

Present shortages or surpluses of pharmacists aside, there seems to be a consensus that the future will hold a demand for the profession's dispensers of drugs. "The number of opportunities is increasing for graduates," says PCOM's Oka-moto. "Predominately, the economy is going to have a major impact on that. Jobs in the urban areas are really thinning out, but there are still jobs in the more rural sites. We're going to be sending our students down to those rural sites so they can learn more about rural practice and decide if that is something they want to invest in."

More pharmacists-in-training will get an opportunity to take a look at life in rural Georgia when UGA students begin arriving in Albany in 2012 for their clinical training. The community's Phoe-be Putney Memorial Hospital has expanded its clinical teaching environment to include UGA's College of Pharmacy Southwest Georgia Pharmacy Program. The announcement of the new clinical training facility was seen as a milestone reflecting a dramatic shift in the duties of the pharmacist, notably those of the hospital pharmacist who often toiled in anonymity in the lower regions of the hospital. "We've been able to experience the migration of the pharmacist from the basement to the bedside," says Dr. Doug Patten, senior vice president of medical affairs at Phoebe Putney.

Dr. Ted Matthews, dean of the College of Pharmacy and Health Sciences at Mercer University, sees the modern pharmacist as requiring more training in bedside manner than ever before. "Our entire curriculum is now being modified to be totally patient-focused," Matthews says. "Social skills have entered the curriculum. I think that is one of the major changes over the last 10 years that has occurred in pharmacy education."

Another change in the marketplace being reflected in the classroom is the arrival of specialty drugs, Matthews says. "I think we're going to see more specialties in drugs, drugs used in gene therapy, for instance, and very potent drugs used in cancer treatment," he says. "I think that will require more specialization in managing those patients, and we have genomics, drugs specialized for a specific patient.

"But it is not enough to just have a knowledge base about drugs and therapy," he says. "What you also have to have is all the communications skills in order to effectively counsel the patient about the medication, because one of the biggest problems is not the medication, it is the compliance with the medication. All of this is changing what is going on in the classroom."