New Agriculture Advocate
Gary Black heads the department that oversees Georgia's largest industry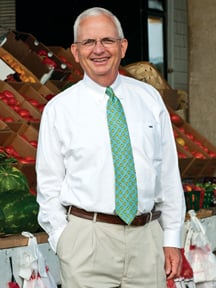 Georgia's new commissioner of agriculture, Gary Black, took office in January, succeeding Democrat Tommy Irvin, who held the office for a record-breaking 40-plus years. Black, a Republican, is a farmer from Commerce who headed the Georgia Agribusiness Council for 21 years and won the commissioner's office on his second try.
Over lunch, Black talked to Georgia Trend about Georgia's No. 1 industry.
Following are edited highlights from that interview.
GT: What was at the top of your to-do list when you became commissioner?
Black: I always said there were three things, but all built on trust. First, I have to earn the employees' trust. Second, they have to earn mine. Then the teaching moment comes in – to teach them to trust each other [as we are] making a transition. When you have a culture of trust, you can do just about anything.
GT: You followed a commissioner, Tommy Irvin, who held office for more than 40 years. Was that hard?
Black: I have great respect for the past, but we have a perfectly new clean canvas – we have new paint, new brushes, and we are painting on that canvas with some vibrant colors that maybe state government has never seen – not just grays, blacks and beiges, but colors that will provide some energy.
GT: What is the economic impact of Georgia agriculture?
Black: UGA's numbers say it's a $68-billion dollar economic impact, which includes forestry. The food and fiber complex [accounts for] about one in seven jobs. It's still the largest economic sector – that's guys driving the trucks, the people at the meat counter and everybody involved in getting the food to you.
GT: How did the industry fare during the recession? What sectors were most affected?
Black: Probably the sector that had the most challenges was urban agriculture – the horticulture industry. They suffered not only the downturn in the economy but also a world-record drought in Georgia in the last five years. We've rebounded from a drought standpoint in the last couple of years, but [not entirely] from the downturn in the economy and new construction. I talked with Ken Morrow of Sod Atlanta. Ken's got a new sports field he's putting in. He's seeing some rebound. His point – which would be mine – is the long-term health of living from job to job, living on a 45-day calendar. But until we see the economy return with new construction, it's going to be a little hard to see much further out than that. It's literally a job-to-job kind of situation. Retail markets in that arena have been very strong this spring. There's a much-improved market for the urban agriculture sector.
GT: What about other segments?
Black: From almost every commodity, we see profit across the board for one of the first times in recent history – if it's corn, cotton, peanuts, peaches. Agriculture is the perfect lab for [studying] supply and demand, particularly row crops and profit potential in almost all of them. The backside of that is the long-term prospects for grain production. We have a $4-billion poultry industry that's dependent on that ration. With $6- and $7- and $8 corn [per bushel], it just has a devastating effect on feed ration and the profitability of poultry.
GT: Are there bright spots?
Black: You have opportunity on one side, challenges on the other. There's sort of a push-pull equation sometimes in agriculture. How does that translate to local communities? Farm equipment sales are up. [So are] land rents for absentee owners, irrigation systems – new systems going in, updating. Our cotton acreage is expected to go up this year. We have around 70 cotton gins in Georgia. When those people do well, that's good for the local economy.
GT: How would you characterize the farm labor situation in the state, in light of the tough immigration law passed last session?
Black: It's important to point out there are always issues with labor in agriculture. There always have, and there always will be. From time to time there are labor shortages. One thing I think consumers should be aware of: Agriculture continues to improve its mechanization, its capabilities, but it's not yet possible for the entire industry to be mechanized to where it doesn't require [people] for some of the difficult jobs that frankly lots of local people don't want to do.
The legislature has charged us to conduct a study of the challenges and problems and obstacles that are inherent with the federal H2A [farm worker] program – the same set of issues they want us to discuss and [determine] whether it is possible to establish a state guest worker program. I'm going to stick to what the bill says, what they want us to study.
My homework is due January 1. We're going to be reaching out to lots of people to help us to have very scholarly assessment of the facts.
GT: Do the requirements of the new law make it harder or easier for Georgia farmers in general? What's the impact?
Black: Since passage of the bill, I've been on farms where the farmers say they are totally opposed [to the bill], and I've been on farms where farmers say they are using the H2A and it is a very, very big pain and we need to revise the program so it's easier to use. There are jobs Georgians don't want to do. But then I've heard those same people say, "But I support E-Verify. I'm for it." What they all want is a program that will work, a program that is not bureaucratically encumbered in such a way that makes it impossible.
GT: Can Georgia agriculture still promise a good future for young people?
Black: I think the future is very bright. Every year we add thousands of food products, new packaging, new techniques, new equipment, our genetic advances. The field is wide open for all that next generation of scientists, marketing specialists and engineers. I actually think it's one of the brighter spots on the horizon.
A sideline story: I met a lady who came up and said, "I'm a Democrat. My 13-year-old little Republican at home told me I needed to vote for you. He researched all the candidates for me, and he said, 'This is who you need to vote for, Mama.'" I gave her a card and said you have him email me. He wrote to me and I replied to him: "When you get out of school, you get your mama to drive down here one day. I want to show you our labs. I want to show you what we're doing with our food safety labs, our seed labs. You come down here, and we'll eat a sandwich." We're trying to recruit – we'll take them one at a time.
GT: What are your plans for promoting Georgia products?
Black: We have two real brands the department is responsible for – one specific, one general. The general is the Georgia Grown program. We work with retailers to promote in-season products. We work with people in Georgia, try to build the brand within our borders. I want us to be far more strategic with that program in the future. In the past, what we've done is a lot of generic things – we'd have a fair booth and pass out brochures. I guess there is still a time and place for that. But [I'd like to see us] using social media and using it [well] – really picking a market.
I can see us in the future partnering with some Georgia growers. Picking a market with a certain product, entering that market with boots on the ground with full media campaign with baseline information, knowing what our market share is in that area. Then [we] carry on that campaign for three years, employ metrics necessary to tell whether we made a difference or not. That's a different approach. We want to enhance some of our capabilities in marketing, use new technology as a way to put us more on the map.
GT: What's the other brand you're responsible for?
Black: Vidalias. We have responsibility for that brand and the royalties that come off of that and the marketing dollars from Vidalia onion products. We cosponsored just last week with the Southeast Produce Council – they have a program called STEP-UPP [Southeast Training Education Program for Upcoming Produce Professionals], a leadership program for produce buyers. We helped host a tour for them, [giving them] time with the farmers, starting in the field through the packing operation, so they can get a comfort level with those [farmers] and promote that Vidalia brand, and [farmers can] build relationships with people buying produce for the retail market. That's an area where we can be much more aggressive.
GT: There's a strong consumer movement toward locally grown foods. That must work to your advantage.
Black: Certainly the local label is a component of agriculture that is actually here to stay. The market will figure out where that is. The market will balance itself as to where that demand is at a profitable level. We're always going to see [demand] at a local level – it may be conventional, may be organic, some may be natural – different attributes. But local transcends it all from market demand. Some will say it's a concern for food safety, some say community interest. It's not just one reason. I think it's real and spells market opportunities.
I have a daughter and son – the first part of their lives they had food on their faces. Now they're 22 and 24 – they want a face on their food. They want to know where it [comes from].
GT: How is your first planning and budgeting process going?
Black: Our [proposed] 2013 budget is due on the governor's desk by September 1. We'll have complete zero-based budgeting this summer. I don't need a piece of legislation to tell me to do that. I believe that's good business. We're in the middle of a strategic planning process. I've asked three questions – what do you do well, what can you improve on and what can you stop doing? I'm a firm believer that we can't afford all the government we have.
GT: How is your relationship with the governor?
Black: Exceptional. I've known the governor for 30 years. Suffice it to say, the first time I met the governor, I was student-teaching ag at Dawson County and I helped him and his son get a hog on a trailer. He wasn't even in the General Assembly then. He is the same guy today I first met when he came to the legislature.