Augusta/Richmond County: Powerful Engines
Healthcare, energy and the military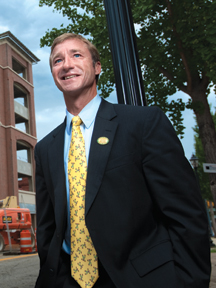 These days, Augusta's economy is being driven by three powerful high-tech engines – healthcare, nuclear energy and the military. There is the rapidly growing Georgia Health Sciences University with its $112-million College of Dental Medicine building – one of the most expensive structures ever built by the Georgia Board of Regents. Over at Fort Gordon, more than 24,000 military and civilian personnel are part of the nation's preeminent training center for computer training, intelligence operations and medical services. The local area is also feeling the impact of nearby Plant Vogtle, where the county's first new nuclear reactors to be built in nearly 30 years are taking shape.
The brain power needed for those industries has helped create a city rich in educational opportunities, arts and culture, doctors and hospitals – a big dose of that mythic quality of life. That in turn has helped draw a wide array of companies here to keep the process going.
From construction to information technology, Augusta is producing jobs.
"There's a great deal of diversification in the workforce," says Walter Sprouse, Development Authority of Richmond County executive director.
This region is the first in the nation to see the tangible benefits of a renewed commitment to nuclear power even before the first watt of electricity is produced. Southern Company will receive $8.3 billion in loan guarantees to add the two nuclear reactors to Plant Vogtle. The facility already houses two reactors that came on line in the 1980s.
The new construction is expected to generate $14 billion in capital investment in Georgia and will create 3,500 construction jobs and more than 800 permanent positions.
Augusta already has its share of nuclear workers thanks to the Savannah River Site (SRS). Constructed during the early 1950s to produce the basic materials used in nuclear weapons, the 198,000-acre facility employs more than 12,000 people.
The end of the Cold War meant less need for building bombs, but a reliance on nuclear power seems likely to mean an increased demand for workers. Making sure a growing industry has the skills it needs is at the heart of a new initiative by the nonprofit SRS Community Reuse Organization.
"This is a five-county initiative with the U.S. Department of Energy to develop educational curriculum that can train workers for nuclear employment," says Sprouse.
Five area colleges, including Au-gusta State University and Augusta Technical College, are in the process of developing programs to train workers for existing and future nuclear-related jobs. Most will fill positions created by electrical utilities, but many will have skills easily transferable to other industries.
"Just because they may have nuclear in front of their training, such as nuclear welding, doesn't mean they're working in a reactor," says Sprouse. "It's a very specialized welding. We would be able to recruit a company to Augusta that would manufacture products used in a nuclear facility. It could be a metal working company, but we would have the expertise they need."
While private companies tend to get the most attention, Richmond's biggest employer is Fort Gordon. As the nation's fight against terrorism heated up, the post grew more important. Long known as the home of the Signal Corps, the installation trains soldiers, sailors, airmen and marines in the use of computers and other high-tech equipment. The military's intelligence officers receive their instruction here before being dispatched to war zones in Iraq and Afghanistan. The post is also a training base for military doctors and dentists.
The fort is a reminder that modern wars are often fought as much with technology as they are with M-16s. The base is currently undergoing a $530-million construction boom to accommodate this expanded mission.
"One of the big pluses is that the Savannah River Site has entered into a partnership with Fort Gordon to make 120,000 acres available for training space," says Thom Tuckey, a retired Army officer who is executive director of the CSRA Alliance for Fort Gordon.
The fort is already providing training areas for soldiers from Fort Stewart on the Georgia coast and helicopters from much larger bases across Georgia.
"It's ideal for special operations forces, and they have been the primary users as far as Rangers, SEALs and folks like that," he says.
Despite all the activity, Fort Gordon has done its best to maintain a low profile. One of those secrets hiding in plain sight is an imposing 500,000-square-foot-building where National Security Agency personnel will soon be monitoring communications in Europe and the Middle East to find clues about the next terrorist attack. When it opens in 2013, about 4,000 civilian and military analysts will be merged from five national security operations spread throughout the post.
There are only three of these monitoring centers in the world, and "one of them is at Fort Gordon," according to Tuckey.
The NSA has maintained a large presence at the fort since the 1990s, but with the new $340-million facility those numbers are expected to rise. There is even talk that the massive building could be expanded further to accommodate even more workers. Just how many is not for public consumption.
More Jobs
Augusta and Richmond County have also seen a boom in other job categories such as call centers and IT.
When officials from Swedish appliance maker Electrolux took a look at the empty Dillard's location in the National Hills Shopping Center on Washington Road, one of the first things they said was, "It could use some windows," according to Sprouse. With the company spending a reported $2.5 million on renovation, its tan exterior will soon be sporting those windows for an estimated 225 workers. The location will become its expanded North American major appliances customer care center.
The company is just one of a host of companies providing good-paying jobs that have pushed Augusta's unemployment below the state and national average. There's also cell phone company T-Mobile, which employs about 700 people, and payroll services provider ADP with more than 1,000 jobs. Delta Air Lines has 200 employees here.
Augusta has a truly worldwide reach. The city is home to the world's largest manufacturer of golf carts – E-Z-GO. In addition, all those containers of Tide laundry detergent on your grocery shelf – they were made here at the local Procter & Gamble plant.
Local leaders have gotten used to the fact that outsiders – even those who should know better – don't appreciate what the city has to offer. One day recently Sprouse received a call from a staffer in a state government agency. She had a simple question: "What's the name of your hospital?"
"I asked, 'Which hospital do you mean? We have 11,'" he recalls.
Healthcare growth has been a constant – thanks largely to the presence of Georgia's only public medical and dental schools. Keeping up with the demand for healthcare has helped fuel a major expansion of the medical campus. Two years ago, the 520-bed Georgia Health Sciences University Hospital opened new cardiovascular and cancer centers. The new dental school is set to be dedicated in September.
This rapid growth of healthcare has begun to bump up against other community needs. New GHSU President Dr. Ricardo Azziz has been eyeing a 17-acre tract on the Savannah River near downtown for a biotechnology research park. Augusta Mayor Deke Copenhaver is pushing a new baseball stadium for the minor league Augusta GreenJackets baseball team. He thinks the site, which was home to the now defunct Georgia Golf Hall of Fame, is big enough for everybody.
"It could be a true win-win if we could coordinate a mix of uses on the property," Copenhaver explains. "There's room for GHSU to develop their research park there, as well as the potential for mixed-use sports and entertainment."
Along with serving as a home for the local minor league baseball team, it may also be used by sports teams from Paine College and Augusta State. It could also host programs sponsored by the Cal Ripken, Sr. Foundation for at-risk youth. Much like golf's First Tee program, the organization teaches life skills, but through baseball.
"That [new] facility would not sit empty, but nothing is set in concrete for the property," says Copenhaver. "The state still owns the property, so it's still a work in progress."
On The Move
The swelling population of industries and government agencies has focused the attention of local officials more than ever on transportation. How do you get in and out of the city – particularly if you need to get to distant points such as Washington, D.C.?
That was a big reason the last SPLOST, which is projected to raise about $185 million, earmarked $8.5 million for improvements to Augusta Regional Airport. The facility boasts a new terminal and parking lot to accommodate a growing number of passenger flights to Atlanta, Dallas-Fort Worth and other cities. There's talk now of direct flights to Washington, D.C., and New York City.
"For a city our size to have an airport that's so thriving that we had to break ground on a parking area speaks volumes," says Copenhaver.
Locals who once commuted to Atlanta to board flights are now learning that it can be cheaper and easier to book a flight out of Augusta. Instead of allowing several hours to get to Hartsfield and struggle through security "I can leave home, park the car and be at the gate in less than 30 minutes," says Sprouse.
Augusta, which was once Georgia's capital and is now its second largest city, is increasingly becoming a destination for tourists and conventioneers. Those visitors are staying and spending money – $380.61 million in 2009. Last year, total hotel revenue increased 5.5 percent over 2009, and 2011 numbers are up 12 percent over 2010.
"We had the best year ever as far as total hotel revenue in the city," says Augusta Convention and Visitors Bureau President & CEO Barry White.
Work is rapidly nearing completion on the LEED-certified Trade Exhibit and Event (TEE) Center. Connected to the convention center, the expansion will create 40,000 square feet of exhibit space – big enough for nearly 200 exhibit booths. Its opening means the city can accommodate much bigger groups.
"It also allows us to go after groups that we have not been able to host in the past because they have a trade show component," says White.
During a typical year, many of the city's hotel rooms are filled by golf fans attending the legendary Master's golf tournament. Golfers and the well-to-do often pass on the hotel and decide to stay in private homes whose rental is handled by the Augusta Metro Chamber of Commerce.
The rental program generated 16.5 percent more income for homeowners for the 2011 season than in 2010.
"Our Master's housing bureau was up quite a bit from last year," says Chamber President/CEO Sue Parr. "Not just in the number of rentals but in the home rental price."
People are also deciding – in a big change from previous years – that downtown Augusta is a good place to not only work, but live as well. Along Greene, Broad and Telfair streets, old buildings are being renovated and given new life.
"We've had a big upsurge in residential," says Margaret Woodard, executive director of the Downtown Development Authority of Augusta. "That's one thing that we've really concentrated on in the last five years. Good mixed-use living projects. I think in 1998 there were 1,500 people living downtown, and we're at the 5,800 mark right now. It's reaching that perfect number. When you hit about 6,000, retail starts taking you very seriously."
The old Emporium has been transformed into nine residential units, including one two-story apartment. The building dates from the 1880s, when it was used to sell furniture. To meet historic preservation guidelines and take advantage of tax credits, the owners decided to create apartments rather than condos, according to Woodard.
The recession has slowed the renovation process, but not stopped it, according to Rick Toole, owner of W.R. Toole Engineers, Inc. His company is housed in a renovated building just off Broad Street. While there are more people living downtown, the area still lacks some of the amenities that would make it a true live-work-play area.
"Conveniences such as a grocery store," he says.
As Augusta has grown, there has been a concerted, if not always successful, effort to preserve the city's historic buildings. New projects such as the TEE Center have displaced some older buildings while preserving others. An old grocery warehouse was incorporated into the design and will serve as the entrance to the facility.
"It was a real great negotiation thing so that we could preserve at least the basics of a building," says Erick Montgomery, executive director of Historic Augusta. "It's so important to maintain intersection corners and not just chip away at the buildings on those corners, because that's what gives you the urban feel."
The nonprofit had to compromise on an historic gas station that is giving way to a parking deck, but Mont-gomery is happy they were able to save at least the facade of the larger building.
Revitalization of aging communities is the goal of the city's master plan – called the Westobou Vision. Teams of citizens are now working to figure out how neighborhoods can be brought back to more vibrant life, according to Camille Price, executive director of Augusta Tomorrow.
"One of the real problems is that most of the housing in these areas is rental," she says. "When you have absentee landlords renting buildings, they don't care about the buildings the way a homeowner who has lived there cares about the building or the area."
One group has teamed up with The Fuller Center for Housing to renovate houses that can then be sold to local residents. That will mean new life for neighborhoods by giving residents a stake in their success through ownership.
Community Snapshot
Local Leaders
Deke Copenhaver
Mayor of Augusta
706.821.1833
Susan E. Parr
President/CEO
Augusta Metro
Chamber of Commerce
706.821.1300
Walter Sprouse
Executive Director
Development Authority of Richmond County
706.821.1321
Population
(2009)
County, 194,343
Median Household Income
(2008)
$37,723
Unemployment
(April 2011)
County, 9.3 percent
Georgia, 9.6 percent
Top Employers
U.S. Army Signal Center & Fort Gordon, Georgia Health Sciences University, E-Z-GO, International Paper, Kellogg's
Sources
Development Authority of Richmond County, U.S. Census Bureau, Georgia Department of Labor