Tifton/Tift County: Fertile Ground
Agriculture, science and commerce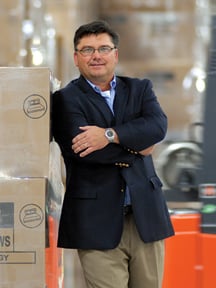 Tift County economic developers have noticed a grow-ing number of distribution facilities arriving in the community due, they believe, to the crossroads of Interstate 75 north and south and the east-west route of U.S. Highway 82. But this community is also the intersection of agriculture, science and commerce, a place where agricultural entrepreneurship has taken root and is spreading like kudzu.

This is fertile ground for the planting of ideas nurtured by one of the state's largest collection of scientists, Ph.D.s and technicians, all devoted to things that grow out of the ground or on it, making farming a $65-billion-a-year industry, the state's largest.

The ideas being turned into businesses here range from the seemingly loopy to the why-didn't-I-think-of-that level, but all hold the promise of profit and the growth of jobs locally and wherever the earth is turned by a plow or the livestock herded to a watering hole.

Bill Park has the kind of folksy approach to business that is characteristic of the best salesmen. Asked the common question, "How's business?" Park has this response: "With this economy tight as it is, people are watching their money, and mothers buy peanut butter."

Park, president and CEO of Tifton Quality Peanuts (TQP), sells peanuts to companies with brand names like Skippy, Jif and Peter Pan, top names in the peanut butter industry, names with which most mothers are familiar. For Park, peanuts are the raw product he ships to peanut butter makers and quality candymakers like Mars, Inc. and Hershey.

TQP is a farmer-owned LLC with about 150 growers spread over 24 counties in south Georgia. Six years ago when TQP was formed by the purchasers of 75,000 shares of stock, the company sent about 80 percent of its peanuts to foreign markets; today none of the peanuts is exported. "We're shipping all ours this year to the domestic market, the United States and Canada," Park says. "The European market is very tight, and it takes you longer to get your money after you ship your peanuts. We're pretty well known in the industry right now as a premier provider."

Their stockholders are delighted with that reputation, after watching their stock double in value in five years. "And we have a waiting list [for the stock] of about three or four thousand," Park says. "We have the demand for stock, and we don't have the stock to fill it. That's a very good problem to have."

TQP farmers have the responsibility of providing 1,000 tons of peanuts yearly to ensure the company has no shortage of raw product. TQP cleans the peanuts, shells them and ships the tasty legumes to their buyers. The company is adding storage facilities that will bring the peanut capacity to about 80,000 tons by the time the peanuts are ready to be harvested this fall.

It is a tidy business model for a bit of entrepreneurship in a community building its own reputation for welcoming such startups with open arms and providing an army of professional assistance for fledgling ideas. No one sees more business ideas tossed about than Donnie Smith, executive director of Tifton's Georgia Center of Innovation for Agribusiness (COIA), whose core mission is taking ideas to reality by providing help with business plans, financing, marketing and all else associated with getting a company off the ground. "We are the one-stop shop, a central resource for agricultural entrepreneurs," Smith says.

One of the COIA staff's duties is generating publicity for their clients in an effort to attract angels, the financial backers interested in getting in on the ground floor and riding to the top with a hot company. But when two scientists, Dr. Glen Rains, an engineer, and Dr. Joe Lewis, an insect behaviorist, came to the center with their idea and invention, their concept had already been revealed in a 2004 Georgia Trend article that led to other stories in regional and national publications, including a nice spread in The New York Times, so they had a reputation of sorts to bolster their entrepreneurial effort.
Business Buzz
The two men formed a company, SmartHound Technologies, based on research Lewis had done years before that revealed insects can be trained to perform tasks helpful to humans. A tiny non-stinging wasp was the experiment subject, and tests showed the wasp would exhibit a certain behavior when it detected a targeted subject such as explosive substances or crop diseases.

Lewis knew the wasps could be trained in a matter of minutes, but when they were on the hunt their activities had to be viewed by humans who could react to their behavior. "You're not going to take a wasp around on a leash," Lewis says. "So the question is how do you use them?"

That's where Dr. Glen Rains enters the picture. Rains, a UGA associate pro-fessor, designed a wasp module, a piece of PVC pipe about eight inches long and three inches wide and outfitted with a tiny webcam and a tiny fan at a tiny hole. A crew of five wasps was loaded aboard, and the experiments began. Researchers exposed the wasps to specific odors drawn through the module's hole by the fan; the wasps were given a shot of sugar water when they reacted to the odor, and the insects quickly learned the reaction-reward training.

"We decided the best approach was to containerize them in a device where we could still get the response and move our container around as a sniffer," Lewis says. Then the two scientists wanted to see just what practical applications their waspcam device had, and they discovered a swarm of possibilities.

"We tested several different types of applications, such as detecting bed bugs," says Rains. "We've also looked at toxins that come off peanuts and corn. This would be sort of a low-tech solution for things like detecting malaria and TB in Third World countries, and there are forensics applications such as arson detection and the detection of cadavers." SmartHound's detection system is called Wasp Hound and is expected to soon be on the market.

SmartHound Technologies is one example of how the results of a quirky experiment can have commercial uses. "What happened is that it is such a new kind of area that nobody is doing this kind of business," Lewis says. "The Ag Innovation Center has come in together with the Georgia Department of Economic Development and they have helped with a lot of PR and marketing, and over the last couple of months that has really given us a high profile. We're getting a lot of interest from potential investors."
On The Grow
The entrepreneurial product with the highest profile in the Tifton region may be Miscanthus giganteus. It is a huge plant reaching 12 feet in height, the perfect crop for Georgia's energy pellet plants that turn out a fuel source for the utility companies of Europe.

Bill Brim, co-owner of Lewis Taylor Farms and a regional affiliate of New Energy Farms, says he hopes to see Miscanthus creating energy for Geor-gia electricity producers as well. To make sure the state has all the pellets it needs to fuel energy production, Brim is making an application to the USDA for the necessary permission to build three pellet plants in Georgia.

"We're trying to create some green energy for Georgia Power and some of the other utilities that might be using it," Brim says. New Energy Farms has planted 150 acres of Miscanthus in Tift County, and because it is a sterile plant Brim sees possibilities for producing the rhizomes it takes to grow the crop.

Rhizomes are the root-like horizontal tentacles that shoot at or just below the topsoil from which plantings are made. New Energy Farms is ready for that, too, with 52 greenhouses onsite. "We've changed our production scheme to fit into the commercial end of it, to do pellets and supply some other growers [with rhizomes]; and we've got some growers out in Missouri, Indiana, Ohio and Pennsylvania to buy some rhizomes from us to do some ethanol production," says Brim, another client of the Ag Innovation Center.

While the New Energy Farms Miscanthus crop may be relatively new to the rural landscape of Georgia, another new crop for the state is older than Biblical times.

"There is going to be another rush in Georgia," says the Ag Center of Innovation's Donnie Smith. "Not a gold rush but an oil rush – olive oil. When [farmers] came to us and said they were looking at growing olives, we pulled in a research team to see if, first of all, olives can be grown in this area – and they can."

And now they are. With first crops already having been made and more olive trees planted, it appears the state's agricultural entrepreneurs are seeking to reduce America's dependence on foreign olive oil. That's a good idea, Smith says. "We import 99 percent of the olive oil America consumes," Smith says. "Whatever the consumer wants, we try to grow."

Talks have begun with a Spanish olive oil press manufacturer to get a portable device to squeeze the oil out of the olive. Portable, Smith says, because the industry is not yet large enough to support the huge pressing operations so familiar in the Mediterranean region.

There is another facet of olive oil production: A farming family can make a living on just 20 acres of the trees, opening another niche in the state's agricultural community. "Because of our climate and our cultural practices, it is going to be some of the world's best olive oil," Smith says. He is quick to remind doubters that just a few years ago blueberries were grown only in the wild, and now that crop produces more revenue than peaches.

Making sure all of the traditional and new crops farmed in Georgia are planted with healthy seeds is the job of Mark McMillan, manager at the Georgia Department of Agricul-ture's Tifton Agricultural Seed Lab Facility, which is now undergoing a $24-million construction and expansion project that will bring another 25 scientists and technicians into Tift County. The new and improved seed lab will more than triple current square footage, from 25,000 to 80,000.

"Basically we're sending jobs out of Atlanta down here to less costly real estate and more modernized labs," McMillan says.

Dr. Joe West is the assistant dean of UGA's Tifton campus, where he says more than 80 Ph.D. scientists are jointly working for the university and the USDA's Agriculture Re-search Service to improve farming techniques and crop yields. "And there are so many different aspects of agriculture in the research that we do that may not be directly producing a food crop," West says. "For instance, the things that we do to conserve water or to make sure water is pure are important to the whole population of the state, as well as the entire Southeast." These scientists help contribute to the annual $87-million impact of the UGA Tifton campus on the local economy.

More doors to agriculture entrepreneurship were opened last April when Abraham Baldwin Agricultural College (ABAC) announced its newest degree program in natural resources management, with majors in forestry and wildlife management beginning this fall.

"This opens possibilities in consulting forestry," says Dr. David Bridges, president of ABAC. "And there is a significant amount of property in Georgia devoted to wildlife tourism, hunting, fishing, photography and just enjoying the beauty of nature. I think people in this new program will find opportunities for employment or for beginning their own companies."
Good Health
The economy here stays healthy, thanks to the reliable growth of the county's No. 1 employer, Tift Regional Medical Center (TRMC), whose 1,600 employees, hospital construction projects and other expenditures pour some $424 million into the region it serves. The most recent addition to the TRMC campus is a state-of-the-art $10-million data center scheduled to open by the end of summer. The building will not only store electronic records, it will also protect them from a variety of threats.

"If that information went away suddenly because of a problem or a failure of some system – air conditioning, power or something like that – it would disrupt nurses, doctors, labs, radiology and all the groups that take care of patients," says Guy McAllister, assistant vice president and chief information officer at TRMC.

"Our physicians have access to our systems, including Computerized Pro-vider Order Entry (CPOE), something the government said we had to have." McAllister says the new center has already generated 10 new jobs and is expected to add many more highly skilled and highly paid employees. It seems Tift County's income sources are firmly in place and should continue to keep the local economy healthy.

Tift County's sales tax revenues continue to rise, and the community is expected to join the billion-dollar club in annual retail sales this year, a significant accomplishment for a county of 42,500 and one that has local leaders celebrating.

"It's certainly a milestone, and our retail sales keep growing from year to year," says Tifton Mayor Jamie Cater. "Our sales tax [receipts] from the SPLOST [Special Purpose Local Option Sales Tax] are up 8 percent over this time last year. The thing is, about 40 percent of those taxes come from folks going up and down I-75, and that's what we use to build fire stations and buy fire trucks and improve our infrastructure. That is an important source of revenue for us."

Tift County Commission Chairman Grady Thompson sees the expansion of I-75 to six lanes north and south as a further lure for logistics industries. "Right now there is a lot of interest in distribution," he says. "We just saw [Warehouse Rentals of Georgia] open with about a 100-acre complex here." That complex will raise the company's warehouse distribution space from 100,000 square feet to 650,000 square feet when the expansion is completed in early 2012.

"We're already getting a lot of inquiries about distribution centers, and we believe we're building for the future there," says Brian Marlowe, president and CEO of the Tifton-Tift County Chamber of Commerce and executive director of the Tift County Development Authority.

"I think we're going to excel in logistics in the future," he says.
Community Snaopshot
Local Leaders
Brian Marlowe
President and CEO
Tifton-Tift County Chamber of Commerce
Executive Director Tifton-Tift County Development Authority
229.382.6200
bmarlowe@TiftonChamber.org
Grady Thompson
Chairman
Tift County Commission
229.326.0719
grady@bishopwell.com
J.G. "Jamie" Cater, Jr.
Mayor of Tifton
229.326.3111
jcater@tifton.net
Population
(2008)
County, 42,434; Tifton (county seat), 17,284; Omega, 1,381; Ty Ty, 773
Per Capita Income
(2007)
County, $25,168
Georgia, $33,499
Unemployment
(preliminary, March 2011)
County, 12.2 percent
Georgia, 10 percent
Top Five Employers
Tift Regional Medical Center, Tift County Board of Education, Target Distribution Center, Walmart, Heatcraft Worldwide Refrigeration, Abraham Baldwin Agricultural College
Sources
Tift County Development Authority, Georgia Department of Labor, U.S. Census Bureau