Gilmer County: Favored Destination
Tourism, apples and mountain bikes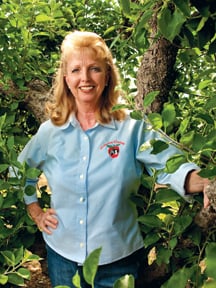 Metro Atlanta residents who get an itch to head for the hills have been increasingly drawn to Gilmer County.
"We're a long weekend destination for a lot of people," says Paige Green, president of the Gilmer County Chamber of Commerce. "Because we're close, but we're a million miles away, really, in traffic and everything else."
Thanks to the completion in 1990 of Georgia Highway 515, which locals still call "the four-lane," the trip from the Atlanta suburbs to the foothills of the Appalachian Mountains takes as little as an hour.
Since the economic downturn, though, folks aren't staying as long. The belt-tightening that caused the bottom to drop out of Gilmer County's once-booming real estate market – which specialized in retirement homes and second homes – resulted in a boost in tourism. With money tight, people are taking shorter vacations to places within a gas tank's drive of home.
In the last three years, Gilmer County has stepped up its efforts to attract visitors. Its longstanding title of "Georgia's Apple Capital" has spun off a growing agritourism industry, while its newer designation as "Mountain Biking Capital of Georgia" draws cyclists from across the country. Visitors can shop and dine in Ellijay's charming and historic downtown or in the more recognizable national chains along the Highway 515 corridor in East Ellijay.
In 2009, Gilmer County saw $26.9 million in direct tourist spending, a slight decrease from $27.78 million in 2008, but no reason to worry, says Green, who is also in charge of the county's economic development. "Flat is the new normal," she says, noting that the hotel/motel tax was up 23 percent last year, which is the best gauge. The rental cabin business is thriving as well.
Metro Atlanta visitors contribute the most tourism dollars, with a large portion also coming from Chattanooga, Tenn., about 90 miles north. "I think without that building of the tourism base," Green says, "this economic downturn would have been a lot harder on us."
Core Values
Not only does an apple a day keep the doctor away, but the fruit has been good for the health of Gilmer County. About 60 percent of Georgia's apples come from the county, which Janice Hale, owner of Hillcrest Orchards, says is about as far south as apples can be grown successfully.
She calls apples "the major tourism attraction for our county. People come up to see the leaves, go to fall festivals and buy apples."
Gilmer County produces more than 250,000 bushels a year and its "Apple Houses" host visitors who want to do more than stop at a roadside stand.
Hillcrest Orchards, which Hale's father founded in 1946, has expanded the agritourism aspects of the business beyond picking apples to include milking cows, wagon rides and a petting farm from September to November. Hale says proceeds are about 60 percent from apples, 40 percent from agritourism – and that includes selling products like jams, jellies, cider and bakery items.
Hillcrest Orchards also hosts school tours to educate people about the sources of their food. "They have no clue; it's amazing the questions we hear," Hale says. "'Is the cow a girl or a boy?' 'If it's brown, does it give chocolate milk?'"
She's not joking. Young visitors leave with knowledge that's as fresh as the apples.
But while apple season is June through mid-November, mountain biking takes place every day.
Gilmer County has "the best mountain biking trails east of the Missis-sippi," says Mike Palmeri, owner of the Cartecay Bike Shop. They're well-maintained, he says, "and they're really fun to ride."
Palmeri's bike shop on Main Street in Ellijay acts as the information center for cyclists, but Gilmer County is working on developing an International Mountain Bi-cycling Association (IMBA) Ride Center. With a memorandum of understanding signed, the next step is raising $26,000 for an engineer to determine the best location. The whole project, Palmeri says, could cost up to $200,000.
Opening a ride center would put Gilmer County on the international circuit. It would include maps, bathrooms and showers and be open to hikers, kayakers, hunters and fishermen, too.
"Most of the ride centers in the nation are set up just for bikes, but we aim to cater to everybody," Palmeri says.
The mountain biking industry is "in its infancy," says JC Sanford, chairman of the Gilmer County Board of Commissioners, "and I believe that it will become very strong if we encourage it and if the right people manage it."
One of Sanford's pet projects is a detailed map of the county's roads that will help not only cyclists, but every visitor to the county. And he's quick to point out that the people taking advantage of Gilmer County's natural beauty owe a debt to the industry that contributes the most to the agricultural economy.
It's not apples. It's chickens. In 2009, the total farm gate value of poultry/egg products was $167.1 million compared to $2.8 million for fruit and nuts, according to the University of Georgia.
Sanford says a poultry farm may use only four or five acres for the poultry houses, leaving hundreds of acres as nature intended them.
"Very few people realize what the poultry industry does for Gilmer County," he says. "If you come to Gilmer County as a tourist, you come primarily because of the scenery, the open spaces, the pastures and the timberland. Someone has to have the ability to own that and protect it. It's not an investment to them, it's a lifestyle."
Half of the county is public land, including the Chattahoochee National Forest.
Diversification
Gilmer County is trying to diversify not only through tourism, but also light manufacturing so it won't be so dependent on the real estate industry in the future, Green says.
The county suffered a blow with the shutdown of Courier Industries – a loss of 20 jobs – but Green says there's hope the closure is temporary, since all the equipment is still in place. Courier is the dyeing facility for Blue Ridge Industries, a carpet manufacturer whose fortunes rise and fall with real estate.
On a positive note, North Georgia Injection Molding opened its doors in May, with plans to employ 10 people initially and then build to 40 within four years. An existing industry, FM Stainless Fasteners, will be adding an undisclosed number of jobs.
Substantial improvements to the North Georgia Medical Center will be another important economic driver. The hospital recently acquired the former Appalachian Bancshares property from the FDIC and will relocate its outpatient services to a three-story, 30,000-square-foot area. The medical day spa will also move to the building.
"It's kind of a one-stop shop," says Jeffrey M. Dunn, CEO/administrator of the North Georgia Medical Center. "You only have to go to the hospital for a CT scan or an MRI. Even the lab work can be done inside the clinic."
Dunn says he can't disclose what the hospital paid for the property, but the renovations should cost about $200,000.
The property also includes a community center that accommodates 200 people and is already in demand for social functions.
The other major project is a hospital renovation plan, which essentially entails rebuilding the hospital on its current site for $10 million to $11 million. Georgia's first geriatric psychology unit north of Atlanta will be a new service.
Dunn says the hospital's mission statement has changed. "As a small rural hospital, we can't absorb bad debt like big-city hospitals."
Bad debt has increased from $2 million to $4.3 million over the past three years, he says. "Money is tight."
The Gilmer County government can relate to a tight financial situation, "but we're coming out of it," Chairman Sanford says. "We see indications of it already, and we will turn it around in the next year, year and a half, barring any unforeseen disasters."
The county sold $30 million in bonds and added a new 80,000-square-foot courthouse, fire stations and an animal shelter and improved roads.
The failure of three Gilmer County banks continues to have a "trickle-down effect," says Mack Wood, East Ellijay City Planner. The latest casualty was New Horizons Bank of East Ellijay in April. New Horizons' one branch was acquired by Citizens South of Gastonia, N.C.
"This area has been hit harder than other parts of the state," Wood says.
He recalls a builder contacting him after a major storm to ask if East Ellijay needed contractors to help pick up the brush.
"He's got all that equipment sitting there," says Wood, who declined the offer because the city had its own crew.
Gilmer County experienced exponential growth from the 1990s until late 2007 or mid-2008, and most of the commercial and retail ventures are in East Ellijay.
Wood says calls and emails from corporations – many out of state – inquiring about opportunities in East Ellijay have decreased considerably. In April, the city had only one "land-disturbing" permit, a local restaurant moving into a new building, compared to five remodeling permits, including Hardee's and Lowe's. A project involving a motel with a convention center fell through prior to construction.
The Ashley Acres property is a prime example of the county's struggles. The FDIC took over the $5-million property when its Florida bank failed. Although it had been graded and had water and sewer in place, it was offered for $1.3 million.
"It's not doom and gloom," Wood says. "It's just it's not recovering as fast here as it is in other places."
That's where tourism comes in. Wood says East Ellijay's fortunes are predicated on more people frequenting its retail establishments and restaurants.
Gilmer County's population grew from 16,000 in 1995 to about 29,000 today, but the number swells even more on the weekends.
Signs Of The Times
To attract more young people, East Ellijay is working on bringing in a larger multiplex movie theater, but chains are wary because the population thins out Monday through Wednesday.
The county also lacks children's destinations, like a Chuck E. Cheese's. "You go down to Marietta and you see half the people from Gilmer County having their birthday parties," Wood says.
East Ellijay took measures to enhance its nightlife by changing an ordinance to allow distilled spirits. Ellijay followed suit earlier this year, but only on River Street.
"The Ellijays" have a similar name, but distinctive identities. Mona Lowe, manager of Ellijay's Better Hometown program, says she wants people to know about her city, "First of all that it's here."
She is determined to improve the signage on Highway 515, which runs through East Ellijay.
"Because there is a misconception that that [commercial on Highway 515] is Ellijay, and there's a downtown here that people sometimes miss," Lowe says.
The Department of Transportation is doing a signage study, and Ellijay will pick one of four possible entry points to publicize.
"[Highway] 515 has completely reversed the two cities," says Ellijay Mayor Al Hoyle, who grew up in East Ellijay when it didn't have much more than a post office, grocery store, church and school. "Ellijay was where all the commerce was back then, and it's switched."
But the larger city has accepted the change. "Ellijay has learned they can't really compete with the big-box stores and fast food places," Lowe says. Instead, it offers antiques stores, gift shops, specialty stores – including those that appeal to the outdoor activities crowd – and one-of-a-kind restaurants.
Ellijay also is trying to organize more events besides the Taste of Elljay in May and the famous Georgia Apple Festival in October. A newer event, Ellijay Bikes and Blues, featured motorcycles and music in April.
"It's really good when you feel like you're holding your own," Lowe says. "We're working hard, and little things happening all along lead us to believe we're on the right path. At least we haven't closed down as many businesses [as] some have."
The Better Hometown Program is seeking federal and state tax assistance to fund renovations and remodeling. "Better Hometown is revitalization based on historic preservation," Lowe says. "We're continuing to honor the traditions and to build a sense of place downtown."
The city also is continuing its streetscape project, funded through five grants that will total about $1.8 million upon completion. Two of the beautification phases, including those addressing streetlights, sidewalks and benches, are on the ground, and two more could be finished this year.
For some visitors, a trip into downtown Ellijay is their first encounter with a "roundabout." The sometimes-confusing traffic circle, completed about 10 years ago, was the first in a Georgia downtown.
"There are still a few people who don't like it," says Hoyle, "but traffic flows through downtown way better."
A newer addition to the city's quality of life is the 26-acre Harrison Park, which is within the city limits and very close to the schools.
As one of Georgia's "Entrepreneur-Friendly Commun-ities," Gilmer County is branching out into new areas. It just opened its first vineyard, Cartecay Vineyards, and four more vineyards have obtained permits.
Ellijay has a new walking tour called Haunts and History – a spooky local building was the site of a Civil War hospital – and the Martyn House is popularizing "glamping," which is "glamorous camping" in luxury sleeping tents from India.
Every new business hopes to follow in the hoofprints of Colonel Poole's "world famous" Bar-B-Q restaurant. Driving along Highway 515, you can't miss the "Pig Hill of Fame." More than 5,000 multi-colored signs – each bearing a name – form the shape of a pig that takes up nearly the whole side of the hill.
Ask inside the "Taj-Ma-Hog" – the main restaurant – how to become a member of the Pig Hill of Fame, and Joyce Costlow will tell you: "You have to have an honest face, good intentions and $5."
Now that's a deal you can get only in Gilmer County.
Community Snapshot
Local Leaders
Paige Green
President
Gilmer County Chamber of Commerce
706.635.7400
paigeg@gilmerchamber.com
JC Sanford
Chairman
Gilmer County Board of Commissioners
706.635.4361
jc@gilmercounty-ga.gov
Al Hoyle
Mayor
City of Ellijay
706.635.7411
alhoyle@ellijay.com
Mack Wood
City Planner
City of East Ellijay
706.276.3111
mwood@eastellijay.org
Population
(2010)
County, 28,292
Ellijay, 1,619
East Ellijay, 716
Median Household Income
(2008)
$41,805
Unemployment
(February 2011)
County, 11 percent
Georgia, 10.2 percent
Top Manufacturing Employers
Pilgrim's Pride Corp., Whitepath Fabtech, Blue Ridge Industries
Sources
Gilmer County Chamber of Commerce, Georgia Department of Labor, U.S. Census Bureau