Effingham County: Powering The Future
Industrial parks and proximity to the port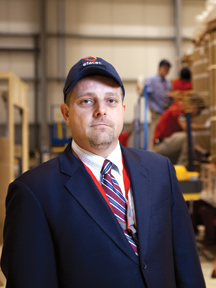 Rising up along a rural expanse of Georgia Highway 21 between Springfield and Rincon is a sprawling complex of high-ceilinged buildings. Tall metal exteriors are draped in large poster-like images of industrial scenes and, for Effingham County, a now familiar logo and name – EFACEC.
Inside, workers in hardhats are busy assembling some of the world's largest electrical transformers. At more than 30 feet and several hundred tons, the devices can provide energy to small cities. They're also the key to an economic revival for this rural Southeast region just outside Savannah.
In operation for just about a year, the Portuguese company has already put about 400 people to work and plans to add another 200. To land such a big fish when so many companies are scaling back and laying off workers was "a great morale booster for the community," says John Henry, CEO of the Effingham County Industrial Development Authority.
"And they've ramped up pretty quickly and are still in hiring mode," he says. "They were actually under construction during the worst of the recession."
Just how important the company is to the regional economy can be told in numbers. These include a net state impact of $23.75 million and an additional benefit to Effingham of $39 million by 2017, according to figures from the Georgia Department of Economic Development's Global Commerce Division.
"They're in the energy sector, and it really hasn't softened; so that's the ones that we try to target in those niche growing markets," adds Henry. "They have a heavy load product, and they need to be near the ports. As goes the Savannah port, so goes Effingham."
The county is gearing up to make room for even more industrial employers in its 4,600 acres of industrial parks. The county's close proximity to the increasingly busy Port of Savannah has made it an appealing location for companies that need to move products in and out. EFACEC required a rail line due to the sheer size of its transformers, which made highway travel impossible. Effingham was an ideal location.
The county has welcomed a steady stream of prospects over the past couple of years. Although there haven't been any more big announcements, Henry says that will be changing, as details are ironed out for some projects in the pipeline.
The first of these is likely to be a new development partner for part of its industrial parks.
The Governor Treutlen Industrial Site – home to EFECEC and anchored by a branch of Savannah Technical College and Effingham County Schools' new career academy – was recently designated a "shovel-ready manufacturing site."
The county has also been able to maintain an unemployment rate almost two points below the state's average owing to steady job growth – about 48 percent since 2000, according to Henry.
Climbing Back
Although the local economy has fared well in comparison to the misery of many nearby communities, life here is not entirely rosy. In past years, much of the county's growth – especially in the southern end fronting Savannah – has been fueled by home building. That industry came to a rapid stop in the wake of a deepening recession, leaving foreclosures and undeveloped parcels.
"We've seen a decline in our residential and commercial development that's been obvious through our building permits," says Effingham County Administrator David Crawley. Revenues from sales taxes have been hit as well.
The county has struggled to find ways to maintain essential county services with fewer dollars filling its coffers. As a result, the county expects to reduce the millage rate by another point, according to Crawley.
"We know this is going to be a tough budget season, and we're going to have to make cuts on certain services," says County Commissioner Phil Kieffer, one of three freshman members of the board.
Pinching pennies is particularly important since the county is in the midst of several building projects. These include a $71-million jail expansion and work on the proposed Georgia Portway/Effingham Parkway expansion. The county is using $4.2 million in federal earmark funds for planning and engineering to connect the county to the Port of Savannah and its cargo stream, according to Crawley.
"Most [of the savings come from] trying to be more efficient with how we provide these services through the use of technology," he explains.
When the county rehabbed its c. 1908 courthouse, the emphasis was on creating a highly energy-efficient structure. The result was a LEED Gold certification from the U.S. Green Building Council for efficiency and sustainably. The courthouse is the only one in the state to win such an honor, according to Crawley.
"We're using those green building standards to reduce our future costs," he says.
Impact Fees
In the meantime, the county commission has been searching for ways to jumpstart the economy – especially the struggling real estate market. Faced with the reality that surrounding counties were charging lower impact fees to builders, the commission voted to reduce its own. The portion of these charges collected for parks, public safety and recreation was dropped to zero for all types of new building, both residential and commercial.
The move is expected to save homebuilders about $2,200 on each new home constructed. Impact fees for a single-family home will now be $4,600 for water and sewer – down from $6,100. A $1,300 fee for reuse water will be reduced to zero for subdivisions that have reuse infrastructure in place.
"There's a feeling that we weren't on a level playing field with surrounding counties," says Rick Lott, executive director of the Effingham County Chamber of Commerce. "Their impact fees were considerably lower than ours, and so the feeling is that some building that might have happened here was going elsewhere."
Beyond simply a temporary reduction in construction costs, commissioners want to move away from frontloading the costs of increased services onto developers who, in turn, roll them into the prices of new homes and commercial developments, according to Kieffer.
"We're trying to move to using more sales tax dollars to fund public safety along with parks and recreation rather than putting the burden on new growth," he says. "We've had positive feedback from area builders. They have developments in the area that they're anxious to get back in and start building on again."
Whether because of reduced fees or an improving economy, the county has slowly begun to see an uptick in building. After nearly a year of averaging about three to four building permits a month, the number has climbed to about a dozen in recent months.
"We're starting to see a bounce back," observes Wilson Burns, principal and broker with Heidt Burns Real Estate.
"We've seen numbers start to come up pretty good on everything except our upper price ranges. It's just slowly starting to come back."
Sales of homes up to $250,000 have once again started to move. In recent months, there have been more sales in homes above $300,000, he says.
The main job has been reducing a hefty backlog of existing homes so that the way can be paved for new construction, according to Burns.
The low prices have drawn interest from outside the county, with investors moving in to snap up deals from banks – often for pennies on the dollar.
"They're trying to create a product that can compete with the foreclosure market," says Burns. "The rental market is very strong, especially on that lower end. Investors are coming in, buying the houses for cheap and renting them out in hopes of turning around and in a few years being able to put them back out on the market at a more reasonable price."
Bring It On
In the county's more rural north, residents would like to see a little more growth as long as they don't lose the small-town charm that has made towns like Springfield so attractive. Along the wide main street that cuts through the middle of town, new shops and restaurants have begun to open.
At Old Town Bookstore & Antiques, owner Jamey Stancell says he decided to move his store here from Savannah after the price of gasoline began to climb.
"I was already living here, so why not do business here as well?" he says.
He has since trimmed his inventory down to his most salable items, putting a large number of books and antiques into storage. Customers are now learning to find their way to his shop.
One industry that has yet to experience a downturn is local healthcare. In fact, Effingham Hospital and Care Center in Springfield has lately been transformed into a veritable hive of construction activity. The county's only hospital is in the midst of a $30-million, 58,000-square-foot project that locals say will transform healthcare in the county.
"We started in 2006 with a strategic plan to bring our facility into the 21st century," says hospital CEO Norma Jean Morgan. "We are so close to Savannah; we have realized the opportunity to grow and expand health services here. We have been working from a strategic plan to recruit physicians to our county and to improve the services."
Since this is a small critical-access hospital, officials realized that they needed an expanded facility to attract more doctors to the area and to accommodate them once they arrive, she says.
With a low-interest loan backed by the Federal Housing Administration's Section 242 mortgage insurance program, the hospital broke ground last January. Work is expected to be finished by February 2012, with the official opening set for early March.
The hospital has also added two new surgeons to its roster of employed physicians as part of an effort to keep more patients from leaving Effingham for nearby Savannah's much larger and often better-equipped medical centers.
A big part of the upgrade will be updating the facility's 1969-era surgery suites, along with renovating the administrative and emergency departments. In addition, existing space will be renovated to create a secure Alzheimer's unit.
Less obvious to patients is a drive by the hospital to adopt fully automated electronic health records and, in the process, qualify for incentive payments provided by the American Recovery and Reinvestment Act to encourage the option of healthcare information technology.
The investment of so much money will provide substantial returns, ac-cording to Morgan. The gross revenues generated from all hospital services is expected to rise from $40 million in 2010 to $55 million this year – up an estimated 35 percent.
"So we are anticipating that we will see significantly more patient utilization, as well as physicians who will be interested because of all the new space," she explains.
The construction work is also ex-pected to have an almost $22-million impact on the county by creating about 276 new jobs. When it's finally done, the expansion will add almost 300 jobs and have an estimated economic impact of about $28 million, according to officials.
Even with large medical centers such as Memorial University Medical Center just 35 miles away in Savannah, the community has been supportive of the hospital's expansion, says the hospital's marketing consultant Michelle Rathman, who conducted a survey of local residents.
"More than 90 percent of the people who were engaged in the process and survey were exceedingly happy about the prospect of the hospital in their community growing," she says.
Those figures point to another trend here in Effingham. Increasingly, residents are viewing this county as less of a bedroom community for Savannah and more of a place that meets their needs. As more companies follow EFACEC here, there will be less need to travel outside the community for work. And if you don't have to leave for your job, why leave for anything else?
Community Snapshot
Local Leaders
John Henry
CEO
Effingham County
Industrial Development Authority
912.754.3301
jahenry@effinghamcounty.com
David Crawley
Administrator
Effingham County Government
912.754.8190
dcrawley@effinghamcounty.org
Rick Lott
Executive Director
Effingham County
Chamber of Commerce
912.754.3301
ricklott@effinghamcounty.com
Population
(2009)
Effingham County, 53,541; Rincon, 8,139; Springfield (county seat), 2,383; Guyton, 1,957
Per Capita Income
(2006)
Effingham County, $28,443
Georgia, $32,095
Unemployment
(March 2011)
Effingham County, 8.2 percent Georgia, 10 percent
Top Employers:
Effingham County Board of Education, Georgia-Pacific, Georgia Power, Walmart,Effingham County, EFACEC
Sources
Effingham County Industrial Building Authority, Effingham County Chamber of Commerce, Georgia Department
of Labor, U.S. Census Bureau