Downtown Discoveries
History provides the theme for this year's Heart and Soul of Georgia tour of 10 municipalities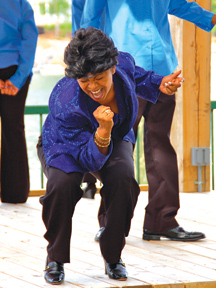 The Georgia Cities Foundation's 2011 Heart and Soul Tour began on about the same route taken by Union General William T. Sherman when he led his troops out of Atlanta in 1864 on a historic slash-and-burn march to Savannah.

The modern-day trans-state trek, the Heart and Soul of Georgia Tour, was taken this spring by 50 passengers aboard a comfortable bus on a three-day, 10-city trip to examine downtowns that are moving forward by looking backward, practicing historic preservation to attract tourists and the retail dollars they deposit in local shops, stores and restaurants.
Each year, the tour visits a different part of the state, and 2011 participants began their travels in Conyers and ended in Madison – with many stops in between. The annual tour is sponsored by the Georgia Cities Foundation, part of the Georgia Municipal Association.

The historic theme seemed entirely proper in this year of observing the 150th anniversary of the start of the Civil War, but Georgia's history – like its architecture – is divided into many parts, including the Colonial and Antebellum periods, the Civil War years and the Victorian era, and it seemed there was at least one downtown with architecture representing just about any part of the last three centuries.

The first stop on the Heart and Soul Tour was Conyers, and the heart and soul of Conyers is its Olde Town Conyers. It's home to the community's train depot, a lasting memorial to the town's origins as a railroad stop just outside the village of Marthasville, which grew into the city of Atlanta.

Olde Town Conyers is a collection of shops, eateries, a tavern and a cultural center where artists display their works. Monica Coffin, Conyers' Main Street Program manager, is welcoming the Heart and Soul travelers with a little bit of history. "This section of Conyers was built in the mid-1800s and survived two fires and a war passing through, and there we were in the mid-1970s and people were thinking parking, parking, parking," Coffin tells the group. "And the easiest solution to downtown parking space shortages, unfortunately, during that time period, was just to knock down the buildings. Hey, we didn't have passenger trains anymore; we're not using the depot anymore, and it's in sad physical shape so we don't have to invest tons of money to fix it up …"

At the time, it looked as if the old depot was a target for the wrecking ball. "But we had a few families that had lived here, grown up here, loved it here and recognized the importance of history, and they came together and formed the Rockdale County Historical Society," Coffin says.

"It is important to note that at that time they were actually joked about, ridiculed and called the Rockdale Hysterical Society." But the Historical Society Founders saved the old depot, now the centerpiece of a $42.2-million downtown revitalization program built on preserving historic buildings and finding new uses for them. That effort was sped along when a couple of sports venues landed in Conyers during the 1996 Atlanta Olympics, attracting more than 600,000 visitors to Rockdale County.

Tourism was never foremost in the minds of local economic developers, says Conyers Mayor Randal Mills. "We had previously talked about bringing factories in and distribution [warehouses], and retail was a small part of it," Mills says. "But when we had the Olympics here – boy, what a [retail] bonanza. After the Olympics, retail jumped to the front."

Getting retail dollars to flow in downtown Covington, the next tour stop, came naturally following that city's historic preservation efforts begun decades ago. It didn't take long for Hollywood to discover the historic charm of the downtown area, particularly the old courthouse.

"The film crews came here so often that we became known as 'Hollywood of the South,'" says Covington Mayor Kim Carter. In the past 25 years, Covington's downtown has been the setting for 45 motion pictures and television productions, generating retail sales dollars and giving the town a rare cultural cachet as a celebrity magnet.

In Monroe, the tour group took a stroll along the shaded downtown streets and learned how to use a mix of funding in preservation efforts, including the financial resources of the Department of Community Affairs and the Georgia Cities Foundation revolving loan funds. "It's a good way to get the money you need," says Monroe Mayor Greg Thompson. "After you get through the first set of paperwork, it's a relatively easy process to get the loans."

Monroe uses music and public events to keep the downtown merchants busy, including the First Friday Summer Concert Series, the Fall Fest and the Wayfarer Music Hall, where popular acts perform. "Our downtown continues to be strong," Thompson says. "We've had two new businesses open up downtown, and we have about 10 apartments over the downtown stores and they stay full."
The Classic City
Next came an overnight stay at the Indigo, the newest hotel in Athens. "The new Indigo Hotel is an extremely modern structure unlike anything else downtown," says Nancy Denson, the mayor of Athens. "But I think it's nice to have a mixture of the old and new downtown; it's a new architectural mix. We have a new parking deck going in that is a public/private partnership being built with SPLOST [Special Purpose Local Option Sales Tax] dollars."

The parking deck will feature retail space on the bottom floor and office space on the top floor, with parking in between, giving Athens' downtown a more eclectic look. Denson says future visitors to the city may find new developments along the Oconee River in the city.

"Our river district is an asset that cities all over the country would love to have," Denson says. "Its [development] is something we will explore."

Residents of Watkinsville freely admit that their community was "frozen in time" until the town redefined itself in the early 1990s, when locals formed the Oconee Cultural Arts Foundation (OCAF) and became an attraction for artists and their patrons. Watkinsville has a population of just 3,000, but its annual Fall Festival last year attracted 24,000 people to see arts and crafts.

"OCAF was kind of the beginning of our [renaissance]," says Watkinsville Mayor Joe Walter. "And then we started to get some really nice restaurants and a few galleries popped up and the growth sort of mushroomed." The town grew by 37 percent in the period from 1990 to 1999. "I knew we had a lot of events here and a lot of people came to see them. But when I began preparing for the Heart and Soul Tour and putting everything together, I was surprised at just how many people are brought in by these events. We're small, but we're a festive crowd."

In Greensboro, most of the downtown buildings are 20th-century structures, even though the town was founded in 1803, and Sherman and his troops did pass by here in 1864. "Greensboro is actually a colonial town," says City Manager Larry Postell. "There were 12 British forts along the Oconee River here, and [the] tour bus stopped probably 50 yards from the site of one of them. That fort was burned twice and everyone in Greensboro killed by the Indians. So the town had already been burned down twice by the time Sherman got here, and I don't think there was anything worth burning left for him. But we have invested in bringing our history back to life." That history consists mainly of buildings from the late 1800s, which were in sad shape by the late 20th century.

In the mid-1990s, Greensboro leaders put new walkways downtown and created façade grants for downtown merchants using SPLOST funds, general funds, transportation grants and Georgia Cities Foundation revolving loans, Postell says.

"The downtown had fallen into disrepair just because it was so old," he says. "And we wanted to salvage the historical nature of it." The downtown improvements led to a partnership with nearby Reynolds Plantation, a resort that invested $500,000 in the historic district for a performing arts center. The city chipped in $1 million, and the community ended up with a 600-seat downtown amenity that brings visitors and locals to cultural events – and cash to the town's retailers.
Private Investment
In Washington, the group got a look at a downtown building enhanced by private investment from residents John and Rita Horton, whose home sits atop the historic two-story John Horton Building. Nearby, Horton is turning the Washington Bank Building into office space and hotel rooms. "And we're working with the Georgia Cities Foundation's Green Communities Fund on a large downtown building," says David Jenkins, director of Washington's economic development office.

"That's a part stabilization and part energy efficiency project. We've mixed and matched funding sources quite a bit." Jenkins expects to do more of the same by tapping into leads at www.boomtowngeorgia.org, a new website for Main Street Program communities like Washington. "It's a nifty little website," Jenkins says. "The state is saying they're going to put a lot of emphasis on jobs downtown, and boomtown is a good source for getting info on downtown improvement projects."

In Augusta, the Heart and Soul tourists had a chance to look at an inner-city development that reaches out to improve the lives of several demographic groups while preserving a historic neighborhood.

"We've got a unique little project we're doing that embraces our historic heritage," says Fred Russell, Augusta's city administrator. "It's the redevelopment of Laney Walker/Bethlehem neighborhood, a neighborhood of historical African-American culture that unfortunately went through a period of decline. A lot of people moved out, leaving behind a lot of empty houses and vacant lots."

Over the past two years, the city has dedicated $37 million for use over the next 50 years to return the area to its former vibrancy while preserving historic buildings. "We're trying to recreate a neighborhood that was there 40 years ago through the mix of new and infill [housing] plus the restoration of some of the houses there," Russell says. "They are already selling new homes in the neighborhood, and the new homes will maintain the architectural integrity of the historic buildings of the neighborhood."

Russell says property has been purchased as a site for new senior citizen housing that will fit the historic preservation model being used at Laney Walker. When all development is finished, 25 to 30 city blocks in the neighborhood will have been restored or upgraded, complete with reborn retail shops. And because the neighborhood is adjacent to the Medical College of Georgia and around the corner from Paine College, the future holds the possibility of married student housing.
Reviving Neighborhoods
The theme of revitalizing declining neighborhoods continued in Thomson, just down I-20 from Augusta, where a welcoming committee ushered the Heart and Soul travelers to two separate parts of the community.

"We wanted them to see that we had revitalized an area east of town by taking some slums and blight out and putting back in a new government center" says Don Powers, the Thomson city administrator. "And the second thing we wanted to show was that the city and county were all moving into one building together, and there was a cooperative spirit between them."

But there is more than symbolism in the move, according to Powers. "We put it downtown to stimulate economic activity and to support the revitalization that we're doing in the [area's] historic buildings," he says.

In Madison, the last stop on the tour, participants found a community long accustomed to preserving historic buildings and homes and one accustomed to heritage tourists. "We've always had an inclination to keep up the old homes and to think in terms of historic preservation," says Madison's mayor, Bruce Gilbert.

"I remember many years ago when we had a historic preservation ordinance that was just being talked about, and we had someone on Main Street put up a chicken wire fence. I think that told us we really needed something to deal with what goes on in our historic community."

Madison has long been regarded as the gold standard for historic downtown preservation, and Gilbert says he deals with prospective residents who fear living in a historic district is costly and home improvements closely monitored. "They get aggravated with [historic preservation] ordinances a little bit," he says. "But usually we're able to work through it and give people what they want."

This year marks the 10th anniversary of the Heart and Soul Tour and one of its founders says the lessons learned are being studied for possible legislative action.

Mike Starr, president of the Georgia Cities Foundation, says a 2010 study by his organization and the Department of Natural Resources Historic Preservation Division revealed the need for standard practices in various efforts to improve the state's downtowns.

"What I discovered out of the study is that there are a lot of inconsistencies in the revitalizations of downtowns around Georgia," Starr says. "A lot of it meant to me we need more of a statewide policy on how to revitalize downtowns. What we found is that not every downtown can be revitalized. This is why I'm glad the lieutenant governor is going to head up a task force that's going to look at how we can best revitalize downtowns in Georgia as an economic driver."