Columbus: Anticipating Good Times
Counting on military expansion and tourism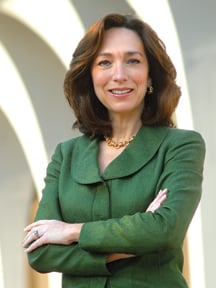 For many reasons, there is an air of anticipation in Colum-bus these days, expectations of a continuing prosperity thanks in large part to the 2005 Pentagon decision to keep the community's Fort Benning army post not only open but with a larger mission. An invasion of troops and civilian workers, their dependents, military contractors, vendors, retailers, school teachers, construction workers and developers will add about 30,000 residents to the region by this fall.
Mike Gaymon, president and CEO of the Greater Columbus Chamber of Commerce, has been tracking the impact of this summer's migration into his community, and he says it is already being felt as advance groups have begun arriving.
"I talked to some folks at Callaway [Gardens] recently, and they counted this time last year 2,000 more military folks that had been to Callaway Gardens compared to the same period the year before," Gaymon says. "Yeah, we're starting to see that the impact is not just about the military growing. It's also about the economic impact, and we're seeing it and feeling it all over."
Dr. Susan Andrews knows the tidal wave of new residents will be huge, but she wants to know the character, nature and age of this population boom, particularly the children. She would also like to know where exactly they will be landing. "The challenge for us is that the model that has been developed to tell us how many students are coming lets us know we could be receiving about 4,300 students in the Muscogee School District, which already has 32,000 students," says Andrews, superintendent of the Muscogee County School District. "Of course, that's good information, but the model cannot tell us what the ages and grades of these students are and where these families will live. And, too, the total number of students [will be] a little over 6,000 students, and we don't know if these students are going to live in Alabama or in neighboring counties or live here, in Columbus."
Andrews won't have the critical information she needs until the families set up housekeeping, but she has to be ready for the kids who will need to be in the classrooms when school begins in August. "We're preparing for the immediate future by making sure we budget enough for additional teachers, for additional textbooks, desks and chairs; but we'll have to wait until those children get here to know where to put those resources," Andrews says.
Part of the school system's preparation includes new buildings, renovations and additions to current facilities, paid for with the larger part of $233 million in Special Purpose Local Option Sales Taxes (SPLOST) approved by Columbus voters. New classrooms will accommodate new students at every grade level. "We know we need additional buses, and we're doing that with $2 million, and we're going to need additional bus drivers," Andrews says.
"And we're already challenged there in keeping enough bus drivers. We had a cabinet meeting a few weeks ago, and I went around the table and said, 'OK, looking at your department, what is it your department has to wrap up? Is it school counselors? Is it HR [human resources], needing to process that many new teachers? We'll have to have about 120 new teachers, and how are we going to process that many more employees quick enough? What about the abbreviated number of school days in this calendar year?" Andrews pauses and adds: "It's all quite a daunting task, but I think we can meet the challenge."
The chamber's Mike Gaymon has been collecting the kind of interesting statistics he can share with retail prospects while inviting them to set up shop in Columbus. "It was when we started putting the spin on this big, gigantic thing called Fort Benning and BRAC that I think folks started to see, yeah, this is a gigantic economic development engine," Gaymon says.
"Then we started breaking down the big numbers, like the $35 million more a month added to the $110 million in [Fort Benning-related] salaries." Gaymon says his chamber's studies project the massive population jump will add about $340,000 a year in purchases at each fast-food restaurant in the community.
"We really shouldn't call it BRAC, it should be BRAG – Base Realignment and Growth, because that's really what's happening," Gaymon says. The chamber of commerce executive puts the capital investment coming with the expansion of Fort Benning at about $3.5 billion, promising more work for the local construction and manufacturing industries, according to some economic developers.
"Sure, with the armored and tank mission expanded at Benning, there could be more manufacturing jobs opening up here," says Becca Hardin, executive vice president for economic development at The Valley Partnership, a regional organization of the Greater Columbus Chamber of Commerce. Hardin says one military contractor publication predicted a rise in manufacturing jobs for companies producing parts for tanks and armored vehicles. "We feel that in the fall of this year, we'll have a better idea of what defense contractors will need to be here," she adds. And this is where past, present and future come together in Columbus' arc of history and helps explain other 2011 arrivals projected for the coming months.
Historic View
"Not only did Columbus build ships for the Confederate Navy, but we supplied most of the ammunition, through our iron works, for a lot of the Confed-eracy, too," says Elizabeth Barker, executive director of the Historic Columbus Foundation. "And Columbus' Eagle Mill was making all the uniforms, so the textile mills, the iron works, the naval yards and the grist mills that supplied a lot of the flour, corn and wheat to feed the Confederate troops combined to make Columbus an important source of supplies for the Confederacy during the Civil War."
Since 2011 is the 150th anniversary of the beginning of that war, Columbus expects to see a rise in tourism from the arrival of Civil War buffs, collectors and historians. "We're hoping Columbus' role in the Civil War will attract them to our museums and battle sites," Barker says. "Historic Columbus is also providing a driving tour of our Civil War sites on certain Saturdays during the year, and we'll be offering brochures for those who can't make it on a Saturday so they'll be able to visit the sites on their own." Barker says that because Columbus is the place where Coca-Cola and the Civil War intersected, she expects to see brand-name memorabilia collectors showing up, too. (See page 78.)
Tourism in Columbus is worth $378 million annually, and that figure continues to grow each year, even among attractions that do not plan any Civil War observance.
One of the most exciting local tourism attractions is expected in the summer of 2013 when a two-mile Class V whitewater run opens on the Chattahoochee River in downtown Columbus. It will become the longest such stretch in the world.
The new downtown water feature actually isn't new at all – it's been around for thousands of years, but a dam has held it back for decades. That dam will soon be demolished, opening the Chattahoochee torrent to kayakers and canoeists brave enough to test its powers. "They're going through the permitting process now," says Peter Bowden, president/CEO of the Columbus Con-vention and Visitors Bureau. "We think it's going to have a big impact on tourism downtown. At a little over two miles, it's going to be the longest urban whitewater course in the world. It'll give us the opportunity to introduce a whole new market segment to Columbus."
Not that Columbus is short on tourism attractions. The community is home to the National Civil War Naval Museum and The Columbus Museum, which has a 2011 exhibition on the impact of the war on the citizens and slaves of the city. The city has turned its 1996 Olympics softball venue into a complex in high demand by tournament site selectors and is building a natatorium, an old word for a new indoor aquatic center that supporters believe will attract water sports competitors and their families who will lodge, dine and shop at Columbus facilities.
"We do a great deal of sports events tourism already, maybe because it's so diversified," says Columbus Mayor Teresa Tomlinson. "We already have Cooper Creek, one of the largest clay court [tennis] complexes around, and we also have Woodruff Farm Soccer Complex, which has very large soccer tournaments. The natatorium is going to be a big facility, with room for 700 to 800 spectators for world-class competition. There will be 25- and 50-meter [swim] lanes, and we already have interest from a hotel [chain] that wants to be involved." In a roundabout way, the natatorium will help relieve traffic congestion and parking problems in downtown Columbus, a nice by-product of what ends up being a new midtown civic complex.
The natatorium will be near the city's new Citizens Service Center, a new school system administration center, as well as a 395-space parking deck in a new $32-million-plus public project in a historic area. "It's in our midtown area, the equivalent of the Virginia-Highland area of Atlanta," Tomlinson says. The government part of the complex will hold the local elections office, tag and tax offices and provide other functions for taxpayers while relieving the congestion that surrounds the 11-floor downtown government building.
Midtown Booster
The midtown area of Columbus holds particular interest for Tomlinson, who arrived in the city in 1994 for a short stay while she represented an Atlanta law firm on a case in neighboring Alabama. But she was captivated by the historic neighborhoods here, threw out an an-chor and became involved enough to be elected mayor last year. "I got down here in '94 and I said, 'This is really something else. You can go home for lunch.'"
Tomlinson has thrown herself into intown redevelopment and the preservation of historic properties. "I practiced law for 16 years, then went into economic redevelopment and had a great passion for that," she recalls. After serving as executive director of Midtown Inc., a nonprofit redevelopment organization, and then being elected mayor, she cast her eyes on another part of the city that seemed to be crying for help.
"We have a huge area in South Columbus immediately adjacent to the river and to Fort Benning. So it is some prime real estate, and it is at this moment quite undeveloped," she says. "It has large tracts of land, 60 acres, 15 acres, 25 acres, that all used to be something such as manufacturing facilities or whatever it used to be, and it's all been demolished. There is a lot of vacant land ripe for reinvestment, and that's what I ran on and developed mayoral commissions [to study] and am pushing hard on finding ways for the private market to become engaged in doing something down there."
Steven Cadranel is a developer who found Columbus to be ideal for private investment in a project called Columbus Park Crossing, the retail component of Columbus Park, a development Candranel shepherded to completion back in 1991. "The occupancy rate there has been phenomenal," says Candranel, a partner in Atlanta-based Ben Carter Properties. "Columbus Park Crossing is an open-air collection of shops, stores and restaurants totaling just over 1.5 million square feet, and there are hotels and other commercial developments as part of Columbus Park."
Striking to Cadranel is his occupancy rate at Columbus Crossing, which opened in 2002. "From the day we began until today, our occupancy has been about 99.9 percent," he says. "In many respects, Columbus has been the economic engine of Georgia during this downturn. The amount of construction that has been going on there as a result of BRAC and other corporate expansions have, in many respects, led the state, and our shopping center has been the beneficiary with continued high occupancy and exceptional sales numbers."
In a year when history seems to be favoring Columbus in the past and present, Gaymon was offering a little history lesson of his own on how "this gigantic economic engine" came to be in Columbus: "Back in 1916, a group of leaders from the chamber of commerce and the city hired this guy and sent him to Washington for the sole purpose of, [communicating], 'We want a military base in our community,'" Gaymon says.
"And you know when you give birth to your child, it's always your child. It may be ugly; it may be bad, but it's your child. From the very beginning Fort Benning was here by design, unlike other communities where the federal government said here is a military base and ya'll are going to have to live with it. So Fort Benning is ours, and we are theirs."
Community Snapshot
Local Leaders
Mike Gaymon
President and CEO
Greater Columbus Chamber of Commerce
706.327.1566
mgaymon@columbusgachamber.com
Becca Hardin
Executive Vice President, Economic Development
The Valley Partnership
Greater Columbus Chamber of Commerce
706.327.7512
bhardin@columbusgachamber.com
Teresa Tomlinson
Mayor of Columbus
706.225.3164
ttomlinson@columbusga.org
Population
(2010, estimated)
187,262
Per Capita Income
(2007)
County, $36,353
Georgia, $33,499
Unemployment Rate
(February 2011, preliminary)
Muscogee County, 9.6 percent
Georgia, 10.2 percent
Top Manufacturers
Kysor/Warren, Swift Spinning Inc., Pratt & Whitney, Interstate Brands Corp., Precision Components International, Inc.
Sources
U.S. Census Bureau, Georgia Department of Labor, Greater Columbus Chamber of Commerce, The Valley Partnership