Staying On Top
Credit unions strengthened their position during the recession and are ready for more prosperous times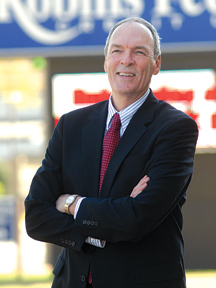 Georgia consumers are gradually loosening the tight grip they have had on their money, and the state's 162 credit unions are cheering that good news – even though they were often the big winners during the darkest days of the recession.

"We had two big boom and busts in the stock market," says Mike Mercer, CEO of Georgia Credit Union Affiliates (GCUA), a trade association for those financial institutions. "The first was the dotcom situation of the late '90s, and that came tumbling down in 2000. Then we had another boom related to easy money and rapidly escalating real estate prices [in the mid-2000 decade], and that came tumbling down even harder. When those things happen, people tend to pull their money back and put it into insured depository institutions, banks, credit unions and savings banks."

And, Mercer says, when banks began suffering from poor decisions on real estate lending, leading to well-publicized closings, credit unions saw their activity rise. "The Georgia credit unions didn't have very much, if any, exposure to what you'd call subprime real estate practices and also didn't get involved in all the development real estate lending — the strip malls, subdivisions and shopping centers."

Result: Banks got Charlie Sheen-like negative publicity while the credit unions weathered the storm stoically, seeing their deposits and loans rise slowly and surely, and even, at times, dramatically. Yet not all new business at the credit unions is a reaction to economic conditions or troubles in banking, Mercer says.

"I would say today the motivation for moving into credit unions is more related to pricing [of services], and I think the general public is more aware of credit unions, about what they do and the benefits they provide," Mercer says. "In Georgia, we semi-annually do a survey comparing pricing with credit unions and banks, and the lower loan rates and higher savings rates and the lower fees generate about $130 million annually in savings for the 1.8 million people in Georgia credit unions."

Mercer says his association's surveys show consumers may be ready to go shopping, with a little help from lenders. "I think as people start getting more comfortable about their employment and their income, they're going to start making those major purchases they've been putting off, whether they're remodeling a room or buying a vehicle or perhaps spending money on a vacation," he says, noting that one big ticket item, a new car, is already being checked off the shopping list.

"One thing we've noticed in the last three months is that the proportion of new cars being financed has actually risen relative to the level of used car financing, which is the first time we've see that in quite a while," Mercer says. "That could tell you the stock of autos people own is getting up to six figures on the odometer, and that the price of used cars has gone up to the point where some versions of new cars are somewhat more attractive to buy than they usually are."

He says car dealers are offering often-irresistible incentives and longer loan terms to move the cars, which seem to be working. "We have a hunch, by what people are doing, that the economy is a little bit stronger than the unemployment rate and home prices would lead you to believe, "he says. "We see activity picking up. We see this in car sales. We see this in credit card activity and transaction activity."
Good Reputation
"We've probably had three of the best years we've ever had during this whole [economic downturn] process," says John Rhea, president/CEO of Robins Federal Credit Union in Warner Robins (RFCU). "I think when you've had the terrible economy and all the bad news – we had some banks in our area that didn't do well, and a couple of the larger community banks in our area failed – we picked up a lot of their customers and business at the credit union. I think, too, a lot has to do with the reputation of your financial institution."

Robins Federal is well known to consumers in Middle Georgia, having been in the region for 54 years. Begun by civilian employees at the sprawling Robins Air Force Base (RAFB) in 1956, the credit union opened its doors wider in 2000 when it became a community credit union and extended membership to residents of 16 counties.

The credit union now has 18 branches surrounding RAFB, Georgia's largest single employer with an annual payroll of $1.6 billion going to 15,000 civilian employees and 7,000 military em-ployees.

"The impact of that base on our area is just unbelievable," Rhea says. "And, frankly, it's helped our credit union. Because you have such a big, strong employer, we're a little insulated from some of the problems the rest of the state and the rest of the country have had."

Robins Federal has more than 133,000 members, and the big base's amenities for retirees are attracting them – and contributing to the credit union's growth as well.

"They are certainly an important part of our customer base," Rhea says. "But we have attractions for the young as well. We like for them to open their first checking account with Robins when they are about 15 years old. We started mobile banking here for our membership about two years ago. It seems like everywhere you go you see people are using their phones or iPhones or some other devices and are just typing away, and we wanted to make sure they would be able to access their accounts in that manner. And now we have Facebook and Twitter, too."

Like most businesses today, Robins Federal promotes its services online and uses more conventional methods to generate new customers. "We're a large financial institution, right at $1.4 billion, so we're able to do some radio, some branding and image campaigns on television," Rhea says. "We've got 18 branches here in Middle Georgia, giving us a pretty large footprint in the region."
Open Membership
While most credit unions have connections to an association, business or industry or some kind of geographic link that defines its membership, Associated Credit Union (ACU) in Norcross is, oddly, not associated with any specific group and anyone can join.

Originally chartered in 1930 to serve "federal employees and military personnel," according to a brief history provided by ACU's marketing department, the Federal Employees Credit Union merged with the much smaller Associated Credit Union in 1987 and invited all comers to join. "Our open field of membership is the most open in the country," says Lin Hodges, president/CEO of ACU, who bristles at the idea such universal membership makes his institution more like a bank.

"There are big, big differences between us and a bank," Hodges says. "With a bank or for-profit institution, like any other for-profit business, their goal is to maximize their shareholders' return, and their shareholders may not be their customers. Whereas with us, our members and shareholders are one and the same. We're tax-exempt, so we receive benefits from that. And what we do is give those benefits to our members, who benefit through higher deposit rates, lower loan rates and lower fees. "

Hodges says such lures have attracted partnerships with some of Georgia's most recognizable corporate names. "We have a long list of companies that use us as their credit union, like Home Depot, Cox [Communications], Turner, CNN, Southwire, Sysco [Foods] and many others." This, he says, explains why the credit union had to drop the reference to federal employees. "The name was hardly descriptive of the market we serve," he says. "In today's environment, there are a number of credit unions that can take in a pretty wide array of members. Most anybody in Atlanta is probably eligible to join three or four different credit unions. I don't doubt the banking crisis helped us [grow], and we take no pleasure in that. "

Hodges finds fresh challenges in marketing his services and products to what is perhaps the most diverse local population in the state along Gwinnett County's Jimmy Carter Boulevard and other arteries where more than two dozen languages and dialects are spoken.

"The Hispanic population is the fastest growing in the state," Hodges says. "It doesn't take a rocket scientist to figure out that if you're going to serve this [suburban] market, you've got to figure out a way to serve the Hispanic market properly. That's a challenge for a number of reasons, and we're making progress there, but I would say that's an area where we need to make more progress."
Faith-Based Entities
Another credit union executive, Kabir Laiwalla, CEO of Platinum Federal Credit Union in Lilburn, leads a faith-based credit union that focuses on serving immigrants in the Ismaili sect of the Muslim faith, chiefly those from India, Pakistan and Africa. "They are people who own their own businesses or franchises like Checkers or Subway," says Laiwalla (pronounced Lay-walla). "They also own convenience stores. Most of them are [recent] immigrants and are still coming into this country for professional jobs or studying, and it's hard to get credit for them. That was the motivating factor for starting the credit union."

Begun in 1999, Platinum today has more than $25 million in total deposits. That's after reaching $2 million in 2001, a modest beginning with modest growth by the usual standards, but Laiwalla says his own experiences, and those of his membership, have led to a few innovations for the Platinum customers he serves.

"Most of the bankers don't want to offer a loan to a startup," he says. "I know when I started my credit with a Bank of America secured credit card, I had to put $500 in a savings account. After three months, they offered me a secured credit card with $400 worth of credit, and that was back 10 years ago." To get his immigrant clientele on the credit trail, his credit union helps them with their first credit card.

"When an immigrant comes for work or study, we open their accounts and give them a $500 unsecured credit card," he says. "We treat them not as a bad credit [risk] and not as an excellent credit [risk], but we treat them as a fair credit [risk]." Membership at Platinum is contingent on membership at the Jubilee Association, a Muslim group. Laiwalla says most of his members are proficient in English, but just to cover all the bases he has a multilingual staff.

Another faith-centered credit union, the Marietta-based Georgia Florida United Methodist Credit Union, has members from three United Methodist Conferences in North Georgia, South Georgia and Florida, serving more than 4,600 members. Pastors, church employees and members are eligible to join the credit union, which offers most of the same services as their more worldly brethren.

"Originally we were formed by United Methodist pastors in 1960 when they pooled their money to begin the credit union," says Keith Pritchard, President of the Methodist credit union. And over the years, the churches' memberships were added to the list of eligible members. The credit union has $23.5 million in assets and sells its services and products by visiting churches during the year and attending United Methodist Conference annual events in the two states, where the staff sets up information booths to meet with pastors and lay delegates. "Any profits we make go back into lowering fees, loan rates and credit card rates," says Pritchard. "We do church accounts as well, and try to help them do their ministries where we can. "
Looking Ahead
Georgia Credit Union Affiliates CEO Mike Mercer is optimistic that member institutions will have a good year, barring unforeseen circumstances.

"When you're dealing with consumer sentiment, they tend to be looking backwards at the last 12 months to project forward what they think about the next 12 months," he says. "But if we have state and local governments laying off tons of people to try and balance their budgets, and if we get totally surprised on the federal deficit, then all that could come together to give us another blow.

"We're hopeful that in terms of how people feel about their finances and what they turn out to be, we're seeing the [bottom] right now," he says.