LaGrange/Troup County: Good Fortune
Jobs and population growth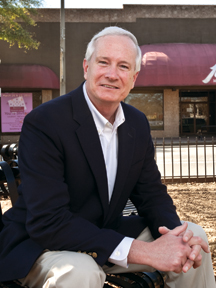 It would take a good old-fashioned Southern word like "bodacious" to describe the reaction of leaders in LaGrange and Troup County to their good fortune. It starts with location. The county sits at the northern end of a 45-mile corridor that has already begun welcoming the first of what could be up to 60,000 new residents, as well as a wave of new industries and a flood of retail stores.
To meet the anticipated increased demands on infrastructure and the delivery of services in the midst of a recession, elected officials here asked their constituents to raise taxes on themselves, which they did.
Now municipal and county officials and executives in all manner of government agencies are being asked to put aside their egos, abandon rivalries and let go of personal and political agendas while they prepare report cards on themselves for public examination.
In the mid-2000s, when it appeared Troup County was going to be at the center of a regional population and economic development boom, local leaders commissioned Georgia Tech to produce a plan for enhancing services and infrastructure to sustain managed growth far into the 21st century. The completed plan, as thick as a library dictionary, was presented in the summer of 2009 and contained 10 goals and 50 strategies.
"That document is a roadmap for sustainability, for growth and for managing the growth," says Kay Durand, executive director of the Troup County Center for Strategic Planning (TCCSP), a nonprofit created, says Durand, "to keep everybody singing from the same sheet of music."
While the Georgia Tech plan held recommended growth strategies for government agencies, political subdivisions, economic developers and health agencies, there was no guarantee those entities would work in tandem and avoid duplications or contradictions with any of the others, says Durand, adding, "The [Georgia Tech] document does not keep people together, so to reach the goals the leadership created the center."
The dozen or so members of the center's board meet monthly to coordinate their efforts to reach individual goals outlined by the Georgia Tech study.
"One goal is for the future of Troup County to be well planned," Durand says. "We want a knowledgeable community and one that is prosperous." The board takes on the responsibility for attaining such lofty goals. Progress reports are turned in to the board, and a report card is prepared for public consumption.
A critical part of the effort is Troup Works, an online program to connect the unemployed with job opportunities throughout the community. "That program is growing monthly," says Ricky Wolfe, chairman of the Troup County Board of Commissioners.
TCCSP's membership includes representatives from county and municipal governments and leaders from healthcare, education, the chamber of commerce and local development authorities. Funding for the project comes from its members.
Welcome News
It would seem natural to attribute the flurry of activity and promise of regional prosperity to two welcome developments. First was the 2005 Pentagon announcement that the mission of Columbus's U.S Army Post, Fort Benning, was being expanded and that 30,000 troops, contractors, vendors and their families would be coming to the region, just a 40-minute drive down I-185 from Troup County.
The second, just a year later, was the announcement that Kia, the Korean automaker, would put a $1-billion manufacturing plant at the Troup County town of West Point, promising to bring 30,000 jobs connected to vehicle production, suppliers, retailers and attendant businesses.
Those two developments might easily explain the population flood and manna associated with it. But, says Jeff Lukken, not exactly.
"Long before Kia discovered this area, within an 18-month period around 2004, we all of a sudden realized developers were coming in here from Florida, Chicago, Maryland, the D.C. area and all over the Eastern U.S., and at first we were surprised," says Lukken, mayor of LaGrange, the county seat.
"Well, we approved zoning permits for 11,500 new housing units, and at the time LaGrange only had 11,200 houses."
What are these developers seeing that we can't see, Lukken remembers asking. "They were kind of surprised we couldn't see it," Luk-ken recalls, detailing the developers' responses. "They told us we're nestled on the shores of West Point Lake. We're one of only nine metro areas that have an intersection of two interstates (I-85 and I-185). We've got more Fortune 500 companies per capita located in LaGrange than any other city in the country, all solid companies.
"LaGrange and Troup County sit almost halfway between Atlanta and Columbus. Then we've got Macon, Birmingham and Montgomery, so we're right in the middle of the region's five fastest-growing cities. This is what the developers saw."
But what one developer may have found to be most attractive about Troup County was that everything within its county lines was a TAD, a tax allocation district, something developers covet, one that can cut months, even years, off a project launch and can ease the way to further financing. For local governments, a TAD can shovel big tax dollars from retail sales into the public coffers and fill a consumer need.
Seeking Retail
"This community is desperate for retail opportunities," says County Commission Chairman Wolfe. "All of us elected officials get beat up all the time about the lack of retail. It's a big hole in our strategy."
The first step in filling that hole occurred in July 2010 when Troup County voters approved the Tax Allocation District issue. With a speed that stunned TAD supporters, a developer sought and got the TAD amenities for a 370-acre site along exits 13 and 14 on I-85. The developer planned for 1.2 million square feet of retail space predicted to generate $400 million in annual sales when fully built out.
The mixed-use development, operating under the name LaGrange Station, could open up as many as 1,200 new jobs and another 550 part-time jobs, leaders say.
The new TAD-enabled project, says LaGrange's Mayor Lukken, is a thing of beauty. "This TAD will use about $15 million in initial funds to build a road network, other infrastructure, parks," he says. "The developer floats a bond, and the increase in property taxes from the developed property will pay off the bond. That'll take about 15 years, at which time the local governments begin to keep all the [property] taxes."
The prospect of new jobs is good news for Page Estes, president of the LaGrange-Troup County Chamber of Commerce. "People are leaving Troup County and going north to Newnan, south to Columbus and west to Auburn/Opelika to make a lot of their purchases for things we don't have here," Estes says.
"Money is leaving our community, and we want it to stay here. That's why the chamber was so interested in the TAD." After the Kia plant opened in 2009, the chamber of commerce held focus group discussions with Kia executives to see what problems the new arrivals were facing. The locals learned the auto plant's employees were having difficulty selling the homes they left to take a jobs in Troup County, and that led to a local phenomenon.
"Our rental market has been fantastic in West Central Georgia and East Alabama [with] people moving into apartments or homes because they still have a mortgage to pay," Estes says. Improvements in the housing market and the easing of financing could help that problem, she says.
Although Kia came on line last year in Troup County and a growing number of jobs is slowly opening up at Fort Benning, neither of those sites has hit the full stride of job hires. Unemployment in the county remains at 11.5 percent, well above the statewide figure of 10.2 percent, a condition apparent to Wolfe. "We're still running a high unemployment rate here, and that is the result of losing more traditional jobs than Kia could absorb," he says. "Thank God we've got Kia because without them our unemployment would be staggering."
Complicating the effort to get more unemployed workers into jobs are the skills required in today's high-tech workforce, Wolfe says. And with a steady loss of jobs in the local textile industry, many unskilled workers find themselves in a market requiring higher training levels.
Arts Scene
With a widening industrial base and the promise of robust growth in the retail sector, Troup County residents can find a kind of whimsical relief from the rigors of business in the funky cultural connection with 20th century pop art icon Andy Warhol. The community's affection for Warhol's works has led the unofficial historian of the Warhol-LaGrange affair, Wes Cochran, to declare, "There are 70-some-odd Warhols in LaGrange, and we think we have more Warhols per capita than any town in the country."
Cochran, a stone mason/art collector, credits the Warhol craze in his hometown to his uncle William May, known affectionately to locals as Sir William, a World War II Navy veteran who knew how quickly a young man in a strange port could be separated from any cash he might have. So when young Wes found himself working in Bahrain some 35 years ago, he received letters from Uncle Bill advising his nephew to send part of his pay home so he could invest it – in art.
"I was getting some very good advice, and my claim to fame is that I paid attention to what he said, and did what he said," Cochran says. When he returned home from the Middle East, Cochran found his Uncle Bill had started a modest art collection for the young nephew.
"He probably had bought 12 or 15 pieces for me, and I was seeing them for the first time," he remembers. "There were no Warhols in the collection, but there were some of his contemporaries like [Robert] Rauschenberg and [Alexander] Calder and all those guys at that time who were available and very reasonably priced."
By the early 1980s, Uncle Bill was buying Warhols for his nephew and others, earning a commission for it. Solid investments, according to Megan Johnston, executive director of the LaGrange Art Museum. "Sir William would get pre-production prints," Johnston says. "He got people to give him, say, $6,000 back then for Warhol's Cowboy and Indian Series of 10 prints. Those 10 prints today are worth $200,000. There's a Mao [print] in town, a Campbell's soup can, too. It's quirky."
Johnston's museum is located in the heart of a downtown that continues to be the beneficiary of a local boy who made good on the promise of the American dream through hard work, a natural business savvy and highly developed people skills. By the turn of the 20th century, LaGrange native Fuller Callaway was a 20-year-old businessman, and he became a millionaire before World War I.
After reaching the heights of success in textiles, banking and other businesses, the entrepreneur began the Callaway Foundation in 1943. Today the $200-plus million nonprofit is a key partner in LaGrange's downtown development. "We're in the neighborhood of $9 million to $10 million a year investing in this community," says H. Speer Burdette III, president and general manager of the Callaway Foundation, Inc. "It's north of $25 million that we have spent and are spending in our downtown to help promote this community. Our goal is not to own it. We want to put in the infrastructure and encourage others to come and be a part of this and invest here."
In 2000, the Callaway Foundation commissioned a study that Burdette says "brought consultants from near and far to here."
The consultants poured out sketches and drawings for ideas to help the downtown keep its vibrancy. One of them called for downtown planners to go against the tide of a trend that saw downtown theaters moving to the suburbs and malls.
"They envisioned a movie theater downtown with a cupola that might have looked like our old courthouse," Burdette says. "It's a 10-screen Carmike Theater."
The foundation also bought an old department store downtown, spent $5 million renovating it, and created space now housing a health club, restaurant and gift shop, before giving it to the Downtown Development Authority.
"So that they would then have the rent stream to continue fueling economic development and prosperity downtown," Burdette says. Plans are in the works to introduce loft apartments or condos in the downtown area. "Mr. Callaway often said this is where the money was made," Burdette says, "And this is where he would like to see it predominately spent."
Community Snapshot
Local Leaders
Ricky Wolfe
Chairman
Troup County Board of Commissioners
706.883.1610
rwolfe@troupco.org
Jeff Lukken
Mayor of LaGrange
706.883.2064
jefflukken@hotmail.com
Kay Durand
Executive Director
Troup County Center for Strategic Planning
706.298.3639
kdurand@troupco.org
Population
(2008)
County, 64,233; LaGrange (county seat), 28,401; Hogansville, 2,912; West Point, 2,644
Per Capita Income
(2007)
County, $28,320
Georgia, $33,499
Unemployment
(December 2010)
County, 11.5 percent
Georgia, 10.2 percent
Top Employers
Troup County School System, Kia Motors, West Georgia Health Systems, InterfaceFLOR, Walmart Distribution Center
Sources
LaGrange-Troup County Chamber of Commerce, Georgia Department of Labor, U.S. Census Bureau