Going Up
As unemployment increases, so do technical college enrollments and offerings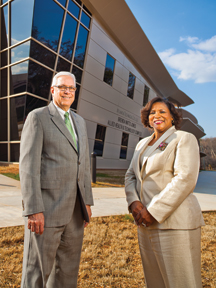 Several years ago when unemployment numbers were rising along with layoffs, plant closings and foreclosures, Dr. F.D. Toth, interim president of what was then Valdosta Technical College, had a journalist in his office and the two were discussing an economic climate in which jobs were scarce. "There sure isn't much demand right now for a guy with a degree in English lit," the journalist told the technical college president, who had also served as dean of the business school at Valdosta State University. "Sure there is," Toth told the writer. "There are hundreds of jobs right now for that guy with the degree in English lit – if he also has a welding certificate."
Toth was having a little fun with his guest, but he was also describing what many believe will be the most desirable employee of the future, one who has a college degree and a certificate or diploma from a technical college. Such a creature would be almost impervious to the slings and arrows of just about any kind of economic downturn.
A cultural anthropologist or behavioral scientist studying the survival instincts among the legions of Georgia's unemployed workers over the past four years could only draw one conclusion: They found the most promising hope for a job by stopping first at one the state's technical colleges, to either upgrade their existing skills or cross-train into another job or profession where opportunities for employment were more plentiful. This education demographic is just one of the factors responsible for a 28 percent enrollment growth at Georgia's 26 technical colleges during 2010, according to Ron Jackson, commissioner of the Technical College System of Georgia (TCSG).
"The unemployment has certainly driven our over-40 group [enrollment] up," says Jackson, who also acknowledges a far younger group is enrolling at a faster pace than ever. "We've changed that image from trade schools to technical colleges, and more students coming out of high school are selecting technical colleges as a path to higher education and as a path to get a job," Jackson says. "They can get the big bucks faster. And if they want, they can get their certificate or an associate's degree from us and go on and earn a four-year college degree or get their post-graduate degree while they are working."
To keep those high school grads lining up at the admissions office, the state's technical colleges are becoming more like their cousins at the University System of Georgia (USG), offering extracurricular activities such as sports and funding them, and other projects, with endowments in their foundations. While taking a date to the Friday night basketball game may be fun, the technical college basketball program also makes better students, Jackson says. "Giving them extracurricular activities, we find that our retention rates and completion rates are higher," he says.
Aviation Technology
There is an aerial photo of the campus of South Georgia Technical College (SGTC) in Americus that features a short walkway at its center. The little stretch of pavement is unremarkable, but the land below it is a piece of American history and hallowed ground to aviators. From this spot in May of 1923, Charles Lindbergh guided his sputtering Curtiss JN4 Jenny biplane into the air to begin his 30-minute solo flight from what was then Souther Field, a WWI pilot training site. Lindbergh would make a far more noted solo flight four years later when he was the first man to fly the Atlantic Ocean on a 33-hour trip from New York to Paris.
Today Souther Field is the Jimmy Carter Regional Airport, named for a homegrown notable, and it is home to South Georgia Tech's Griffin Bell Aviation Center, named for the late former federal judge and U.S. Attorney General, also a Sumter County native and a significant benefactor of the technical college. There was another notable flight into the Carter Airport last year, one made possible by a 1982 SGTC graduate who became the lead mechanic for the Athens-based Jets R US, an aviation company.
"He called and asked if we wanted a Learjet," SGTC President Sparky Reeves says, clearly relishing his story and not a man who would refuse the gift of a Learjet. "They were retiring two of their jets and offered us one. We were tickled to death to have it and it flew here from Athens in 22 minutes, landed at the Jimmy Carter Regional Airport and taxied over to the Griffin Bell Aviation Center." The jet promptly became a learning tool in the college's aviation technology courses.
On several levels, South Georgia Tech serves as an example of how the modern technical college operates, particularly in a time when resources are scarce while demands for workforce training are rising. Tuition and paid training partnerships with industry are two important revenue sources.
More and more freshly graduated high school students are helping boost enrollments, with the younger students attracted by the fast-track curricula and broadening extracurricular activities. SGTC has men's and women's intercollegiate basketball teams, the only technical college in the state to do so; the college's foundation currently has about $5 million in endowments for use in funding those activities and has funded 306 scholarships over the past three years.
The school is one of only two technical colleges to offer on-campus housing, though there are discussions system-wide on building small residence units on some campuses. The college finds the on-campus residence halls vital to the health of the school's relationships with companies like Cater-pillar, whose dealers send employees from seven Southeastern states to SGTC for study and training programs at the Caterpillar College of Techno-logy, one of 11 in the world.
"We were chosen because we were in the Southeast; we made a commitment to remodel one of our old hangars to suit their particular needs; and the key here was on-campus housing to take care of employees or students Caterpillar could send us on a 10-week rotating basis," recalls Reeves.
Georgia's technical colleges can trace their origins to the 1917 Smith-Hughes Act, co-authored by Georgia's U.S. Sen. Hoke Smith. The legislation was a congressional mandate to all the states ordering them to create a state board for vocational education, according to the New Georgia Encyclopedia.
It would be 1944 before the North Georgia Trade and Vocational School opened in Clarkesville, marking the genesis of the state's modern technical college. The second such school opened in Americus in 1948 and evolved into what is today South Georgia Technical College. By the end of the 1960s, there were 19 "vo-tech" schools in Georgia, and the schools were assuming more re-sponsibilities, such as teaching some Georgians how to read and write.
Today more than 190,000 students are enrolled in the Technical College System of Georgia, studying on the 85 campuses of the system's soon-to-be 25 institutions and their satellite facilities. With 6,000 full-time employees and 12,000 part-timers, the schools are themselves job makers and economic development allies for their host communities. Even the most senior TCSG officials have difficulty remembering when the system didn't have annual double-digit growth, lately at a time when state funding was moving downward.
"Because of the 28 percent enrollment growth we had in 2010, we should be getting 63 million new dollars for the 2012 budget," says TCSG Commis-sioner Jackson. "But they don't have it to give to us. In fact, we're taking a 6 percent [budget] cut."
Healthcare Investment
Six years ago Columbus residents learned some 30,000 people would be invading the western region of Georgia following the decision from the De-fense Base Closure and Realignment Commission (BRAC) to move the U.S. Army Armor School and Center from Kentucky's Fort Knox to Georgia's Fort Benning. The region's newest citizens will begin arriving in force later this year and will include troops, civilian employees, contractors, vendors and their families.
"We sent three planeloads of folks [to Kentucky], and I had staff going up there on three occasions, paving the way for their arrival," says Bob Jones, president of Columbus Technical College (CTG). "We were talking to people who might be considering moving to Columbus or those that knew they were coming to our region."
In addition to seeing what educational services CTG might need to add or change in its 80-subject curriculum, the staffers also extended warm welcomes and described living conditions in the Columbus area, housing availability, the quality of schools, recreation opportunities and healthcare services, a subject long on the minds of Columbus Tech executives and one that led to a fortuitous decision long before the population flood around Fort Benning was anticipated.
"We made the decision about a dozen years ago, even before we knew BRAC was going to take the form it's taken, to heavily invest in healthcare because the demographics told us we were going to need additional re-sources," Jones says. "With the baby boomers coming along and our aging population, it was evident we were going to [need to] have those healthcare professionals. BRAC was just another layer on top of that."
To meet those needs, Columbus Tech purchased a 26-acre site adjacent to its campus and launched a fund-raising campaign that raised $10 million to leverage into $16.25 million to construct the recently opened 80,000-square-foot Robert L. Wright, Jr. Health Sciences Center, a major step in providing future healthcare professionals needed to accommodate the local population growth. "We are all about economic development," Jones says. "And technical education is economic development."
Staying In Touch
Commissioner Jackson meets every other month with the presidents of his colleges to keep them posted on policy changes; listen to presentations on subjects like improving energy efficiency; and to bounce ideas around the meeting room. The first meeting of the new year had been scheduled for Atlanta; but a winter storm covered the city's roads with ice, while mists, rains and fog made driving a bit more dicey than normal. So the event was moved to Macon, where questions were raised about how much life is left in the system's buildings and how their energy efficiency can be increased.
"Of the 6 million square feet of space we have in our system, much of it was built before 1970," Jackson says, after hearing a consultant's report on a study done at one technical college on the viability and energy efficiency of its buildings. "There is a point of diminishing returns to be able to keep [buildings] operational and safe when they reach a certain age."
Another building-related discussion topic for Jackson is the prospect for more on-campus housing. "We don't have much housing," Jackson says. "The two campuses that have it got it because when they were built they were the only two such schools in the state."
Now, he says, almost everyone in the state lives within commuting distance of a technical college, and online study programs are at the fingertips of all Georgians. "But there are special circumstances where some campus housing is warranted," Jackson says.
"We get a huge number of participants in our funeral services program at Ogeechee Tech in Statesboro," he says. "They come from all over the Southeast, and it's the only public institution that has the low cost that we have and gives certification in that program. And there is expanding growth with many of our colleges for international students. In that regard, having some student housing would not be a bad idea."
One of those foreign exchange programs has been sending students to Europe for the past 12 years. "It began as a cultural exchange bringing together people from different backgrounds," says Dr. Alvetta Thomas, president of Atlanta Technical College (ATC), the third fastest-growing community college in the nation among schools with enrollment between 2,500 and 4,999, according to a higher education publication.
The Atlanta Tech foreign exchange program trades students with Germany every other year, and Thomas says her students have found the trip overseas to be life changing. "There are a number of students who've never been on an airplane, never been out of the state of Georgia," Thomas says. "We now live in a global society, and to take our students from where they are now to a different part of the world is transforming for them."
Thomas sees ATC's growth as a natural byproduct of Metro Atlanta's population increase, aided by a vigorous marketing program. Keeping up with technology, especially in high-demand courses related to healthcare professions, also contributes to sustaining growth, Thomas says, pointing to the beginning of classes in the newly opened Brenda Watts Jones Allied Health and Technology Complex, a $14.8-million educational facility on the ATC campus.
Thomas is proud of the overall progress her institution is making and of the impact the school has on individual students. "This year we had one young man who was homeless. He is a pharmacy tech student, and this young man had the opportunity of working with the German pharmacists [as part of the international exchange program] and mixing his own compounds. What a wonderful experience for him."