2011 County Excellence Awards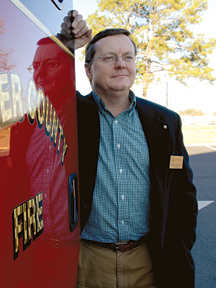 There's always room for good ideas and good execution of those ideas in county government, but it becomes essential in a tough economy. The six winners of this year's County Excellence Awards – Clayton, Cobb, Dawson, Glynn, Oconee and Sumter – have found ways to improve efficiency, add recreational facilities and protect their citizens.

For the sixth year, the Association County Commission-ers of Georgia (ACCG) and Georgia Trend have teamed up to recognize good ideas put into action. Winners are determined by an independent panel of judges convened by ACCG.

"Counties that are recognized with County Excellence Awards have developed innovative programs to improve quality, efficiency and other aspect of programs and services," says Ross King, ACCG executive director. "Like businesses, counties must continue to look for ways to make improvements."

This year's winning projects include training future community leaders, enhancing neighborhood safety, using technology for emergency preparedness, creating a park, providing a safe way to dispose of medicines and establishing a fire department. You can read the stories in the next pages.

Gilmer County was awarded an honorable mention for its revision of the Gilmer-Fannin county line.
Clayton County
Neighborhood Stabilization

The foreclosure crisis has impacted virtually every county in the state, but some have been hit harder than others. As one of the areas in Georgia most affected, Clayton County received a $9.7-million grant in federal Neigh-borhood Stabilization Program (NSP) funds from HUD in 2009 to help combat the effects of the crisis in local neighborhoods.

While certainly welcome, these funds were little more than "a drop in the proverbial bucket, given the tremendous needs in the county," says Mickie Williams, manager of the NSP for the Clayton County Housing and Community Development department. "It was clear that a more holistic approach needed to be utilized in order to have a measurable impact on the problem."

At the national level, NSP was rolled out with specific objectives, but there were very few details about how the program should be operated at the local level. So the challenge for the Clayton County NSP team was how to best leverage the funds to address both short- and long-term local needs in an environment where the rules were still being written at the national level.

The Clayton County NSP Project Office was formed in the fall of 2009 to focus exclusively on this effort. A little over a year later, it's clear that the county got an amazing amount of bang out of the relatively limited funds that were granted. "This program not only provided assistance to combat the effects of the foreclosure crisis in our county, but it also helped stimulate our local economy," notes Clayton County Commission Chairman Eldrin Bell.

The county developed a process that resulted in the rehabilitation of 115 homes in eight neighborhoods in just over eight months. It produced 36 new homeowner families and placed another 22 homes under contract, and is aggressively marketing the remaining 57 homes to owner occupants. "We met and exceeded all of HUD's requirements before the due date and were awarded an additional $3.8 million for NSP3, which was the third largest award for any county in Georgia," says Bell.

The program has also generated more than 1,300 new work opportunities in Clayton County and injected more than $68 million in stimulus funding into the local economy. In addition, the county was able to offer financial incentives of up to $20,000 for targeted homebuyers. "One of the most gratifying indicators of success has been the positive feedback we've received from existing homeowners in the neighborhoods where we're working," says Williams.

"We believe that our NSP program can serve as a successful model that can help significantly relieve the deleterious impact of housing foreclosures on the economic and social well-being of other counties in Georgia," adds Bell. – DS
Cobb County
Medication Disposal

When Cobb County began planning a series of Medication Disposal Days as part of its Keep Cobb Beautiful initiative, its main goals were environmental – specifically, to help remove dangerous pharmaceuticals from the county's drinking water supplies and landfills.

Organizers quickly discovered, however, that there was another big benefit to the program: Helping stem the abuse of prescription drugs by teenagers. Thousands of unused prescriptions sit in medicine cabinets all across the county, according to public safety officials, where they're easily accessible to teens.

"This was an aspect of the program that we hadn't considered originally," says Gwen Baldwin, public programs coordinator for Cobb County. "It became an opportunity to help the police meet their goals of getting unused prescription drugs out of medicine cabinets and off the streets."

While some states are very active in organizing Medication Disposal Days, Baldwin says no such event had been organized in Georgia, at least not on the scale of a 700,000-citizen county. "No one in the state had attempted something like this on such a large scale, so there were no guidelines or protocols in place at the state or local level," says Baldwin.

Fortunately, everything Cobb needed to make the event happen was in place, including support from the police and public safety departments, the water department, senior services and Kaiser Permanente, which Baldwin says was the county's key partner in the event. "We definitely couldn't have done this without Kaiser Permanente's support."

Collections were held at conveniently located senior centers in the county on three Saturdays last February (2010) so that all Cobb citizens would have access to a convenient drop-off point. Approximately 400 vehicles dropped off 1,425 pounds of unwanted medications at these events, followed by another 300 cars and 1,750 pounds at a subsequent event in October.

Baldwin notes that the out-of-pocket cost of the program is only about $1 per pound of disposal. But when you factor in the cost savings of donated facilities, supplies, marketing, communications and staff time, the net cost is around three cents per pound. "This program is an affordable way to solve a critical problem," she says.

The next Cobb County Medication Disposal Days event is scheduled for March 26. What's more, the impact of the program's success is now reaching beyond Cobb County, as the Georgia Drug & Narcotics Agency, along with the Federal Drug Enforcement Admin-istration, is planning to implement a statewide disposal program.

"When Keep Cobb Beautiful introduced this program for the first time in Cobb County, it was well received and garnered four awards from various state agencies," says Cobb County Com-mission Chairman Tim Lee. "I applaud their commitment of environmental responsibility and service to the citizens of Cobb." – DS
Dawson County
Good Connections

In 2008, Dawson County officials launched an initiative called In Touch With Your Dawson County Govern-ment, a program seeking to better connect citizens with their elected and career officials, but it didn't take long for those officials to realize one group was not as engaged as it should have been.

"We tried to put something in for all age groups, but we really didn't have anything targeted toward high school kids," says Cathy Brooks, director of Dawson County's Office of Govern-ment and Community Affairs. "We noticed there was a real gap there, and this was the next group we hoped would be influential here, the next group to be running things here."

So a special program, called B.E.S.T. (Building Educated Students for To-morrow) was begun, with elected officials and department heads visiting classrooms to explain how all county services work and getting teens into courtrooms and jails on field trips for firsthand experiences observing the machinery of government in action. "After letting the students see what the different aspects of government do, we held a mock election and they were able to run for the office of their choice," says Brooks. "They did have some interesting campaigns." One girl who ran for sheriff had as her slogan "I'm Not Going to Take Any Crap Anymore." She won.

Dawson County Commission Chair-man Mike Berg taught two of the local government civics lessons and discovered the teens started slowly, then latched on to their subject.

"I was surprised about how little they knew about local government," Berg says. "They seemed to understand who the president was, but past that it was kind of fuzzy and the more local it got the more fuzzy it was. I was equally surprised at how quickly they picked it up."

Students conducted mock arraignments, discussed community needs, made suggestions on infrastructure improvements and are set to watch a real trial this year. They took field trips to a fire station and operated the Jaws of Life hydraulic equipment used to extract crash victims from their vehicles, and they learned the legal intricacies of zoning issues.

The classes and field trips are conducted over 25 days, and Berg is hoping the students will one day be motivated to run for office themselves. "If you look across the landscape of Georgia, local government is an aged government," he says.

"There are very few young people that aspire to county government, and that needs to change," he says. "B.E.S.T. is one of the things we can do to try to get their interest up in being a part of giving back to the community." The B.E.S.T. program carries very little cost, according to Berg, and is easily replicated. – EL
Glynn County
Monitoring The Flow

When Emerson Chew describes some of his duties, he at first sounds like an intelligence officer planning a military operation, using something called LiDAR, or Light Detection and Ranging.

"The LiDAR is attached to the bottom of an airplane, which also has a GPS [Global Positioning System] on board," says Chew, a Geographic Information System (GIS) analyst II with the GIS Department of Glynn County. "The LiDAR device has a scanner that is scanning back and forth across the ground sending millions of pulses of light over the ground, and the time it takes for a pulse of light to get back to the scanner translates into the elevation of the earth at any given point."

That is important to Chew and other county officials because there just isn't much elevation in coastal Glynn County. "Glynn County is flat," Chew says. Trying to determine drainage patterns here, "is like throwing a bucket of water on a flat table and trying to guess which way the water will flow."

The $465,000 LiDAR system was purchased via the county's Special Purpose Local Option Sales Tax (SPLOST) fund and was installed in 2007 in an effort to respond to requests from engineers for help in developing more accurate information on the lay of the land.

"Given our lack of elevation relief, we really needed updated information so we could see what the topography was like," says Chew. County officials say the LiDAR investment has already saved money on survey and engineering costs.

Knowing where the water will flow is critical to local planners and emergency personnel who need to know how and where the water will go in case of a hurricane or flooding. And there is the economic development factor inherent in such knowledge.

"We are working with our developers who invest in our community and want to tap into our system," says Howard Lynn, who retired as chairman of the Glynn County Commission this year. "That's another way the taxpayers have already received a tremendous amount of benefit from the LiDAR system. We had a lot of drainage problems, and we really didn't know where these drainage problems were; we had to guess. Now we can photograph these problems." Then improvements can be made in the drainage system, he says.

The county government installed the LiDAR system after lengthy discussions with county engineers and in public hearings.

"It kind of surprised me the amount of general public who wanted to see what we were doing and how it actually works," Lynn says.

LiDAR even has life-saving implications for locals. "We partnered with the National Weather Service out of Jacksonville," says the GIS's Chew. "They know in case of a hurricane what the tides and surges will be like. With our LiDAR elevation information I can figure out what areas of the county will be inundated, and that gives us a really good idea on evacuation routes." – EL
Oconee County
More Recreation

Oconee County has long promoted its high quality of life as a major selling point to potential new residents and businesses, as reflected in its theme, "A great place to live, work and play." One of the essential elements to maintaining this quality of life is the county's outstanding park system and recreational outlets.

"Our park system and programs create an environment for meaningful leisure activities that provide citizens with public land and safe open spaces," says John Gentry, the county's director of parks and recreation. "Recreational outlets provide endless benefits that are directly connected to a commun-ity's quality of life."

The newest addition to Oconee County's quality of life initiative is Oconee Veterans Park, a 197-acre park that promotes both indoor and outdoor recreational activity. The park's phased opening started with the dedication of the Oconee County Veterans Memorial on July 4, 2008. Located prominently at the park's entrance, the memorial is one of the largest veteran memorials in the southeastern United States.

Beyond the black granite memorial adorned with the seals of each military branch, flanked by seven flagpoles and fronted by an ever-flowing water fountain, is the sprawling park itself. It features four lighted soccer/football fields and four lighted softball/baseball fields, eight lighted tennis courts, a 1.25-mile paved walking path, picnic shelter, playground and community and senior centers.

Within the community center is an indoor track, fitness area, gymnasium and meeting rooms. And the senior center provides 11,000 square feet of indoor space for more than 20 different senior citizen programs and services.

Gentry says the new park has met the county's specific needs for regulation-sized soccer fields, youth baseball and softball fields, lighted tennis courts, and additional indoor gym space to support the county's growing demand for these types of recreational facilities. "Oconee Veterans Park has produced measurable results and promises to provide long-term, sustainable benefits for the community," says Gentry.

During these times of tight budgets, the county was able to minimize the fiscal impact of the new facility by phasing in the opening. "This allowed for the gradual increase in expenditures to operate Veterans Park and the new senior center," explains Oconee County Chairman Melvin Davis.

The phased-in opening, coupled with a departmental reorganization, allowed the county to open the park and facilities while adding just four maintenance workers, one office assistant and eight part-time program supervisors.

"This phased fiscal strategy is one that other counties can emulate in preparation for opening new facilities," says Davis. "Fiscal management has been a key to the operation of our park system and an underlying force in effectively serving our citizens." – DS
Sumter County
New Fire Department

For years, Sumter County's firefighting duties in unincorporated areas were carried out by volunteers who selflessly donated their time to battle flames, saving buildings and lives. Volunteer firemen have long been storied figures in American lore, but they do not impress the Insurance Services Office (ISO), whose ratings are used by insurance companies to set costs for fire insurance.

In Sumter County, the ratings for areas out in the country were abysmal, making fire insurance costly. A rating of 3 was considered acceptable, with insurance costs rising dramatically for higher numbers.

"There were a lot of areas in the county that had ISO ratings of 7, 8, 9 and 10," says Lynn Taylor, Sumter County's administrator, "with an 8 being twice the same coverage cost for a house in a 3 area."

So on Sept. 22, 2009, the Sumter County Commission voted to establish a countywide fire department to become operational on Dec. 1, 2009. The vote also called for the county services now being performed under contract with the City of Americus to be replaced by Jan. 1, 2010. It was an ambitious startup schedule, one made possible thanks to the novel use of prison inmates as firefighters and the readily available buildings that could be easily transformed for new uses.

"Empty government buildings in a local recreation park were converted and refitted to house fire stations, fire engine bays, training facilities and offices," says Taylor.
And the inmate firefighters? "They train harder and work harder than most paid staff because it is such a great opportunity for them," says Brent Williams, chairman of the Sumter County Commission, in an email response. "… I believe that our model provides an opportunity for inmates to serve the public in a needed capacity and teaches them job skills to be used in life once they are released." In fact, one inmate has since been released and is working as a fireman in another community.

The inmate firefighters are on duty 24/7 and reside at their fire station as part of their incarceration. "To our knowledge, our model has not been used in its entirety in any of the 3,108 counties in the United States," says Williams.

In its first year, the Sumter County Fire Department produced 22 total stations, with four fully staffed, and 18 substations housing equipment, accor-ding to documents provided by Taylor. Funding for the project came from use fees and loans from the Association County Commissioners of Georgia's (ACCG) Lease Purchase Program.

"Counties are not allowed to enter into long-term purchase financing agreements beyond the end of the calendar year," Williams says. "ACCG provides a mechanism for allowing counties to make long-term capital purchases, which has worked very well for our county in the past." – EL