Statesman and History Maker
Former U.S. Senator Sam Nunn, president and CEO of the Nuclear Threat Initiative, is a respected authority on foreign policy and defense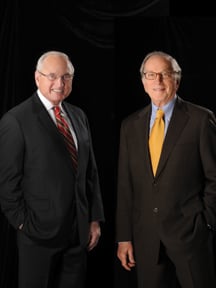 In 1994, President Bill Clinton was facing a crisis in Haiti, where a military coup regime was crushing the rights of the country's people and killing a good number of them. Wishing to restore a democratic government, and do it without bloodshed, Clinton asked the former chairman of the Joint Chiefs of Staff, General Colin Powell, former President Jimmy Carter and Senator Sam Nunn to see if they could persuade Haitian dictator General Raoul Cedras to pack his bags and leave office and his country.

It was a dicey situation, with thousands of armed soldiers and paramilitary troops who did not want the U.S. involved in their government roaming the streets of Port-au-Prince. At the same time, U.S. Army forces were present in the Caribbean, and there were rumors of an American first strike. For Nunn, asking the head of a nation to leave his post and his country was a novel but not necessarily difficult task.

"I would think it would be hard to do diplomatically, except the 82nd Airborne was coming in over our heads," remembers Nunn, a Perry native who is now president and CEO of the Nuclear Threat Initiative (NTI), a nonprofit Washington-based effort to rid the world of weapons of mass destruction.

"I'd say on that occasion diplomacy had pretty good muscle and pretty good leverage. We thought they were going to land on the roof, and they darned near did. That was an interesting 48 hours. They [Haitian soldiers] had taken off their uniforms and they had AK-47s all over the place down there. I remember being in a car and we were being escorted from one place to another, and people, thousands of them on the streets, were chanting, 'Down with America.'"

Nunn, 72, recalls trucks loaded with armed men pointing their guns at his car. "I remember Colin Powell looked at me and he said, 'Sam, what the hell are we doing here?' And I said, 'My God, I'm following you. I thought you knew what we were doing here.'"

The story is one of dozens shared during a 90-minute conversation in the Perry law office of Larry Walker, a friend who handles Nunn's local legal matters and who succeeded him in the Georgia House of Representatives. The occasion was a bit of reminiscing by Nunn after he was named by the Georgia Historical Society as a Georgia Trustee, an honor first bestowed by King George II in 1732 and reborn in 2009 to recognize a Georgian "whose accomplishments and community service reflect the highest ideals of the founding body of Trustees," according to the historical society.

Sam Nunn is not only a student of history, but has made his share of it. His conversations are filled with life experiences often set against a background of historical moments, like the time he met a CIA operative at the U.S. Embassy in Paris in October 1962 while a lawyer for the Senate Armed Services Committee. At the time the whole world watched nervously as the U.S. and Soviet Union were engaged in a nuclear showdown over the placement of missiles in Cuba by the Russians. The day after the U.S.-Russia stare-down ended, Nunn managed a date with the lady from the CIA and, after a three-year, mostly long-distance courtship, went on to marry her.
Early Education
If Sam Nunn Jr. had been raised by a public relations firm, his life's course could not have been more carefully planned for a career in politics, elective office and diplomacy. He was born in Houston County in 1938. His father, Sam Nunn Sr., was "Big Sam," and he was "Little Sam." His dad was quite the politician, the go-to guy for anyone wanting votes in Middle Georgia. Big Sam was elected to the legislature and served a few terms on the state school board. He also ran a few successful gubernatorial campaigns for his friends. Young Sam became an Eagle Scout, served as class president from the eighth grade to the 11th grade, losing his bid for the office in his senior year of high school. "We had a women's liberation revolution in our senior class and elected a wonderful young lady named Anita Ray, who beat me by two or three votes," Nunn says. "That's the only election I ever lost, [and] to a more worthy candidate."

In 1956, Nunn's final year of high school, he captained the Perry High Panthers basketball team to a state championship title. "I could see on the basketball court that he had star quality," recalls Walker, Nunn's Perry lawyer and friend. "We called him Little Sam until he got elected to the U.S. Senate when it no longer seemed appropriate." Nunn's high school grades were good enough to get him into Georgia Tech and later Emory University, where he earned his law degree, then promptly left for Washington, D.C., with his great uncle, Carl Vinson, leading the way.

Vinson was a Georgia legend, serving more than 50 years in the U.S. House of Representatives, most of that time as chairman of committees on military affairs. "I think you could say what influenced me most to enter public service was when I got out of law school, I went to Washington and worked up there for a year on the Armed Services Committee," Nunn says.

"I worked for a subcommittee on military procurement. I went to a very large number of hearings and I got a heavy dose of the policy side of politics, which is what I love. The political side of it wasn't as natural to me." In any political race, Nunn could rightly pose as the lawyer-farmer candidate who had been president of the local chamber of commerce, which he did in his first political race for a seat in the lower chamber of the Georgia legislature.

By the time he was 30 and had been married five years to Colleen, his Paris CIA connection, Nunn was serving in the Georgia House of Representatives, the first leg of a carefully planned trip to the U.S. Congress. After wrangling an appointment to the House Reapportionment Committee following the census count of 1970, Nunn had the opportunity to carve out a district for himself in Middle Georgia, where he felt he'd have the best opportunity to cash in on his family connections. Things seemed to be falling in place for Little Sam. But an uncooperative state senate kicked the Nunn district plan out, leaving one that represented Middle Georgia but with a population heavily weighted in and around Columbus in the west. At about the same time Nunn missed out on his opportunity to run for a congressional seat, fate delivered another chance – a slim one, but Nunn pounced on it.

"At about that time Senator [Richard] Russell died and [Governor Jimmy Carter] appointed [David] Gambrell to the senate," Nunn says. "At that stage I didn't have a home house district to run in, and I said this [Senate race] is going to be a long shot but I'm going to give it a whirl. I remember my exact logic at the time, which is questionable even to this day.

"I said I've got two choices. I can not run and spend the rest of my life wondering what would have happened if I had, or I can run and I'll find out."

With just days remaining in the 1972 session of the Georgia General Assembly, Nunn took the floor of the house chamber to announce he was going to run against Gambrell for the U.S. Senate seat. Members of the capitol press corps gave him little chance for success.

"It was an extremely long shot, but I got a lot of breaks," Nunn remembers. One of those breaks was a catchy campaign jingle, "Put Sam Nunn in Washington," and a call-to-arms campaign slogan, "Let's Get Tough in Washington."

Both seemed to play endlessly on radio and television, and the young man from Perry began to gain momentum. "That was probably the best jingle in the history of Georgia politics," Nunn says. "It had all the little 8 year olds and 10 year olds singing it and dancing to it." And there were similarities in the mood of the voters then and now, he says.

"The Tea Party is not new; the Tea Party was in existence back then." he says. "The mood, the atmosphere back then was people felt Washington was too much involved in everything going on. They felt that state and local governments were not able to exercise their own judgment and discretion on a lot things." And Georgians had a history of installing young men in congress and leaving them there for a lifetime.
In Washington
Nunn won the Democratic primary against the Carter appointee, leaving only the November general election against a Republican, Fletcher Thompson, in an era when Republicans in Georgia were rare and exotic creatures. During the period between the summer primary and the fall general election, Nunn's Uncle Carl Vinson took the lad to Washington to buttress Nunn's pledge to seek a seat on the Senate Armed Services Committee, an important assignment for a Georgia senator who wants to protect the state's military bases and their vital role in local economies.

"We went up on AMTRAK because Uncle Carl would not fly in an airplane, unless it was the President's plane or there was a four-star general on board," Nunn says. "I'll never forget it: As soon as we get to Union Station in Washington and started walking toward the street there was this huge black limousine there to pick us up. One of my well-meaning friends had sent it to pick us up. It was appropriate for Uncle Carl, but it was not appropriate for the Democratic nominee to be riding in a limousine before he ever got elected.

"The media were all out there, and the last thing I wanted was a picture of me getting into a limousine in Washington; so I bypassed the limo and avoided that trap. It's amazing how many traps you have to dodge in politics. You have to develop a sort of instinct about it."

Nunn won his seat in the U.S. Senate and got his Armed Services Committee appointment, where he came under the tutelage of its chairman, Mississippi Senator John Stennis, a political and policy powerhouse of the day. In 1973, as Nunn was returning to Washington from a fact-finding mission to the western U.S., he learned Senator Stennis had been shot on his front porch in a robbery attempt. When Stennis recovered from his wounds and returned to his senate duties, Nunn found his own duties greatly expanded.

"When Stennis got back, he pretty much knew his traveling days were over," Nunn says. "That's when Stennis asked me to go to NATO and he gave me a staff, which was very unusual. He made me chairman of the Manpower Subcommittee, where I learned a lot about the military."

Nunn went to Vietnam, wrote reports and briefed President Gerald Ford and senators far senior to him. The junior senator from Georgia began to see his expertise in military and foreign affairs being widely appreciated, with editorials of praise coming from the Washington Post and The New York Times, including one Op-Ed page carrying the headline, "Nunn Saves NATO."

"All of that was background music for the Panama Canal thing," recalls Nunn, referencing the 1978 issue of returning the canal's ownership to Panama, a proposal from the newly elected U.S. President, Jimmy Carter. The ratification of the treaty to restore canal ownership to its host country would have to be voted on by the U.S. Senate, and polls showed a huge majority of Americans were against the canal transfer.

Many senators, including Nunn, were facing reelection, and the prospect of going against the wishes of a majority of their constituents was a daunting thought. Nunn was completing his first term in the senate, but had already earned a reputation for being a thorough student of foreign affairs and military matters. The question of the day as the senate vote drew near was, "What is Sam Nunn going to do?"

"I knew if I voted against it, it was going down," Nunn recalls. "But in my opinion we would have been 20 years in guerilla warfare down there if it had been turned down. That's one of those challenges Edmund Burke talked about: What is your duty to vote? The way your constituents want you to vote, or to be willing to vote what you think is best for the nation and then face their severe questions? The latter was my final conclusion on that, that I had a duty that meant more to the country than to public opinion."

Nunn not only survived that vote but burnished his reputation and went on to become one of the most respected senators in Washington. His name regularly surfaced as a Democratic presidential possibility; as recently as 2008, there was serious talk that he might be President Barack Obama's running mate.

Nunn retired from his senate seat and political life in 1997, and today is the NTI CEO actively seeking to eliminate future nuclear, biological and chemical threats to the world population. He has been nominated for the Nobel Peace Prize three times, with a fourth nomination now in the works. "That's a great honor because I so admire the people doing the nominations," Nunn says. "It probably won't ever happen, but it is a great honor."