Jefferson County: Back In The Game
Ready with land and buildings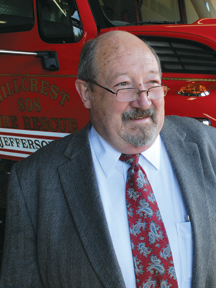 Folks in Jefferson County have gotten used to bad news over the years. With an unemployment rate hovering around 14 percent, this rural East Georgia region has been battered by a series of plant closures and layoffs. Since the 1990s, it has been on the front lines of global economic shifts that are not abstract, but hard and personal.
"The statistic that I haven't been able to validate, but I think it's correct, is that we were among the highest 10 counties in the country that were negatively impacted by NAFTA," says Thomas C. Jordan, executive director of The Devel-opment Authority of Jefferson County.
He ticks off a series of textile closures here and in surrounding counties that have devastated the local manufacturing base. There was a shirt factory in nearby Stapleton that lost 400 jobs. Then the Forstmann textile plant outside Louisville closed its doors, putting 600 out of work.
"And that's 600 families, not just 600 workers," adds Jordan.
Overall, Jefferson has seen the loss of about 2,000 jobs, and in a community of just 17,000, "It's hard to deal with that without something big like a Kia plant landing on top of us," adds Lillian Easterlin, executive director of the Jefferson County Chamber of Commerce.
Those losses pushed unemployment up to around 10 percent even before the recession descended on the entire state.
Yet folks here are a case study in picking yourself up and plunging back into the game.
"We have been using this slow time like a caution flag at a car race," says Jordan. "We've been very busy at putting together some industrial products. We have one large regional class industrial park of 650 acres. We have a [water] well that's within weeks of being completed. Utilities are within two miles of the project, and it's just a matter of connecting them. They have natural gas, and railroad is the northern boundary of it. The interstate is just 20 miles north of the site and there are ways to get to Savannah that are not freeway, but get you there in two hours."
The last SPLOST (Special Purpose Local Option Sales Tax) divided funding evenly among recreation, fire services and economic development. With $3.4 million, the development authority was able to purchase the land and develop what is now being called the King's Mill Commerce Park.
There's also a 20,000-square-foot spec building on the site that Jordan has been showing off to a stream of industrial prospects. While no one has signed a contract yet, the building represents a big step forward in attracting new business. Previously, the county had been lacking in large structures suitable for manufacturers. Now Jef-ferson has two, including a similar spec building at a 353-acre industrial park next door to one of the county's two airports.
The authority's ability to purchase land and build buildings is a reflection of how well local officials are able to work together.
Joint Efforts
"The county commissioners understand the role of economic development and are willing to support it," says Easterlin, noting that the chamber and development authority are housed in the same office and often work together on projects.
Working together is a common theme here in Jefferson. It was the very first county in the state to achieve Work Ready status. Leaders are clear about what kinds of industries they want here.
"We're focused on heavy [industrial] water users because we have ample water here in our aquifer," says Jordan. "And we have the other infrastructure that would support them." The coun-ty's industrial base also includes food companies and other sectors that sometimes require access to large quantities of water for industrial proc-esses.
In fact, Jordan adds, only half jokingly, since Metro Atlanta has suffered from a water shortage, industries should consider moving out here to meet their water needs.
Most of the large manufacturers are in the south end of the county in the town of Wadley. There are several large metal and fabrication companies, in-cluding several that do business internationally. Louisville's largest employer is Therma King, a maker of over-the-road refrigeration units for tractor-trailer trucks. Glit/Microtron, located in Wrens, is the world's leading supplier of cleaning products to the institutional, industrial, specialty and consumer markets.
"We've got a diverse manufacturing base," explains Jordan, although the to-tal number of companies is still small.
While it strives to build modern jobs, Jefferson isn't forgetting its agrarian roots. The county is sprinkled with row crop farms and large expanses of trees that have fostered a thriving timber industry.
"We've got an agricultural base," explains Jordan. "We have got to develop a safe food source, and I think our area is built for that, given our natural resources. We're focused on that, but we're certainly not overlooking the higher-tech jobs."
There's a realization here that the old-time manufacturing jobs that served so many workers for so long are becoming harder to maintain. So, like many other communities large and small, they are also focusing on technology.
One of the first steps was to join with surrounding counties that make up the Central Savannah River Area (CSRA) Unified Development Authority to seek $60 million in federal Recovery Act funds set aside to develop broadband capabilities in rural parts of the county. While the plan to lay fiber throughout the region was turned down, Jefferson is now in the process of developing a more modest plan with five surrounding counties to win funding from the OneGeorgia Authority's Broadband Rural Initiative for a similar effort.
"The need is there," says Jordan. "We have to put together the right project for it."
The broadband effort reflects the need for rural east Georgia to think in a more regional way about development. In this region, most people have to commute to jobs outside their home county. In fact, according to Easterlin, the average drive to work is about 30 minutes. Many Jefferson County residents have jobs in Augusta at the Savannah River Plant, in Warrenton or other nearby cities. Keeping those jobs within the region itself requires effort.
"We happen to be bordered by South Carolina, so we have to be pretty competitive [to win new industry]," Jordan explains.
New Hope
While regional wins are good, securing a business in your own hometown is even better. Locals have new hope for the long-shuttered Forstmann plant. Not only did its bankruptcy mean jobs vanished, but it soon became an even greater burden when locals discovered that many years of wool processing had created an environmental hazard. After closing in 2002, the plant was added to the Georgia Environmental Protection Division's Hazardous Sites Inventory.
The property was soon acquired by Flint Logistics, which has "cleaned it up, and today it's back to residential standards and has the blessings of the EPD," says Charles Westberry, CEO of the company.
The Forstmann site, which includes 400 acres in addition to the 140,000-square-foot building, has a state-of-the-art wastewater treatment facility, which Jordan says can be put to a variety of industrial uses and could potentially create many new jobs. The new owners are community-minded and want to find a use for the site that will benefit the surrounding area, he says.
The development authority would like to acquire the site and market it for a large user or as home for several smaller firms.
In the meantime, the county is working to upgrade its own infrastructure to make Jefferson a more attractive location for both residents and business.
"We are creating a baseline infrastructure for a community of better living," says County Administrator Paul C. Bryan.
Much of the funding for these improvements has come from SPLOST monies. These sales tax revenues have allowed for a "pay as you go" approach to building new facilities and providing services.
The SPLOST that recently passed funds construction of roads, and upgrades streets, he explains. "That will tie in with the T-SPLOST that is coming out. [Funds] will not have to come out of the general fund."
Improvements in fire protection have resulted in a reduction in ISO ratings and lower insurance rates. The funds have also paid for the construction of new recreation facilities. By waiting until sufficient funds were in the bank for these projects, the county was able to take advantage of lower construction costs, according to Bryan.
About $1 million of the SPLOST will go to further the county's economic development efforts.
History, Tourism
Although the county lacks a big attraction such as the nearby Clarks Hill Lake on the Georgia-South Carolina border, there are many reasons to visit, says Easterlin.
The land is rich in history. The county seat of Louisville was laid out in 1786 as the Georgia state capital and named for French ruler Louis XVI in honor of his help during the American Revolution. Construction began later, and state buildings were completed in 1795. The town served as the capital of Georgia from 1796 to 1806.
"There is a strong connection to history that people around here are very proud of," she explains.
Much of the original town was burned by Sherman's troops at the end of the Civil War – it seems some locals decided to take pot shots at the soldiers. Today many of the rebuilt homes still stand. Although most are in private ownership, the determined history buff can still get access to them by asking for a private tour, according to Easterlin.
The original wooden structures built during the capital period are gone, but the historic market house still stands in the center of downtown with the original market house bell on display.
Famed architect Willis F. Denny II, who designed Rhodes Hall in Atlanta, is a Louisville native. He designed the stately county courthouse that anchors one end of Louisville's main thoroughfare.
Jefferson's population is spread out evenly; three of its six communities have about 3,000 people each, and the smaller have a few hundred residents.
"And they all have about the same political influence," says Easterlin. "My job is to work with all of them. Every town wants the chamber to be involved with it. We work all over the county."
"Each town has its own little personality," said Easterlin. "There's a fair amount of history and cultural events taking place in this area right now."
The city of Wrens received a large federal transportation grant, which it is now using to launch a streetscape project in its downtown area. Louisville recently completed a second round of streetscapes and sidewalks. A new facade program is quietly sprucing up a series of buildings.
"There's not this big volume of money that allows you to do everything at once," says Easterlin.
The development authority and the chamber helped Louisville with a master plan for development about 10 years ago. Since then the city has worked to implement these guidelines one piece at a time. Creating more attractive storefronts is one part of a revitalization effort designed to lure more visitors to come and spend money.
"The arts have taken a stronghold here in Louisville," says Easterlin.
The local arts guild began eight years ago, and then two transplants from Atlanta arrived to open the Fire House Gallery. Its shows regularly display art from throughout the Southeast and attract hundreds of people to openings. Recently, the gallery staged a show just for local artists.
The small community of Bartow opened a community theater that is drawing audiences to its productions from an eight-county area.
The abundant forests attract hunters, while the Ogeechee River is ideal for canoeing and fishing. There are numerous spots along the river for public access, and the county has plans to develop a tract of land on the river as a park.
While Jefferson County faces some difficulties, it has qualities that locals say will brighten the future: a dedication to building a community that meets the needs of its citizens and a willingness to spend the money to welcome new business and industry.
Community Snapshot
Local Leaders
Thomas C. Jordan
Executive Director
The Development Authority of Jefferson County
478.625.8134
tjordan@jeffersoncounty.org
Lillian Easterlin
Executive Director
Jefferson County Chamber of Commerce
478.625.8134
LEasterlin@jeffersoncounty.org
Paul C. Bryan
County Administrator Jefferson County Government
478.625.3332
jcpcbryan@bellsouth.net
Population
(2009)
County, 16,478; Avera, 201; Bartow, 275; Louisville, 2,711; Stapleton, 315; Wadley, 1,934; Wrens, 2,196
Per Capita Income
(2007)
County, $13,491
Georgia, $33,499
Unemployment
(October 2010)
County, 13.1 percent
Georgia, 9.9 percent
Top Employers
Jefferson County Government, Jefferson County Hospital, Fulghum Industries, Battle Lumber Co., Thermo King, Glit/Microtron
Sources
U.S. Census Bureau, Georgia Department of Labor, The Development Authority of Jefferson County