Dodge County: Ready To Fly
Solid companies, stable employees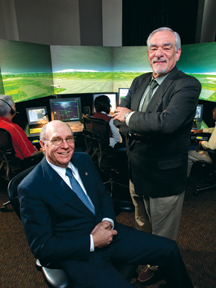 On a crisp winter day, Heart of Georgia Regional Airport in Eastman is a hive of activity. Groups of young men and women gather around planes and move between hangers. Aircraft of all kinds line the expansive 6,600-foot runway, at the end of which sits a 12,000-square-foot terminal and control tower, which seem strikingly out of place in this small town some 50 miles south of Macon.
It's the home of Middle Georgia College's aviation school, which regularly brings almost 500 students from across the country to learn the finer points of flying and repairing big aircraft or guiding them safely in for landing.
The airport and the college are also at the heart of Dodge County's plans for beating the deepest recession in recent memory.
Because of the school, companies are springing up around the airport that officials hope will eventually begin drawing business here from places such as Atlanta's Hartsfield-Jackson International Airport, according to airport authority chairman Eddie Driggers.
"One industry draws something else," he explains. "When you think about all those airplanes – someone has to repair those seats, the speakers in the seats. Every facet of the plane has to be done somewhere. You can't do all that at Hartsfield."
That is also where Heart of Georgia's lengthy runway comes into play. Although not long enough to accommodate the biggest jumbo jets, it can handle anything short of a 747. "That's plenty for us," says Driggers. "The ground is fertile."
Folks in Dodge County have never let geography keep them from seeking new businesses and industry. The area long ago lost its textile base when the local cut-and-sew plants shut down. In the years since, local leaders have sought out new industry, and today companies such as Alcoa Architectural Products and Graphic Packaging International are the town's biggest employers.
"The good thing is we have held our own," says Judy Hemphill Madden, who serves as both president of the Eastman-Dodge County Chamber of Commerce and the county's chief economic developer.
Over the last year, no companies have closed and few have lost any employees. There have even been some stirrings of renewed activity. A small trucking firm recently added six more trucks to its fleet in response to growing business.
"It's not necessarily that 'big job' employment, but it's [businesses with] three to five employees that say we're holding our own and we're surviving," says Madden. "We have had solid companies that are not necessarily your Boeings or your huge corporations, but we have good stable employers," she adds.
That's good news for a region that is already mired in an unemployment rate north of 10 percent. A couple of years ago, local mainstay Standard Candy announced it was closing its Eastman plant and moving operations to Nashville, Tenn. That resulted in the loss of 250 jobs for people who would no longer be making GooGoo Clusters and other sweet favorites.
It also meant that the aging plant, which was once the home of famed Stuckey's peanut candy, would be empty for the first time since it opened in the 1950s.
A short time later, however, homegrown Heart of Georgia Metal Crafters, which makes precision sheet metal and machined parts for aircraft manufacturers, announced plans to expand its facility at the airport with a $550,000 investment. The expansion allowed the company to continue hiring two new employees every few months.
With a roster of clients that includes Boeing, Lockheed Martin, Gulfstream and the U.S. Defense Logistics Agency, the company has been able to penetrate deep into the aerospace industry.
A big part of that growth and its ability to locate here is fueled by graduates from the nearby aviation campus which "enable us to hire the kind of talent we need to grow," according to Stephen Pritchett, general manager and CEO.
The company also works closely with its neighbor, Dynamic Paint Solutions. That company handles the application of high-quality paints and coatings for aircraft parts, making it a natural ally for Heart of Georgia Metal Crafters.
"The two of them work back and forth with each other," explains Madden. "That strengthens them and they've grown throughout this time [of recession.]"
The airport is also home to Eastman Aviation, which builds a light sport aircraft called the CH 750 Guardian. After a change in ownership, the company has refocused its mission toward outfitting the small, slow-moving planes for use by law enforcement and government agencies.
Local leaders see companies such as Heart of Georgia and Dynamic Paint as models for future economic growth geared to the region's expanding aerospace industry. To help accommodate that future, the development authority recently purchased 80 acres of land next door to the airport where it eventually plans to locate the county's second industrial park.
Ambitious Research
At least some of that space may eventually by filled by companies that are spin-offs from research being done at the aviation campus, according to Middle Georgia College Vice President Dr. Rick Charles, who oversees the aviation campus.
Once a technical college, the school merged with Middle Georgia College in Cochran in 2007. That reorganization led to the aircraft programs acquiring a more academic emphasis that includes giving students a solid foundation in business courses. It also resulted in the establishment of an institute for aerospace research – a first for the junior college.
"We're developing advanced composites for everything from motorcycle wheels to a device to keep birds away from airports," he explains. "You wouldn't believe how primitive that's been in the past. You've had people out there [at airports] shooting shotguns to keep birds away and all kinds of ridiculous things."
The acoustic device works automatically to scare away birds that can become sucked into the jet exhausts of planes with catastrophic results. This is more than just an academic exercise: The owners of Eastman Aviation are starting a new company to bring the "bird-chasing machine" to market, he adds.
College faculty and students are involved in a wide variety of projects that go far beyond simply learning to fly and fix airplanes. The equipment used to teach students how to build and work on aircraft is already in place, so it becomes only one step to turning the classroom into a real-world assembly laboratory.
One team of students and faculty from the Department of Aircraft Structural Technology has worked on assembling parts for NASA's $1-billion James Webb space telescope, which will be launched to a point one million miles from earth. They fashioned the baffle that captures heat and directs it out of the spacecraft, and the radiator, which reflects heat off the craft's instruments. With the telescope operating at 375 degrees below zero, regulating temperatures within the device was critical to keeping parts working.
The college also captured a second NASA project – helping develop an unmanned drone. The Short Take Off and Landing (STOL) capable aircraft is designed to take off in a short distance and fly with great efficiency. The college is helping to produce the wings and fuselage of the 14-foot-long plane.
The aviation campus's growth and success have been limited only by the state's ability to provide it with operating funds, officials say. State budget cuts have led to larger class sizes, and pay that is typically far below industry averages have made keeping talented faculty difficult.
"As our class sizes have increased, the students are not getting the same kind of attention," says Charles. "It has an effect on quality."
That forced the college to begin turning down applicants at a time when the recession is prompting more people to seek additional training to better their employment chances. While academic lectures can be moved to bigger halls, these programs are hands-on and require extensive attention from faculty, he explains.
Getting Ready
Here in Dodge County, people are accustomed to being in a holding pattern. They're using this time to "get our economic development house in better order," says Phil Bearden, an official with Ocmulgee EMC and incoming chamber of commerce chairman.
"We're using this slow time to get everybody on the same page and hopefully educate and build leadership," he explains. "So when the economy does take off, we'll be more primed and set to go with it."
Getting ready for a recovery includes making sure that the community can accommodate new business and expanded growth. A 50,000-square-foot spec building is now available in the county's lone industrial park. At the airport, the county has moved the construction of a new aircraft repair facility from 2012 to this year.
Just as local industry has been holding its own, so has Eastman, the county seat and center of commerce. City government has seen tax revenues fall by a relatively modest 3.3 percent – about $46,000. While that drop has resulted in some budget trimming, it has not produced the wholesale cuts in services and staff that other cities have experienced, says City Manager Bea Edge.
"Basically I don't foresee any big impact on the way the city is being run," says Edge. "We won't be able to pave quite as many roads, and we may be putting dirt in holes instead of patching them."
One area that will be getting the full treatment – thanks to federal stimulus dollars – is the downtown area along Main Street. The city is using $500,000 to repave streets and put in new sidewalks and lighting in an effort to make the district more appealing to visitors.
Eastman is one of those small towns that grew up around a rail line. The tracks still split the downtown in half, and the occasional train ties up traffic. These days the old depot building stands empty as do a number of storefronts. Many businesses fled the area when Walmart arrived in town more than two decades ago. Family clothing stores and local pharmacies could not compete on price with the retail giant, and most folded.
Those that have held on had to learn a new way of doing business in an age of guaranteed low prices and cheap foreign goods. The answer was often to carefully tailor their offerings to the community and create products and services that others could not easily match.
The best example of that adaptability is still the venerable Coleman Hardware on Main Street. Family-owned for generations, the store began expanding its offerings when competition got fierce.
Owners realized that selling hammers and nails was not going to cut it. So they added a gift shop and soon expanded to become a JCPenney catalog ordering center and to provide a package shipping service via UPS and FedEx. The growing Hispanic population led to the establishment of a Western Union office with money wiring services.
Ingenuity in the face of hardship has become what some might call standard operating procedure in this rural Middle Georgia community.
"They've done a great job of changing with the times," comments Madden. "The store is a good example of how you can survive in a small town, but in order to do so you have to get out of the box and think of ways to make it happen."
Community Snapshot
Local Leaders
Judy Hemphill Madden
President/CEO/Economic Developer
Eastman-Dodge County Chamber of Commerce
478.374.4723
jmadden@eastman-georgia.com
Phil Bearden
Chairman
Dodge County Chamber of Commerce
478.374.7001, ext. 121
Bea Edge
City Manager
City of Eastman
478.374.7721
cityofeastman@mchsi.com
Population
(2009)
County, 19,749; Eastman (county seat), 5,512; Chauncey, 299; Chester, 1,506; Milan, 759; Rhine, 425
Per Capita Income
(2004)
County, $19,678
Georgia, $33,499
Unemployment
(November 2010)
County, 13 percent
Georgia, 10.1 percent
Top Employers
Alcoa Architectural Products, Dodge County Board of Education, Dodge County Hospital, Graphic Packaging International, Walmart
Sources
Dodge County Chamber of Commerce, U.S. Census Bureau, Georgia Department of Labor