Swainsboro/Emanuel County: Holding Steady
Infrastructure and access to I-16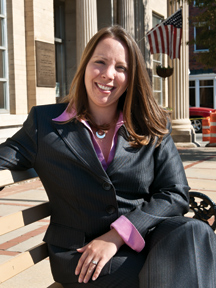 Folks in Emanuel County are apt to say they haven't taken the kind of economic battering that their neighbors have been experiencing lately. Few businesses have closed up, and things seem to be ticking along as usual. Of course, the other side is that this rural community in East Central Georgia never experienced the economic boom either.
"We just didn't have the new companies and businesses open here," explains County Administrator Ezra Price. "So we haven't lost any industry, but we haven't gained any industry. So we're just about status quo."
The good news is that the county only saw a small drop in sales tax revenue – 5.47 percent. Unlike many other counties, Emanuel hasn't been required to lay off employees or cut services.
In addition, the county's technology park is home to an exciting nanotechnology manufacturing firm that holds promise for future economic activity, and new businesses prospects are beginning to show some interest in what Emanuel has to offer.
Still, you can detect some traces of envy here when people mention the projects that made their way to neighboring Laurens, Toombs and Bulloch. Those counties saw gains in employment while Emanuel has continued to struggle with high unemployment.
Yet local leaders are also seeing signs of a budding recovery.
"We're beginning to see a little pick up," says Bill Rogers, Jr., executive director of the Swainsboro/Emanuel County Chamber of Commerce. "We've had a number of industries that have come to us looking to expand their operations and increase their number of employees. But it's not like, 'Yes, I'm doing it right now.' Its more like, 'Let's look at this and study it. What can we do now?'"
Many firms are still concerned that improvements in the economy and the uptick in orders they are seeing could prove illusory. So they're moving cautiously and trying to avoid entering into costly commitments such as new facilities or too many new staff, adds Rogers.
"They're beginning to see a pick-up in actual orders. And some have actually seen their suppliers asking them to do different things," he explains. "Perhaps they want them to assemble different products and look at different ways they can manufacture the products they need. I think they're getting companies looking at different ways to move products and how best to do that."
One local enterprise is formulating plans for a telecommunications assem-bly operation that marks a significant departure from previous operations.
The new project would employ up to 30 new workers across three or four assembly operations.
"They want to see how it works for them," says Rogers. "So they're not jumping out there and getting a building with acreage in the industrial park. They're taking it one step at a time."
The company, which Rogers de-clines to identify, has seen its work rolls increase from around 80 last January to more than 125 today.
A local home furnishings maker recently made inquires about additional warehouse space in the area. The company has seen a steady rise in orders for inexpensive products such as pillows and other furnishings from retailers such as Family Dollar. The increase in orders means more hands needed to produce them.
Like other companies, this one is reluctant to enter into long-term contracts and wants a flexible deal when it finally signs.
Taking Notice
Outside firms are also starting to take notice of Emanuel and its county seat of Swainsboro. One unnamed foreign company is considering a manufacturing plant in the area, bypassing larger, more urban areas such as Macon and Dublin.
"They like our location primarily because of logistics and the ability to move their product to their customers," says Rogers.
The county has access to Interstate 16 – that ribbon of asphalt that connects to Savannah and its seaport just 90 miles away. It also became one of the few small communities in the state with a 6,000-foot runway after an $8-million airport expansion. The facility accommodates two daily flights by United Parcel Service jets, as well as a local charter service. Plans call for installation of an instrument landing system that will allow planes to come in during bad weather.
Another attraction for new industry is a consequence of the economy – a low cost of living and a large and eager workforce. Leaders also concede that any time an industry looks at Emanuel it becomes a major event. Economic development officials roll out the red carpet to show off the community's advantages. Among those assets are its six industrial parks, including one with frontage on I-16.
"We've built the infrastructure, and now we just need the industry," says Rogers. "We're also a Tier 1 community, which means we receive the maximum state credit for job creation."
In addition to considerable warehouse and manufacturing facilities, the county also boasts a technology park with redundant fiber loops – one of the first to be built in rural Georgia. This facility scored a major victory when it was selected as the location for the National Nanotechnology Manufac-turing Center (NNMC) – the first of its kind in the United States.
The NNMC evolved out of a partnership between the Joint Development Authority and the U.S. Army's Arm-ament Research, Development and Engineering Center (ARDEC) at Pica-tinny Arsenal in New Jersey. The facility develops nano- and micro-scale technologies for both military and commercial applications.
The center arose out of a commitment by the Army to share more of its considerable outsourcing business with more rural areas in the Southeast. Most government suppliers tended to congregate around the end-users or in tech-heavy areas such as the Research Triangle in North Carolina or Califor-nia's Silicon Valley. The challenge was whether a high-tech operation like this could take root in rural Georgia, even given the advantages of high-speed fiber optics, according to NNMC's Op-erations Manager Tracy Becker.
"We are trying to fill war fighter needs, and, at the same time, with the encouragement of the Army, trying to commercialize the results," says Becker.
"By doing that you reduce the overall costs. You'll get private investment on the same project that the military was asking for in the long run. That reduces the cost to them, which, of course, means less cost for the taxpayer."
The center's main project is the development of a prototyping machine that will greatly reduce the costs of building small numbers of new devices. The machine will be a boon to additive manufacturing, which involves a process of joining materials layer upon layer to make objects from 3-D model data.
Designers using CAD software to write programs for 3-D printers will be able to build a prototype from the ground up rather than going to a machine shop where materials are whittled away from a block of steel. These machines will print a 3-D model faster and at a greatly reduced cost.
"We believe that not only will this machine be interesting to [military] industry and labs for their own R&D work, we're hoping to see that desire from private industry because they'll want to do what the Army's doing," explains Becker.
Using the prototyping machine, designers working at multiple locations around the country can build different parts of a single device. The CAD program running the machines can be sent by email to a central location where one complete model can then be fashioned from these individual programs.
"And that's not possible today," he explains. "Nobody has built a machine that comes close to what we're attempting to do – a rapid prototyping platform and low manufacturing production scale. You might only need a few items, so you don't need a factory; you just need a machine capable of doing a complete item quickly. That's part of the promise of the machine that we're building."
NNMC officials hope their approach will create a paradigm shift in the way military equipment is designed.
"This gives the researcher a completely different way to think about the way he wants to try to prototype to see if it will work," he says. "You must do that before even thinking about manufacturing anything."
The center is in the midst of developing new fusing systems for munitions that control when the devices actually detonate. If this approach proves successful with the military, it may open up opportunities for private-sector businesses. With any luck, at least some of those companies will find their way to Emanuel County.
Some victories there might also ease the pain of lost opportunities the county has endured lately. One of the biggest was the cancellation of an oriented strand board (OSB) plant announced by Huber Engineered Woods. A drastic slowdown in the housing market depressed the need for these materials, and the company decided to pull back on the $300-million investment and projected 160 jobs.
"We hope that one day it will be resurrected and we'll go forward with it," says Rogers. "We are right in the middle of the wood basket of the Southeastern United States, and this was the reason they chose Swainsboro."
College Expansion
There's no disappointment here when it comes to East Georgia College. The junior college has been attracting students from across Georgia and even out of state and is one of the area's most consistent economic engines. With more than 3,200 students total on its Swainsboro and Statesboro campuses, the college is getting set for even more as it expands its offerings.
In November 2009, the college's foundation set aside 10 acres for a 200-bed student housing facility. Ground was broken on the new residence hall in August, and construction should be completed before next fall.
For the first time in its history, East Georgia will be competing in intercollegiate athletics, fielding teams in men's and women's basketball, fast-pitch softball and baseball. This past summer, construction got under way on an athletics complex behind the gymnasium, adding a baseball field, softball field, improved tennis courts and support facilities.
The City of Swainsboro has made something of a comeback as well. As the recession came down hard in early 2009, the city's downtown lost a number of its businesses. Since then the rest have hung on, and a few new establishments have opened their doors.
Much of the credit for this success goes to the city's award-winning Creative Marketplace contest. The effort offered $5,000 in seed money, reduced rents and fees, free Chamber membership, and radio and newspaper advertising for a merchant with a top-notch business plan.
The winner was a men's clothing store called Fashion Unlimited, which recently celebrated its first anniversary by signing another year's lease on its space downtown.
"We had a focus group of different folks throughout the community, and one of the things that they really identified was that Swainsboro needed retail," says Swainsboro Downtown Development Authority Director Lynn Brinson. "They were also looking for someone with demonstrated success."
In addition, a runner-up in the contest decided to move forward with a plan and opened up an additional store, adds Brinson.
The DDA recently acquired a 125,000-square-foot building that it is in the process of renovating for use as an arts and crafts emporium. Once complete, the structure will provide booth space for a wide variety of merchants.
The DDA has sponsored a variety of events and festivals to give people more reason to come downtown and to spend money. Among the new attractions last summer was a Friday farmers' market along Roger Shaw Street and Patriots Square.
The city is also moving forward with a $500,000 streetscape project in the central business district that officials hope will make the area more pedestrian friendly, according to City Administrator Al Lawson.
The city has been able to do the project and maintain city services throughout the downturn.
"It's been tough," he says. "Our employees have not had any raises in three years, but we've also been able to avoid a tax increase in the last three years as well. That means tightening our belt and doing things more efficiently."
Healthcare, Hunting
The county government, which constructed a new courthouse and jail a few years ago, has been consumed with keeping the local hospital afloat. Early last year Emanuel Medical Center faced a sharp drop in revenues that made it impossible to continue servicing the debt on a $10-million bond issue used to expand facilities. The county, which guaranteed the debt, stepped up to provide funding.
Like many rural hospitals, Emanuel has struggled with declining reimbursements. The situation was made worse by an expansion just prior to the recession.
"We see that we'll be using our SPLOST referendum to really provide funds for the hospital," says Price, who projects that at least 40 percent of its new sales tax revenues will go to paying the bond issue. "As far as new projects, we don't have any plans. We don't have any funds to do that."
Price would not speculate on whether the hospital might ultimately be sold, but for now its financial lifeline is keeping the facility afloat.
Although the county has struggled to lure industry and jobs here, Emanuel has long been a magnet for hunters and other outdoor enthusiasts. One of the prime attractions has been Flat Creek Lodge. This hunting and fishing complex offers high-end accommodations complete with a spa and a kitchen presided over by an award-winning chef. Located in the middle of a 2,000-acre pine forest just outside Swainsboro, the lodge offers a variety of game for the sportsmen.
Out here amidst the quiet splendor, it's easy to forget that Emanuel is part of a much bigger world that has not always treated it well. Yet, with all its resources and the determination of people already accustomed to hard times, the future may just prove to be much brighter than anyone imagined.
Community Snapshot
Local Leaders
Bill Rogers, Jr.
Executive Director
Swainsboro/Emanuel County Chamber of Commerce
billrogersjr@bellsouth.net
478.237.6426
Ezra Price
County Administrator
Emanuel County
478.237.3881
Al L. Lawson
Administrator
City of Swainsboro
478.237.7025
Population
(2009)
County, 23,075; Swainsboro 7,679;
Twin City, 1,952; Stillmore, 776; Adrian, 558
Per Capita Income
(2006)
$14,617
Unemployment
(August 2010)
County, 12 percent
Georgia, 10 percent
Top Employers
Emanuel County Board of Education, Emanuel Medical Center, Emanuel County,
Crider, Inc.
Sources
Georgia Department of Labor, Swainsboro/Emanuel County Chamber of Commerce, U.S. Census Bureau