Southwest Georgia: Living Of The Land
Profit from regional bounty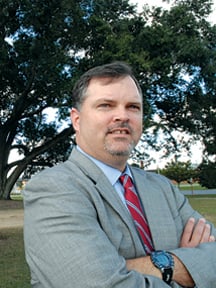 Mark Glass has the twice-daily task of feeding 100,000 head of stock on his Mitchell County farm, with the leading fashion houses of the world taking a keen interest in his final products.
Glass grows alligators, whose hides are turned into wallets, purses and footware for the tiny percentage of the planet's wealthiest people who can afford them, even in the worst of economic times. While his gators are growing, so is his business. "We've grown about 35 percent a year on average," says Glass, the principal owner of Mark A. Glass Enterprises, a 20-acre alligator farm near Camilla. "What has been fueling this growth is the demand for luxury items around the world. Even with the economy crash, the luxury industry is still in good shape. Your top guys like the Louis Vuittons, your Hermes, your Cartiers, they are all doing well."
Though Glass noticed a drop in such sales over the past two years as his buyers lessened their inventory, another part of the gator-based market is a tail, er tale, of a different stripe. "The meat side of our business is just booming," he says. "We can't keep up with demand." The Glass gators are one example, perhaps the most extreme, of a movement in Southwest Georgia to take what the lands and waters of the region offer and turn them into profit.
In nearby Decatur County, two companies are digging up sales with common bacteria in the soil and one of its oldest crops, corn. "We've got two plants here that make a non-petroleum-based plastic," says Rick McCaskill, executive director of the Development Authority of Bainbridge-Decatur County. "One company, Danimer, makes a plastic that is corn-based, and the second, Meridian, makes a totally biodegradable plastic from bacteria found in the soil. These are locally grown companies that use locally grown products."
The newest company, Meridian, has progressed from research and development to a scaled-down production line to the announcement that $30 million is being invested in a full-production plant. "The two plants now have 45 employees, and I would think they could soon be up to double that," McCaskill says. "Both companies have had gigantic companies from all over the world jet into our airport to look at their products and take samples back."
Another new Decatur County company, Bainbridge Terminal Services, has built a liquid fertilizer plant and announced plans to build a dry fertilizer plant nearby. "They have been here a year and a half, and this is their second expansion," McCaskill says. "They've already spent $3.5 million and now are spending more. Agriculture is about the only thing we've got here that has really held on."
Sweet Success
Just up the road in nearby Calhoun County, Charles Cowart was finishing up the harvest of Muscadine grapes in his 40-year-old vineyard in preparation for pressing them and turning the juice to wines and non-alcoholic beverages. While wine sales have been good enough to grow his Still Pond brand from 15 to 20 labels, Cowart began finding sweet success in the peels, pulp and seeds that he began sending to health and wellness manufacturers whose customers value the Muscadine's potent preventative powers. "The Muscadine is the greatest natural source of antioxidants that you can find," says Cowart. "It is loaded with antioxidants." The health food companies put the grape's byproducts in capsule form and sell them all over the country.
In Lanier County, at the extreme eastern edge of the region, olive growers celebrated the first pressing of their product in perhaps the last 150 years, and all present declared the event a tasty success. "Farmers are looking for alternatives to cotton and peanuts," says Elvin Andrews, a University of Georgia Extension Service agent for Lanier County. "Olives were successfully grown along the coast of Georgia in the 1700s, and now we are looking at bringing that crop back." The olives had to be taken to North Florida for the pressing, but the search is now on to locate an olive press and bring it to South Georgia.
In neighboring Lowndes County, an important industry is going green with one of the most plentiful commodities of the region – pine trees. "The big story here is PCA, our paper mill, Packaging Corporation of America, is getting a makeover," says Brad Lofton, executive director of the Valdosta-Lowndes County Industrial Authority. "They had some of the oldest boilers in the country, and the plant was one of the most antiquated paper mills in America. We were nervous that their parent company would shut them down. We competed with one of their plants in Tennessee for a $200-million expansion and renovation." The project was awarded to Lowndes County, saving 350 permanent jobs and creating 300 construction jobs at the home of the largest taxpayer in the county. "This is the largest single investment ever made in Lowndes County," Lofton says. "But the best news is we will preserve jobs for 350 of some of our highest-paid employees for the next 40 or 50 years."
Part of PCA's rehab includes an energy conversion that will allow the plant to make its own electricity from the wood byproducts of the trees used in the paper-making process. The upgrade will make the Clyattville plant the greenest of its kind in the nation, Lofton says.
Another conversion to wood-fired energy production 90 miles away on the Dougherty-Mitchell County line has been put on hold pending the outcome of a study on Environmental Protection Agency (EPA) regulation changes. "We've hit the pause button for right now," says Ronnie Walston, plant manager at Georgia Power's Plant Mitchell. "We're trying to evaluate what the impacts are [of the EPA regulation changes]."
The original idea was to convert the plant's coal-fired energy production to the use of wood byproducts to make electricity. Given the vast forestlands of the region, the idea seems a perfect fit for Plant Mitchell, even with the demand for one million tons of wood chips a year following the conversion. Georgia Power is expecting a final ruling this month. "We anticipate that early next year, we should be able to say whether we will be able to take the finger off the pause button," Walston says.
Finding A Niche
For decades, Don Sims has preached the benefits of value-added production of Southwest Georgia's homegrown products, the packaging of fruits and vegetables, the processing of pork and poultry, lumber mills in the woods. "I think we're going back and revisiting the things we had in the past," says Sims, president of the Thomasville-Thomas County Chamber of Com-merce, as he offers up an example of the value-added concept. "Look, we found that there were over 400 manufacturers of salsa throughout the United States, and Southwest Georgia produces every single ingredient used in salsa, but there were no salsa makers down here,"
Now there are. "Mas Bien Salsa located in Ochlocknee near Thomasville in 2007," Sims says.
Another company that has filled a niche using local resources is SunCoast Bedding/Agri Products, with 18 employees. "They take whole pine trees, shave them and package the shavings for horse bedding." In a short time, Sims was able to list 11 local companies with 978 employees that depend on locally available resources for the raw materials feeding their production lines.
Thirty miles to the north of Thomasville, near Camilla, sits one of the region's most publicized homegrown industries, First United Ethanol, LLC (FUEL), a plant with 53 employees that uses corn to produce ethanol.
"This ethanol plant has been one of the best things to ever happen in South Georgia," says Tommy Hilliard, vice chairman of the Mitchell County Development Authority, a FUEL board member and one of many investors in the plant. "It was a $200-million total investment, and we've got 850 inves-tors. Ninety percent of them are in Georgia, and a large percent of them are in Southwest Georgia."
The original idea was to use locally grown corn to make the fuel, but demand outran supply. "We just went through the corn season and got a lot of local corn," Hilliard says. But the plant uses 200,000 bushels of corn per day to send 35 tanker trucks filled with ethanol on their way to the state's gas stations, so corn grown outside Georgia had to be used to help fill the demand.
There are times when economic development can mean the preservation of a key community asset, as leaders in Early County discovered last spring when Thomasville's Archbold Memorial Hospital failed to renew its contract for the management of Early Memorial Hospital, leaving Blakely facing the possibility of losing valuable local healthcare services.
"That could have been a big blow for Early County," says Lisa Collins, director of economic development for Early County 2055, a 50-year community im-provement project funded by The Charles and Catherine B. Rice Foun-dation. "Excellent healthcare is critical in the pursuit of business and industry, and also for the quality of life in our community," Collins says. Fortunately, the local hospital authority scrambled and found a new management partner, Missis-sippi-based Pioneer Services.
Early County welcomed a new business, Gunn Ammunition, a manufacturer of bullets and shells for a variety of firearms, a nice fit for a region where hunting and sport shooting became a part of the cultural DNA with the arrival of Spanish explorers four hundred years ago.
Retail Uptick
The Southwest Georgia region continues to benefit from having two of the state's most potent Metropolitan Statistical Areas (MSAs), retail sales centers anchored by Valdosta in the east and Albany in the west. The two MSAs combined recorded nearly $5 billion in retail sales in 2008, according to data collected by the University of Georgia's Center for Agribusiness and Economic Development. Perhaps the most vigorous retail growth in the region is being seen along the U.S. Highway 19 corridor connecting Albany with its MSA neighbor, Lee County.
"From 2004 to 2006, our business licenses doubled from 600 to more than 1,200," says Winston Oxford, executive director of Lee County Development Authority. "And in 2009 we issued almost 2,100 business licenses. Basically the retail investors were following the residential growth." Lee County re-mains the fastest growing county in the region – and the most prosperous, Oxford says. "In 1970, we had a population of 7,000. In 2010 the census is going to come in with a population in excess of 35,000, and the average household income exceeds $76,000 [annually]."
Oxford estimates 85 percent of the workers in Lee County have jobs in Dougherty County, where more employees are being added to payrolls through expansions and a relocation announcement.
Longtime corporate citizen Miller-Coors announced the addition of Coors Light to its production line at the end of last year, bringing 25 new jobs here. At about the same time, it was announced that Albany's venerable Coats & Clark textile plant would be joined by the company's North American distribution hub, adding 20 workers to its existing 300 employees. "They've had a distribution center (DC) in Albany for some time, and they conducted a logistics analysis of their whole system and decided they needed to consolidate all their DCs into one operation to cover all of North America, and they chose Albany for that location," says Ted Clem, president of the Albany-Dougherty Economic Development Commission. "They liked the transportation network; they liked the location; and they liked the workforce."
Albany's reputation as a logistics center increased this year when Equinox Chemicals, LLC, a homegrown company, was named by the Small Business Administration as Georgia's 2010 Small Business Exporter of the Year. The company began with two employees in 2003 and currently has 34, with plans to add 40 more workers when an expansion is completed by next year. Equinox makes a variety of fragrances and flavors, with about 40 percent of its products shipped overseas.
Logistics and retail sales are on the mind of Darrell Moore, president of the Moultrie-Colquitt County Chamber of Commerce and the Development Authority. The center of his attention, and that of economic developers throughout the region, is Georgia Highway 133, which connects his community to Valdosta to the south, Albany to the north and ultimately, as Highways 82 and 280, to Columbus. For years, Moore and his peers in the region have been pushing to complete plans to four-lane the highway from I-185 at Columbus all the way to I-75 at Valdosta. "That project would have a tremendous impact on economic development throughout South Georgia," Moore says.
Trouble is, a tight Department of Transportation (DOT) budget has no room for the nine-figure four-laning cost, leaving just one hope for funding. "There is not another probable way of getting it funded [other] than a T-SPLOST," says Moore, referring to a Transportation Special Purpose Local Option Sales Tax, a mechanism that would require a vote to approve an additional 1 percent sales tax by residents in 40 or 50 counties in two regions of the state that stretch from the Alabama border to the Okefenokee Swamp.
The issue could come up for a vote in the two regions as early as 2012, Moore says. Even with voter approval, there is another devil in the details: better gas mileage for modern cars. "Georgia is heavily dependent on gasoline sales taxes to fund road projects, and those revenues are dwindling," Moore says. "Fuel economy for vehicles is going up, so people who once were getting 15 miles per gallon are now getting 30 miles per gallon, and the tax collections from those consumers are going down."
In Tifton, a consolidation of two Harley-Davidson stores is expected to add 16 new jobs along I-75 in that city. The dealership is making a $3.5-million investment in the 20,000-square-foot addition to the present location. Tifton is also welcoming a new industry, Merchants Foodservice, marking a $2-million investment and the addition of 25 new jobs in the community, with planned growth expected to tack on another 135 jobs in the next 2 years.
Community Snapshot
Local Leaders
Ted Clem
President
Albany-Dougherty
Economic Development Commission
229.434.0044
tclem@choosealbany.com
Brad Lofton
Executive Director
Valdosta-Lowndes County Industrial Authority
229.259.9972
blofton@industrialauthority.com
Rick McCaskill
Executive Director
Development Authority of
Bainbridge-Decatur County
229.246.4774
rm@bainbridgedecaturga.com
Population
(2010)
Georgia, 10.05 million
Decatur County, 28,992
Dougherty County, 85,655
Early County, 11,580
Lee County, 35,858
Lowndes County, 101,497
Per Capita Income
(2007)
Georgia, $33,499
Decatur County, $23,613
Dougherty County, $26,381
Early County, $26,239
Lee County, $25,824
Lowndes County, $27,351
Unemployment
(August 2010)
Georgia, 10 percent
Decatur County, 14 percent
Dougherty County, 12 percent
Early County, 9.8 percent
Lee County, 7.9 percent
Lowndes County, 8.6 percent
Sources
U.S. Census Bureau, University of Georgia Center for Agribusiness and Economic Development