Waycross/Ware County: Sustaining Growth
A boost from trees and trains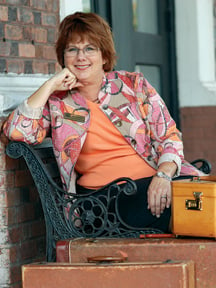 It takes a while to traverse the 906 square miles of Ware County, the largest county east of the Mississippi, but it is a pleasant drive through seemingly endless stands of forests, some 474,000 acres of trees interrupted by just the occasional highway or railroad that sometimes run parallel so motorist and train engineer can exchange happy waves. But in Ware County and its seat of government, Waycross, trains and trees are growing jobs, and the two are combining to sustain a respectable population growth and protect a vulnerable economy.
Ware County's population increased 5 percent in the first eight years of the new century, modest growth in the best of times, but far more significant in the present economy. "If you look back eight years, that's when we began a period of industrial growth, both in new companies and the expansion of existing companies" says Regina Morgan, who was executive director of the Okefenokee Area Development Authority (OADA) until she left in September for a new job in Savannah. "I think the new jobs created during that period helped bring new residents to Waycross. We have not had any industries close as a result of the economy's downturn. In fact, we have gained new companies and employees." And more jobs are coming to town with new company groundbreakings and expansion announcements from longtime corporate citizens.
Nourishing The Economy
It's just after lunch at the Rich Products Company plant at the Waycross-Ware County Industrial Park, and David Booker stands at the window of his office 10 feet above the production line that can turn out pizza slices and other tasty snacks and entrees by the millions. Numbers are hard to come by at Rich Products, a closely held family-owned company that fully values the confidentiality attached to production figures, square footage, sales charts and other details that measure the health of a business.
But from all indications, business at the Waycross facility has been good and continues to get better. Booker is the plant manager of Rich Products' Way-cross facility, and he offers a take on the day's work. "We will make truckloads of pizza slices today," says Booker.
And there will be truckloads of meatball marinara sandwiches and bacon cheeseburger sliders, two freshly launched products joining about 15 others sporting the company's Farm Rich brand.
"Our products are consumed sometimes as mini meals, after school snacks, appetizers, and the pizza slices can be eaten as a meal," says Booker. They fit perfectly into the modern, ever-evolving lifestyle, a factor in the company's growth. "We've been in this spot nine years now," Booker says. "We've done two expansions in the last three years. The products made in this plant have experienced steady growth over the last 10 years, and we expect that growth to continue."
The plant will employ up to 120 at any time, depending on the product being produced. The last expansion a year ago added 30 percent capacity to the plant, and an additional 25 or so employees are expected to be added here during the next two years.
A short drive across the industrial park finds cranes, bulldozers, dump trucks and other construction equipment busily at work along both sides of the road. It is the 300-acre site of Georgia Biomass LLC, a fuel pellet producer set to begin production in the first quarter of 2011, eventually pulverizing and palletizing wood chips into 750,000 metric tons of pellets annually.
The pellets, about a half-inch long with the circumference of a pencil, will be carried by CSX Railroad cars to the Port of Savannah and shipped on to Germany's RWE, one of Europe's largest utility companies and the parent of Georgia Biomass. In a way, it was the CSX Railroad that brought Georgia Biomass to Waycross in the first place.
"CSX [officials] actually introduced us to them," says the development authority's Morgan. "They were looking around for a site in Georgia and South Carolina for probably two years before ever coming to Waycross." The decision to locate their plant in Waycross was due in large part to the railroad's everyday service and presence of trees, lots of trees." (For more on RWE, see "Changing The Color Of Business" on page 52.)
"Rail is a critical factor for the movement of the product to the Port of Savannah," says William Glass, CEO and president of BMC Consultancy, a Swedish company with North American headquarters in Savannah and the business developer for RWE. "And Ware County is in the heart of the fiber basket region," he says, explaining what attracted Georgia Biomass to the area.
"There is a significant supply of trees there, and that is certainly one of the reasons we made the investment. And there is a significant workforce in Georgia. If you look at the overall infrastructure in Georgia, in terms of rail and harbor, you're going to see why investments would be made in Waycross and Ware County."
Georgia Biomass will employ 80 workers at the start of production, and Glass sees a continuing demand from Europe for the company's product. "Europe is a hot market in general because there is public support for finding alternative energy to nonrenewable carbon-based fuel," he says. "In addition to public support, many countries there have [infrastructure] support in place for the use of renewable energy and the reduction of CO2 to become more self-sufficient and less dependent on fuels like coal and oil."
Georgia Biomass has the kind of staying power to instill confidence in locals that the plant will be around for the long haul, with at least 80 jobs that seem secure in a time of uncertain economic conditions, according to Morgan. "Georgia Biomass came in with the financial backing and a ready customer for their product," Morgan says. "2007 did see some of the other fuel pellet companies in the United States close, but this company will be selling to a huge utility that is financing its operation."
On Track
When Gus Karle retired from the CSX Railroad in 1983 after 37 years on the line, he took with him a storehouse of rail facts, lore and history. The former superintendent of the Waycross Ter-minal, Karle kept tabs on the 80 or so trains that came in and out of the community, and he still does, though there are fewer. "There are about 65 trains a day now," says Karle, now the manager of special projects for OADA, an unpaid position, but one he uses to keep a strong relationship between CSX and Waycross.
"CSX is of immense value to this community in many aspects," Karle says. "The first is employment; there are about 900 people employed by the railroad. The railroad pays six figures in taxes here every year, and over the last seven years the railroad has made $200,000 in charitable contributions locally." The Waycross railyard is the largest in the Southeast, Karle says. And with the future of railroads looking bright, that means a secure economic engine for Ware County.
"I think the future of railroads is very good, for several reasons," Karle says. "Railroads, environmentally, are so much more superior to highway [freight haulers]. Railroads use much less land space than interstates, and railroads are much more competitive today in the marketplace since deregulation. But I can mention one thing that backs up my opinion of the future for railroads: Warren Buffett just bought the Burlington Northern Santa Fe rail-road, one of the largest in the West, for $34 billion. And if that fella, who is the great guru of business, feels that is such a good investment, it must be."
Waycross resident Mary Beth Ken-nedy doesn't live far from the railroad tracks in downtown Waycross. Kennedy, the former executive director of Way-cross Main Street, says there is a nearby fully stocked grocery store featuring locally grown produce and a restaurant a few steps from her downtown apartment. "It's fabulous not having to get in a car every day," she says. Kennedy estimates there are no more than five people living downtown right now.
Her neighbors include a downtown business owner who lives above his shop and an engineer out at the biomass plant who is in town until construction there is completed. But Kennedy will have many more neighbors when a downtown landmark, the Ware Hotel, is renovated and 36 residential units go on the market. "The developer, W.H. Grace from St. Marys, I would say, is about 90 percent complete in their planning stage," Kennedy says.
"We are awaiting the approval of the federal government's National Park Service on the plans and for them to say they are historically accurate." Main-taining historic accuracy is an important feature of such restoration projects if the developer hopes to receive federal tax credits, Kennedy says. The city's historic Lyric Theater and the Spanish mission architecture of the old federal courthouse and post office building also are in need of caring hands to restore them, according to Kennedy.
Good Value
Ware County is home to the smallest unit of the University System of Georgia (USG), Waycross College (WC), a two-year school of less than 1,200 students with a reputation for sending them on to four-year institutions where they hit the ground making the grade. "This school has always had a reputation for excellence in academics," says Dr. Neil
Aspinwall, vice president of Enrollment and Student Services. "When you leave here you're going to succeed at Georgia Tech, University of Georgia, Mercer or anywhere you want to go."
Aspinwall says there is another sales point for his college. "We are the cheap-est to attend in the system," he says, "just $1,200 in tuition for a semester. If you'll come here two years, you will save enough tuition so that when you go away, you'll actually have earned one-year free school at the four-year school."
Waycross College sits on the far western edge of the county on a 150-acre campus of mossy oaks, green foliage and bright flowers, a fittingly quiet place for the studious and the introspective. But recent changes here are livening up campus life. "We just added college athletics," Aspinwall says – the team mascot is the Swamp Fox. "We started with men's basketball and had a good season last year. We just added women's fast-pitch softball, and next year we'll add either women's basketball or baseball."
Aspinwall says about 75 percent of the new athletes are from out of state and are being housed in Waycross apartments, with a study under way to access the feasibility of campus housing. A $2-million renovation and ex-pansion project has been completed involving several campus buildings.
These amenities should help the school record its sixth consecutive semester of record enrollments, Aspin-wall says. Enrollment at WC has been boosted by a number of dual programs and partnerships with area high schools, four-year colleges and universities. "Last year we had 21 students who earned half their associate degree before they left high school," Aspinwall says. The programs are focusing on producing nurses and teachers.
Making Improvements
Waycross Mayor Clarence Billups has been calling on residents in some neighborhoods to help in removing substandard housing by identifying the owners of dilapidated buildings that can become "crime dens." And sometimes there are surprising results.
"We have been going door to door, with police and community leaders, in an effort to speak with residents and let them know how they can help us identify property owners, " Billups says. "And one Saturday last summer we were in a community when we saw one gentleman who was out mowing his yard. The police noticed he was wanted for a crime and arrested him right there."
In the past 18 months, four buildings have been taken down in what Billups calls "an agonizingly slow process." The city's Rainy Day Fund is financing the effort. "If we can eradicate the blight here in Waycross it would lift everyone," he says, "and make our city more inviting to visitors."
County Commission Chairman Jim-my Brown has long noticed the tragic results of a 27-mile stretch of U.S. Highway 84 leading from Waycross to adjoining Clinch County. Brown served as the chief of the Ware County Fire Department for 45 years, a period when he saw many deadly crashes on the road.
He is seeing savvy truckers avoid the Waycross road, costing the community in fuel, lodging and food purchases. "I have seen so many people killed on that road from Waycross to Homerville," he says. "Part of that four-lane highway is still two lanes and is still killing our people. A retired Department of Transportation (DOT) official told me that since 2000 on one stretch of that road there have been 20 people killed, and I'm afraid more are going to be killed."
After years of trying, Brown and other community leaders are seeing the first steps toward widening the road and making other improvements to provide for greater safety on U.S. 84. "We have two small DOT projects ahead of the 84 project, but the 84 project has been moved up to No. 3, 4 and 5, and they are saying this project will be completed by 2015 and will cost $92 million," Brown says. "This will substantially reduce the loss of life, enhance our productivity and increase revenue for the area."
Community Snapshot
Local Leaders
Jan Sanchez
Executive Director
Waycross-Ware County
Chamber of Commerce
912.283.3742
cocjsanchez@atc.cc
Jimmy Brown
Chair
Ware County Commission
912.287.4300
jamesbrown45@bellsouth.net
Clarence Billups
Mayor of Waycross
912.287.2912
Population
(2008, estimated)
County, 35,879
Waycross, 14,765
Per Capita Income
(2007)
County, $23,929
Georgia, $33,499
Unemployment
(July 2010)
County, 11.5 percent
Georgia, 9.9 percent
Top Employers
Satilla Regional Medical Center, Ware County Board of Education, Flash Foods, Baptist Village,
Ware County State Prison
Sources
U.S. Census Bureau, Georgia Department of Labor, Okefenokee Area Development Authority