Building On A Legacy
Savannah State University, a historically black school, takes advantage of its location with a strong emphasis on marine sciences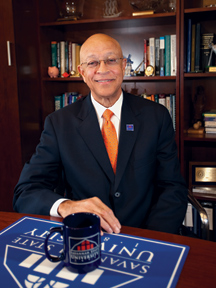 From his office at the marine science building on the campus of Savannah State University (SSU), Dr. Matt Gilligan, professor and coordinator of the institution's marine sciences program, need only gaze through his open door to survey the vast salt marsh that stretches toward the Atlantic Ocean, forming a campus boundary, classroom and lab and allowing this institution to call itself "the university by the sea."
For three decades, Gilligan has been the Watcher on the Marsh, mentally cataloguing the subtle and not-so-subtle changes he observes as the seasons move one to the next and the tides embrace, then release the swaying grasslands.
"Since I've been here 30 years, I'm starting to see the patterns emerge of how dynamic the vegetation here is," says Gilligan, standing on the boat dock along Country Club Creek, one of the seemingly endless number of streams that weave through the marsh on their way to the Atlantic.
"The Spartina [common name: smooth chord grass] is different every year. It looks very stationary, very static and very peaceful, but over time you have a lot of changes going on in the vegetation out there." Somewhere between the SSU campus and the distant horizon there rises a hammock or island, forcing his visitor to ask, "Gilligan's Island?" The question elicits a tight, almost painful, smile as he gives a weary nod, and quickly returns to his subject.
"Forty percent of all the salt marshes on the east coast of North America are in the Low Country from South Carolina to the Georgia-Florida line," says Gilligan, "and it's one big lab for us."
It is also an attraction for a growing number of students in the university's marine science program, begun in 1979 as a unique feature of the nation's Historically Black Colleges and Univers-ities [HBCU] curricula. The program added a master's degree in 2002 and now has 25 students, with undergraduate students averaging about 60 a year, all engaged in the study of the ocean and salt marshes, their flora, fauna and mysteries.
SSU's marine science studies program is using a $3-million, six-year grant from the U.S. Department of Education Title VII program to attract and keep minority students. "That's for strengthening the master's degree studies, with particular emphasis on underrepresented groups," Gilligan says, "because African Americans, Hispanic Americans, American Indians and Pacific Island Americans are far more underrepresented in the ocean and marine sciences than they are in almost any other area of the sciences. There is a lot of effort by agencies and organizations right now to help turn that around."
The funding is being used for fellowships in the master's program to pay for living expenses, tuition and fees. Stipends for the marine science graduate program vary from $18,000 to $20,000 annually. "In the sciences, you have to offer a good, strong package to these very talented and hardworking science students," Gilligan says. "They'll go where the money is, and if you don't have the money, they're going to go somewhere else."
Savannah State professors and administrators are vigorously pursuing grants and collaborations to open paths to careers in the marine sciences, using professors and assets at the University of Georgia's Skidaway Institute of Ocean-ography, a short trip up the coast from the SSU campus. "We have two master's degree candidates working at the UGA Marine Extension Service Aquarium, and Skidaway professors teach SSU marine science master's degree courses," Gilligan says.
Generating Growth
Dr. Chris Hintz has made his way to a couple of 500-gallon tanks at the boat dock on Country Club Creek to check on his grant-funded collaborators, a group that can be in the billions. "These are single-cell algae, "he says, pointing to the green masses floating in the vats. "We did some experiments last summer [2009] where we were harvesting a liter of water that was between 4 million and 8 million cells per milliliter, so that would be between 4 billion and 8 billion cells in a day. And each day the culture sustained itself continuously for four straight days."
The significance of the experiment is many-fold: To see if the algae could be an alternate source of fuel; to test the water's little denizens' value in reducing algae in the Savannah River; to provide lab work for students; and perhaps to provide some income for the university.
"One of the big problems with renewable energy [projects] right now is you have to put so much energy into them you don't get enough out. There's a net loss," says Hintz, professor of marine sciences/natural sciences at SSU. "We're try-ing to put the minimal amount of energy to support life but let Mother Nature do her thing, and she has a wonderful capacity for sucking up nutrients and growing."
In this case the nutrients come from treated wastewater normally discharged into the Savannah River. For the algae it is a feast, contributing to their colonization into the huge carpet-like growths that ride the waters of the coast. Hintz has less clingy collaborators at the University of Texas, El Paso, Ohio's Wilberforce University and at NASA's Glenn Research Center. A NASA grant is fueling the research. "We have one patent application we're going to be submitting for one of these algae concentrators we've developed with one of my grad students," says Hintz.
And at Savannah State, graduate students are taking on a luster normally afforded a star quarterback. After 30 years of offering marine science studies, Savannah State is the only university in Georgia providing both Bachelor of Science and Master of Science degrees in that discipline. Those programs, like many others here, are growing grant magnets.
"In 2010, SSU received more than $20 million in new grants for the recruitment, scholarships and fellowships to bring minorities to the campus for study," says Dr. Chellus Chetty, associate vice president of Research & Sponsored Programs at the university's Office of Sponsored Research Administration (OSRA). "Most of the funding we have received is for science, technology, engineering and math. We call it the STEM disciplines. We have to involve the students in research, plus we have the infrastructure." The grants provide the equipment, faculty training, scholarships and fellowships to lead professors into independent research, while, hopefully, creating their own grants. "We want them to prepare the preliminary data that is required for them to write an independent research grant," Chetty says.
One of the grants being used for such efforts came from the National Institutes of Health (NIH), $4 million for the study of health issues among Chatham County's African-American population.
"Here in Savannah, there are significant health disparities in African-American and other minority populations," says Nancy Riggs, grants manager for OSRA. "All the research we are doing now is focused on those [disparities], including obesity, HIV and cancer in Savannah, within a 40 percent African-American population and a growing Hispanic population. Funds will be used to sponsor conference attendance and collaborations with researchers at other institutions." Riggs says the SSU study of health issues among the local minority populations is "a step toward establishing a center for health disparities research here."
The Beginnings
The idea of new and expanding programs, millions of dollars for research and student development, the potential for doctorates, studies abroad – all of this would have been beyond imagining in 1890 when the Georgia General Assembly passed the enabling legislation providing the genesis of Savannah State University. In fact, the first session of the new institution for the education and training of black students was held in Athens, where there was already a university.
When the newly christened Georgia State Industrial College for Colored Youths (GSC) began classes on its present campus a year later, it had only five faculty members, but the school already had a legacy as the first public college in Georgia for the education of African Americans.
The new 135-acre site in Thunderbolt, a suburb of Savannah, included tracts purchased and donated at the edge of a huge marsh considered, in the context of the time, to be worthless. Funds for the operation of GSC didn't exactly flow like the streams on the edge of the campus. It would be 1947 before GSC had a telephone system, fire hydrants, roads and central heat. GSC became Savannah State College in 1950 and was granted university status in 1996. Where once this campus depended on the largesse of the legislature and the generosity of donors, it is now a valued economic generator, spreading more than $136 million annually into Savannah's metro economy and creating 1,250 jobs in the community.
When Dr. Earl Yarbrough came to Savannah State in 2007 as its 12th president, the Kansas native gazed across the marsh neighboring the campus and made what he admits was an uninformed assumption. "When I arrived here, I thought it was a swamp," says a smiling Yarbrough. "Until somebody told me that land was very expensive, and then I began to see it as gold."
Yarbrough arrived at SSU to welcome the first MBA candidate to the campus and don a hardhat to inspect the construction of the new 48,000-square-foot social sciences building that opened in 2009, the year the university marked a record enrollment of 3,800-plus students. And with another record increase of student population projected for 2010, more construction is under way or planned for the future.
"The first two years I was here, we had a 20 percent increase in student enrollment," he says. "This year I'm pretty sure we'll go over 4,000 students." To enhance the campus experience for those students, more than $17 million is being spent for a new student center and the renovation of Tiger stadium, funded by student fees. More than $20 million in new housing facilities to accommodate 1,000 students is moving beyond the planning stage toward the first of two phases in the construction. "The first phase should be open within a year," Yarbrough says. "The second phase will be completed within the following year. It's a very aggressive building plan."
Continuing to recognize the cultural value of Savannah State's heritage as a historically black institution, the university is forging an even more robust curriculum and tempting incentives to attract minorities to science, technology and math programs unavailable to previous generations of students.
"We have programs just like the University of Georgia and Georgia Tech," says Yarbrough, "but people looked, I think, at Savannah State as that school over there on the marsh that is primarily for black students. We've always looked at the whole student, not only academically, but also in terms of leadership quality, personality and what it takes to become a successful citizen. We have the kinds of grants that develop those individuals."
Distinguished Alums
Savannah's mayor, Otis Johnson, certainly fits the profile of the ideal student offered by Yarbrough, minus the financial assistance. Johnson was a student at SSU, a professor there and finally served as Dean of the College of Liberal Arts and Social Sciences at the institution. He sees SSU's place in the community from a variety of perspectives.
"That $136 million [economic impact] means a lot to us because that is multiplied over and over again and supports a lot of families and businesses that supply goods and services to the institution," Johnson says. "The value of SSU goes beyond economics, as it provides cultural and educational opportunities for all our citizens. Savannah State is offering the opportunity for diversity, having programs at an HBCU that were traditionally white-oriented."
Kelvin Frazier is a good example of the distances a Savannah State graduate can travel. A 2010 graduate with double majors, chemistry and math, Frazier is now a Ph.D. candidate at MIT, having spent his summer doing cancer research, which he plans to make his career. The 22-year-old Savannah native is attending MIT on a fellowship he earned while at SSU.
"I went to Savannah State because it was at home," he says. "And I knew the Savannah State chemistry program was nationally accredited, and that was important to me." While at the university, Frazier played in several band and orchestra groups and sang in the SSU concert choir. He and his brother are the first two members of the family to gain a college degree. "They have a saying at Savannah State, 'You can go anywhere from here,' and that's exactly what I did," he says.
Dr. Emily Bentley is encouraging her students to use their education to go anywhere they want, but right now she is directing their attention a little closer to home. Bentley is the coordinator for SSU's Homeland Security & Emergency Management (HSEM) integrated program at the school's Department of Political Science & Public Affairs.
The HSEM program is the first of its kind in Georgia to offer a BA in the discipline, and the first at an HBCU in the nation to offer the degree. "Like politics, all disasters are local," Bentley says. "Sure, we can get assistance from the state, from the federal government, and we need to know how to do that; but one of the best ways to provide our safety and security is to have a good capability at the local level." The HSEM is using a $300,000 research grant to improve emergency planning for vulnerable populations, using certain Savannah neighborhoods as labs for faculty and student investigations.
"There is significant research that addresses the fact that in many types of disasters the individuals who are harmed the most, proportionally, and have the hardest time in recovery are those who fall into a certain demographic category." Among them, Bentley says, are the poor, elderly, physically challenged and undereducated.
Students use incidents like the deadly Imperial Sugar explosion in Savannah and the oil spill in the Gulf of Mexico to examine preparedness, effects and after-actions as part of their coursework. The program has minted four graduates.
"This has always been a great institution for education, but I think a lot of people didn't know it," Yarbrough says. They are learning quickly.