Developing A Strong Workforce
Georgia's Work Ready Communities draw on educators, civic leaders, students and employers to gain certification and recognition.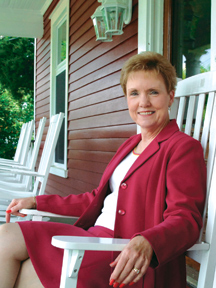 In 2007, Lil Easterlin was at a meeting in Augusta where Gov. Sonny Perdue was giving a speech, during which he unveiled a program designed to improve Georgia's workforce.
"He talked about this program that worked with educational systems to sort of certify the workforce being prepared for work, even those without a higher education attainment," recalls Easterlin, executive director of the Jefferson County Chamber of Commerce. "I always felt that concept applied to Jefferson County. We have people who are prepared to do their jobs, and are good at their jobs, they just don't necessarily have college degrees."
Easterlin liked the idea and decided she would learn more about it. "I came back to my office and started calling my [state] contacts in different departments and asked about that, and nobody had heard about it yet," she says. "I thought I just wasn't paying close attention to what the governor was saying."
A few months later when Perdue announced a new workforce development program, Easterlin recognized the governor's seed of an idea in full flower. It was to be called the Work Ready program, but Easterlin didn't immediately embrace the idea.
"Jefferson County is a small rural area, and so many of these government programs really just didn't apply to us," she says, echoing a common reaction of chamber executives at the time. "We signed up, not immediately, but maybe in the second round."
And in October 2008, Jefferson County became Georgia's first Certified Work Ready Community (CWRC). "I thought it was a very good way for Jefferson County to say we have people who are working and who are prepared to work," Easterlin says, "because so many times [business prospects] look at those statistics, the demographics and hard-core numbers on the Internet, and that doesn't give you a sense of what a community is, any more than a report card gives you a sense of who that child is."
To get the Work Ready certification, Easterlin's county had to improve high school graduation rates and send 236 members of the community's unemployed and employees of the public and private sectors to the local campus of Sandersville Technical College to have their work skills assessed, the core criteria for Work Ready certification. Although $3,000 grants from the state became available for other communities seeking the certification, Jefferson County accomplished the goal on its own.
"The whole project maybe cost me $300," she says. And most of that, she says, was for the celebration for becoming Work Ready certified. Easterlin estimates that 90 percent of her county's 610 businesses have 20 employees or less. "I think people recognize what it means to have that certification," she says. "We still take it very, very seriously. I think the businesses in the community see the benefit of it." And the benefits of the Work Ready program are expanding as its use spreads across the state. Work Ready employers may call on local technical colleges to profile jobs to see what skills will be required of new hires, an effort to make sure the two match up.
Early Supporter
With 1,000 employees at five locations in Georgia, Solo Cup Company became an early proponent of using Work Ready in its hiring practices, and later in its employee promotion program. "We started with the [Work Ready] program at the end of 2007," says Lisa Phillips, human resources manager for Solo. "The first year we mainly concentrated on getting our jobs profiled, and then as we started completing those profiles, those candidates started completing their assessments before hiring."
That process was so successful, she says, the company began using the Work Ready program in employee promotions. "We really were missing some opportunities on internal candidates to get them from an entry level to a skilled level," Phillips says. "We can now send them to take the assessment to see if there are any gaps they need to address, and get them addressed. Then when we do have internal availability, they're already prepared for that job."
Phillips says about 50 percent of Solo's employees are Work Ready certified, and with plans for expansions at three of its facilities, the company will add almost 300 jobs over the next 18 months. The most likely candidates for the jobs will be those with a Work Ready certificate.
Assessment levels for certificate holders range from bronze to silver to gold and on to platinum, the highest designation. This succession of metals marks the competence and skill levels of the job candidates or those being considered for promotion, and the quest for improved assessments is being discussed in the workplace like bowling and softball scores.
"We've had people that tested at the silver and gold levels, and they're, like, 'No, I want platinum level,'" Phillips says. "It has also caused some internal competition between our employees to see who's going to get the best certificate." And Phillips sees another facet of being a Work Ready workplace. "I think it has affected our turnover rate," she says. "We're really looking at those first 90 days or 6 months [of new hires]. In '08 and '07, we were averaging around 26 percent turnover every year. In '09, we were down to 16.5 percent, and we're on track this year to end up at 12 percent."
Assessments
In 2009, when Elberton's Jennifer Willis was laid off from her job taking inventory at a greenhouse, she decided to go back to school at Athens Technical College. "I was taking a course in business technology, and part of the course was taking the Work Ready assessment," says the married mother of two.
"Then I took an internship with the Elberton Police Department, which is a Work Ready certificate job place." That turned out to be a handy coincidence. Willis was able to land a job working 25 hours a week as a night receptionist at the police department.
"So I feel good about taking the assessment," she says. "I got a silver certificate, but I scored well enough on two sections to get a gold. I can retake the one I scored low on, but I just haven't had the time."
Willis is on course to receive an associate degree in administrative office technology, which, coupled with her Work Ready certificate, she believes will improve her job chances. "It's tough out there in the job world, especially here in Elberton," Willis says. "Most of our plants have closed down, and when that happened it took a real toll on our economy. A lot of the businesses suffered, too. There are a lot of people on the unemployment line. I think the Work Ready certificate gives me a lot better options to prove I can do the job."
Jobs are very much on the mind of Lynda Dawson, president of the Harris County Chamber of Commerce, whose office in Hamilton sits halfway between West Georgia's Kia plant and Fort Benning, two of the hottest job creation sites in the state. Kia alone is expected to bring 20,000 new jobs to the region, with Fort Benning's new and improved mission adding 30,000 soldiers and their families, as well as vendors to serve their mission, all new resident consumers.
"A lot of the companies around Kia and Fort Benning, while they don't require the [Work Ready] assessment, many of them recognize it," Dawson says. "We know that if someone comes into those companies and they have the certificate, that at least tells the employer that, 'Man, this person took the time to take the test; they're serious about getting a job and they want the best job they can possibly get.'"
While many communities in the region are awaiting the arrival of thousands of jobs, Harris County is landing them: Two Kia vendors have set up shop at the north end of the county in the local industrial park, bringing about 700 jobs with them. And on the south end of the county, a 2,200-acre mixed-use development is under way. "There will be construction jobs out there," Dawson says. "And the finished development – it's called The Grove – will have office and retail jobs." Dawson is explaining the factors that prompted her to lead the effort to have her community Work Ready certified, becoming one of the latest Georgia counties to receive the designation in June. "We didn't get a lot of companies saying, 'Work Ready required,' but we did get them saying, 'Work Ready preferred,'" she says.
It's not like Harris County was one of the state's pockets of poverty. With an annual per capita income of $39,000, it was already ranked seventh in that prosperity measure, thanks to locals commuting to well-paying jobs in nearby Columbus. "I think no matter what we get here in terms of business, the Work Ready certificate is going to be looked at a whole lot more because it is so widely known now," Dawson says. "It wasn't like that in the beginning. But now most employers are going to realize, when someone presents one, what it is they're looking at."
New Opportunities
Paulding County is another June addition to Work Ready certification, and it is expecting 500 jobs at the announced location of a new WellStar hospital.
"We're opening a new airport, the first one in Georgia in 30 years," says Carolyn Delamont, president/CEO of the Paulding County Chamber of Commerce. "We want them to be able to find their employees here and to know immediately what kind of skills they have," Delamont says. She would like to see fewer Paudling workers leaving the county every day. "About 75 percent of our citizens go out of this county every day for good jobs [in Metro Atlanta], so we wanted to get this certification, first of all, to attract business to move here and to [help them] realize we have a qualified workforce. And, too, we want all our kids to graduate, and we're using the Work Ready assessment there to enhance those efforts."
Whether to keep commuters home or prepare for a local job surge, the Work Ready program is benefiting Georgia's bottom line by taking job seekers off the unemployment rolls and placing them among the earning, tax-paying consumers that keep commerce and governments afloat, according to the Work Ready program's top executive.
"In light of the falling-off-the-cliff economy in 2009, we set a goal that we were going to certify 50,000 people in the state of Georgia," says Debra Lyons, director of the Governor's Office of Workforce Development, the lead department in the Work Ready certification program. "And we were going to make sure we did that at under a cost of $100 per certificate. From that investment we would look at 10,000 people finding jobs, returning on that investment an average [total] annual salary of $265 million in wages. We're on track to accomplish that by the end of this year."
Those new jobholders include not only the unemployed, but also the employed who have certificates and the high school seniors and college students earning them on their way to the job market.
"Our rate of unemployed people finding a job is 655 a month, very close to our goal of 800 a month," Lyons says. "We're keeping the pedal to the metal on graduation rates across the state. Preliminary data show that in 2010 we're at 79.9 percent graduation rate. When Governor Perdue took office it was 62 percent." With new Work Ready initiatives underway, such as certified companies, industries, regions and tailored programs for small businesses, what began as a sluggish effort is spreading into every field of commerce in every corner of the state.
Already 59 counties have the Work Ready certification, and 90 more are in the process, with more than 75 percent close to meeting their required goals. Workers are waking up to the value of the certificate, stimulated by the higher wages it brings, according to Lyons.
"The average hourly wage in Georgia is $12.77, according to the Labor Department," says Lyons. "Our [Work Ready certified] employee average hourly wage is $14.75, so that's a significant increase. When people talk about high-wage jobs [and] what do we do to develop our workforce to get more money coming into our communities, that's exactly what Work Ready is all about."
Nationally, more than 1.3 million people have been Work Ready certified in the last two years. "We're 11 percent of that market share of people being certified, so we're, like, the No. 1 state in the country."