2010 Healthcare Heroes
Three physicians and a pharmacist-turned-outreach- specialist use their skills at home and in troubled distant countries.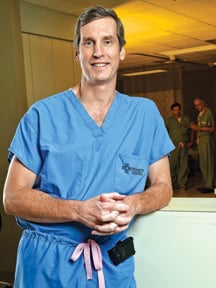 This year's search for Georgia Trend's healthcare heroes took us to Columbus, Augusta and Thomasville as well as Atlanta. We found individuals who are joining their skills and their passion – one traveling regularly to Haiti to provide medical and surgical care, one working to combat surgical wound infections and two focusing on the special needs of rural areas in Georgia. Meet them all in the following pages.
Stephen McCollam, M.D.
Peachtree Orthopedic Clinic
Atlanta
When orthopedic surgeon Dr. Steve McCollam arrived in Haiti eight days after last January's earthquake, he walked across an otherworldly landscape of buildings turned to rubble, the headstones for thousands of people buried below. At his destination, Hôpital Albert Schweitzer Haiti in De-schapelles, located 70 miles outside of Port-au-Prince, McCollam found indescribable pain and suffering in numbers the medical facility could not hold.
"There was nearly complete and total cha-os," recalls McCollam, part of a group of seven physicians from Atlanta's Peachtree Ortho-pedic Clinic (POC) on a Samaritan mission to repair the torn and shattered bodies of those who could be saved. Many would need no such attention.
"People were dying every day of infections because they had run out of antibiotics, and they had run out of all pain medicines. The hospital normally can hold 80 patients, and when we got there the best estimates were that there were 500 patients in and around the hospital, out in the courtyards, and the halls were lined on both sides with beds. You could barely get through." But the POC doctors could offer some immediate aid, thanks to a little foresight and the compassionate generosity of their Atlanta neighbors.
"Fortunately, we found out about [conditions there] two days before we left," McCollam says. "We went to Piedmont and WellStar hospitals and they were able to give us thousands of doses of antibiotics and hundreds, if not thousands, of doses of narcotics to give to the people quickly to give them some kind of merciful pain relief."
This is the 20th year McCollam has gone to Haiti as a volunteer physician, paying his own expenses, and the trips have become a part of the Peachtree Orthopedic Clinic culture, dating back to 1956. "I'd say more than half the doctors in our practice [of 28 physicians] have gone to Haiti," McCollam says. "A number of those who haven't done it want to do it. It's a very special glue that bonds us together."
POC doctors make two or three trips a year to care for patients in Haiti, one of the poorest countries in the Western Hemisphere. The Peachtree Clinic is also responsible for shipping medical supplies to the country, using donations from their Georgia vendors, a charitable practice that is being formalized through the formation of the Peachtree Orthopedic Clinic Foundation. "The response has been tremendous," McCollam says. "We've had donations of well over $10,000 to the foundation just for charitable work in Haiti. Now if we have a medical student or a nurse who wants to come with us and can't afford it, we can buy a plane ticket to get them down there."
POC's relationship with Haiti began in the early 1950s when the clinic's founder, Dr. Jim Funk, received a letter from a nun in Haiti asking for discarded or unused braces for her orphanage there. Funk's curiosity led to a first visit, followed by annual trips by the clinic's founder that continue to the present.
"The physicians lose income when out of the office, but there are other compensations," McCollam says. "I tell you, as hard as it is and as exhausted as I am when I come back, I have this unique feeling of being cleansed."
By mid-summer, McCollam was making plans for another trip to Haiti in the fall. "For doctors, the reason that attracted them to go into medicine is because they wanted to help people, pure and simple," he says.
Jeff Travis, M.D.
St. Francis Hospital
Columbus
Jeff Travis traces his interest in medicine back to his high school days when he often assisted his mother, a biology teacher, in dissecting frogs – when he wasn't playing baseball or football. The work in his mom's lab began the long journey in medicine, leading him into the job of Chief of the Department of Surgery at St. Francis Hospital in Columbus, and the high school sports taught him the value of teamwork.
Talk to Travis for any length of time and you will hear the words team and teamwork again and again. That's how routine practice exercises for airline pilots landed in the cardiac surgery suite at St. Francis. Called Lifewings, the checklist process leads the surgical team from one step to the next in a logical sequence, and it begins, says Travis, "when the patient walks in the door."
Travis credits the two-year-old process with greatly reducing infections among his surgery patients. "We've seen very dramatic results," he says. "We've had two years straight with no wound infection, which is tremendous."
Travis is credited by hospital officials with taking the lead in improvements in the OR. The effort, formally known as the Coronary Artery Bypass Surgery-Surgical Site Infection Prevention project, was recognized by the Georgia Hospital Association when it bestowed the Josh Nahum Award for Achievement in Infection Prevention and Control on the hospital.
Travis also brought in a team of experts from an auto manufacturer to discuss car production procedures. "It was about processes and how you put together an assembly line-type procedure," Travis says. "It's where you do A, B and C, and if A is not done then we shouldn't be doing C. It's just putting all the processes together to make sure all the boxes are checked. It's a team effort."
A dedicated marathon runner, Travis covered about 40 miles as a member of a relay team that ran 260 miles from Columbus to Savannah. The race was a fund-raising event to benefit House of Heroes, an organization that offers free repairs for the homes of Fort Benning soldiers and their families.
St. Francis is the only Georgia hospital offering cardiac surgery within an 80-mile radius of Columbus, and the center will soon have a cardiac care unit. "It's on the drawing board, and we're ready to break ground as soon as we get the official paperwork done" says Travis. "And we're actively looking right now for another young surgeon that can come in and continue our good work."
Ruth-Marie Fincher, M.D.
Medical College of Georgia
Augusta
Just before she began her 26-year career at the Medical College of Georgia (MCG), Dr. Ruth-Marie Fincher was practicing internal medicine and fulfilling a service obligation to satisfy a stipulation of her medical school scholarship. That obligation landed her in Ludowici (pop. 1,555) as a Public Health Service physician, quite a contrast for someone used to the urban settings of New England and medical school at Atlanta's Emory University.
"It was quite a change for me," she recalls. "At first it seemed it might be a detour in my career development. It turned out to be a very strong building block in my career development because it gave me some experience in working with the public health system in Georgia."
As the only doctor in the county, Fincher says she not only saw patients, she also saw the culture of rural life in a poor region of the state. "It also gave me some very poignant firsthand experience with how hard it is to be a really good primary care physician when it is a long-distance call to talk with a colleague about a patient, and when it is 25 miles to the nearest lab."
The experience, she believes, led her to become a leading figure in the effort to get more primary care physicians to Georgia's sparsely populated and badly underserved rural areas. As an internal medicine specialist and vice dean for academic affairs at MCG, Fincher led the effort to get doctors to rural areas and to draw doctors from the populations of rural areas. "I have done a number of studies related to what influences medical students' choice of specialty," Fincher says. "Two of the common themes are: Students who come from a rural underserved area are more likely to return to practice in a rural underserved area than those who do not. Secondly, students in residence who do a substantial portion of their medical training in a rural underserved area are more likely to end up practicing in that type of area."
After studying the evidence of her research, Fincher saw the need to launch two initiatives. The first was to increase the proportion of MCG students from rural underserved areas. The second, "increasing the educational opportunities for our students to have high-quality clinical educational experiences in rural underserved parts of the state," had far more moving parts.
"The first campus like that we have operationalized is our Southwest Georgia clinical campus, with its hub in Albany," Fincher says. "But the campus spans over the domain of Southwest Georgia. We now have 17 third-year medical students who live and do their clinical training in Southwest Georgia."
The hope is a large number of those students will decide to stay and practice medicine in the region, but right now that is only a hope. "It is an experiment, the results of which we're not going to know for years," she says.
Almeda Simpson, RPh
Archbold Memorial Hospital
Thomasville
Increasing the number of primary care physicians in Georgia's rural areas would not only widen the opportunities for better access to healthcare, it would also improve the bottom lines for rural hospitals that provide such care now through their emergency rooms.
Indeed, programs are under way now to stem the flow of traffic to the ERs by offering screening and prevention programs like the one used by Thomasville's Archbold Memorial Hospital for a five-county region of the facility's service area. "We don't have as many primary care physicians in the general population, but we do have alternatives in our area," says Almeda Simpson, assistant vice president for Archbold's Clinical and Community Outreach Program. "The most serious problem we have in healthcare in our area is getting access to it."
Simpson has a 43-year career at the Thomasville hospital, the last six in her present post. She is something akin to the country doctor of yesteryear who traveled to wherever she was needed to offer aid and comfort. "We go out to wherever people appreciate our help," Simpson says. "It could be in a little town or in the city. I work a lot with faith-based organizations, churches."
Additionally, at health fairs and other events held in public housing projects, community centers and schools, Simpson sets up screenings and prevention programs to keep her participants out of the emergency room. "I work with people and help them get the appropriate care," she says. "Cardiovascular diseases, diabetes, obesity, high cholesterol, high glucose levels and high blood pressure are all major healthcare concerns in our region."
In 2009, Archbold's outreach program held 150 events in 55 locations and provided more than 25,000 free screening tests to 11,000 participants, according to a study provided by the hospital. That work earned Archbold the Georgia Hospital Association's Community Leadership Award.
"I go to most, but not all, of those." Simpson says. She began her career at the hospital as a registered pharmacist, which she still is, but she believes her present job is her true calling. "Sometimes there is a reluctance among locals to provide information about their health," Simpson says. "I can usually overcome that by talking with people openly and honestly and letting them know I care about them as a person."
One of Simpson's sessions may include a blood pressure check, eye exam, body mass index calculation and any number of other screenings for diabetes or cancer. Following the round of tests, Simpson tries to communicate with each participant in a one-on-one conversation.
"I am a compassionate person who likes to help people, especially those who don't understand how they can help themselves," Simpson says. "I'm doing a cost-avoidance model right now, and millions of dollars would be saved through preventive measures. I can measure success by the numbers, but I can also see it in the changes we've made. If you [counsel] someone about their weight, and then the next time you see them and they are two [clothing] sizes smaller, you just say, 'Wow.'"