The Road Ahead: A Conversation With Speaker David Ralston
A Conversation With Speaker David Ralston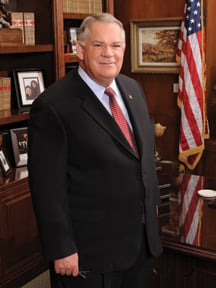 Georgia's new Speaker of the House David Ralston (R-Blue Ridge) has received high marks for his handling of the House of Representatives following the scandal-fueled resignation of his predecessor Glenn Richardson.
Georgia Trend's Neely Young and Susan Percy interviewed the Speaker – arguably the most powerful man in state government – in his Blue Ridge law office in July to talk about the challenges that confront the state, its lawmakers and its citizens and to hear what's on tap for the 2011 session. Following are edited highlights from the interview.
GT: What's your perspective on the 2010 session?
Ralston: You have to look at it in the context of what was happening before, when you had the unprecedented resignation of a sitting Speaker halfway through the term, the decision of the speaker pro tem not to seek the remainder of the term and the decision by others on the existing leadership team not to seek that position. We had a period of uncertainty, a period of some turmoil that could have taken our focus off preparing for session.
GT: How did you prepare?
Ralston: We made a determination that we were going to adopt a new leadership model – one that emphasized reform, inclusion, opening up dialogue with the state senate and the administration – not to give blanket agreement on all issues but at least to be able to have a more frank and open exchange of views and really make a commitment to try and stay in the room and try to work out issues, as opposed to the public bickering and feuding and fussing that had characterized Georgia over the past few years.
GT: Tell us about the new leadership model.
Ralston: We had to prove to the people of Georgia that we recognized that we had had a problem in the House and that we were going to deal with those problems. So we did, by reforming the rules of the House to open up the Rules Committee to put more emphasis on the work of the [other] committees. We thought it was important to get away from the trend we had had, letting the Rules Committee sort of subvert what [other] committees had done by rewriting substantive legislation. That never was the function of the Rules Committee. It was [traditionally] more of the gatekeeper as opposed to looking at political consequences.
Another thing, I thought it was extremely important that we revoke the policy where we kicked the news media off the floor of the house. We reopened the floor of the house to the media.
GT: What were your legislative priorities?
Ralston: I had a very simple checklist. I took the view it was important for us not to do a whole lot of things, but for us to do a few things and get them right. No. 1 was the budget, and No. 2 was transportation. We had completely failed the people of Georgia for the last two or three years. We had let petty personal agendas sort of get in the way of reaching solutions.
GT: Besides budget and transportation, what was on your checklist?
Ralston: Water conservation, trauma care and ethics reform. We focused on doing those things. We passed other measures, obviously, many of them very important. But we wanted to focus our energy and effort.
GT: What are you hearing when you are out in the state?
Ralston: There is a lot of anxiety, a lot of frustration, a lot of anger toward government. I've talked to Rotary, chamber groups, teacher groups, political groups, student groups, trade groups, all kinds of groups, and I sense that they are drawing a real distinction between focusing on Washington and recognizing what we did here. I am hearing a lot of positive feedback about what we did this session and how we did it.
GT: Anything in particular?
Ralston: I think they like the fact that we were able to balance the budget without a tax increase. I think they appreciate that we had some tough, painful decisions to make in the budget, and while people may pick out certain things we did or didn't do, people recognize hey, they had a tough job but they did a good job with it.
I think they are particularly pleased with the transportation bill. I think they're pleased with the water conservation bill and the trauma network measure we passed. The Georgians I talked with out in the state are pleased with how we dealt with our problems in house ethics reform. We'll try to do all we can to carry that forward.
GT: Education seems especially vulnerable to a tight budget. How do you protect and encourage public education – K-12 and higher education – but still balance the budget?
Ralston: In the months leading up to this session, we had to ask everyone in state government to share in the cuts. Education took a little bit of a hit in this process. As we got into this session, I gave my views to the budget committee. I asked them to look at what the core functions of state government are. We had to cut almost a billion dollars out of the budget this year.
I believe one of the core functions of government is to make sure we have a first-class public education system and first-class system of higher education – colleges and universities and the technical college system. Wherever we have to let the ax fall in other areas, we protect them. That's really an investment in our economic future.
GT: Is there more work to be done on transportation? Is it going to be an issue in the 2011 session?
Ralston: In the 2009 session we passed SB 200, a transportation governance bill. When you put it along with the transportation funding bill we passed this session, you have a very solid, good foundation we can build on so all Georgians have the ability we didn't have before to make decisions about transportation infrastructure. When you add the governance bill, we have a strong planning component that had been lacking. Look at where we are now and where we were two years ago. We've got some further work to do, but we're going to get that done, too. I don't expect any major revision until after we let Georgians have their say at the ballot box in 2012.
GT: Public safety around the state is a key part of transportation improvements, not just helping Atlanta commuters.
Ralston: The politics of how you get [the ballot initiative] passed is going to be challenging. Hopefully, the economy will have improved by 2012, and people will feel a little more secure in weighing the proposals on their merits. But public safety will be a big part of that. Transportation means different things in different parts of state – that's sort of the beauty of how we got that put together this year. If you would have said seven or eight months ago that a state representative who lives in the rural mountain town of Blue Ridge and the mayor of Atlanta will have forged the kind of alliance I had with Mayor [Kasim] Reed that would have pushed this bill that would benefit not only the mountains but the cities and the suburbs … you might have been arrested for suspicion of being on something.
GT: What about the relationship between the state and local governments? A lot of cities and counties have felt they were not being treated well by their state lawmakers.
Ralston: They probably felt that we were at war with them sometimes, before this session. The same people who elect county commissioners, who elect mayors, school board members, city council people, elect us. They have, in my view, some of most difficult jobs in public service. We should respect that decisions that we make obviously impact their ability to do their jobs and take care of the same people we represent. I think it's a little bit disingenuous on our part to complain about mandates that Washington imposes on the state and then do the same thing on local governments here in Georgia. I've tried to make it a priority to reach out and say we want to work with you.
GT: How do you see the role of the Speaker?
Ralston: I represent the entire House to the people of Georgia. My job is to assist the members in representing the people who entrusted those offices to them and to help them every way they need help to do a good job for their constituents. I think there is a policy function in terms of helping shape the agenda and building some consensus for that agenda. There's obviously a political component. You can't take politics out of politics. I am proud to be a member of my party, proud that my party nominated me for this important position. I look at it as knowing that when people look at the house they look at the speaker. Speaker [Tom] Murphy embodies the House of Representatives to generations of Georgians.
A lot of people have asked what pleased you most when you became speaker. One thing was how many members of the minority party voted for me – 13, 14, might have been 16.
GT: Are state lawmakers paying attention to voters' concerns?
Ralston: Leadership in the House and Senate really cares about what they think. Most of the representatives that I work with are very diligent in keeping in contact with their constituents, returning phone calls, returning emails, going home on weekends and doing town hall meetings. I have town hall meetings at Ingles supermarket when I go by to buy a gallon of milk and loaf of bread for my wife. They're impromptu meetings, but I'm happy to have them.
GT: The General Assembly passed a bare bones budget this year. Next year is looking tough. Are you going to have to consider raising taxes?
Ralston: We had a lot of proposals this past session to raise taxes. I have a strong conservative disposition that basically says people can spend their money better than government, which inclines me to oppose tax increases. I felt like if there was ever a time to oppose tax increases it was in this economy – unemployment was over 10 percent back during the session. When I come home every weekend and talk to people who still have their jobs but worry about are they going to have them next week or next month – there's so much anxiety. I thought the last thing we need to do as a government is to say, "Hey, we need more of your money."
GT: You believe it is possible to fund schools and basic services without a tax increase.
Ralston: One of things we want to do – rather than have a knee-jerk reaction to look to see what taxes we can raise – let's look at our tax code in its entirety, and we're doing that. We passed the Tax Reform Council [measure] that both houses approved. I believe that council may turn out to be one of most exciting things to come out of the session.
GT: What kind of things will the council be looking at?
Ralston: We have over 120 exemptions from sales tax in Georgia. I know I'm treading on some delicate ground that many special interests have advocated and they embrace, but we need to have this discussion in interest of creating a fairer, more business-friendly, more job-friendly economic climate here in the state. We have a political hodgepodge of exemptions.
The goal is not to repeal exemptions for the sake of repealing them, but is there an alternative that will make us more job friendly and make us a state more open to economic growth than by throwing darts on the board for these exemptions. I wanted to ask questions – are we being consistent, what kind of benefit are we getting for these exemptions?
If you picture a graph of our tax code in Georgia today, it is narrow and vertical, which means the base is narrow. We are taxing the few, and we are exempting so many others. We need to ask can we push the bar down and expand it out – not with the goal of raising revenue but with the goal of distributing the burden around.
GT: You believe you can avoid a tax increase and still balance the budget?
Ralston: We did it this year without a tax increase. Next year, I'm optimistic that with a modest improvement in the economy and perhaps some recommendations coming out of this group that we can avoid that again. That's my goal.
GT: What are some of the other issues you'll be dealing with in the 2011 session?
Ralston: The HOPE scholarship is going to be a big issue – whether and to what extent we have to make adjustments in eligibility and benefit levels. We've become a victim of our own success in that program.
GT: How about immigration?
Ralston: Arizona's action and their dialogue with the federal government is going to bring that to the forefront as well as the issue we've had here in Georgia with the student from Kennesaw State.
GT: Who are your heroes or mentors, people you look to in forming your leadership model?
Ralston: I admire Abraham Lincoln, Teddy Roose-velt, Ronald Reagan. I admire Winston Churchill.
When I came to the senate in 1993, my dad gave me some good advice – go down there, sit down, keep your mouth shut, be polite and find somebody you can adopt as a role model. He suggested Johnny Isakson. State Sen. Isakson was a great role model for me. My ultimate mentor is my dad, Willard Ralston. He served as clerk of court for 28 years. Watching how he treated people made an impression.