Moultrie/Colquitt County: A Healthy Community
Activism and agriculture.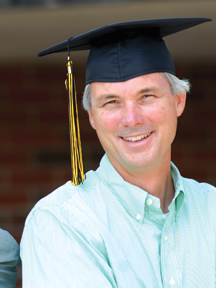 It seemed a curious exercise last spring when Greg Coop and a dozen other parents took their kids for a morning walk to school on Moultrie's first "Walking School Bus" trip. "You could tell at first the kids didn't like it, didn't want to walk, but you could tell they got more pep in their step as they went along," says Coop, executive director of the Moultrie YMCA. "They had fun and asked if they could do it again the next day."
Coop is hoping the Walking School Bus will become a part of daily life for most of the kids in the community. The idea is to reduce obesity, increase exercise and improve the nutritional value of daily diets, not only for the children, but also in every sector of the community.
It's all part of a $60,000 grant funded by the YMCA of the USA and the Centers for Disease Control and Prevention (CDC) to improve health in Moultrie, one of only two participating communities in Georgia and 21 in the country. Among the changes being proposed in Colquitt County are getting more school crossing guards to encourage walking.
"And it may be to encourage developers to include sidewalks in all new subdivisions, because there are none," says Coop. "And it may be to go to the school system and say we need more nutrition and we need to rearrange the recess and lunch schedule so kids … have recess first and come to lunch so they eat everything on their plates and get a good nutritious meal. The schools already do a good job with nutrition, and for a lot of kids the best meal they get each day is in school."
To reach such lofty goals, Coop is relying on a group of civic-minded citizens who volunteer their time. "Our goal is that there is not a decision made for the community without a consideration for health and well-being," he says.
To get more nutrition at home for children from lower-income families, the first of what is hoped will be several community gardens has been planted, with vegetables and fruit to be offered free to low-income families. The gardens will rely on volunteers like local senior citizens and members of the local Future Farmers of America club.
The school system's numbers indicate more gardens will be needed. In 2000, the county system reported 58 percent of its classroom population qualified for the free and reduced-price lunch program, a family poverty indicator. Today that number has risen to 71 percent, due in part to a change in demographics. For instance, the local Hispanic population has increased from 9 percent to 22 percent in a decade. The growing diversity of the community has come with surprising consequences.
Achievement, Activism
"There is a well-established correlation between socioeconomics and student achievement," says Dr. Leonard McCoy, superintendent of the Colquitt County School System. "If you had a line graph that plotted socioeconomic conditions, it should indicate student achievement needs to go down, but we've had just the opposite effect."
In fact, graduation rates have gone from less than 50 percent 10 years ago to 85 percent today, while eighth grade CRCT reading test scores meeting or exceeding minimal standards have risen from 67 percent to 91 percent, with similar results in fourth-grade testing during the same period.
How? "Education is a product of community activism," McCoy says. "We've had a large number of folks from the community involved in this. From the very beginning, we've had three very simple goals: To plan our work and work our plan. The second goal is to make effective use of time on task; and the third is to set the expectation that all children can and will learn at high levels."
Roy Reeves is a member of the Colquitt County Board of Education and chairman of the executive committee of the Colquitt County Archway Partnership, a University of Georgia (UGA) program designed to facilitate improvements in economic development and quality of life in Moultrie. Archway has provided Colquitt County with expertise in subject areas as diverse as logo design, road widening and education programs. Though launched as a pilot project in Moultrie five years ago with the expectation of operating two years, Archway has become a fixture on the local landscape, assisting with grant applications, park and streetscape designs, redevelopment planning, marketing, brownfield projects and leadership summits.
Three years ago, Reeves participated in the preparation of a "Top Five" to-do list for his community facilitated by Archway. "The first thing on that list was to achieve an 85 percent graduation rate," Reeves says. "It was a bold statement, but I knew we were already making progress on that goal. Under that goal we put three bullets: mentoring, parenting and after-school programs. While the board of education was the biggest contributor to achieving that goal, the community had to be involved. "
Archway's membership includes the Colquitt County Commission, Moultrie City Council, local board of education, hospital authority and economic development au-thority, all financial contributors to Archway. "Archway is an innovative way to take the vast resources of the University of Georgia to help address local community needs," Reeves says. "And part of the Archway Partnership is giving students from the university some real, hands-on practical experience. Scholars from the UGA Terry College of Business came and consulted with our arts center, stayed several months, did research and presented a working document that the arts center has used and found most helpful."
Agricultural Diversity
Colquitt County's total economic output in 2008 was $2.8 billion, with agriculture and agriculture-related business providing $1.1 billion of that total. In addition, 4,500 jobs here are directly related to farming, according to a 2009 survey of the sector prepared by UGA's Center for Agribusiness and Economic Development.
"I'm not going to say it's a guarantee of prosperity, but it has certainly been an insulation, especially during these tough economic times," says Darrell Moore, president of the Moultrie-Colquitt County Chamber of Commerce and Economic Development Authority. "And there are the ag-based companies we have here [that] have helped stabilize unemployment. We have [poultry processor] Sanderson farms with 1,500 employees, and [beef processor] National Beef has over 500 employees and [with] several vegetable packing sheds and a major dairy, it goes on and on."
A major part of the success of agriculture in Colquitt County lies in the diversity of commodities produced here, as rich as the soil from which they spring. More than 100 different varieties of crops are grown in the county, giving it the most diverse agricultural base in the state.
But there was a time early in the 20th century when this county had only two basic crops – cotton and tobacco. That two-crop farming changed dramatically after the boll weevil and World War I led to disaster for cotton prices.
At that time, Moultrie bankers called the county's cashless farmers in and gave them an ultimatum: diversify or no more loans. The bankers had other conditions for making a farm loan: Farmers had to plant a list of specific crops, and the local business community had to "develop and provide markets for the county's farm production," according to historic accounts. And the city of Moultrie and its civic organizations had to provide specific market strategies.
In turn, the bankers said they would "furnish financial backing to enable the farmer to adopt and continue the new cropping and livestock plan." It was also stipulated that the county agent would design the crop schedule and oversee its implementation. It's doubtful any loans have ever had so many "co-signers." The entire com-munity endorsed the bankers' conditions and it became known nationally as "The Colquitt Plan," one that saw the county easily weather the Great Depression, wars, droughts, floods and pestilence.
"The Colquitt Plan has become the long-term mindset of the farming community here: that to survive you have to be diverse," says Scott Brown, the Colquitt County Extension Service Coordinator and the professional descendent of that long-ago county agent who shouldered responsibility for implementing the plan. "Today Colquitt County is the No. 1 agriculture county in Georgia. It's No. 1 in farm gate value; it's No.1 in total production." In 2008, total farm gate value in the county was $443 million, up from 2007's $390 million, an increase of 10 percent. "All our growers are very diverse," Brown says. "We don't have a grower that's just growing cotton."
Recruiting Doctors
James Lowery was sitting in his office at Moultrie's Colquitt Regional Medical Center (CRMC) going over a shopping list, which he shares. "I need three family practitioners; I need internists; I need an orthopedic surgeon; I need a neurologist," says Lowery, president and CEO of the hospital.
Lowery is making a point about the shortages of physicians in general, and the heightened difficulty of finding doctors to fill the needs of hospitals in Southwest Georgia. But Lowery says he is making headway in his search. "Before 2015, I will have recruited about 12 or 14 doctors," he says. "For every physician a hospital recruits, it takes 17 employees to support that one physician. So, if you recruit 10 doctors, that's 170 employees coming to your community. And that's not counting the spin-off effect, which is probably another 100 employees for the community. But it is very expensive trying to get physicians in rural America."
To attract doctors to Moultrie, Lowery is offering to pay for a prospect's residency program and provide a market salary. A urologist, for instance, can receive $40,000 a year while in his four-year residency and "walk into a $500,000 a year job, [if] he agrees to stay here four years," Lowery says. "And we pay some of our employees an incentive if the recruited doctor stays here five years."
Part of recruiting physicians for any community is being able to provide support staff for any specialty, a factor playing into the construction of the new Allied Health Center at Moultrie Technical College (MTC) set to begin this spring. The 41,000-square-foot facility will have cost nearly $10 million when it opens in 2012.
"We know there is a need for nurses, radiology technicians, medical assistants and EMTs," says MTC president Dr. Tina Anderson. "We have advisory groups from all those programs who tell us what their needs are." In addition, Anderson says, a representative from CRMC sits on her board and provides suggestions for the new building's amenities. Students in healthcare fields at MTC also may do their required clinical work at CRMC, one of two regional hospital partners hosting hands-on programs for Moultrie Tech.
More Space
Downtown Moultrie's reputation as a robust retail and government center has fostered the need for improvements in facilities and parking, leading to the $780,000 renovation of an unfinished basement in the county courthouse annex and the completion of site work on a $90,000 parking lot nearby. "We were having problems holding court in the available space," says County Administrator Bryan Shuler. "The parking lot will be used by visitors to the annex and also serve the planned intermodal facility across the street." Funding for the new annex courtroom and the parking lot came from Special Purpose Local Option Sales Taxes (SPLOST). "Our road and bridge department is doing the work on the lot, and that saves in labor costs," says Shuler.
Downtown Moultrie is also benefiting retailers and professionals who are contributing to a marketing fund for regional advertising. One of the participants is Moultrie Mayor Bill McIntosh, an attorney whose law firm donates toward marketing expenses. "It's a bit unusual to see an entire downtown sell itself like this, but we're proud of the results," McIntosh says. "We're not on I-75, but we do have television ads that go out over the region. We're trying to promote Moultrie as a regional retail center and our downtown as a destination for shoppers. And we use some of our hotel/motel taxes for that purpose also."
Moultrie is also part of another marketing collective effort de-signed to attract business and industry. The South Georgia Part-nership comprises a dozen counties around Moultrie that have pooled their marketing funds for a joint effort to attract new business and industry to the region. "We're all smaller communities, averaging about 30,000 or 40,000 in population," says the development authority's Moore. "We all have smaller advertising budgets, but together we can support more thorough marketing efforts. We have a website (locatesouthgeorgia.com) where we can present our available buildings and show the assets we can offer."
The partnership is less than two years old, but Moore is seeing some action from the collaboration. "We're starting to get some calls," he says. "Of course, I'd like for businesses to locate here in Moultrie, but if they can't, I'd like them to be near us." Commuting in Southwest Georgia, he says, is not the hassle it can be in large urban areas. "If you drive 20 minutes from Moultrie, you're going to be in a different county, so it's not unusual for people here to commute to a nearby county. In Metro Atlanta, it may take you 20 minutes to go five miles."
Community Snapshot
Local Leaders
Darrell Moore
President
Moultrie-Colquitt County Chamber of Commerce
229.985.21331
dlmoore@moultriechamber.com
Bill McIntosh
Mayor of Moultrie
229.985.5881
bmcintosh@moultriega.net
Benny Alderman
Chairman
Colquitt County Commission
229.985.6620
bshuler@ccboc.com
Population
(2008, estimated)
County, 45,279; Moultrie (county seat),15,409; Berlin, 616; Doerun, 843; Ellenton, 354; Funston, 455;
Norman Park, 865; Omega, 1 (part); Riverside, 60
Per Capita Income
(2007)
County, $23,119; Georgia, $33,499
Unemployment
(April 2010)
County, 9.7 percent; Georgia, 10.3 percent
Top Employers
Colquitt County School Board, Sanderson Farms, Riverside Manufacturing, Colquitt Regional Medical Center, National Beef
Sources
U.S. Census Bureau, Georgia Department of Labor, Moultrie-Colquitt County Chamber of Commerce