Toccoa/Stephens County: Working Together
Pursuing common goals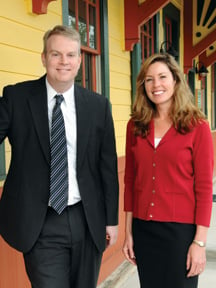 A couple of years ago, when Toccoa-Stephens County sent a delegation to Washington D.C., they asked to meet with U.S. Representative Sanford D. Bishop, Jr. The congressman listened to their concerns, then he asked about the Tugaloo River. He told them he had never forgotten the canoe trip he had taken at the invitation of community leaders 20 years ago when he was a member of the Georgia legislature.
"You don't know what's going to impress someone," says Tim Martin, executive director of the Toccoa-Stephens County Development Authority. "But if the community's citizens have bought into who you are and what you're trying to show, then prospects are going to feel welcome. And people always remember an experience."
When prospects come to Stephens County, they are shown around by any number of community leaders who have gone through the development authority's "Chauffer Academy." These tour guides have learned to point out the area's attributes and distinctions, whether it's a visit to a school, a manufacturer or a stop at one of Stephens's unique homegrown restaurants.
"Historically, economic development is secretive," says Martin. "But if it's done right, it isn't about the development authority and the board; it's about the entire community, its citizens and leadership. That's how the organization as a whole can be successful."
The Chauffer Academy is just one of the ways people are involved with the development authority. More than 40 people serve on six committees within the authority, tasked with some 100 responsibilities along the lines of recruitment and attraction of new industry, retention and expansion of existing businesses, development of the work force, infrastructure and the "product" the county has to offer.
In the last couple of slow years, Toccoa-Stephens County has worked on enhancing its product. The county's third industrial park, 420-acre Haye-stone-Brady Business Park, will have roads, sewer and water extended to it by late summer this year. Fiber-optic telecommunications and natural gas are available, and the county has an abundant supply of water. Power is provided by both Georgia Power and Hart EMC. Rail is planned, and an 80,000-square-foot spec building is ready for a new owner. Additional sites are being graded, and plans are ready for the next building to be constructed.
"One of our strengths is that we're located almost halfway along the Charlotte to Atlanta corridor," says Cam Parker, development authority chairman. Hayestone-Brady is just six miles off I-85 on U. S Highway 17, less than a hundred miles from Atlanta and just over 150 to Charlotte. Highway 17 is slated to be widened to four-lane from the interstate to Toccoa.
"The first portion will go from I-85 to Scott Road, right at the industrial park," says Lee Hicks, incoming chamber of commerce chairman. "We have been told by the DOT that the project is well underway."
Nearby, the Toccoa-Stephens County Regional Airport at R.G. LeTourneau Field has recently added improved lighting and an Aviation Weather Observation System (AWOS). Ground was broken in April for a new fueling system, and 10 new hangars were completed this year. A new $1.3-million, 5,000-square-foot terminal building is expected to be completed by 2011.
"We will have all the facilities available that any regional airport would have," says John K. Taylor, chair of the Toccoa-Stephens Airport Authority. The extension and widening of the runway within the last few years has allowed larger planes and jets to land.
School Partners
The Currahee Campus of North Georgia Technical College is located at Hayestone-Brady. Its state-of-the-art Quick Start Learning Lab can respond promptly to a company's individualized training needs. The campus conference facility, frequently used for both business meetings and social functions, is co-located with the American Culinary Federation accredited culinary training facility.
North Georgia Tech has entered into a number of transfer/articulation agreements with other Georgia colleges, allowing students to transfer hours towards four-year degrees. Among those are Southern Polytechnic State University, Mercer University, Piedmont College in Habersham, Emmanuel College in Franklin and Toccoa Falls College in Stephens.
The small business resource center located on campus is available to entrepreneurs or others who need coaching or assistance with business plans or organizational questions.
"We've had some success in the area helping small businesses get started," says Steve Dougherty, North Georgia Tech's president. "In the economy we're in now, small businesses will bring us out of it."
More traditional coaching is one of the ways that Toccoa Falls College touches the community, with its students helping the YMCA in athletics and the local Boys and Girls Clubs in after-school tutoring.
"The community is very supportive of the many things we do," says Dr. Wayne Gardner, president of the college. Faculty and staff are actively involved in the area, participating in Leadership Stephens and the community cleanups scheduled annually. Both the Rotary Club and the Lions organization meet on campus.
Community service and local learning are regular parts of the school's programming.
"Last year our students gave up their Christmas banquet so they could give turkeys and canned goods to the disadvantaged families in the county," says Gardner. Students from the school intern at local businesses, including the chamber of commerce, and those seeking teaching degrees do their student teaching in the local system.
The Stephens County Board of Education was named a Georgia School Boards Association "School Board of Distinction" in December of 2009.
"Our commitment has been to use technology to communicate with the community," says Sherrie Whiten, superintendent. That includes posting the strategic plan and specific goals online. "Companies can go straight to the website and see our goals in transportation, nutrition and others."
The chamber of commerce holds an annual reception with the school system to honor the county's top SAT, ACT and ACCESS scorers. Chamber President Wendi Bailey says it's just one of the ways the chamber and schools work together.
"In particular, when we're attracting physicians or other businesses to the area, they want to know the graduation rate and how well the students are doing," says Bailey. Tracking those numbers offers an opportunity to congratulate the high achievers.
The area is served by the Stephens County Hospital, which is managed by the Stephens County Hospital Authority. The hospital underwent a $4 million renovation of all older patient rooms 18 months ago. Its latest technological addition is a powerful new MRI machine.
"We know we can't do everything, but we try to be very, very good at what we do provide," says Ed Gambrell, hospital administrator. "We know when a prospective employer is looking at a community, one of the things they consider is healthcare. We are chamber members and actively involved."
Active Chamber
The Toccoa-Stephens County Cham-ber of Commerce was accredited by the U.S. Chamber of Commerce last year, one of only 247 currently accredited out of some 8,000 U.S. chambers. It was ranked as a four-star chamber. Bailey says the chamber is continuing to take advantage of the tools used to achieve that ranking to focus on businesses and their needs.
"We do a lot of one-on-one," she says, "not email or phone calls but face-to-face meetings with members." The chamber holds a "Chili with the Chairman" monthly, in which participants are asked what would improve their businesses.
The county has been designated a Georgia Signature County and is Entrepreneur Friendly; it was one of the first to become Work Ready Certified.
The local populace has readily embraced participation in those programs. All those applying to the city of Toccoa are asked to take the Work Ready assessment. A large percentage of people here understand what is at stake in terms of attracting businesses, with 72 percent voting in the fifth SPLOST several years ago that designated 80 percent of its projects for economic development.
"We have a proven track record of recruiting businesses," says Tim Martin. "When you do that, there is going to be churn. Companies come and go. But the process that we go through to get companies here helps us continue to build on that track record, to stay focused on what is important. It's not just about building jobs. It's about building human capacity."
Spreading the work of recruiting businesses among the development authority's committees has created a certain synergy in Stephens County. It has served not only to enlighten a large percentage of the community about economic development, but to create a broad, homogenous base of leadership. When the chamber and development authority began planning a Toccoa-Stephens County Day at the Georgia Legislature, they asked for volunteers. Almost 50 people made the trip.
People demonstrate their commitment in other ways as well, from cleaning up to restoration. County Commission Chair Dean Scarborough points out that Leadership Toccoa took on Keep Toccoa-Stephens County Beautiful by organizing committees to work on litter and focus on the gateways to the community.
"Projects like that with so many citizens involved really make you feel good," he says. Both the city and the county have maintained conservative fiscal management and are in the black financially.
Common Goals
"We're in a good position," says 2009 Chamber of Commerce Chairman Tim Ashe, explaining that the county and city work together extremely well. "People that come in to look can pick up on that." Many in the county agree that elected officials and other leaders are cooperating and achieving together.
"Don't get me wrong," says Toccoa Mayor Bob Troup, "we don't always agree. But we all have the same goals." The county commission sends minutes of its meetings to the city, the chamber and the development authority, and the city reciprocates. The chamber and development authority send weekly updates. "It's one of those things that pulls us together," he adds. "If we're talking about something that affects them, they can get involved."
Revitalization
Mayor Troup is the latest in a line of three generations that have owned a store in downtown Toccoa. In the 1970s, an effort was made to make downtown more pedestrian friendly. The street was closed to motor vehicles, and canopies were put up to protect shoppers from the weather. By the next decade, however, many businesses had closed and downtown languished.
In 2008, as a project of Main Street Toccoa, the canopies were removed and Doyle Street was reopened to traffic. Storefront facades were renovated, benches were placed and decorative plantings installed.
While there are still empty buildings, the revitalized area has drawn people back to visit the art galleries, the Whistlestop Antiques mall and others.
"All of this didn't just happen through government action," says Scarborough. Downtown businesses had to agree to pay higher taxes, and many volunteers pitched in. "It's been phenomenal what's happened to property values, because it's a place people want to be now."
Main Street Director Connie Tabor is pleased with the numbers of people drawn to town and explains that the historic district along Tugalo Street and the old mill village known as the Trogdon Heritage District are also part of Main Street Toccoa. She is hoping to get Georgia and National Register of Historic Places designations for both.
"We want to make sure they're healthy as well as downtown," she says. Toccoa was named as a Great American Main Street Top Ten semi-finalist in 2009, received the 2008 Excellence in Downtown Development Award from the Georgia Downtown Association and the 2009 Excellence in Rehabilitation Award from The Georgia Trust for Historic Preservation. Tabor says the area has almost 20 restaurants now.
Two of the restaurants are familiar to older residents. The Rebel Café, with its distinctive horseshoe-shaped counter, and Sosebee's Hotdogs have both re-opened in downtown. Bud Sosebee opened in the space where his grandfather began selling hotdogs in 1921. In deference to the 21st century, he has wireless internet, but he still has hot dogs. After he opened, an attorney from Sacramento placed an order for a dozen to be sent to California. She had grown up on his grandfather's hot dogs, she told Sosebee, and just had to taste them again.
Another piece of the town's history updated for today is the renovated historic Stephens County courthouse. Built in 1908, the building now houses county offices and the old courtroom serves as a meeting place for the commission.
The Currahee Military Museum has added 4,400 square feet of meeting and office space. Stephens County's Currahee Mountain, which today attracts hikers, runners and sightseers, was the original training base for Easy Company, the men whose experiences inspired the films Band of Brothers, Saving Private Ryan and The Dirty Dozen. Some 20,000 soldiers trained on the mountain, many arriving via railway.
That train depot is now home to the chamber of commerce, the Stephens County Welcome Center, the Stephens County Historical Society and the Currahee Military Museum, which sees 15,000 visitors a year.
Last year, tourists spent some $25.85 million in Stephens County. In addition to its museums and small-town charm, the water recreation facilities and national forest land attract outdoor enthusiasts. The Tugaloo River, dividing Georgia and South Carolina, was home to mound builder communities hundreds of years ago. The Tugaloo Corridor Project, supported by the Stephens County Foundation, seeks to restore and preserve the heritage of the area, eventually re-creating the Estatoe Indian Village as an education center. There are currently biking and hiking trails in the area.
A full third of Stephens County is shoreline along Lake Hartwell. Both Main Street Toccoa and the chamber of commerce are active participants in the recently formed Lake Hartwell Marketing Alliance, which unites the three counties in Georgia and the three in South Carolina that border the lake. The group has mapped a Trail of Golf Courses around the lake and will welcome the Triple Crown Watercross Competition to the area in August.
Regional cooperation is not unusual for Toccoa-Stephens County. Cam Parker, chair of the development authority, represents the area for the Joint Development Authority of Franklin, Hart and Stephens counties and works to help the region.
"It's not just a development authority on paper," he says. An executive with Fenner Dunlop who recently settled in Hart County told Parker that the company chose Georgia because of the demonstrated cooperation between the counties when it came to recruiting businesses.
"For me personally, I am motivated by the picture of a person walking in the door at the end of a week with a paycheck," says Parker. "I want to create more of those paychecks."
Community Snapshot
Local Leaders
Dean Scarborough
Chairman
Stephens County Commission
706.491.5067
dean_scarborough@yahoo.com
Bob Troup
Mayor of Toccoa
706.491.3089
Rtroup@windstream.net
Lee Hicks
Chairman
Toccoa-Stephens County
Chamber of Commerce
706.886.3178
LLH@MRDELaw.com
Population
(2009)
County, 25,700; Toccoa, 9,323
Unemployment
(March 2010)
County 10.9 percent; Georgia 10.6 percent
Median income
(2008)
County, $34,881; Georgia, 50,834
Top Employers
Stephens County Schools, Stephens County Hospital, Walmart, Pruitt Corporation
Sources
Toccoa-Stephens County Development Authority, U. S. Census Bureau, Georgia Dept. of Labor