Statesboro/Bulloch County: Good Timing
Growth in retail and construction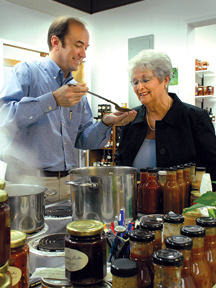 Todd Manack is driving his SUV slowly past Statesboro Crossing, a two-year-old retail center just south of the downtown area of the Bulloch County seat. For Manack, the estimated $250-million investment that created Statesboro Crossing is evidence of the value of timing and persistence in the chancy world of real estate development.
"The significance of all this investment to me is that if we had not closed on this property when we did, and if we had not tied up the lease deals when we did, it absolutely would not have happened," says Manack, president of Manack Signature Properties, agent for the sale of the 50-acre site on which Statesboro Crossing sits. "The window [of opportunity] was closing." In the period between the 2007 closing with Atlanta-based Ewing Southeast Properties and the fall of 2008 grand opening of anchors like T.J. Maxx, Hobby Lobby and Books-A-Million, the recession and attendant credit crunch that occurred would have slammed the window shut, he says.
"The recession deepened beyond the point where I think the big-box companies would have not felt comfortable pulling the trigger on this project," Manack says. "Yet, having said that, since they're here, as far as I know, they've all been very successful." Manack says the 175,000 square feet of retail space is responsible for 400 jobs.
It's easy to see how in 2007 national retailers would have had an interest in Statesboro and Bulloch County. At that time, new privately owned residential construction had jumped from $68 million in 2005 to $101 million, and bank deposits had risen 50 percent, more than double the state growth in that category, according to data collected by the University of Georgia's Center for Agribusiness and Economic Development.
By 2008, steadily rising annual retail sales cracked the $1-billion mark for the first time, due in large part to that huge economic engine humming sweetly on the campus of Georgia Southern University (GSU), whose 19,000 students and 2,000 staff and faculty members offered the continuing promise of a robust customer base for community retailers. With GSU just finishing a decade of record growth and a projected increase of 1,000 students in the fall enrollment, the university is scouting for sites to expand its accommodations.
Enrollment Growth
"We're going to be aggressively trying to acquire facilities around us already in existence and make them Georgia Southern residency halls or build new residency halls," says Dr. Brooks Keel, president of GSU. "The good news is, even in bad economic times, we have the opportunity to build residence halls through issuing bonds and using revenues generated by the students to pay for those. We don't have to rely on state budgets."
Further demand for housing comes from the two-year-old requirement that freshmen students live on campus during their first year of classes. "And there are a lot of juniors and seniors who want to live in the residency halls as well," Keel says. "We have to get into a lottery system to do that."
In the fall of 2009, the University System of Georgia approved GSU's request to offer a Ph.D. in Log-istics/Supply Chain Management, a nice fit for a campus located just 53 miles from Savannah, whose port traffic, trucking and rail lines make it a logistics center for the state and buttresses the university's mission, Keel says. The logistics advanced degree is the only one of its kind offered in Georgia.
"Workforce development is one of the main reasons universities exist," Keel says. "I sometimes think that we in the hallowed halls of academe don't like to think of us as training workforce, but that is what we do."
GSU provides another form of workforce development as the source of more than 6,700 regional jobs tied directly and indirectly to the campus. "Georgia Southern is responsible for about $700 million annually in economic impact on the region, and has been for the last four or five years" Keel says.
Dr. Dawn Cartee, president of Statesboro's Ogeechee Technical Col-lege (OTC), has recently been leading the scramble to find space for her institution's rising enrollment, a demand she links to recent economic conditions.
"We've had double-digit enrollment increases for the last four quarters," she says. "Our goal for this fall is 3,000 students; a couple of years ago we were at 2,100. It's not that surprising in this economy. But it has been a challenge with growth coming so quickly [and] trying to do some creative scheduling. We've put a large number of classes online, offering more in the evenings and expanding to the weekends, possibly, just utilizing our facilities to the maximum potential."
But help is on the way with the recent approval of a 25,000-square-foot, $6-million expansion of the college's crowded health services building. The construction process on that addition has begun, and it is expected to be open in January 2012.
A program unique to OTC is opening a career path long closed to the Southeast Georgia region's population – funeral services professional. Ogeechee Tech's associate degree in Funeral Services Education is opening opportunities for students that heretofore seemed unreachable, Cartee says.
"We have the only public funeral services program in the state," she says. "Others in the state are private, and our tuition in that program is a fraction of what you pay to a private school."
Specialty Foods
Andy Oliver is another Statesboro businessman who benefited from fortunate timing when the national economy began coming apart in the fall of 2008. "When the bottom fell out in October of '08, we had basically made all our sales for the fourth quarter of that year, so we didn't feel the economic effect of that time," says Oliver, president and owner of Braswell Foods, a 64-year-old Statesboro producer of some 300 different products, including jams, jellies, salsa and sauces.
"In fact, we had one of our best years that year. This past year we were up five percent in sales, but that's after three or four years of double-digit growth. We're a small company in the scheme of things, but in the specialty food business we're probably one of the largest. "
The Braswell label can be found in the catalogues of companies like the high-end retailer Williams-Sonoma and other kitchen-connected shops and marketers. With annual sales in excess of $20 million and 100 employees, about 15 percent of Braswell Foods' raw materials come from the orchards and fields of Georgia, including the brand's signature and earliest product, pear preserves.
"The best kind of pear preserves to make is with a hard baking pear," Oliver says. "Well, the rest of the country does not grow a hard baking pear. Essentially, Georgia is the only place in the country where you can get a really hard pear. "They are great for cooking because they don't dissolve to mush."
Oliver tries to use Georgia-grown products whenever possible to save on shipping and handling costs. Keeping suppliers close, he says, is also a matter of pride. "People don't realize Georgia is about the second or third largest blueberry-producing state in the country," he says.
Although few of Braswell Foods are made from Bulloch County crops, agriculture there does produce $54 million in annual farm gate revenues, providing an important contribution to the local economy.
"Agriculture is big business here. We're still a leading agriculture county in the region and the state," says Bulloch County Commission Chairman Garrett Nevil, a retired banker. "And that economic sector is quite diverse. Fortunately for us, agriculture here has been good over the last couple of years, helping our economy during these tough times. Braswell Foods has done some very successful marketing and is now nationwide and probably worldwide." And out of this world, too, according to Nevil. "Did you know one of the astronauts requested Braswell's products be sent to the Space Station?" he asks. "I think it was the pear preserves."
Already a regional trade center, Bulloch County has also secured the right to enjoy a similar title for its medical services, says Bob Bigley, CEO of Statesboro's East Georgia Regional Medical Center. "Since 2005, our admissions have grown 33 percent, surgeries have grown 35 percent, ER visits have grown 25 percent and births have grown 21 percent," says Bigley, as he shares the latest study on the rising demand for his hospital's services.
"We've added a new vascular lab to be able to do interventional vascular procedures. We've just added our second cardiac catheter lab as we received approval to do interventional cardiology, and last week we started doing our first coronary stents." Big-ley expects his hospital to do more than 1,200 cardiac catheters this year. "What we're finding is that as we've added more advanced clinical services, people realize they don't need to drive to communities farther away to receive healthcare," he says. "And the continued strength in the local economy and the increasing market share from the surrounding counties is supporting our growth. We have more patients coming to us from contiguous counties than we've ever had."
School Construction
The current malaise in the national economy has produced bargains for Statesboro's Dr. Lewis Holloway, superintendent of the Bulloch County School System, who is presiding over an unprecedented spurt of new building construction. Two new high schools were completed in the past year, and now under construction are a middle school and high school and two new elementary schools to help serve the system's 9,400 students.
"Right now our construction cost is about $94 a square foot, when two or three years ago we were spending $140 a square foot," Holloway says. "Our district is growing about 250 students per year, and with these buildings we think we'll be able to accommodate our students out about 10 years on this growth cycle. But most of this construction is not about accommodating growth. Most of it is about replacing facilities that were 60 years old and needed to be replaced with more energy-efficient materials. We also added 10 classrooms at three schools to replace portable buildings."
The savings in construction costs have contributed to improvements in teaching technology and allowed some novel approaches to the learning pro-cess at two elementary schools now being built.
The schools will feature floor art of the solar system in the hallways, models of the planets, their names, distance from the sun and size, all drawn to scale – well sort of.
"If we took the largest planet, Neptune, and made it as large as we could, eight feet in diameter, then Venus, proportionally, would be only four inches and Earth would be eight inches," Holloway says. "We also wanted the planets to be proportional [in distance] going down the hallway, but we found out that would require a hallway that was over 20 miles long. We didn't have a school quite that large in our plans."
Adjustments were made to get the solar system inside the school hallway. "We want to make these schools like a museum, so that anywhere a student is standing in the building outside their classroom there will be things to look at, learn from and be awed by."
The school system's new buildings and other improvements totaling more than $42 million are being funded by the general Special Purpose Local Option Sales Tax (SPLOST) and an education SPLOST, both derived from county retail sales, a fact that underscores the value of stores, especially to Peggy Chapman, president of the Statesboro-Bulloch County Chamber of Commerce and Development Authority.
"The retail sales carry an important role in funding our infrastructure and are so important to things like improvements in educational facilities and technology," Chapman says. "But I think there is another factor in such growth that is sometimes overlooked: Entrepreneurs have invested heavily in this community. You take Talbot's, the high-end women's shop that was opened here by an entrepreneur. We have high-end hotels brought here by local investors, and local entrepreneurs have opened restaurants and developed housing for university students. I think our local folks have invested back in the community, and that allowed other investors to see their investments would be well placed, and that is part of how Statesboro Crossing was born."
For Statesboro mayor Joe Brannen, the retail growth here has kept the wheels of progress turning through difficult economic times. "Statesboro Crossing's impact on our retail growth has been huge," he says. "It has impacted our tax base in a positive way, and that's only going to grow over the next few years. All of that means a lot to our city now, but I think the best is yet to come."
Community Snapshot
Local Leaders
Peggy Chapman
President
Statesboro-Bulloch County
Chamber of Commerce and Development Authority
912.489.9115
peggychapman@statesboro-chamber.org
Joe Brannen
Mayor of Statesboro
912.489.8661
joebrannen2@yahoo.com
Garrett Nevil
Chairman
Bulloch County Commission
912.764.6245
mfitzgerald@bullochcounty.net
Population
(2008 estimated)
County, 67,761; Statesboro, 27,158
Per capita income
County, $22,110; Georgia, $33.499
Unemployment
(March 2010 preliminary)
County, 9.5 percent; Georgia, 10.4 percent
Top Employers
Georgia Southern University, Bulloch County Board of Education, East Georgia Medical Center, Walmart Super Center, Briggs & Stratton
Sources
Development Authority of Bulloch County, Georgia Department of Labor, U.S Census Bureau