Liberty County: Making Adjustments
Military presence and a diverse economy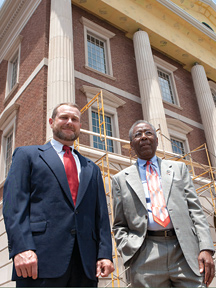 Sometimes it's your best friend who can hurt you the most. At least that's the way Hinesville and Liberty County were feeling about the sprawling 280,000-acre Fort Stewart, home to the 3rd Infantry Division and more than 22,000 soldiers and thousands more family members and civilian employees.
Just about everyone in this coastal community tends to refer to the post as the "economic engine that drives the county." That fact was most in evidence early last year when post commanders were telling locals about a friendly invasion. A fifth brigade was coming to town numbering more than 10,000, including soldiers and family members. For a small community of just 30,000, it meant a massive increase in population and a heavy impact on local infrastructure, schools and housing.
The transfer was so certain that post commanders were advising local officials of the transfer schedules and even the mix of ranks that would be arriving.
That news put both city and county government and some local developers into high gear. With most of the troops overseas fighting wars in Iraq and Afghanistan, local businesses and homebuilders were feeling the pinch. A new influx of soldiers and their families seemed almost too good to be true – and it was.
In April of last year came the bad news. The Pentagon announced it wasn't sending the brigade after all, but not before some local developers had accelerated home building to meet the expected housing shortage and the city had expanded its infrastructure.
According to some observers, as much as $200 million may have been invested in local projects both public and private.
"Our people and our banks and our government had to make the decision," says Realtor Allen Brown, who serves as chairman of the Liberty County Devel-opment Authority. "We said we had to do this because we've got close to 10,000 people coming and they were scheduled to arrive in less than a 12-month span."
Meeting that demand required lead time, because you couldn't just throw up a wastewater treatment plant overnight. It takes time to build homes that are ready for the expected influx of young families.
"We were getting information through other sources that there would be growth at Fort Stewart – a couple of years in advance, as a matter of fact," explains Hinesville City Manager Billy Edwards about the $26-million wastewater treatment plant the city built. "Had we waited we wouldn't have had time to get it up and running."
Even without the expected influx of troops, Hinesville and Fort Stewart will be able to use the additional capacity as growth continues – although at a much slower pace, according to Edwards.
And, absent the new brigade, local builders – some of whom may not be able to hold on until the market turns again – would not have charg-ed forward with new homes in the face of a prolonged economic slump.
"We are very much in a downswing now and have been for a long time," says longtime builder Claude Dryden. "Our competition is getting kind of thinned out."
The outcry from the community prompted by the cancelled brigade did lead to the Pentagon's offering compensation to local governments – to the tune of $40 million, says Liberty County Administrator Joe Brown. None of those funds will be available to private developers, however.
"But we still feel that we are still going to experience growth," says Kenny Smiley, executive director of the Liberty County Chamber of Commerce. "It's just going to be at a slower pace, not the quick influx that we thought it would be. Because we were trying to get prepared for a big influx, I think we will be more than ready as the growth continues to happen in this area."
In fact, an additional 1,000 new personnel are expected to move to the fort – not a brigade, but at least something.
Good Relationship
In the meantime, locals are over their initial shock, and virtually nobody blames the post or its commanders for the mix-up. After all, the county has long relied on the $4.3 billion regional economic impact of the fort to serve as a kind of insulation against the ups and downs that plague other communities.
"If it weren't for the troops being deployed, I think we would almost be unaware that there's a recession going on," declares Allen Brown, not entirely in jest.
With the exception of last year's misfire, Liberty and Fort Stewart are a model of how well such a relationship can work. It's a success that is based in large part on communication between the post and the larger community, according to urban revitalization expert Donovan Rypkema, principal with Washington, D.C.-based PlaceEconomics.
"While the officer who is the installation commander will transfer out every couple of years, there is a kind of institutional commitment toward having a positive relationship," says Rypkema, who has written about Hinesville and Fort Stewart. "It's my sense that not just now, but for some time there has been a pretty strong commitment on the part of the military leadership to say we really do want to be good neighbors."
These types of relationships are strengthened when both the post and the community can be counted on to move quickly in addressing problems. Good commanders set an example by getting involved in the community.
"So it's not just talking, but it's talking and doing when necessary," he explains.
It isn't hard to find examples of that kind of communication and cooperation. Hinesville's Edwards noted that back in the 1980s the city joined with Fort Stewart to construct a wastewater treatment facility that served both civilian and military needs. It was the maxing out of that system's capacity that led to the decision to build a new plant, he adds.
That good relationship also helped the county to acquire MidCoast Regional Airport, a new airport at the little used Wright Army Airfield that could accommodate corporate jets carrying officials searching for new sites – a powerful economic development tool. The county's general aviation airport had long been deemed inadequate, lacking a terminal to welcome visitors.
Under an agreement with Fort Stewart, the county was able to open the airport and receive a 1,500-foot extension of one of the runways and a terminal with conference rooms to accommodate meetings.
While the impact of Fort Stewart is outsized in a small community, Liberty isn't just about the military; it has a diverse local economy. Situated 30 minutes south of Savannah, Liberty has seen its industrial parks fill with relocating and expanding companies. Major highways bisect a county that offers relatively cheap land coupled with well-developed infrastructure. Goods shipped into the Port of Savannah can be moved to distribution centers here and dispatched up and down the Atlantic Seaboard via Interstate 95. Manufacturing and industrial plants use the same network of roads to send their products throughout the county.
Those attributes recently helped Lib-erty beat out a number of competitors in Georgia and South Carolina to win Firth Rixson, Ltd., a manufacturer of components for the aerospace industry. The company is well into construction of a 200,000-square-foot closed die forging facility in Tradeport East that will eventually employ about 200 workers.
"The [incentives] package offered by South Carolina was better [than ours] they told us, but they really liked the site in Tradeport East," says Ron Tolley, CEO of the Liberty County Development Authority.
The ready access to highways and the port were big selling points as was the appearance of the industrial park. The authority had recently finished a major landscape and hardscape project and the resulting good looks proved memorable to the visiting site team, adds Tolley.
"Some people question why we put that money into landscape because they think it's not that important, but it was that important to that company," he explains. "The fact they remembered the looks of the park made us more competitive."
The United Kingdom-based Firth Rixson is just the latest foreign-owned company to make Liberty its home. In fact, more than 70 percent of local investment has come from companies based outside the U.S., according to Tolley.
Easy access has also made the county attractive to distribution centers, which can move products from the Port of Savannah and distribute them south into Florida.
The county is home to one of the state's few certified green industrial buildings. Commercial real estate developer IDI won a silver level of certification under the Leadership in Energy and Environmental Design (LEED) green building rating system of the U.S. Green Building Council. The 502,854-square-foot spec building in Tradeport East incorporates a host of energy- and water-saving features.
Labor Pool
Another attraction for companies is the available labor pool, which points to the advantage of having Fort Stewart in your backyard.
"They liked the idea of not just being able to use the regular labor force, but having access to former military personnel," says Tolley.
Several hundred military personnel exit the service at Fort Stewart each year, and a large number of them decide to settle in the area. Well trained and disciplined, they make just the kind of workers employers love to hire, he adds.
One local employer jokes that he was startled to find that not only did ex-military hires show up on time and ready to work, but they say, "Yes, sir."
Many of these personnel like the idea of being close to the fort with its PX and hospital, but perhaps a bigger reason is the attractiveness of the local community and its welcoming attitude, suggests Rypkema.
"[Former soldiers settling there] is a strong endorsement of the kind of quality of life that Hinesville represents for a lot of people," he says.
Those in the military get to see a good deal more of the community than they might have in past decades. While most of the troops are deployed, families are increasingly staying behind at the post rather than going back "home." With longer postings, it's easier for them to buy homes and have some expectation of staying put long enough to make it worthwhile. As a result, these families are getting involved with the community, shopping in stores and in general extending the economic impact for which they're already famous.
"We as a real estate/retail community all revolve around the troop population," says Allen Brown. "Right now we're in the process of the last brigade leaving, which will mean over 15,000 of our 17,500 troops are going to be deployed – for a period of time and all at the same time. Some of them left several months ago so, they'll come back in a sequence starting this fall, but between now and the fall we're going to be 'troopless.'"
Going Up
Construction is also a fact of life in downtown Hinesville, where both the city and county are busy raising a variety of new buildings. These include a new $19-million justice center a short distance from the present county courthouse. Moving the courts to the new 90,000-square-foot building will open up space for other county offices, such as the Countywide Consolidated Plan-ning Commission now housed in an annex next door. The new facility is being funded through the county's Special Purpose Local Option Sales Tax (SPLOST).
"We're trying to maintain something of a one-stop shop for potential developers and the people who are new to the community," says Liberty County Administrator Joe Brown. He notes that all agencies issuing building permits and other licenses will now be within a single block of each other.
The city is preparing to build a new $7-million city hall on the site of the old facility. After city offices are moved to temporary quarters in the police station, the old building is coming down and the new one should be up by December of next year.
"We haven't seen a lot of private sector investment [in downtown], but we believe if we lead with the public sector the private sector will follow," says Edwards.
The city is also engaged in a major roadway realignment project through downtown, and the 150-acre Bryant Commons, which will be a park that will eventually serve as a gathering place for the community.
As life moves forward in Liberty County, there is a sense of adjustment. The relationship with the military is still strong and many look at Fort Stewart as the key to future success and prosperity. Still, there is also a realization that a sharp-edged blade can cut both ways.
Local Leaders
Ron Tolley
CEO
Liberty County Development Authority
912.368.6470
ron.tolley@lcda.com
Kenny Smiley
Executive Director
Liberty County Chamber of Commerce
912.368.4445
Joe Brown
Liberty County Administrator
912.876.2164
Population
(2009)
County, 62,186; Hinesville, 30,152; Allenhurst, 709; Flemington, 350; Gumbranch, 253; Midway, 1,040; Riceboro, 706; Walthourville, 3,761
Unemployment
(March 2010)
County, 9 percent; Georgia 10.6 percent
Per Capita Income
(2008)
County, $17,778
Top Private Employers
SNF Chemtall, Inc., Target, Interstate Paper Corp., Hugo Boss, International Greetings
Sources
U.S. Census Bureau, Georgia Dept. of Labor, Liberty County Economic Development Authority