Celebrating Downtown
Nine Georgia cities show off their successes on this year's Heart and Soul bus tour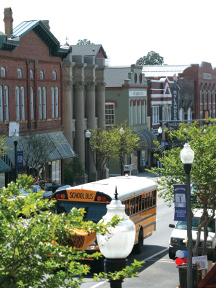 When the 10th Annual Heart and Soul of Georgia Tour pulled out of Atlanta last spring, more than 50 people had signed up for a 525-mile show-and-tell trip through the Georgia countryside, with stops at nine different downtowns over a three-day period. The tour offers leaders in government, economic development, real estate investment and financing the opportunity to explore new ideas in downtown improvement projects and to see how some old ideas are panning out. Sponsored by the Georgia Cities Foundation (GCF), an arm of the Georgia Municipal Association, and its partners, the tour is also a networking exercise.
"If I could use one word to describe what we saw on this year's tour, it would be creativity," says Mike Starr, president of the GCF. "Creativ-ity in financing and downtown development ideas, all for the betterment of the communities we are visiting."
Riding through the town of Coolidge in Thomas County, Hal Carter points out a building and admits he purchased it as a fixer-upper with plans to rent it out. "I had nothing to do with that," says Priscilla, Hal's wife and business partner in Hal Carter Construction Company, a firm noted for its restoration of historic buildings in several southwest Georgia communities.
"That building was used over the years for everything from a boarding house to a funeral home," Hal continues. "When I first went in it, the floor joists were rotten and the ceiling joists were rotten and – oh, see right there is a bank building, and that bank closed 60 days after I bought the building over there, and I thought, 'That's not a good sign.' But the end result was two apartments, and both have been leased since day one."
The Carters, official participants in the Heart and Soul Tour, were looking to pick up ideas for future projects, having already done preservation work on 10 buildings in four cities over the last 13 years. Along the way, the Carters have built a reputation for turning crumbling eyesores into solid anchors for Georgia's downtowns, specifically in rural southwest Georgia. In fact, the Carters are often called by municipal officials and historic preservationists seeking to rescue buildings from demolition.
It was a response to one of those calls that brought the Carters to Moultrie, one of this year's tour stops, back in 2003 to look at a hotel many in the city believed was beyond saving.
Yet earlier this particular morning, Carter had stood in the lobby of Colquitt Towers, the reincarnation of the 1920s-era Colquitt Hotel, a once proud structure that was heading toward collapse under the weight of time and neglect, until the Carters changed that course.
"The Georgia Trust [for Historic Preservation] called me and asked if I'd be interested in buying the building, and I told them I might be," recalls Carter. He was interested, and he did buy it in one of those dizzying deed shuffles common among savvy real estate speculators. The building had years before been foreclosed on by a local bank, but ended up in the hands of The Georgia Trust on Carter's closing day. "The Georgia Trust didn't own this building but for maybe five minutes," recalls Carter of the deal. "The Trust took possession from the bank and immediately signed it over to me. It sounds real complicated, but [the Trust] made it simple."
Carter paid $450,000 for the four-story hotel, using in part a low-interest Georgia Cities Foundation loan, and immediately went to work on its restoration while he landed tenants.
"On the first floor we have Beef O'Brady's restaurant, and we have a barbershop that's been in this location for 30 years, and we have a beauty shop here," Carter tells the tour group. "The second floor is office space – real estate appraisers, law offices, an architect and a state health agency. The third floor is only one-third occupied by a medical transcription company, and they have 14 employees. The fourth floor has five apartments." This is the third such hotel project the Carters have completed.
Rehabilitating old buildings can be the private investment key to reinvigorating a downtown area, or simply keeping it alive; but Moultrie is a case study in the value of creative thinking.
"The city recognized the need for a new post office here, but we didn't want it to leave downtown to build on the edge of town," says Moultrie Mayor Bill McIntosh. What McIntosh and other community leaders were able to do was keep the post office downtown, improve a blighted area and "dress up our Main Street," by offering the postal officials a deal they could not refuse.
"We tried to be creative," McIntosh says of dealing with the postal bureaucracy. "We told them we, the city, would build the post office, do the financing and lease it back to them." The city kept the post office downtown, and the new building blends nicely with the Main Street historic buildings. "That was another plus for us," McIntosh says. "We were able to, in keeping with our Main Street historical guidelines, control the brick color, window types, those architectural features compatible with our historic buildings. We had complete control."
Moultrie's leaders have done similar deals for two Georgia state agencies. The idea of keeping government agencies downtown is a proven method of providing a stable customer base for nearby retailers, restaurants and commercial businesses.
Smell Of Success
There are times in the day when shoppers in downtown Thomasville can enjoy the pleasant aroma of baking bread, a reminder that the city is home to Flowers Foods, a giant in the baked goods business. But that enticing smell is not the only Flowers presence downtown. Each workday, up to 200 Flowers employees come downtown and park at their desks in the company's two office buildings created out of an old J.C. Penney department store and the former Scott Hotel. The rehab projects were done using money from the GCF revolving loan fund.
"That took two white elephants, transformed them and dressed up our downtown even more," says Karen Smith, executive director of Thomasville's Main Street Program and Downtown Development Authority. "Flowers has been in Thomasville since 1919 and has always been supportive of our downtown. Those employees work downtown. They eat downtown, they shop downtown, and some even live downtown."
Living in downtown Thomasville got even better when the old (1874) Mitchell House Hotel became simply The Mitch-ell House as it emerged from its $8 million renovation two years ago and became worth nearly $10 million on the local tax rolls. "Twelve of the 30 residences have been sold or leased, and all but two of the nine ground floor retail bays are sold or leased," Smith says.
Careful attention to historic preservation, brick streets, an air of plantation gentility and a long string of eclectic shops have combined to make downtown Thomasville a regional retail center. Local boosters enjoy taking visitors for a Saturday morning license plate count of the vehicles parked downtown to see how many cars hail from Leon County, Fla., home of Tallahassee, the state's capital, situated about 45 minutes south of Thomasville. "And they don't come because our Walmart is better than theirs," says one local wag. "They come because of the downtown charm and our restaurants and shops."
Good Incentives
A stop in Valdosta brought the economic development sightseers to a Victorian-era building that was in the final throes of dilapidation before it was purchased and lovingly restored by the principals of ClientTell, who used $170,000 from a Department of Community Affairs (DCA) revolving loan fund to help finance the $425,000 restoration of the 7,200-square-foot building.
The company employs 20 workers in its mission as an appointment reminder service, one Rebecca Shirley believes to be the largest in the nation. "The ClientTell employees are all invested in downtown themselves," says Shirley, director of Valdosta's Main Street program. "Some of them live downtown, and all of them shop and eat downtown."
That is a common refrain coming from cities with downtown residences. Shirley believes the financing mix available to downtown investment prospects has been a motivating force in the area's continued growth. "There are two main funding programs offered by DCA and the Cities Foundation for low-interest loans from their revolving loan funds," she says. "Both of these loan programs have to be facilitated through a development authority or through a government agency, like Main Street. This mix provides good incentives for downtown developers, and we have three downtown properties being financed this way."
Valdosta Mayor John Fretti also sees the variety and rates of these funding sources as reasons the downtown has grown, "particularly in the redevelopment of downtown historic properties," he says.
Downtown Upgrades
In Tifton, a stop at the historic Myon Hotel building continues the tour's theme of downtown revitalization. The Myon is a mix of government facilities, retail, dining and residential square footage, and it has become the central figure in the well being of Tifton's downtown development. "When this building was restored, it became a magnet for new businesses downtown," says Tifton Mayor J.G. Cater, who also serves as chairman of the Downtown Development Authority.
"The Myon is such a beautiful building, but there was a time when it was rotting, and the city partnered with a local developer, Harold Harper, to share the building. Now we have people who stop and come in and just fall in love with our building."
The presence of the hotel, restored in 1986, has led to a rebirth of downtown stores, according to a guide produced by the city for Heart and Soul Tour participants.
In Cordele, last stop on the southern leg of the tour, the greatest hope for significant downtown development may lie in Atlanta in the hands of the Board of Regents. The site is in the city's historic district and comprises about a block and a half containing a vacant area, where a building burned down nearly 10 years ago, and a standing building that has no historic pedigree; it's an unlikely site for the Cordele Higher Education Center, an idea that is part of the city's master plan.
The current higher education facility is home to Darton College, whose main campus is in Albany. Cordele leaders would like to see a two-story, 50,000-square-foot building built to house upwards of 1,000 students.
Darton already has more than 200 students in a crowded building on the Cordele satellite campus. "I believe the Higher Education Center would be the salvation of the downtown area," says Cordele City Manager Jean Burnett. "One incentive for the center was that we already had the infrastructure in place."
On Location
When the Heart and Soul Tour began, the first stop was Senoia in Coweta County, where the downtown has become a permanent movie set and development is being done with camera angles in mind. Senoia is home to RiverWood Studios and has been a setting for more than 20 movies.
The town is packed with historic buildings and homes, and a $50-million mixed-use development called the Gin Property promises to preserve the integrity of the local architecture. The first brownstones have gone up at the Gin Property, with features to accommodate any filmmakers who might roll into town – including rear access and parking.
According to Suzanne Helfman, chair of the Senoia Downtown Develop-ment Authority, "In the event they are filming there, those homes would not be disrupted and we'll be able to film on the front portions of those streets. We are all excited about this development. The Gin Property will include the Southern Living 2010 Idea House." Prophetically, the first settlement from which Senoia was born was named Location, Georgia.
In Griffin, the Heart and Soul bus riders met with developer Steve Morris to hear about his downtown projects rehabbing historic buildings. Morris estimates he has built, leased or sold 19 lofts or apartments and is currently doing a modern makeover on the 1911 Griffin Hotel, where 40 rooms are taking shape, along with a 3,000-square-foot penthouse.
The new Griffin Hotel will have a restaurant and bar, retail space and an art gallery. Morris has already framed up another 40-plus lofts in the old Spalding Mill, where he is building a private school. "Griffin is ideal for such projects because almost all of the buildings are two story," Morris says. Some of his funding projects came from DCA and the Cities Foundation.
In Americus, the tour group found a downtown anchored by two distinct Victorian buildings – the Rylander Theater and the Windsor Hotel. The restoration of these buildings in the 1990s sparked a series of downtown projects, including lofts and apartments, that continues to this day.
"The thing that strikes me is the number of young adults living downtown," says Barry Blount, mayor of Americus. "My daughter is one of them. It used to be that at 6 o'clock in the evening, all the stores closed and everybody downtown went home. But now you ride through downtown any night of the week and there is always something going on. All that activity is attracting folks from out of town, and we are becoming a regional destination point."
A concerted effort to make Albany a destination point has resulted in more than $140 million of public funds invested in downtown projects like the RiverQuarium, a collection of indigenous fish and fowl. Cutting-edge technology at Albany's Thronateeska Heritage Center Planetarium is providing a one-of-a-kind experience for tourists, as is the local IMAX-type theater. The Gray Civic Center and its nearby four-year-old Hilton Garden Inn have combined to boost annual tourism here past the $178 million mark. Private investment in the Albany downtown, which lagged for a while, has picked up with the opening of several new restaurants and commercial establishments.
Whether it's a big investment like the RiverQuarium or the rehabilitation of individual historic buildings, this year's Heart and Soul tour proves that with a little creativity, Georgia's downtowns can thrive again.