A Change In Strategy
Valdosta State University must accommodate increasing enrollment and shrinking dollars while protecting the quality of its course offerings.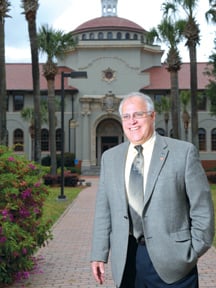 Jerry Jennett is a hardnosed Valdosta businessman who keeps one eye on the bottom line and the other on opportunities for growth through expansion and the acquisition of marginally profitable companies that he can buy and improve. As CEO of Georgia Gulf Sulfur, Jennett oversees the production of the mineral in his company's plants in Valdosta, Bainbridge, Canada and two facilities in Texas. Ask him about his company's product and he can gleefully tick off the many wonders of sulfur and its applications in industrial and agricultural products. Interrupt him to ask about the new Jennett academic building under construction on the campus of nearby Valdosta State University (VSU) and his speech becomes halting, his eyes watery and a tear rolls down his cheek, a metaphor for the deep emotional ties that connect him and wife Kay to the institution.
A native of North Dakota, Jennett came to Valdosta 40 years ago to run a small subsidiary of an agricultural chemical firm. He bought the subsidiary and eventually added three other companies. Along the way Jennett, an avid basketball fan, began attending games at VSU, provided sports scholarships and began serving on university search committees for coaches, administrators and faculty. Wife Kay, an artist and thespian, became a benefactor of campus cultural events, and both eventually became a part of the institution's culture. When their financial contributions reached a serious level, the Board of Regents approved the naming of a building for the Jennetts.
Thanks to strong community support like that of the Jennetts, Valdosta State's theatre, music and dance departments have carved out a unique prominence in the performance arts, attracting large audiences. The university's Peach State Summer Theatre (PSST) was designated the Official Musical Theatre of the State of Georgia in 2005. Each summer, students have the opportunity to work alongside professional performers, who also serve as mentors.
What became VSU opened in 1913 as South Georgia State Normal College. Just three female students were in the inaugural class, paying a tuition of $10 per year and supplying their own silverware for the meals that cost $12 a month. The school's early years saw the tradition of artistic performances established with May Day festivals featuring elaborate skits, dances and sports exhibitions enjoyed by large crowds of locals, according to historic accounts. The flood of post-WWII GIs opened the school to men and contributed to yearly growth rates that continue to this day.
The 2009 fall enrollment counted 12,391 students signed up for classes. Interestingly, 44 percent of the student body came from the Metro Atlanta area, the largest regional group on campus. Unrelenting enrollment growth has pressured resources here at a time when economic conditions prevented the addition of much needed classroom space and program expansions. To meet the needs of students while maintaining the quality of offerings, the campus leadership has had to take a more creative approach to its mission, and is doing it with less state money.
For VSU President Patrick Schloss, the Jennetts' generosity is both timely and critical to a change in teaching strategy as a result of a state-mandated $24-million budget cut. "Simply stated, all the state universities receive the same relative appropriations," Schloss says. "I like to talk about the margin of excellence, the margin by which one school has the ability to do things that no other school can do. That's what distinguishes that school; that's what makes students select that school. And that margin, that difference, that distinction has to come through private giving, because that's the only other source beyond the state aid."
Larger Classes
There was a time when VSU capped class sizes at 35 students, but that was a luxury the university could no longer afford, especially in view of the fact the school had 1,000 new students come aboard last year, according to Schloss. Clearly, class sizes had to be increased, he says. "What we decided, because of the economic circumstances, is to increase some of those classes to 150 to 250 students, selecting [classes] carefully so they can be done in a large group situation."
Such a move in the past would have seemed impossible because the university had no lecture hall, Schloss says. "But Jennett Hall is that lecture hall," he says. "And it's apropos because Jerry Jennett is an engineer who made his name collecting unsuccessful businesses and converting them to be successful, and if you asked him how or why, he'd say it was efficiency. Clearly, 200 students to one faculty [member] is a huge economy against 35 or 30 students to the faculty member."
The $1.9-million, 15,700-square-foot Jerry and Kay Jennett Academic Building will open for classes this fall. But construction of a planned health sciences building "is on the back burner, owing to a very difficult state budget situation," Schloss says, adding, "In the meantime, however, we have two buildings under way, the Jennett lecture hall and the psychology and graduate center." Still, 2009 saw almost $80 million of construction projects completed and funded by student rentals and activity fees, including two residence halls, a student health center, an athletic field house and a badly needed $43-million student union, which, says Schloss, "quickly became the living room of the campus."
Prior to construction of the new student union, the old facility held just 35,000 square feet to serve a campus population of 10,500, a ratio far below the norm for a university. That drove the VSU student government's senate to vote 30-0 in favor of the new 135,000-square-foot building. And with forecasts calling for a continuing rise in student numbers, that building could soon be crowded.
Economic Impact
The fall 2009 increase in VSU student enrollment of nearly eight percent represented the largest jump in that annual category in 16 years, a significant event for one of south Georgia's most potent economic engines. In FY 2009, the university and its students contributed an estimated $537 million in economic impact to the six-county area surrounding the campus. In addition, VSU's mission supported more than 5,400 jobs for the same area.
Such numbers are especially meaningful to Dr. Cynthia Tori, an associate professor of economics at VSU's Langdale College of Business Administration (LCOBA) and editor of South Georgia Business Outlook, an online publication that tracks economic data and trends for 32 of the counties in the university's 41-county service region. "Relative to other institutions in the University System of Georgia (USG), we are faring much better," Tori says. "We are not losing quite as many jobs – we are losing a large portion of funds, but we are attracting more students – so as far as an economic impact, they sort of offset each other."
Tori estimates the increased enrollment has a $10 million annual economic value to the institution. "And we're losing $24 million, so it is a net loss, but it is not as large as it could have been if our student body population had also plummeted."
If anything, she says, that population is expected to continuing growing due to enrollment caps placed on the University of Georgia, Georgia Tech and Georgia State University. "VSU will likely continue to increase [its enrollments] because of that," she says. "And, too, the number of high school graduates is increasing, and they have to go to college somewhere." Tori has served as a paid consultant for economic development entities, a bit of entrepreneurship that is poised to grow, thanks to an aggressive marketing plan at LCOBA that includes a service available to every economic developer in Georgia and anyone who needs a quick data profile of any of the 159 counties in the state.
Dr. Cliff Lipscomb is director of the Center for Business and Economic Research (CBER), the newly formed consulting arm of VSU's Langdale College of Business Administration, and he has been promoting a service that competes with the venerable Carl Vinson Institute of Government at the University of Georgia (UGA). The first step in that competition occurred last fall when CBER completed a study for the city of Adel on a new job classification system and pay structure for its municipal employees.
"We can do the same types of consulting work as UGA, and we can do it cheaper and faster than UGA," Lipscomb says. To help promote CBER's data-collecting talents, the center offers a website (www.pnreap.org/georgia) displaying 38 years of economic data for every county, municipality and Metropolitan Statistical Area in the state. "It also gives you text a high school graduate can understand," Lipscomb says. "And that's something we were very keen on. Our typical users are people like city planners, economic developers, grant writers, re-searchers, academics and industrial authorities."
"We are the only ones in Georgia that have this [online feature]," says Dr. Wayne Plumly, interim dean of LCOBA. "We want to be the center for economic development for South Georgia. Right now the University of Georgia is doing that work, but we're slowly getting that work."
A new international business major was added to the university's curriculum last November, and students enrolled in that discipline are getting their own taste of global entrepreneurship. Dr. Andrew Ostapski, director of international programs at VSU, proudly wears a silk tie in the red and black colors of the school, a product of China designed by his international management students. Profits from the sales of the ties and other imports go into a student fund to be used for class projects. "We're bringing together components of successful business practices," Ostapski says, "not just the academic side of it, but also the cultural side, the linguistics side, the foreign experience with an internship. And students must also become very competent in a foreign language."
Student Ambassador
For 25 years, Mark Smith wore his experience on his sleeve, rising from recruit to master sergeant in the Air Force, and finally retiring as a jet engine mechanic at Valdosta's Moody Air Force Base. He secured a civilian job with a contractor at the base, then lost that when his company lost its contract. "Then I looked at going back to school," says the 47-year-old VSU freshman psychology major. Smith is one of a growing number of over-25 students who qualify for at least a look at the body of their life's work to see if they can carve from it a few college credit hours in a program called Prior Learning Assessment (PLA).
Valdosta State became a pioneer in the practice back in 2005 when the state's Board of Regents asked the school to host a PLA pilot project. "We began to look at my transcript to determine how I could use my Air Force training and my civilian training to see what we could match that up with that the PLA course curriculum allowed," he says. If there is anything an Air Force master sergeant received training in, it is leadership, and VSU had an elective course titled Perspectives on Leadership that fit nicely into his military schooling on the subject. Smith got his credit hours and shortened his path to a degree and, he hopes, a new career as a school counselor. "I like this area and I like that it's growing," Smith says. "And as it's growing, more opportunities are opening up."
"The PLA project was funded with a grant from the U.S. Department of Education called Transition to Teaching," says Dr. Gerald Merwin, professor of political science and public administration. "We have over 30 students who have taken the course we teach on how to put together the portfolios they use to request credit, and we have 27 courses in 11 subject areas that they can use PLA to earn credits [for]."
Back at his office, Jerry Jennett is discussing his use of the Langdale College of Business Administration in consulting projects and in finding employees. As it turns out, Jennett's top executives and staff members are all VSU graduates, a fact the businessman says is just good business. "You use the best people you can find," he says, a broad smile stretching across his face.