Toombs & Montgomery Counties: Winning Recipe
Tuna, tourism and onions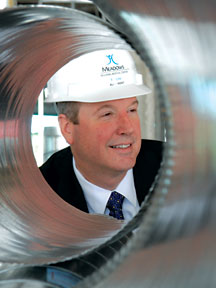 It is midmorning at the Chicken of the Sea Inter-national canning plant in Toombs County, and about 200 employees are busy getting tuna out of one door and through another, the midway point in the big fish's trip from the ocean to the sandwich plates of America. The cannery is expected to ship about four million cases annually to points around the country. But Chicken of the Sea and the local economic development team that welcomed them here had a journey of their own in the process, one that was not always a smooth ride.
It all started in September 2008, when Chicken of the Sea executives met with Georgia and Port of Savannah economic development officials to discuss the company's criteria for a site on which to locate a new canning plant. "The company told everyone they were looking within 60 miles of the port," recalls Bill Mitchell, executive director of the Toombs County Development Authority (TCDA) and president of the Toombs-Montgomery Chamber of Commerce, whose office is 72 miles from Savannah. But the Chicken of the Sea execs needed a big building and plenty of available water, and they needed it fast to coincide with a plant closing they were planning in American Samoa, says Mitchell. As it happened, the Toombs Corporate Center at U.S. Highway One in Lyons had two vacant spec buildings of 212,000 square feet each.
Persuaded to take a look at the Toombs facility, Chicken of the Sea's site team arrived and quickly told the welcoming committee they were there strictly as a "courtesy." The issue of water was quickly taken care of, says Lyons mayor John Moore. "They asked if we could supply them 300,000 gallons a day," Moore says. "And I told them there was no doubt about it. I've got three 250,000 gallon tanks and I've got four wells there, and we had the water they needed."
After viewing the subject building, the "courtesy visit" changed to "let's talk about it," the TCDA's Mitchell remembers. "They came in September and returned in November and said they liked the building and were ready to do the deal."
Celebration time? Not exactly. "They called in December and said the project was on hold," says Mitchell. Heartbreak time? Not at all. "They called back in early February of 2009 and said the project was back on and they were going to shut down the American Samoa operation by October 1, 2009, and we made the formal announcement in May." Fist-pump time? Not yet. For the plant to begin production by early October, a five-mile-long natural gas pipeline had to be laid. "Atlanta Natural Gas put that in in record time." says Mitchell. "And production began in early October."
The Chicken of the Sea saga earned the Toombs County Economic Devel-opment Authority the 2009 Deal of the Year Award from the Georgia Economic Developers Association and has provided the Toombs Corporate Center with the cachet it was seeking, according to Mitchell. "It is promoted as a park for the Port of Savannah and value-added agribusinesses," Mitchell says. "And that park has since attracted five other visitors for a look, three of which are value-added agribusinesses."
"Of all the sites we looked at, this one was the best fit," says Ian Boatwood, general manager at the Chicken of the Sea International plant in Lyons. "Ultimately, it was the close proximity of the port [and] overseas shipping for the raw materials coming in, and the availability of a suitable building." Boatwood expects to hire more employees as a second production line begins operation this year.
Retail In Montgomery
A recent flurry of economic development in neighboring Montgomery County, with the promise of more to come later this year, is lifting the spirits of its 8,900 residents. The county is ranked the fourth safest in Georgia, according to crime data compiled by the University of Georgia's Center for Agribusiness and Economic Development.
Montgomery County is linked to its larger neighbor, Toombs County, by history, and the fact that the two share a chamber of commerce. The region's largest city, Vidalia, claims residents in both counties as well.
"It's a good relationship," says Mont-gomery County Commission Chairman Brandon Braddy. "We share 911 service and EMS (Emergency Medical Service) together. And, too, Toombs County was once part of Montgomery County." But Montgomery County is busy establishing its own identity as its retail sector is emerging from a sleepy period.
"There was a widespread feeling among citizens here that the county was destined to be largely rural and serve as a bedroom community for Vidalia," says Joe Filippone, now in his third year as executive director of the Montgomery County Development Authority (MCDA). "So I set out to try to increase the retail marketplace here." And that effort is paying off, Filippone says.
"In just over a year, we have opened up nine new retail businesses, including a 12,000-square-foot Mickey's IGA [supermarket], and we're getting ready to open a 10,000-square-foot Hitching Post hardware store." In addition, a new Chinese restaurant is open, and the new 3,500-square-foot East Georgia Healthcare facility is now receiving patients. The retail growth spurt has added 65 new jobs, Filippone says. "If you talk to somebody from other counties, those are insignificant numbers," he adds, "but to us they are huge."
Tourism Power
Toombs County sits just across the Altamaha River from Plant Hatch, a nuclear power facility that has a little-noticed but profound impact on the region's motel occupancy rate, particularly in Vidalia. Each year, hundreds of nuclear technicians descend on Plant Hatch for "outages," periods lasting more than a month during which one of the two reactors at the facility receives maintenance, modification or refueling. The plant's outages provide a significant boost to the $25 million spent annually for lodging, food and retail sales that contribute to tourism in Toombs County.
Buddy West is a nuclear mechanic and 24-year employee of Plant Hatch who had a day off earlier this year during an outage just as winter was turning to spring. "You can't even find a room in Toombs County right now," says West, who also happens to be a native son and chairman of the Toombs County Commission.
"There's like 1,400 extra people brought in for this refueling outage, and this outage was scheduled for 38 days. And anybody staying in a motel has to eat out; they're going to buy gas and shop. All this is a big boost to the local economy." And because Toombs County has a Special Purpose Local Option Sales Tax (SPLOST), one cent of every dollar spent by visitors, and locals, can be used for community improvements.
New Facilities
The skeleton of a new hospital building is beginning to take shape on U.S. Highway 280 between Vidalia, Toombs County's largest municipality, and Lyons, the county seat. The $92 million facility is scheduled to begin receiving patients in January 2011, and its construction in a tight credit market could also stand as a monument to careful fiscal policies, according to Alan Kent, CEO and president of Meadows Regional Medical Center (MRMC). "We have a strong enough financial history through the last number of years … to have a mortgage that is insured by the federal government," Kent says. The FHA is insuring $84.8 million of the construction loan, to be repaid over 25 years.
The new 195,000-square-foot MRMC facility will contain 65 beds, state-of-the-art technology and improved services, and its presence will secure the county's role as the major healthcare center for this largely rural region. The new hospital is arriving at just the right time.
"We're in a facility that is at the end of its lifespan," Kent says. "We know that patient care requirements have gotten so much more stringent … and technology grows so quickly that we have to be able to expand departments or provide a good home for high-tech equipment. When you put all those things together, ultimately the cost of renovation turned out to be more of throwing good money after bad. It was an easy decision to determine that you're better off starting from scratch."
A stand-alone cancer treatment center is also planned for the new hospital campus. In addition to the quality of life value of the new hospital, there is the economic impact of a $250 million projected budget for this year, thanks to a 60 percent market share in its service area. And at Meadows Regional, it's a sure bet that the 740 employees and staff eye those numbers with more than passing interest. "We practice a philosophy of management called open-book management," Kent says. "We meet with employees every two weeks [and] we teach every single employee how to read the financial statement, and when the hospital makes profits, we share those profits with our employees in the form of bonuses."
Management and employees at Vidalia's Trane Residen-tial Systems plant are celebrating an expansion of their heating and air conditioning products, and planning for another one this fall when they manufacture their five millionth unit.
"We're in our 20th year here, and we're investing millions and millions of dollars in retooling," says Andy Stevenson, plant leader of the Toombs County manufacturing facility. "The expansion is driven by the tax incentives for higher energy efficiency equipment. A lot of our market is the replacement market versus new housing construction, and a lot of people are replacing." The company's redesigned products will begin coming off the line in August, with full production expected in 2011. The technology changes will produce more efficient and environmentally friendly heating and air units demanded by today's customers, Stevenson says. "Part of that is green and part is pure economics, and we're tapping into that, and that's why we're investing and growing."
To make sure Toombs County and the surrounding area have the skilled workforce needed for expansions and new industries, the Southeastern Early College and Career Academy (SECCA) will soon be under construction on the campus of Vidalia's Southeast Technical College (STC). SECCA is Georgia's first regional charter college and career academy, formed as a partnership with four local school systems in three counties to get high school students on a career path through further education and training. "SECCA was planned as a way to reduce the dropout rate, keep kids in school and get them engaged in working toward a career using marketable skills," says Barbara Christmas, interim CEO of SECCA.
The four participating high schools of the region are finding other benefits in the construction of the academy. "They're facing the worst budget cuts ever, and they realize they must leverage their resources in order to offer the classes they want to offer," Christmas says. "All four of these schools had very strong career technical programs, and then all of a sudden they can't afford to hire the teachers and equip the labs they needed."
The Career Academy will share a building with STC. The two institutions pooled grants and legislative appropriations to share space in the planned $7 million-plus building expected to open for classes in the fall of 2011.
"Combining the funding allowed us to build a larger building," says South-eastern Technical College President Dr. Cathy Mitchell. "And we were able to eliminate the duplication of facilities, giving us more instructional space." The technical college will get space in the new building for an automotive technology program featuring the latest computer science in the field. "The modern student in automotive technology has to have those computer skills at a higher level than ever before," Mitchell says.
Like technical colleges across the state, STC is seeing its enrollment soar. "We had a more than 30 percent growth in the last year on the Vidalia campus," she says, explaining last year's merger of STC with the technical college in Swainsboro, which saw an increased enrollment of about 12 percent during that period.
Downtown Resurgence
Much of Montgomery County's economic activity is occurring in the downtown area of Mount Vernon, the county seat (population 2,135), where a long-awaited rehab project is about to begin. "What we plan to do is take up all the old sidewalks from downtown and replace them," says Joey Fountain, Mount Vernon's mayor. "We're going to remove the light poles from in front of our storefronts and courthouse and put in decorative lighting there. I got a $400,000 federal transportation grant, and we also have a $100,000 grant from the state Department of Transportation to get this done."
Fountain says he has been working on the streetscape improvements for more than three years, and the arrival of the grants will mean a significant facelift for his community. "$500,000 goes a pretty good ways in a small square, and that should help us get even more business downtown," he says. All preliminary design stages have been done, and the community is awaiting completion of environmental impact studies before the work begins, says Fountain.
County leaders here are hoping for the final step leading to the construction of a detention center that would hold immigration detainees as well as county prisoners, and produce up to 130 jobs. "We have a signed agreement in place between Montgomery County and [private owner] Municipal Correc-tions LLC, and the land is allocated and the infrastructure is in place," says MCDA's Filippone. Adds county commission chairman Braddy: "There is still some red tape to work out with the U.S. Immigration and Naturalization Service and Customs Enforcement to house immigration detainees." Beyond that, both men say, the deal is a go.
With all the new technology in healthcare and manufacturing arriving in Toombs County and new retailers in Montgomery County, the two communities are still best known for the sweet Vidalia onion they both grow. The onion is a tasty part of a regional economic engine, agriculture, which generates some $121 million annually in farm gate value to farmers in Toombs and Montgomery counties. The two counties are part of a 13-county region officially sanctioned by the United States Depart-ment of Agriculture to market their onions as "Vidalias."
And market them they do. When the Vidalia onion harvest season begins at the end of spring, the marketing effort will get a big boost from the May 21 release of the movie Shrek Forever After, the fourth, final and 3-D version of the popular series. The Vidalia Onion Committee has crafted a marketing partnership with DreamWorks Studios to display Shrek and his pals on packaging, point-of-sale displays and even 30 million school milk cartons.
"The Shrek program will appeal to the younger demographic out there," says Wendy Brannen, executive director of the Vidalia Onion Committee. "We've had this tremendous fan base for the Vidalia onion for quite some time. But that fan base has aged. I keep looking for more and more ways to appeal to younger audiences."
Name recognition is an important feature in any marketing program, but how do you get a kid to eat onions? "That's an easy question if you're talking about Vidalia onions," says Bran-nen. "Vidalias are inherently sweeter than other onions. You still have the onion flavor but it is not as pungent and strong as a regular onion."
Community Snapshot
Local Leaders
Brandon Braddy
Chairman
Montgomery County Commission
912.538.4093
Brandon@montgomerycounty.ga.gov
Joe Filippone
Executive Director
Montgomery County Development Authority
912.583.4676
joe@development.montgomery-
countyga.gov
Joey Fountain
Mayor of Mount Vernon
912.583.4321
mvcityclerk@windstream.net
Bill Mitchell
Executive Director
Toombs County Development Authority
912.537.4466
bmitchell@toombschamber.com
John Moore
Mayor of Lyons
912.526.3626
jmoore@nctv.com
Buddy West
Chairman
Tombs County Commission
912.526.3609
twest50@bellsouth.net
Montgomery County
Population
(2008, estimated)
County, 8,930; Mount Vernon (county seat), 2,135; Ailey, 535;
Alston, 165; Higston, 326; Tarrytown, 102; Uvalda, 551; Vidalia (part), 194.
Per Capita Income
(2007)
County,$22,082;
Georgia, $33,499
Unemployment
(February, 2010)
County, 11.7 percent;
Georgia, 10.5 percent
Top Employers
Brewton Parker College, Montgomery State Prison
Sources
Toombs-Montgomery Chamber of Commerce, Georgia Department of Labor, U.S. Census Bureau
Toombs County
Population
(2008, estimated)
County, 28,102;
Lyons (county seat), 4,515; Vidalia, 11,161; Santa Claus, 250
Per Capita Income
(2007)
County, $25,168;
Georgia, $33,499
Unemployment
(February, 2010)
County, 12.0 percent;
Georgia 10.5 percent
Top Employers
Meadows Regional Medical Center, Trane US Inc., Walmart, Runners Diversified Inc., Oxford Apparel Group
Sources
Toombs County Development Authority, Georgia Department of Labor, U.S. Census Bureau