The Business Of Incarceration
Georgia operates the fifth-largest prison system in the nation. Even after reductions in the workforce, the corrections department has nearly 13,000 employees. But is that enough?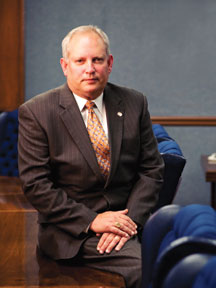 Georgia's prisons have had a bit of an image problem for a long time. Robert E. Burns' best-selling book, I Am a Fugitive From a Georgia Chain Gang, brought the brutalities of the state's penal system front and center to national attention in the 1930s. Burns' account was adapted as an Oscar-nominated movie starring Paul Muni, and the book remains in print nearly 80 years after it was first published.
The book's description of prisoner treatment was so horrific that when Burns, who escaped twice from chain gangs, was apprehended in New Jersey in 1932, the state refused all demands that he be extradited to Georgia to finish serving his sentence.
In the 1990s, then-governor Zell Miller appointed one of his political allies, former state senator Wayne Garner, to be the state corrections commissioner.
Shortly after he was appointed commissioner, Garner remarked that one-third of Georgia's prisoners "ain't fit to kill and I'll be there to accommodate them." Those words were recounted often after Garner and other prison system officials took part in a 1996 "sweep" of Hays State Prison in Trion.
According to sworn statements from several corrections employees at Hays, that tactical search for prison contraband quickly turned into a "blood bath." Handcuffed inmates were beaten by corrections officers, who slammed them face-first into cinder-block walls and concrete floors. At least one prisoner was dragged across the floor by his hair.
One of the prison guards later recalled: "Blood went up the wall. Blood went all over the ground, all over the inmate. I heard it. I heard a sickening cracking sound." A prison counselor testified that after viewing the beatings, "I went to the restroom and threw up." Another prison employee said in a deposition: "You ain't seen so much blood on folks. … People had been beaten real bad with all the blood flowing."
After the sweep of Hays Prison was concluded, Garner and his group adjourned for a chicken dinner at which, according to yet another deposition, ''Everybody was high-fiving and shaking hands and congratulating each other and patting each other on the back and bragging about how much butt you kicked.''
That incident triggered massive media coverage and a federal lawsuit that the Department of Corrections eventually settled for $285,000.
After Roy Barnes became governor in 1999, Garner was replaced as the man in charge of corrections, and things calmed down somewhat. Over the past decade, the news about Georgia's prison system has been less about beating up inmates and more about beating down the costs of securing an ever-growing prison population with fewer employees and lagging budget increases.
The state now operates the fifth-largest prison system in the nation, locking down nearly 60,000 inmates. Even after several reductions in the workforce, the corrections department still employs more people – nearly 13,000 – than any other state agency save the Board of Regents. The various facilities managed by corrections are valued at more than $2.3 billion.
Population Surge
Clearly, prisons are one of Georgia's biggest businesses. They've had to be to keep up with the waves of people incarcerated through the state's get-tough approach on crime. Zell Miller's signing of "two strikes and you're out" legislation in the 1990s spurred a surge in the prison population, as did the passage of rigorous sex crime laws by the new Republican legislative majority in 2006.
While the state was locking up larger numbers of people, however, there was not a corresponding growth in the budget for corrections, in part because of recessions that crippled state revenue collections in 2002-03 and 2009-10.
In fiscal year 2000, the inmate population was just under 42,000, and the corrections budget was $887.8 million. Over the next decade, the inmate population grew by nearly 43 percent but the department's budget increased by just 27 percent to slightly over $1.1 billion. The number of employees on payroll to keep those prisoners locked up declined by about 1,600, or 11 percent of the workforce.
The department, currently headed by Commissioner Brian Owens, has tried to cope with the declining pool of resources by using the same kind of cost-cutting and right-sizing techniques deployed by many private businesses.
With his short-cropped silver hair and his no-nonsense style, Owen looks exactly like what he is: a "lifer" who has spent his entire career in the corrections department.
"I started out as a parole officer, chasing parolees through the streets of the housing projects of Atlanta many, many years ago," Owens recounts. He worked his way steadily up the administrative ladder and was named commissioner in January 2009 when his predecessor, James Donald, was appointed to the state parole board by Gov. Sonny Perdue.
In 2005, the department retained the consulting firm Rosser International (formerly known as Rosser Fabrap) to develop a master plan for the agency's physical assets. The Rosser report concluded that eight of the state's 36 prisons, mostly converted mental health facilities built during the 1930s, were no longer worth the money required to maintain and operate them.
The department has since closed five of the older prisons and is scheduled to close two more during the next 18 months. Several detention and diversion centers have also been closed or consolidated with other facilities during the same period. Overall, the department slimmed down from 129 to 94 facilities from 2004 to 2009.
"We're replacing old infrastructure that's expensive with modern infrastructure that doesn't require as many people to run," Owens says.
Rather than build new prisons from the ground up, the department has designed "fast-track" buildings – which have 256 beds apiece – that are situated on the grounds of existing prison facilities. Another 1,400 beds have been squeezed in by "triple-bunking" some of the prisons.
"We've got 6,000-plus beds in fast-track units, avoiding $211 million in costs by not having to build new facilities," Owens estimates.
While it was upgrading its physical stock, the corrections department also assessed the security needs of the inmate population. It determined that the state was trying to operate too many high-security facilities, which require more officers to control the inmates, and not enough medium-security prisons where fewer employees are necessary. The decision was made to "re-mission" eight prisons in the high-security category to medium-level facilities, each of which requires 40 fewer staffers to operate.
"We took a hard look at our population and found that, over the years, inmates work their way down in security level," Owens says. "They start out perhaps at the high-security level and work their way down to a lower security level based on their behavior. We had too many high-security prisons and not enough medium-security prisons."
As the prisons have been consolidated and reclassified, the inmate population also appears to have stabilized at the current 60,000 level.
"We have seen a general flattening of the prison population," Owens says. "You've seen the double-digit growth in our prison population for two decades. What's happening now is the number of inmates coming into the system is leveling off."
Roughly 10 percent of the state's inmates are housed in three private prisons that have been open since the late 1990s. Corrections Corporation of America (CCA) operates the Wheeler Correctional Facility in Alamo and the Coffee Correctional Facility in Nicholls, while Cornell Companies operates the D. Ray James Prison in Folkston.
The expenses of keeping an inmate in a private facility are about the same as a public prison: $45 to $47 per inmate per day. The state does not have to incur the capital costs of building the prisons, however, and is not on the hook to provide pension benefits for the private prison employees.
While the D. Ray James Prison is exiting the state system so that it can house federal inmates, another private prison is scheduled to begin operations in Milledgeville during 2012. The corrections department says there are plans to add up to 750 new beds at both the Wheeler and Coffee facilities.
While all of these administrative workarounds have enabled prisons to continue operating with fewer employees and diminishing budget dollars, there are concerns among observers outside the wire that the system may be packed a little too tightly.
Breaking Point?
"Almost two decades of tough-on-crime, mandatory sentencing laws have resulted in a prison system that's bulging at the seams with no relief in sight," contends Sara Totonchi, executive director of the Southern Center for Human Rights. "I'm deeply concerned about the volatile nature of Georgia's prisons."
State Sen. Bill Jackson (R-Martinez), who served for two years on the state board of corrections while taking a break from the Legislature, concurs: "It seems to me that a spread-out prison population would be safer than one congregated up in a few buildings. That's my deep concern."
Rep. Alan Powell (D-Hartwell) for several years headed a House subcommittee that oversaw the corrections department budget.
"Our system works quite well, honestly, because of the quality of rank-and-file employees," Powell says.
But he adds this cautionary note: "They're housing more inmates at roughly the same money. How they've done it is putting the state in jeopardy. If you raise the number of inmates in a facility and you have fewer guards, you may be setting yourself up for problems in the future."
"It's a legitimate concern, but I think we've strategically managed our capacity and our people so we're okay," Owens responds.
"Are we reaching a breaking point?" he asks rhetorically. "If we go any further, yes, quite frankly. You go any deeper and we're going to have to let some guys out. The concern is in 2012. That's when $97 million in federal stimulus funds goes away. If that hole is not filled, that's serious prison shutdown."
Economic Impact
While the closing of antiquated prisons and related facilities has enabled the department to operate more cost effectively, there has also been an impact on economic development. In many rural communities, the local prison or detention center is also the largest employer.
As the old South Georgia saying goes, "We grow two things down here: prisons and onions."
During a recent legislative budget hearing, Sen. Tommie Williams (R-Lyons) implored Owens: "When you look at RFPs [requests for proposals] for future prisons, you look at those counties that have lost some prisons as well as those counties that have real high unemployment rates. Prisons are economic development to these rural counties, too. When you lose a prison, that county's lost a lot of sales taxes, jobs, et cetera."
One way or another, Georgia will always have prisons, and there probably will always be a need for new ones.
"When the economy is tough, crime goes up," Rep. David Lucas (D-Macon) observes. "So what are we going to do with these people?"
One of the major criticisms of the corrections system in Georgia, as well as other states, is that too many people are being kept behind bars who could be diverted into non-prison alternative programs. About 57 percent of the inmates in Georgia prisons are serving sentences for a violent crime or a sex offense. Most of the remaining 43 percent are in prison for a property crime, such as burglary, or a drug conviction.
"Rather than releasing low-risk people on parole, the state has chosen to overcrowd the largest prisons by triple-bunking and packing people in like sardines," Totonchi says.
When Perdue appointed retired Army General James Donald as corrections commissioner in 2003, Donald remarked that "no state has ever built its way out of a prison crisis, and I submit to you that Georgia cannot afford to either."
Fear And Loathing
Donald said the state needed to make a distinction between "prisoners that we're afraid of," the ones who commit violent felonies, and "those that we're mad at," such as non-violent first offenders and persons sentenced for drug offenses.
"We do a good job of keeping people – we need to do a better job of changing them," Donald said at the time.
There has been some movement in that direction to where today the department is responsible for more people who are on the outside than are behind bars, supervising about 150,000 probationers.
The department has been closing probation diversion centers and replacing them with other alternative sentencing options, such as day reporting centers (DRCs) that provide drug and mental health treatment for non-violent offenders. Surveillance officers check with employers to make sure that participants are at work and that fines and child support payments are being collected.
A probation substance abuse treatment center (PSATC) opened at Northwest Georgia's Walker State Prison in 2008. The department has implemented a Prison Industry Enhancement (PIE) program at Smith State Prison in Glennville and Georgia State Prison in Reidsville where inmates can voluntarily work with a private employer, Bone Safety Sign Co., to produce sign products.
As it has been doing for years, the corrections department also has 40 inmates working at a license plate warehouse at Telfair State Prison in Helena, although there have been discussions at the General Assembly of possibly privatizing the manufacture of auto tags.
"At the end of the day, 21,500 people are going to walk out of prison this year," Owens notes. "If we just warehouse them for two, five, 10, 15 years and don't give them a skill, don't give them a work ethic, don't provide them with the discipline and the structure to get themselves up every morning and go to work, how much better off is society going to be?"