Neely Young: Inspired By Milledgeville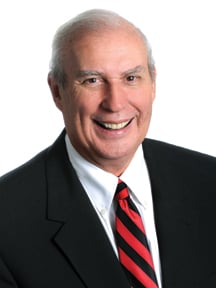 Georgia's antebellum capital, Milledge-ville, is chock-full of history. From 1806 to 1868, the old capitol building in this middle Georgia city witnessed many important events. One was the 1860 vote to secede from the Union, which passed by a razor-thin 30 votes. There were many Union sympathizers in the state, especially in the mountain areas.
Like many places in Georgia, Milledgeville, a city of 18,000, is struggling with the bad economy, but any city would have a hard time handling the loss of almost one-third of its jobs. Milledgeville has been hammered in the last 18 months with more than 2,400 jobs lost, stemming from a series of closings – plants, two prisons and a Youth Development Center. The state recently announced the closing of Central State Hospital, the public psychiatric facility founded in 1842; this means a loss of 1,000 additional jobs.
Community leaders are not lying down without a fight, because they have an economic development ace up their sleeve. Milledge-ville-Baldwin County is one of the most interesting tourism sites in Georgia. And leaders are spreading the word.
Citizens enjoy a vibrant downtown district. The streets are populated by many fresh-faced young people who are students at one of the three colleges located in the city. A promotion piece for Milledgeville notes that the city "perfectly charms treasured guests with fascinating tales, southern delicacies and gracious hospitality."
Jane Sowell, director of the convention and visitors bureau, reports, "In the midst of grand antebellum homes, there exists an undiscovered wealth of cultural opportunities."
Capitals, Columns and Collections is the tag line for the newly formed museum district, which offers a setting for local artists, traditional antiques collections and many other galleries and restaurants. They have a one-stop welcome center where a visitor can board a big red trolley for a guided tour through the city to see mag-nificent historic homes and find where Union General William T. Sherman paused halfway through his infamous March to the Sea in 1865.
Many Georgians traveling from Savannah to Macon on I-16 and on to Atlanta on I-75 experience major traffic problems along the way. One easy detour is to get on Highway 441 in Dublin and travel northeast through Milledgeville to Highway 20 near another historic site in Madison. From Madison, it's an easy drive to Atlanta. The traffic is smooth and free, and you will have saved enough time to take a detour and visit historic downtown Milledgeville along the way.
The newly restored state capitol is still standing, along with the old Governor's Mansion located near the city's famous liberal arts college, Georgia College and State University. In fact, several years ago, I stayed in the mansion by myself one night after giving a speech to some of the college students. The mansion is said to be haunted by several spirits, but I was told they are harmless.
I turned in and was soon dead asleep. There was a loud knock on the door. "Bam, bam, bam," went the sounds. I shot straight up in bed and looked at the clock, which said 3:00 a.m. I shook my head, wondering if it was a dream, then went over to the door and asked if anyone was there. There was no answer, and I was not about to open the door.
The next morning I told the innkeeper of my experience. She just laughed and said, "We told you so." Those spirits provided me with a unique tourism experience.
Milledgeville's community leaders are at work on a plan called Partners in Progress, which offers certification as a Work Ready community. They are working to gain back industry and create new jobs for the city. A recent economic summit has helped set the stage for entrepreneurs to take a leading role in diversifying the local economy and help strengthen the job base for the future. The city also offers itself up as a great retirement community.
One gubernatorial prospect has announced plans to cut almost 8,000 additional state jobs in 2011, after this year's election. Most of these job cuts would be in small cities and counties throughout Georgia. Communities will be struggling to find job replacements. By looking inward and leveraging their assets, Milledge-ville leaders are fighting back and could be an inspiration to other communities trying to find their way back to prosperity.