Habersham County: Poised For Growth
Enhancing the appeal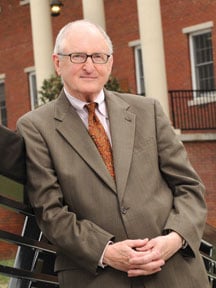 When Habersham County's homegrown jail cell business, SteelCell of North America, needed to expand, CEO Mike Smith looked at neighboring counties in Georgia, nearby states, even some out west.
"I didn't want to move, but we were going to have to go where there was a good business program," says Smith. Then he talked with the Habersham County Development Authority, which quickly put together an incentive package including tax-exempt revenue bonds to retain the company. SteelCell, employing 40 at the time but planning to expand to more than 100, happily accepted.
That was before Inc. magazine named SteelCell in the top 100 manufacturing businesses for 2008. To Habersham County, retaining the company was important, no matter its size.
"Research shows that 85 percent of new jobs will come from existing industry," says Habersham County Development Authority Executive Director David Inglis. So he focuses a lot of attention on helping area businesses meet their challenges. The county has a good diversity of businesses, many employing less than 100. As a part of that effort, Inglis initiated the formation of four advisory groups within the development authority, focusing on education, industry, agribusiness and community. "The purpose is to give the people in those groups a voice into the county's economic development policy," he says.
The county is located just over an hour north of Atlanta along Georgia Highway 365 (a four-lane extension of I-985). It has a 100-acre business and industrial park with infrastructure in place just south of the local airport. Broadband, which many regions are seeking grants to design, is already in place. The airport's runway has been extended to 6,500 feet to accommodate jet traffic, additional hangars are being added and a new jet fueling station is in service.
"The leadership we have now works well together," says Brent Edwards, chairman of the Habersham County Development Authority. "We think regionally. People are realizing that if we attract industry to a specific county, it's good for the other counties in north Georgia." The authority has become more focused, meeting more frequently, taking part in a strategic planning retreat and adding more members.
Key Denominators
"If you look at drawing industry, there are certain key denominators – good healthcare, work-ready labor," says Terry Rogers, member of the local development authority and chairman of the Joint Development Authority of Banks, Habersham and Rabun Coun-ties. "We have those people on our [local] board."
Among those members is Dick Dwozan, president of Habersham County Medical Center, which has an annual payroll of more than $26 million and completed a $38.6 million expansion in April of 2009.
"Habersham County is poised for growth," says Dwozan. "Even in this economy, I see a lot of opportunity here." Part of what the community has to sell, he says, is its beauty and small-town values. "I would rather be recruiting physicians to the lifestyle that Habersham offers than many other places."
The Development Authority hopes to capitalize on those assets, working with a North Georgia College & State University intern on a marketing plan for the area, exploring a brand for the area and creating a new website. They have scheduled a Developer's Day in May at which they plan to tell Hab-ersham's story to state project managers and business recruiters.
A big part of that story is the labor force in the area. Habersham is already an Entrepreneur Friendly community and is enthusiastically working on its Work Ready Certification. County Man-ager Janeann Allison explained the process to county employees when it became available, and they scheduled tests for themselves, even before the county had officially begun the process.
"We became a partner in the workforce readiness program last year," says Robert Costley, superintendant of the Habersham County School System. "We met our goal in improving the graduation rate and feel like this year we will make 80 percent." The school system is working to create a culture of high-school graduation, "marketing" diplomas in school and the community. From kindergarten on, children are told the year of their own graduation and about its importance. Costley says when students graduate from fifth grade they get a congratulatory T-shirt with that future date in bold numbers. "We created a program called 'Show me your diploma.' The point is that you can't go anywhere in Habersham County and not see the results of having a diploma," he adds.
Habersham County partners with the Mountain Education Center High School, a state-chartered school system. It's a night program for those non-traditional students who work or can't attend regular school. More than 100 Habersham County students will earn regular high school diplomas through the program this year.
"When companies look at Haber-sham County, they're going to see a place that's ripe and fertile for new business and jobs," says Costley.
Higher Education
Another player in workforce readiness is North Georgia Technical College, one of the oldest technical colleges in the state. The school has partnered with a number of local industries, including Ethicon and SteelCell, to offer training specific to company needs.
"One of the really great things about working in a place like Habersham is that nearly everyone I meet has – or someone in their family has – gone to school here," says president Steve Dougherty. The college is active in the community, participating in local drives and festivals and housing some of the activities of the Soque River Watershed Authority. The school worked out an agreement with Piedmont College so that a two-year degree from the technical school can be applied toward the student's four-year degree at the college.
A small private liberal arts college, Piedmont is not only an asset for potential employers but has long been an active member of the community. Habersham Medical's cardiac rehab unit is housed on the campus at the Johnny Mize Athletic Center, which also serves as a fitness center for students and faculty. The hospital staffs the center, and the college handles billing and business processes.
In the last 15 years, the college has renovated or rebuilt every building on campus and gone from 20 majors to 44, not including its graduate programs. Piedmont opened its $13 million Swanson Center for the Performing Arts and Mass Communication in 2007, and the Arrendale Amphitheater last year.
The road leading to the Swanson Center runs along a new wetlands area that used to be Lake Demorest. The dam holding the lake back was determined to be in need of repairs. The town of Demorest owned the dam but couldn't afford the necessary repairs. The solution to the complicated problem turned out to be to return the man-made lake to its original condition – a stream bed with surrounding wetlands. It wasn't without controversy. Lake Demorest had been there since the 19th century. But the wetland is scenic in its own way, providing a home for different plants and animals, and opportunities for study by students.
A specialty of the school is its Cohort program. More than 50 public school systems in Georgia welcome Piedmont professors to their buildings after school so teachers can use the space to earn specialist's or master's degrees in education.
"It's about face-to-face appeal," says Dr. W. Ray Cleere, president of the college. "We focus the program on the particular needs of the system." The college has 1,100 graduate and undergraduate students at its Demorest campus, 800 at its satellite campus in Athens and 900 in the Cohort program.
The college is a partner in downtown Demorest, having moved its bookstore and art gallery off-campus into downtown. One problem, however, was the pedestrian crosswalk from campus to town. There were frequent rear-end collisions as drivers slammed on brakes to avoid someone crossing the road. Through the combined efforts of the college, Demorest and the state department of transportation, a pedestrian bridge was completed in 2008, creating a "gateway" to the campus. An ornamental fence, enhanced with natural rock, discourages jaywalkers and will be an extension of Demorest's streetscape design, which will include trees, benches, sidewalks and raised brick crosswalks.
Walking Trail
Cornelia has worked on its street-scape, too, as a part of its Better Hometown program. The town, famous for its Big Red Apple (and the festival of the same name) recently completed the first phase of a city walking trail. Cornelia has two exits along Georgia 365, so retail, motel and restaurants have located in that area, and a Super Walmart is scheduled to begin construction this year.
Clarkesville was designated as an official Georgia Main Street/Better Hometown community in March.
"It's important to note that both Clarkesville and Cornelia participate in the Better Hometown programs," says Terry Rogers. "Out of only 100 or so in the state, there are two in this county."
Clarkesville's downtown coordinator Lane Gresham says that in addition to working as a micro-incubator of economic development, the city has focused on existing assets. The Better Hometown office is in the Mauldin House, an 1880s farmhouse located downtown. Gresham has seen a recent cottage industry trend in destination weddings among the inns and event venues in the county.
One former bed and breakfast, the Sutton Inn, was purchased recently by Tony Conway, owner of A Legendary Event, the Atlanta event and catering company. Conway confirmed that the property will be used for weddings and corporate retreats, but he plans to make no disturbances to the land.
"I just fell in love with the property several years ago," he says. "And Clarkesville is a beautiful town."
While Clarkesville has several charming bed-and-breakfast inns, it hopes to attract a motel into a 12-acre parcel purchased by the county several years ago for a new courthouse. When it was determined that the property was not large enough, the county asked Clarkesville, as the county seat, to annex a larger parcel just outside the city limits for the purpose. The distance from town caused consternation among downtown merchants, who feared the town would dry up with its courthouse gone. But the city council and county worked out an agreement to move the judicial functions from the existing courthouse to the new location, and consolidate scattered administrative offices into town, more than doubling the number of people in the downtown building. As part of the agreement, the county will work with the town to create a redesign of the façade of the courthouse, built in the 1960s and considered by many to be the "ugliest courthouse in the state."
Small Towns
Negotiations and compromise are part of any county operation, but it can be a real challenge in a county with seven municipalities. County Commis-sion Chair Doug Vermilya believes that the fact that the county has no big cities is actually an advantage.
"We offer small-town and small-community values, and that's what people want," he says. "Politically, it can be a nightmare, but to live here – it's an attraction." Vermilya sees the good-old-boy way of life that many people believe to be standard in small towns giving way to what he calls "educated rural professionalism." When he runs for re-election, he says, he explains that he wasn't born and raised here but "I got here as fast as I could."
Quality of life is certainly a factor in deciding on a location, whether for a family or business, and with its natural beauty and community life, Habersham County has that in spades. It's located in the foothills of the mountains, with rolling pastoral landscapes, pristine rivers and miles of hiking trails.
Natural beauty attracts tourists, who spent about $38 million in the county in 2008. The area was listed on the Southern Highroads Trail last year. Lake Russell, a 100-acre lake with camping and picnic facilities, is located in Mount Airy, where 40 percent of the land is under National Forest management. The Scenic Highway 197 merchants have capitalized on their area's former history as a moonshine highway to draw people to the history, culture and arts and crafts resources in the area.
The Soque River attracts trout fishermen from around the world. It is almost completely in private ownership, so the catch-and-release fishing is closely managed. The river, which begins and ends within the county, also provides drinking water for most of the area.
"Habersham is unique in that the fate of its water resource rests with the citizens of the county and our ability to manage it," says Justin Ellis, executive director of the Soque River Watershed Association. "It's not an abstract resource. Our focus is to build a community that understands its resource, where it's healthy, where it's impaired, how to restore it."
The nonprofit counts many local businesses, municipalities, schools and college as members. It is active throughout the county promoting sustainability, stewardship, land management and restoration. Among its projects are an organic community garden and the planting of native tree species in Clarkesville's Pitts Park and The Clarkesville Greenway – one mile of which is complete. "The greenway is important because it helps people see the river and activities near it," says Ellis, "so they understand what needs to be protected."
"As an originally agricultural county, we realize how important 'green' is," says the development authority's Brent Edwards. Agriculture is still the major industry in the county, with Fieldale Farms employing more than 2,000.
That greenway will connect with the larger rails-to-trails project being planned by the Tallulah Falls Greenway group. The future trail will invite hiking and biking from the historic depot in Cornelia all the way to Franklin, N.C. While parts of the trail are in varying degrees of design, the Shortline trail in Tallulah Falls is complete.
"Rails-to-trails will be an important part of economic development here, of getting people to stop [and spend] instead of passing through on the four-lane," says David Stovall, chairman of the Tallulah Falls Greenway board. "Everywhere else we've seen a rails-to-trails effort, there has been a boon in tourism in terms of restaurants, motels and quality of life. We believe the Tallulah Falls Trail will be up there with the wine industry in generating tourism for our area."
Community Snapshot
Local Leaders
Doug Vermilya
Chairman
Habersham County Commission
dvermilya@habersham.k12.ga.us
706.754.6264
Brent Edwards
Chairman
Habersham County Development Authority
SBEdward@southernco.com
706.899.4084
Judy Taylor
President
Habersham Chamber of Commerce
TaylorJudy@windstream.net
706.778.4654
Population
(2008)
County, 43,056;
(2007 estimates)
Clarkesville, 1,647; Cornelia, 3,870; Alto, 909; Tallulah Falls, 159; Baldwin, 2,935; Mount Airy, 976; Demorest, 1,790
Unemployment
(February 2010)
County, 10.8 percent;
Georgia, 10.5 percent
Median income
(2008)
County, $45,377;
State, $50,834
Top Employers
Fieldale Farms, Habersham County Board of Education, Habersham County Hospital Authority; Mt Vernon Mills
Sources
Habersham Chamber of Commerce, U. S. Census Bureau, Georgia Department of Labor