Savannah: Reaping Benefits
A push for knowledge-based businesses pays off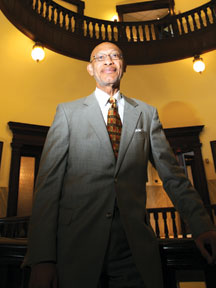 To the casual observer, the doorway among the row houses along Savannah's East Oglethorpe Avenue could be the entrance to one of the charming homes that line the side streets linking this city's network of shaded squares. Step inside this unassuming building and you will find period décor, but the period is the 21st century, or perhaps beyond; and the atmosphere is filled with the technospeak used by a handful of researchers who toss ideas back and forth like Frisbees. Welcome to Digitus Biometrics, Inc., a security company led by Claude Galipeault, whose Canadian accent seems to have been corrupted by 32 years of exposure to the Savannah patois.
Digitus produces the security systems that respond to the touch of a finger, reading the digit's print and determining if its owner has the clearance to enter a building or room. That technology has been around for a while, but Galipeault has been working on a new fingerprint-access technology for the tall, narrow cabinets that can hold the brains of a national banking company or a military base or the Social Security Administration. In the past, such cabinets have been protected by a common lock – easily jimmied – and key – easily duplicated. Galipeault believes that era is over.
"Now it's biometrically protected, and that's pretty cool," he says. "Now we've taken a dumb cabinet sitting out in the middle of nowhere and what we've done is not only biometrically protected that cabinet but also we monitor that cabinet in real time on a dashboard."
Any mischief in the cabinet is instantly reported to the monitor, he says. And the technology can even detect if a technician is coerced into opening the cabinet. The brain of the system is slightly larger than a postage stamp, and this technology is about to step from prototype to the commercial market.
"Typically it's called the bleeding edge of technology," says Digitus Senior Vice President of Sales David Orischak. "It's when the technology first comes out, and we're still right at the tail end of that, economically, with biometric access control. The next phase is the mass adoption; that's when the big numbers come in when you start selling large volumes of these things, and this technology is on the cusp of mass production."
There are millions of the cabinets located around the world, Orischak says, with thousands more produced and sold each week, offering a potent market for the yet unnamed Digitus product, which can be easily installed. Digitus had its genesis in Britain but moved to the U.S. about five years ago, depositing its intellectual properties arm in Savannah, with production facilities in North Carolina.
For Rick Winger, Digitus is a near perfect example of what he labels the "knowledge-based" businesses and industries his Savannah Economic De-velopment Authority (SEDA) began targeting almost a decade ago when he and a like-minded group of locals began informal discussions about branding the city as an ideal home for creative entrepreneurs, especially those in the fields of emerging technology.
"Digitus Biometrics is almost a poster child for the idea," says Winger, SEDA's president. "Most companies like that have a small number of employees. They are not the big company with 300 employees, but given the choice I'd rather have 300 entrepreneurs." Not all of Savannah's entrepreneurs are recent arrivals or freshly minted. Some of the startup knowledge-based innovations are born as part of the evolution of long-established businesses.
Al Kennickell's family-owned printing business had been churning out letterhead, envelopes, business cards and handbills since 1892, but when changing times and technology began forecasting a decline in printed products, Kennickell began conducting weekend retreats to his empty office for a bit of head scratching to see if he could find a new niche and new products to fill it. "I work eight or nine hours every weekend," says Kennickell, president of the Kennickell Group, the recently changed name of his company, which he says better reflects the growing diversity of his clientele. "And all I do is come in here and think. If you do that you'll be surprised at all the cool things you can come up with."
One of those cool things was a personalized product that combines printing with Internet technology. His partners include "a couple of guys," the National Football League, the Canadian Football League, Major League Baseball and the National Hockey League. One hot product is a poster of a team locker room from any of those leagues depicting player jerseys, including one stitched with any fan's name. An Atlanta Falcons fan in Seattle can order one at a mall cart or kiosk and have it printed and framed in the time it takes to pull his credit card out. "We'll do 40,000 of those in November and December," Kennickell says.
Another new product is personalized Christmas card production, especially for businesses. "A guy could go online from any place in the world, upload his mailing list to us, personalize his message, hit submit, and we print his Christmas card and we mail his Christmas cards to his clients wherever they were on the planet," he says.
"We've got about 20 programs like that. Three years ago our volume was 90 percent commercial printing, routine stuff. Now our volume is 60 percent printing. I think at the end of 2010 our volume is going to be 50 percent printing. Our printing will not shrink; it's just that the other stuff is growing so fast."
Kennickell's day-to-day company workforce is about 80, which can swell to 120 depending on demand, and he is finding more and more demand for the part-timers.
Some Turbulence
When Savannah's corporate jet manufacturer Gulfstream announced company-wide furloughs for 2,200 employees in the spring of 2009, there was a collective gasp in the local economic development community. Though the furloughs came, the blow was softened a bit by their length, says Heidi Fedak, Gulfstream's manager of corporate communications. "We announced the furloughs in March, but the furloughs didn't happen until July," Fedak says. "So folks were laid off for four weeks and some for five," but most came back in August. "The intent was always to call those people back." Still, there were about 140 Savannah workers who were laid off among the 1,400 layoffs in Gulfstream's global workforce.
Fedak cited the weakened economy as the reason for furloughs and layoffs, and there was the attention focused on corporate travel when President Obama criticized executives of the Big Three automakers who took private planes to Washington to ask for bailout funds.
"As a result, many companies were afraid to use their aircraft," she says. "And for a period of time in 2009, our service centers went from full 40-hour weeks for employees to around 32 hours a week." The service centers do the maintenance required by law when a plane reaches a certain number of hours flying time. Now, says Fedak, the service centers are back to their normal 40-hour weeks, an indication of an uptick in corporate jet travel.
"We are cautiously optimistic that flying hours [will be] increasing," Fedak says. If so, Gulfstream will be ready to accommodate that corporate demand. The company rolled out is its new $64.5 million, 18-passenger G650 on September 9, 2009, and its $24.5 million G250 a week later in Israel. "The rollouts last year were a phenomenal credit to our employees, who worked really hard to make those happen," she says.
Gulfstream's biggest customer is Warren Buffett's NetJets, the largest fractional ownership aircraft company in the world.
Gulfstream's higher-paying jobs, and its contractors and vendors, account for about a $400 million annual contribution to the local economy, according to some estimates. Savannah's economy also benefits from the presence of the Port of Savannah, the nation's fourth-busiest, which, along with its sister port at Brunswick, radiates some $15 billion from the coast across the region and into the rest of the state.
But many of those jobs are out of reach for Chatham County's poorest population. That is just one reason the local business community and more than 80 federal, state and local agencies, including all local governments, are working with Step Up Savannah (SUS), an antipoverty crusade, to educate, train and develop social skills among the poor and working poor of the city.
With a 22 percent poverty rate in the city, and a significantly higher rate in five Savannah census tracts, the task is daunting; but Daniel Dodd is seeing progress in the seven-year-old initiative, particularly in one area: banking. Dodd is the director of SUS and the organization's Bank on Savannah program, which works to get new customers into banks from a demographic that has avoided them for generations. It has attracted attention.
"I was asked by the Federal Reserve to speak at a Memphis meeting on how we're trying to increase wealth in low-income households, specifically on how we're banking the unbanked, people who use check cashers and payday lenders," he says. "We found out there are some 10,000 people in the downtown area that do not have bank accounts, either because they've never had accounts or they've had behavior that forced them to close their accounts – they've been overdrawn too many times, things like that." Dodd says SUS is on track to open 1,000 new bank accounts by the end of April, and more than 3,000 people attended financial education classes during a 10-month period in 2009.
The working poor are being encouraged to use direct deposits as much as possible to keep from carrying large amounts of cash in their pockets or purses and becoming targets for a robbery. "St. Joseph-Candler Hospital has increased its direct deposits by employees from 73 percent to 84 percent," Dodd says. The SUS banking program also helps the working poor build credit and brings them closer to mainstream society, he says.
"You are slowly getting them to embrace the system and work with the system," Dodd says. Step Up Savannah has enlisted the aid of 11 local banks that Dodd believes account for about 80 percent of the city's total deposits.
On Camera
There aren't many Georgia cities that have a film office among their recreation, water and sewer and road departments, but Savannah found the need for one more than 15 years ago when television and movie producers discovered the city had the architecture that could double for 18th century Washington, D.C., and a nearby landscape that replicates Southeast Asia, making the area a good place for film industry on-location sites. And the city has long drawn fashion models and still photographers "There are enough [producers and photographers] that seem interested in Savannah for us to have a very positive outlook for this year," says Jay Self, director of the Savannah Film Office. "Catalogue shoots are back up, and that's our bread and butter stuff."
Last year saw wraps on the Robert Redford-directed film The Conspirator starring James McAvoy and The Last Song, a Miley Cyrus picture being released this year. Self estimates the 15-year history of the film office has seen about $130 million spent on entertainment and commercial shoots in his city. "Savannah has a number of large industries like the port and manufacturing, logistics and certainly tourism," Self says, driving to a point. "Ours is certainly not as big as those, but there is something about it: It is high-return. Comparatively, we spend very little money to attract and enable these projects, and the economic impact of these projects gives us about a 32 to 1 return on investment. What this industry doesn't do is tax the infrastructure."
Saving Time
Savannah Mayor Otis Johnson is seeking investments of another kind from his city's lower-income families: time. Using a program called Youth Futures, Johnson is promoting after-school tutorial, recreational and cultural events for kids in an effort to keep them from becoming statistics in dropout and teen pregnancy rates. "If that gap time between 2 and 7 [p.m.] where data shows a large number of [teenage] crimes occur – and when a lot of teen pregnancies occur – can be filled with constructive activities, all of that contributes to a better chance of them staying in school," says Johnson. "And they can graduate, get more education or a job and become productive citizens."
Johnson estimates the after-school programs are helping 2,000 to 3,000 kids a year who visit neighborhood centers and, he says, the effort is proving to be working. "One of the requirements of participants in these programs is that they bring in their report cards, and we've seen improvements in the academic performance of these young people and also a reduction in absentee rates."
A mix of sources, including foundation grants, fund the after-school program. "And the city of Savannah has invested its tax money," he says. "We pay tutors to come in the afternoons to provide homework assistance."
With $250 million in infrastructure improvement projects scheduled to begin in 2010, there is a guarantee some Chatham County construction workers will find work, according County Commission Chairman Pete Liakakis.
"With the $100 million expansion of the detention center, for instance, we put a formula in that requires we will get a fair percentage of local employees," he says. "The local people pay these [Special Purpose Local Option Sales Taxes] that are used for these construction projects, and they feel we should have local people working on these projects."
With 6.15 million visitors to the city in an average year, Savannah has long been a popular stop for tourists and conventioneers. But Savannah and the nation haven't seen many average years lately. "2009 was a year where we certainly didn't do as well as we hoped to," says Joe Marinelli, president of the Savannah Convention and Visitors Bureau. "However, our statistics tell us that Savannah's hotel occupancies and demand for rooms outpaced all of the major cities in this part of the country, so there was a bit of silver lining to the economic picture."
And there is brick-and-mortar evidence that hospitality investors expect future demand for those rooms. "We saw a growth in our hotel supply of about 6.5 percent last year," Marinelli says. "Savannah now has 14,627 hotel rooms."
Community Snapshot
Local Leaders
Rick Winger
President
Savannah Economic Development Authority
912.447.8450
rwinger@seda.org
Pete Liakakis
Chair
Chatham County Commission
912.652.7923
pbnichol@chathamcounty.org
Otis Johnson
Mayor
City of Savannah
912.651.6444
sturner@savannahga.gov
Population
(2004 estimated)
County, 248,469; Savannah, 130,402; Bloomingdale, 2,699; Garden City, 9,730; Pooler, 9,450; Port Wentworth, 3,127; Thunderbolt, 2,602; Tybee Island, 3,532; Vernonburg, 138.
Per capita income
(2006)
County, $36,052;
Georgia, $32,095
Unemployment
(December 2009, preliminary)
County, 8.5 percent;
Georgia, 10.3 percent
Top manufacturing employers
Gulfstream, Georgia-Pacific, Savannah River Mill, International Paper Mill, Midcoast Aviation, Savannah Sugar Refinery
Sources
U.S. Census Bureau, Georgia Department of Labor, Savannah Economic Development Authority