Fannin County: Tourists And Entrepreneurs
Building on quality of life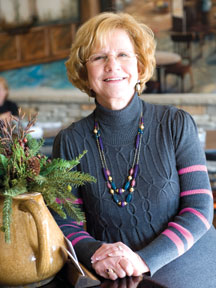 The little town of Blue Ridge in Fannin County has become a refuge of sorts for an assortment of expatriates fleeing the congested cities and big corporations of America. Take a walk down the narrow historic Main Street and you'll get an idea that this place is a little different. Maybe it's the used bookstore that specializes in fine wines or the shop owner who handcrafts exotic bamboo fishing rods for the rich and powerful – including a U.S. President. You soon realize this isn't your typical small town.
The wide natural expanses of Fannin have proven highly attractive to folks who "are absolutely sick of the traffic, crime, taxes and rudeness" of the big city, declares Bo Chance, a banker and developer who fled Atlanta a few years ago and is now an evangelist for the Fannin lifestyle.
"Once you get up here, man, that is all in the rearview mirror," he adds. "We are the antidote to the big city stuff. It is Mayberry."
Mayberry with a difference. Blue Ridge and the surrounding county have long since given up the guise of a mill town – that passed into history completely a few years ago with the loss of the Levi plant and 1,000 jobs. These days the community is focusing on tourism, smart entrepreneurs and a quality of life that is beckoning a growing class of newcomers from snowy Ohio to hurricane-battered Florida.
Locals say all those factors help explain how the county has weathered the current recession better than many of its neighbors. Although the real estate market took a beating, producing foreclosures and leaving subdivisions unfinished, new activity is booming, say local boosters.
"Whether it is new people coming in or folks that are here already becoming a little more bullish on the future, there seems to be a lot of activity here," says Chance.
Local merchants report a surprisingly good January – traditionally one of the slowest months here – and are optimistic of more sales to come, according to Blue Ridge Mayor Donna Whitener.
"They're a good group of people who have taken downtown and built [it] into something that we can be really proud of," says the newly elected mayor. "They are really hard workers."
Whitener, a furniture store owner, was elected to office – the city's first woman chief executive – following the retirement of longtime mayor Robert Greene.
Outdoor Activities
She echoes other locals in pointing out the county's outdoor attractions. With more than 40 percent of the county's land part of the Chattahoochee National Forest, hiking, fishing and kayaking are popular sports. In the years since Levi and similar operations closed down, the county has worked hard to make the best of these natural resources. Tourism has assumed paramount importance and is the main focus of the Fannin County Chamber of Commerce. The agency operates the welcome center and wages an aggressive campaign to draw visitors – despite the sour economy.
"We've maintained our tourism and actually kind of grown it because of where we are and what we've got," says Chamber President Jan Hackett. "People are traveling closer to home, so a lot of folks in Atlanta with families will come up here. We have a huge abundance of vacation rental homes and cabins, mountain homes that people own and are willing to rent."
Since 1998 revenues from lodging taxes – charged on hotel and the more than 1,000 so called "cabin" rentals – have more than tripled, reaching nearly $10 million last year. Visitors spend an estimated $28 million here while generating millions more in taxes and payroll at businesses such as Blue Ridge Mountain Outfitters and other local stores.
"We are mainly retail service, tour-ism, healthcare, and our saving grace has been entrepreneurship," says Hackett, giving a nod to the many transplants who have come here to follow their dreams of a life in what some refer to as paradise in the mountains.
The downside of this emphasis on tourism is that it hasn't produced the large number of good-paying jobs that manufacturing once did. Today more than 90 percent of all businesses in Fannin have fewer than 50 employees.
Beefing up the county's list of employers is the job of the new executive director of the Fannin County Development Authority, Stephanie Scearce. A Fannin native, she returned here after four years at Kennesaw State University where she played basketball on a scholarship. Now she's being called on to put her competitive instincts to work recruiting technology and corporate support centers that might be attracted to an area that prizes its natural wonders.
The Right Fit
"We want quality job growth," she explains. "We're really going after things like retail and commercial that would fit in Fannin County now and thrive at the same time. We are about to launch a big marketing campaign targeting retailers that fit within our community. Things like back office centers fit here and they are clean [with] good-paying jobs with good benefits and everything."
The development authority is working with the Tennessee Valley Authority's Consumer Connection program that evaluates the kinds of business that work best in a particular community based on the experiences of similar locations.
"Small industries work well, but to try and bring in a large industry is probably not going to happen," says Hackett.
Fannin's best chances lie with mid-sized retail department stores like Belk or small hotel chains such as Country Inns & Suites, she adds.
"It's challenging because so much of our market is tourism, and it is difficult to show [the retail potential] when you are dealing with retailers," says Hackett.
A good example of retail that is finding a congenial home in Blue Ridge is the planned River Ridge Centre. Located on 42 acres along Highway 515, the project will include a hotel, convention facilities, retail shops, a park and a 2,000-seat amphitheater.
In addition to retail, the county already hosts a number of small industries such as Whitepath Fab Tech, a supplier of replacement components for HVAC systems, and Kismet, which specializes in extruded rubber products. As one of the few remaining textile firms, Dacorp makes a variety of products including aprons, tablecloths, dog beds, back braces and even body bags for the military.
One industry that has thrived as Fannin has changed is the medical sector. The growing population of retirees has attracted a wide range of medical services. RiverStone Medical, a 40,000-square-foot outpatient care facility, recently added another 47,000 square feet to its campus overlooking Highway 515.
Unlike many other counties, Fannin finds itself lacking in infrastructure for development – there are few water and sewer services outside the cities. To make up for that deficit, the county recently formed its own water authority that can issue bonds and extend services to future business and industrial parks.
When the Levi plant closed, the development authority was able to obtain the site and then sell it to another expanding company. With those funds in hand, they will soon be able to obtain a parcel of land that can then be developed into a location for new businesses.
The local real estate market is getting a boost with a $75 million development on the Toccoa River called Blue Ridge Golf & River Club. This high-end gated community will provide Fannin with its first golf course.
"We have – God willing – nine holes that are going to be playable by summertime of this year," says June Slusser, who is marketing the community. "We would have been further along with that except for the rain."
The course lies along a mile stretch of the Toccoa and, true to its River Club name, will offer residents and guests opportunities for kayaking and rafting. About 42 of the 280 home sites have been sold, according to Slusser.
The ability of the well-financed project to get off the ground is a good omen for the rest of the real estate market. Over the last year a number of developers who purchased tracts of land for new subdivisions found themselves without buyers in a crowded market.
"This was a market that was largely built on second homes and retirement properties," explains Slusser. "Because people were not able to sell what they had in Florida or other parts of the country, they were not able to come here and buy."
Although it has not come roaring back, Slusser and others say the market hit bottom in Fannin County last summer and since that time "each month there have been more closings than the same month in 2008."
The glut of homes on the market is finally starting to recede. There are 600 to 700 for sale now, compared to 900-plus at the same time last year, she says.
Downtown Uptick
Back in downtown Blue Ridge, local merchants are enjoying an upsurge in traffic and sales. Of course, this is a very different town than it was a few years ago when, as one local put it, "You could throw a ball down Main Street and never hit anybody."
Where there had been just a few antiques stores, there is considerably more variety. A recently passed beer and wine ordinance has spurred the opening of several new restaurants, as well as a microbrewery.
That's good for tourism, and most businesses attribute as much as 70 percent of their business to out-of-towners, says Lynda Thompson.
"The locals come downtown, but not mainly to shop," she explains. "It is really touristy. We have the train, and people come and ride it, and then they go shopping around; but if we did not have our tourists, I think we would be in trouble."
Thompson's own business, L&L Beanery, is doing well and has expanded with a café and bakery next door. As the town's only coffee shop, it's become a gathering spot. Amid the overstuffed sofas and comfortable chairs, many an entrepreneur can be found hunched over a laptop while nursing a cup of joe. It's also a meeting place for local church groups and clubs, and more than a little business sometimes gets done at the tables.
"Downtown Blue Ridge didn't have a place that people could go and meet their friends and talk," she explains.
Thompson herself is an example of the corporate refugees who migrated here to follow their own small-town dreams. While working at the corporate offices of WebMD in Florida, she visited friends here in town.
"One time when we were up here and were downtown, I saw that they were renovating this old bank," she recalls. "It had been built in 1926 and still had the original vault. I just thought it would make a good coffee shop."
At the time she was not yet ready to give up the corporate life, so the actual running of the shop fell to local friends. That arrangement worked for all of two months before she got a call from her friend's husband saying that his wife was "having a nervous breakdown and could not handle it."
Thompson flew back and forth for the next year, keeping the operation going until the travel began to wear thin.
"Then I just said, 'I can't do it,' and had to quit my job and come up here, which was a good thing," she relates.
Locals might never have imagined a business like the little shop on Main called Oyster Fine Bamboo Fly Rods. Owner Bill Oyster practices the ancient and little-known art of handcrafting bamboo rods. Over the years he's gotten so good at it that he now attracts a fishing clientele from around the world. Buyers wait 25 months to get a rod and happily pay from $1,800 to $10,000 for a finely engraved model. Former President Jimmy Carter, an avid angler, owns one of Oyster's rods.
These bamboo rods are "tailored down to the last detail," says wife and partner Shannen, who says this is very much a family business that allows the couple to be with their two small children each day.
Bill also teaches weeklong classes in which students pay $1,390 for the opportunity to learn how to make their own rods. His willingness to share his art makes him unique in the sub-culture of rod makers, where secrets are tightly held. In fact, Bill is entirely self-taught in his art.
"It's a very guarded craft," says Shannen. "When he called [other makers] they would literally hang up on him. No one wanted to reveal how to do this. Back then he said, 'If I ever get this up and going, I'm going to teach people how to do this because it is just a really cathartic thing for many people to do.'"
Downtown buildings like the ones that house L&L Beanery have retained their historic look. An ongoing streetscape project by the city is adding brick sidewalks and lampposts, and the train depot, the downtown centerpiece, is slated for an extensive remodeling.
As the ticket office for the popular Blue Ridge Scenic Railway, this building is often the first point of contact for visitors to the area. The train carries about 60,000 riders a year up the line on a leisurely trip through the beauty of the North Georgia outdoors to McCaysville. There they can shop and then stand with one foot on each side of the conveniently painted state line that separates the Georgia city from Copper Hill, Tennessee.
The rail line, owned by freight hauler Georgia Northeast-ern Railroad, used to be just so much abandoned track until local citizens convinced the company to repair the line and make train trips a tourist draw.
This small town has found many ways to swell its ranks with visitors. The annual Christmas lighting festival attracts crowds of more than 5,000. It seems that people just cannot get enough of this version of Mayberry.
"You would be amazed at the number of people that come from Florida," says Thompson. "We are seeing now is that people are coming from the north like Ohio because their winters have been so brutal. Then when we have our leaf season in October and November, every cabin here is full."
Community Snapshot
Local Leaders
Donna Whitener
Mayor
City of Blue Ridge
706.632.2091
Stephanie Scearce
Executive Director
Fannin County Development Authority
706.258.5103
Jan Hackett
President
Fannin County Chamber of Commerce
706.632.5680
Population
(2008)
County, 22,904;
Blue Ridge, 1,066 (county seat); McCaysville, 986; Morganton, 280
Per Capita Income
(2007)
County,$26,060;
State, $32,095
Unemployment
(December 2009)
County, 10.4 percent;
Georgia, 10.3 percent
Top Employers
Fannin County Government, Fannin County School System, Fannin Regional Hospital, Heritage Healthcare, Ace Hardware & Building Center, Ingles Markets, Kismet Rubber Products Corp.
Sources
Fannin County Development Authority, Georgia Department of Labor, U.S. Census Bureau