Macon/Bibb County: Protecting Investments
Large employers and expanding industries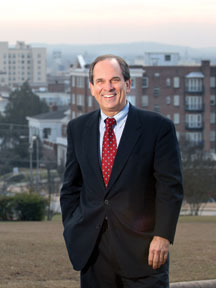 Standing in front of a jury delivering a summation is routine business for Lonzy Edwards, an experienced Macon trial lawyer, but when he rose to speak to an apprehensive crowd of 300 South Bibb County residents last April, he found that to be a somewhat different experience. "Juries don't throw questions at you," he recalls.
In a twist on a dramatic scene from the movie "Erin Brockovich," Edwards was part of an economic development team that called together 220 or so homeowners and their families to see just how many were willing to sign up to sell their properties to help protect 26,000 Georgia jobs.
As it turned out, the South Bibb property owners were in the flight path of the Air Force jets that took off and landed at Robins Air Force Base in neighboring Houston County. Their homes were in what the Department of Defense (DOD) calls an "encroachment area," a 1,800-acre site near the end of a Robins runway along a path that poses dangers to residents from potential crashes and the kind of noise that can damage hearing.
For some time rumors and speculation that the properties might be condemned outright had swirled around the site. "We took condemnation off the table pretty early on," says Edwards, who is also the county commissioner representing the South Bibb County area. "We made it very clear that we were not going down that road."
The meeting, he says, "was more of an information-sharing session to invite them [homeowners] to partner with us in solving a problem that has bedeviled our community for years."
Given the possible consequences, "bedeviled" seems perhaps a mild word to describe a situation that threatens the future of Robins Air Force Base, Georgia's largest single employer. The details are in a history lesson centering on the major portion of the Robins AFB mission as an Air Logistics Center (ALC).
Once there were five ALCs in America; now there are three, the other two being in Ogden, Utah, and Oklahoma City. The two that are no more were phased out during the Base Realignment and Closure Commission (BRAC) study of the sustainability of military installations. Failure to resolve problems dealing with encroachment areas can lead to the closing of a military base.
It's that simple, according to Chip Cherry, president and CEO of the Greater Macon Chamber of Commerce and Macon Economic Development Commission. "The last thing we want to do, five, 10, 15 years from now, is be where DOD [Department of Defense] comes forward and says the base is not sustainable because of these encroachment issues," Cherry says. "The bases in Utah and Oklahoma City are our two main competitors, and those communities have addressed their encroachment issues."
Bibb County and Houston County are linked to the fate of Robins AFB by their histories, according to Commis-sioner Edwards. "That base came into existence because of Bibb and Houston counties back in the '40s," Edwards says. "I think they raised the handsome sum back then of $100,000 to purchase the land that eventually became that [Air Force] depot."
An effort is under way to enlist the financial aid of 14 middle Georgia counties to make the south Bibb property purchases that will show the DOD the region is working to abate the threat that could place the future of the base at risk. Cherry estimates it will take upwards of $20 million dollars to make the necessary property purchases. Yet the base employs residents of more than 40 Georgia counties and pumps some $4.1 billion of economic impact throughout the state.
Best estimates are the next BRAC round of base closings could begin in 2012 or 2013. The Bibb County Com-mission has put up $750,000 for the necessary property purchases, and the DOD has set aside $500,000 for the project, but contributions from other counties and the state have been slow arriving, says Edwards. Several property owners have shown a willingness to sell, and steps are being taken to close those deals and get the process into a higher gear.
Insurance Growth
Even with the worrisome encroachment issue that could affect thousands of Bibb county workers who commute to Robins AFB each workday, the community's service and manufacturing industries seem to be humming along.
The Macon offices of vehicle insurance giant GEICO have grown steadily throughout the company's more than 35 years. It recently doubled its floor space to 600,000 square feet and is continuously adding to a workforce that now totals more than 4,000 employees, with the promise of adding more over the next several years.
"Our home for nearly two million customers is Macon, Ga.," says Shawn Burklin, regional vice president for GEICO Southeast. "We will continue to hire several hundred people every year, and we'll continue to grow in the Southeast and Midwest – and we forecast that 2010 will be another year of solid growth for GEICO."
The company's sales in Georgia alone rose by 15 percent in 2009, Burklin says. The Macon GEICO office growth is also being fueled by the company's expanding product and service area offerings. "Although we sell and service policies from here in Macon, the office does far more than that," Burklin says. "We have a full claims operation, our underwriting operation is here and our human resources operation for this entire part of the country is here. We also support GEICO's national emergency road service, mechanical breakdown service and glass claim services for the entire country."
Macon's GEICO office now includes the Midwest region in its service area. GEICO's national growth has also been helped by a sales staff led by the familiar gecko and cavemen who appear in the company's television ads, as well as that stack of money topped by the giant eyeballs known in the GEICO parlance as Kash. "Yes," Burklin says, "We're so lucky to have the icons that we do. They do describe what we try to do."
Finding A Niche
It would seem that Jason Delves should be as down as the housing market he depends on to sell his product, wood flooring. Delves' company sells the unfinished materials contractors use to install wood floors in new houses, and he readily admits things were not exactly rosy even before the new home market joined the national economy in a nosedive during 2008. "The flooring market had been really struggling anyway sometime before the housing market went where it did," says Delves, president of Macon's BLC Hardwood Flooring, a subsidiary of Battle Lumber Company (BLC), a giant wood products company located in tiny Wadley, Ga.
By the eve of a national recession, the company had expanded its Macon portfolio of properties by acquiring a wood "flour" plant in 2006 and adding a pre-finished flooring operation in 2007, two moves that would ultimately give the company a rare combination of diversity and niche power, two features that flowed like water into the open channels of the marketplace. Wood flour is finely ground sawdust used in a variety of products, such as composite decking, hand warmers, fire logs and the drilling compounds used by oil companies. "We've even sold it to a company that sells worms," says Delves. "They put it in the little packages with their worms. "
But establishing the pre-finished flooring line proved to be the most prescient move by the company. As the new home market and sales of existing homes declined rapidly in 2009, homeowners took the for-sale signs from their yards and began remodeling projects, a boost to BLC's flooring sales.
"The reality is, it has been the saving grace for us," Delves says. The do-it-yourself remodeling market "is ab-solutely dominated by pre-finished products." The Macon company is producing about 30,000 square feet of flooring a day, with the capacity to more than double that figure.
The company has opened a retail center in Macon and watched sales there rise by 5 percent a month, a hopeful sign for many reasons, Delves says. "The benefit of the downturn in the economy has really been that people have started more and more wanting to do business locally once again," he says.
Neighborhood Revival
It's a sure bet Patrick Madison has seen or will soon see some of Delves' flooring company products coming into the Macon neighborhoods surrounding the city's Mercer University, where such arrivals are marking the transition of Victorian-era homes and 1930s bungalows from nearly unlivable to genteel examples of the best of marriages between urban renewal and historic preservation. Madison is executive director of the College Hill Alliance, the professional arm of a neighborhood reclamation project supported by an acronymic collection of nonprofits seeking to link the Mercer Campus to the downtown proper by building new, historically correct homes on weeded lots or rehabilitating older homes to their period charm.
The alliance received $5 million from the John S. and James L. Knight Foundation last summer for use in staffing the project, turning ideas from citizens into reality, and continuing a unique down payment assistance program available to the staff and faculty of Mercer who elect to buy, restore or build a home in an approved neighborhood. "Mercer staff and faculty have already purchased homes within walking distance of the campus," says Madison, a professional planner and developer. "A lot of those people in there are benefiting from the Mercer down payment assistance program [offering] up to $20,000 if they purchase a recently renovated or rehabbed home."
The flurry of residential makeovers in the neighborhoods near Mercer is attracting commercial interests as well. Activity is swirling around empty storefronts, and construction is under way on the Lofts at Mercer Village, a $10 million mixed-use development that will offer up to 9,000 square feet of space. As Madison was ticking off the neighborhood assets falling into place, he paused to take a call from a business owner looking to relocate in the neighborhood.
Hanging up the phone, Madison announced he had a new neighbor for the vacant space adjacent to his office at Mercer Village. "That was the owner of middle Georgia's largest specialty bicycle retailer," he says through a wide grin. "With the development we are encouraging here, it makes more sense because you've got limited parking in an urban area," he says. "If we can get more Mercer students and other people here out using their bikes, it takes that much more traffic off the streets. "
Macon Mayor Robert Reichert, on the other hand, would like to see more traffic at the city's Middle Georgia Regional Airport, the kind that deposits cargo. "I am very hopeful we can take advantage of the opportunity to attract air freight business to the airport," says Reichert. "We may have to extend a runway, depending on what we attract here. Right now we are at 6,500 feet [in runway length], and I understand 8,000 feet is the preferred length for some carriers."
The cost of the runway extension is estimated at $20 million, but Reichert sees the cost as a means of securing Macon the reputation as a transportation hub. "With both Interstates 75 and 16 coming in here right in the middle of the state, the proximity to the ports and being just 85 miles south of Atlanta, coupled with our rail lines, we've got the physical assets and infrastructure to be a transportation center. "
The chamber's Cherry, sitting in the boardroom with his senior VP, Pat Topping, was reflecting on the well-being of the community. "In a recession like this your frame of reference changes, " Cherry says. "We had one of the lowest job loss rate increases in the state. All in all, most of our companies are stable. "
"I think one of the reasons we've been fortunate in not seeing more closings is that we've been in touch with our existing industries," says Topping. "We've set a target of contacting 200 of our existing industries a year. I'd say a third of our projects now are our existing industries, helping them expand or helping them solve problems." Nonetheless, both economic developers say they were happy to see the arrival of 2010.
Tourism Boost
Macon's tourism sector has benefited from the continuing addition of new hotel rooms and sites built on the city's branding of its Song and Soul of the South campaign. The latest music-themed attraction to open for business is the Allman Brothers Museum in the Big House, an 18-room English Tudor home in the historic Vineville neighborhood where the band lived and crafted tunes for more than three years. The home is currently in the care of the Big House Foundation and is expected to begin receiving visitors this month.
Macon's reputation as a destination for music lovers has been secured by the Allmans' memorabilia-filled home, according to Janice Marshall, the president/CEO of the Macon-Bibb County Convention and Visitors Bureau (CVB). The facility complements the Georgia Music Hall of Fame, the Douglass Theatre and lively concert activity. "It completes our music package," Marshall says, adding that Macon natives like Little Richard and the late Otis Redding and others like Rolling Stones keyboardist Chuck Leavell have combined to give the city an unmatched rock 'n' roll cachet. "This is the city of music," adds Marshall, "and that is a big part of our nearly $300 million tourism industry."
Marshall is a veteran of 28 years at Macon's CVB and is retiring this year for a little family time and some consulting work. She leaves behind a legacy of taking Macon to a position of prominence in attracting visitors to her city's attractions. "If you ask me what has been our greatest accomplishment over the last decade it would have to be having Macon understand tourism is big business here, and number two would be to take singular attractions and package them as the Song and Soul of the South," says Marshall.
Community Snapshot
Local Leaders
Chip Cherry
President/CEO
Greater Macon Chamber of Commerce and Economic Development Commission
ccherry@maconworks.com
478.621.2003
Pat Topping
Senior Vice President
Macon Economic Development Commission
ptopping@maconworks.com
478.621.2030
Robert Reichert
Mayor
City of Macon
r.reichert@macon.ga.us
478.751.7170
Population
(2007)
County, 154,709;
Macon (county seat), 92,555;
Payne, 166.
Per capita income
(2006)
County, $32,173;
Georgia, $32,095.
Unemployment
(November, 2009)
County, 9.9 percent;
Georgia, 10.2 percent.
Top manufacturing companies
YKK (USA), Inc., Boeing,
Graphic Packaging
International, First Quality.
Sources
Macon Economic Development Commission, Georgia Department of Labor, U.S. Census Bureau.