2010 Counties Of Excellence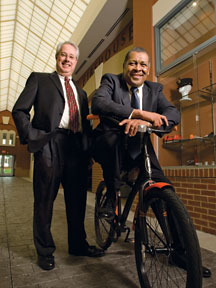 With money especially tight, counties are being called upon to do more with less. The six winners of this year's County Excellence Awards – Chatham, Cobb, Decatur, Heard, Liberty and Mitchell counties – have demonstrated an ability to provide their citizens with needed services and facilities, utilizing innovation, creativity and plain old hard work.
The competition, sponsored for the fifth year by the Association County Commissioners of Georgia (ACCG) and Georgia Trend, rewards good ideas that are well executed. Winners are selected by an independent panel of judges convened by ACCG.
The awards, says ACCG Executive Director Jerry Griffith, "showcase how counties are developing unique programs and facilities to meet the needs of their communities. This program provides a forum to celebrate their accomplishments and to inspire other local governments."
This year's projects helped deliver healthcare to the uninsured, establish a place to educate children on safety, create a wildlife management area, build a sports complex, beautify a county and reclaim a hazardous site for recreation.
"The last year has been challenging for all levels of government," says ACCG Deputy Director Ross King, "yet counties continue to identify the concerns of their citizens and develop solutions."
Chatham County
Streamlining Healthcare
Back in 2004, the Chatham County Commission asked the heads of community healthcare providers to find a way to streamline approaches to delivering their services to the uninsured, which they did by forming the Chatham County Safety Net Planning Council, to standardize the collection of medical records, patient treatment and the issuance of prescription drugs. In the process, the council also helped steer poverty-level patients seeking primary care away from the emergency room and into treatment centers and clinics, and even to specialists.
By 2009 some $1.3 million had been rounded up from grants for the project, making the effort healthy enough to hire its first executive director, Dr. Paula Reynolds. "We have such a well-established volunteer collaborative set up that we're actually one of the first, and I think probably the first, doing this for the uninsured," Reynolds says.
The council is credited with providing healthcare to a growing number in one demographic: the unemployed. "Unemployment here went from about 5 percent in 2008 to about 10 percent last year [2009], affecting not just individuals who lost their health insurance but their families as well," she says. "Also, more people have heard about us and are coming in for primary care instead of going to the emergency department. We have reduced the number of people going into the emergency department by about 5 percent every year." That, she says, is reducing the county's contributions to local emergency departments.
"We have saved millions and millions of dollars having not to pay for all those emergency room visits," says Pete Liakakis, chairman of the Chatham County Commission, who acknowledges the savings are not the only benefit the council provides. "The county's involvement in setting up [the council] has contributed to more people getting treated without going to the emergency department," he says. "And we've spread out that primary care to more places, making it more accessible."
Any Savannah citizen may go to the neighborhood fire department and have a free blood pressure check, and should the reading be high, can be steered to an appropriate treatment or diagnosis center, or even to a participating specialist.
The council took the lead in setting up an electronic medical records system that for the first time opened portals between local hospitals and Safety Net healthcare providers, helping to speed diagnosis and treatment; and a new effort is under way to put in place a central database for easily accessible patient records.
"Now disparate, separate organizations share information to provide for efficiencies in complete medical records for our patients and in tracking prescriptions and treatment," says council executive director Reynolds. "We are constantly working to streamline the process to save time and costs." And in the process, perhaps lives. – EL
Cobb County
Safety Village
Stop, drop and roll – a simple and longstanding fire safety technique – takes on a new meaning to anyone stepping into Sparky's House. It's the centerpiece of the 27,500-square-foot David Hankerson Edu-cation Building, itself part of the sprawling Cobb County Safety Village that is reshaping how the suburban Atlanta county of nearly 700,000 delivers safety education to its second- and fourth-grade students.
The hallway to the house resembles a street, complete with a replica telephone booth and small tree. The front door opens to a living room, bedroom and kitchen that, thanks to smoke machines and steam pipes installed in a door, mimic some life-threatening situations children may face at home. The students learn how respond in case of fire. More than 10,000 have rolled through the safety village since it opened in August, although it took county officials and public safety agencies more than a decade to put the idea of the training center into practice.
"We started planning and planning and planning and it took us about 10 years to go from first putting together a committee until we got the certificate of occupancy," says Cobb County Manager David Hankerson.
The idea for the safety village came from Hankerson, and when the eight-acre site and its $4.8 million safety building had a ribbon cutting in August, the occasion moved the seasoned manager to tears.
"They shocked me and surprised me to name the building after me. When you have a county manager that's been here for 17 years, most of us have been run out of town, not getting a building named after him," Hankerson says.
The safety village grew from a state mandate that counties provide fire safety training to students in second and fourth grades. As the county experienced explosive growth, Hankerson worked with public safety officials on ideas to deliver the training more efficiently than the typical method of sending firefighters into schools.
Fast-forward to 2009, and the idea of improving fire safety education has blossomed into the training facility and child-sized village that includes a scaled-down Marietta Square, commercial district, residential area and industrial tract. Its curriculum has grown from fire safety to include crime prevention, disaster preparedness, construction site safety, drug and alcohol awareness, traffic and pedestrian safety, instruction to parents on installing a child safety seat in autos and even drive-through immunizations.
Instructors include firefighters and law enforcement officers from four Cobb agencies. Engineers and architects donated their time to design the four village areas, and a public-private partnership comprises the nonprofit that oversees operations, fund raising and the construction of the scaled-down storefronts that businesses pay to put in place under 20-year leases from the county.
"It's almost irreplaceable," says Capt. Scott Dodson, the interim safety village coordinator for the Cobb County Fire Department. "Once the kids get here and they are actually able to do a lot of the different tasks hands on, it presents an entirely new learning environment for them. They retain so much more than when we were just going to the classrooms and talking to them."
For Hankerson, the village has blown past its goal of more efficiently providing safety training to students, dropping the number of staff hours required and broadening the curriculum while the county's population continues to grow. Nearly 40,000 students will experience the facility's three-hour training course by the end of the current school year and already other counties are asking if their students can attend.
"It has been a team effort of public and private and nonprofit. We've got nothing but positive support," Hankerson says. – MH
Decatur County
Preserving Wildlife
Palmer Rich has privileged memories of the stirrings of wildlife in the misty dawns at Silver Lake, an 8,400-acre tract of land in Decatur County outside Bainbridge he says looks much the same today as it did when Native Americans hunted and fished the wilderness thousands of years ago.
Rich once managed Silver Lake, when it was owned by International Paper Company (IP) and when its prehistoric beauty and populations of turkey, deer, quail, ducks and other critters could only be enjoyed by a small group of well-connected outdoorsmen.
"Now Silver Lake belongs to every Georgian," says Rich, today the chairman of the Decatur County Commis-sion and one of the leaders who helped find the $3 million his community had to raise as part of a $38.6 million fund the state of Georgia used to purchase the Silver Lake property from IP and turn it into a public Wildlife Management Area (WMA).
In addition to offering a dramatic landscape and bountiful fish and game, the Silver Lake WMA holds rare and endangered species like the red-cockaded woodpecker and go-pher turtle. "There are 150 or so plants in there that grow nowhere else but in this area," says Decatur County administrator Tom Patton.
The August 2008 opening of the Silver Lake WMA followed a hectic scramble by Decatur County commissioners and other local leaders in a partnership with state agencies, conservation groups and charitable foundations to gather the money the project required. At the same time, the county commission organized public forums to hear from local citizens and to inform them about the project.
"All of this happened in less than 18 months," Patton says. "It just so happened the opportunity corresponded with our SPLOST (Special Purpose Local Option Sales Tax) referendum."
The Silver Lake tract of land includes the 350-acre namesake body of water, as well as seven large ponds, all teeming with bream, largemouth bass and other fish that will only add to the county's reputation as an angler's paradise, thanks to nearby Lake Seminole, the Flint River and a number of creeks that surround the new WMA.
After hearing all the details, locals voted to use the SPLOST revenues to fund their $3 million contribution to the Silver Lake WMA. "Our citizens realized this was such a rare opportunity, and they are the ones who passed the issue by an overwhelming majority," Rich says. The WMA is expected to attract scientists, hunters, anglers and hikers with assets like its substantial stand of natural longleaf pines and its unique ecosystem. "This is something we can preserve for future generations, and it can never be developed or lost," Rich says.
The county is working closely with Georgia's Department of Natural Resources (DNR) in planning for ecologically sensitive infrastructure improvements at the site. "I think when the economy gets better we'll see perhaps some [lodging]," Patton says. "We've begun putting in the hiking trails."
"We're already hearing from some horse riding clubs," adds Rich. "I know the bird watchers are going to be coming when they hear about Silver Lake. This is going to boost tourism here, and it's going to protect an awful lot of natural assets." – EL
Heard County
Sports Complex
When Heard County Engineer Sammy Noles showed the engineers from Clough Harbour & Associates the property for a new sports park, an arena for team-roping was on his mind.
Organized sports in Heard County were held at the 25-acre Riverside Park on the banks of the Chattahoochee River. A pretty location, it was nonetheless the site of frequent flooding, and weeks of cleanup were often necessary before any activities could resume. In addition, the county's population had outgrown the number of fields available.
"We had so many kids that wanted to play ball, each team only got to play three or four games," explains Commissioner Sandi Allen.
Additional ball fields added some years back had squeezed out horse shows, livestock exhibitions and rodeos, forcing the Cattlemen's Association and 4-H groups into neighboring counties.
"For 50 years, the Heard County Lions Club had their horse show right here," says Noles. "After they added those fields, they [the club] had to hold it in Carroll County a couple of years, then over in Coweta County."
A roper himself, Noles knew the new park needed an arena. But the 200-acre plot of land the county had hoped to use was deemed too rocky and hilly for ball fields.
The county turned to a 154-acre parcel of land that had been purchased a decade ago for a prison. Popular opinion had turned against the idea. "The people really made themselves heard on that issue," says Allen. "They didn't want a prison here." Clough Harbour & Associates deemed the property perfect for the sports complex – but not an arena.
Bonds were issued, backed by SPLOST funds that had been earmarked for recreation, and construction began. Allen explains that while $12 million was set aside for the recreational fields, construction came in under budget. King Evans was managing the project for Clough Harbor.
"He was very frugal, a good manager of money," she says. Each time Evans would report an underage, laughs Allen, "We'd say, well, can we have another ball field?" The additions brought the total number of fields to 14, including T-ball, Little League, softball, soccer and football fields. There is a playground, walking trail and a double gymnasium with seating capacity for 450. The building also has offices, a concession area and an exercise room.
Since the completion of the new sports complex in 2008, participation in the programs has risen by at least 40 percent. Other activities have been added including karate, Pilates, babysitting classes, volleyball and wrestling.
Meanwhile, that rocky 200 acres the county owned had a level and partially cleared area of about 25 acres that was big enough for an arena. So the county moved forward on that project as well.
At a cost of $1.2 million, a 175 foot by 300 foot covered arena complete with bleachers, restrooms and state-of-the-art sound system was built. The Heard County Saddle Club offered to design and develop a horseback riding trail on the 100 wooded acres behind the arena. The trail was completed with the help of the Georgia Forestry Commission and volunteers.
Since its completion in 2008, the arena has hosted rodeos, horse shows, livestock exhibitions, a community trunk-or-treat and even a country music concert. Sammy Noles, who retired from the county in 2008, is still a roper. He volunteered to manage the schedule for the arena and is proud of its prospects for future events. – LME
Liberty County
Keeping it beautiful
In many rural counties, the "convenience centers" where people take their garbage can be located with the Hansel-and-Gretel method of navigation – by following the crumbs, or more likely, the litter along the road.
"Over 60 to 70 percent of litter is blown out rather than thrown out," explains Sara Ann Swida, executive director of Keep Liberty Beautiful. With the help of a Clean Community Challenge grant from the Department of Community Affairs, the Keep Liberty Beautiful (KLB) program developed a plan to raise awareness of "unsecured loads." The money was used to purchase banners and tarps that were given out to citizens. Educational articles in the newspapers and displays explained the issue to people.
In 2008, the Great American Cleanup continued to call attention to litter by implementing a football theme to spark some friendly rivalries among the 25 companies, seven municipalities, 12 neighborhoods, 10 schools and seven organizations. More than 4,000 volunteer hours went into picking up litter along 45 miles of roads in the county.
"We're very proud of the fact that we have over 2,000 people helping with these projects," says Swida. "That's a tremendous amount for a county of this size." She is KLB's only paid staff member and credits the involvement of more than 95 businesses and organizations for the success of the programs.
Those successes have been marked by state and national awards. In 2008, Liberty County won a second place affiliate award from Keep Georgia Beautiful and first place national award in litter prevention from Keep America Beautiful. Last year's overall program won a first place affiliate award from the state, and two national second place awards.
Swida has kicked up plastic recycling by involving the schools in national competitions. The first year, two schools were among the top 10 in the nation, and won 2,000 blue fleece jackets.
"They were beautiful," Swida says about the jackets. "You would never know they were made from [recycled] plastic." But collecting prizes is not really the goal. "The important thing is that they learned things could be made from these bottles that they never thought of."
For 2008, Swida wanted more. "We wanted to do a recycling project that would really capture the excitement of the children." They began to collect broken and used crayons. Collection points were placed not only at the schools, but also at businesses, restaurants and churches all over the county.
"The entire community was behind this," says Assistant County Administrator Bob Sprinkel. "Everyone was ex-cited." More than 119,000 crayons were collected, melted and poured into a mold. The resulting crayon – which qualified for the Guinness World Record – weighed 605-plus pounds and was nine feet eight inches tall. Its "visually rich plum color" (as described by Guinness) was named "Liberty."
Sprinkel counts the participation and partnership of businesses and citizens as one of the big successes of Keep Liberty Beautiful. In addition to bringing world renown to south Georgia and making it necessary to follow signs instead of litter to the local convenience centers, Swida's efforts are resulting in a real reduction of garbage. There has been an increase by several tons in recycling; and year-over-year scans, as well as the amount collected in roadside cleanups, have shown distinct decreases in litter. – LME
Mitchell
Cleaning Up
For more than 40 years, residents of Mitchell County had driven by the Camilla Wood Preserving Company's (CWP) plant and given little thought to the process used in turning out the big light poles that led its product line. Even when the company shut its doors in 1991 after filing bankruptcy, locals didn't fully realize the troublesome problems that affected the 40-acre site.
Then, in 1998, the U.S. Environmental Protection Agency (EPA) declared 20 acres of the CWP property a Superfund Site, a designation given to the most dangerous of the locations monitored by the agency. Next, EPA handed the locals a grant and asked them to come up with a reuse plan for the site, which was saturated with creosote and a list of other contaminants that made the very soil toxic.
The end result? Playing fields – three for soccer and one for flag football.
"I drove by that pole treatment plant for years and just thought all that was a part of life," says Benjamin Hayward, chairman of the Mitchell County Commission. Because the Superfund Site was entirely inside the Camilla city limits, the whole issue could have been viewed as a municipal problem, but the task of reclaiming the land became everyone's concern and led to a unified effort that turned a liability into an asset with many dividends.
The community quickly formed a Land Use Committee (LUC), held public forums and offered up a plan to clean up the site for use as a recreational complex. "My concern was sometimes you wonder how well the community will receive the facility in its new state when they still perhaps remember the site as it used to be," Hayward says.
Today, a once-dead zone on Mitchell County's landscape is alive with the cheers of parents and their children at the Mitchell County Recreation Complex's lighted soccer fields and flag football field.
"Soccer?" asks Marilyn Royal, executive director of the Mitchell County Development Authority and a LUC member. "We didn't have soccer before, and now look." Soccer here has become so popular that the site now hosts two seasons yearly for its participants.
"I go to the games," says commission chairman Hayward. "And there will be three or four hundred parents out there. It's really something to see."
"The county's cost was minimal after the plan was developed," says county administrator Bennett Adams. "EPA even put about two feet of sod on the site to seal off any contamination, after it was excavated, and there were some buildings made safe to use for several purposes, including the offices of our recreation department, an adult aerobics facility and a place for the storage of athletic equipment. Now we're looking at putting in walking trails on the 20 acres of woodlands there that were not in the contaminated area."
The cleanup project has improved quality of life and property values for an adjacent neighborhood, Royal says. "Any time you can take something that you think has no use and bring it up to something that has such a huge community benefit, you have improved the quality of life for everyone." – EL