Virtual Learning
Online degree programs are growing rapidly at public, private and technical schools. Experts say they should complement – not replace – the traditional college experience.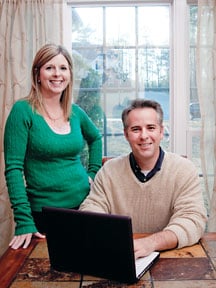 Nancy and Tony Arata of Athens are in many ways mirror images of each other, and the two also reflect the modern working couple on the go and on the way up, with barely a pause in their hectic daily schedule, except of course for that time six years ago when Nancy took a timeout – sort of – to give birth to a daughter and collect her MBA from Gainesville's Brenau University using an all-online study program.
"I worked online in the evenings at first," recalls Nancy. "Then midway through my program I actually had our little girl and then my [study] work would be all hours of the night and day because my school schedule revolved around her." Both Aratas are employed by Athens Regional Medical Center; Tony is the director of the Cardiac Intensive Care Unit, and Nancy works in the quality support department.
After watching Nancy tailor her online studies to suit her needs, Tony signed up for the same Brenau MBA program with a focus on healthcare. He hopes to be a hospital CEO one day, and her goal is to be a hospital consultant. Both say without Brenau's online study MBA program such dreams could have been out of reach. "I had a desire to go back to school," says Nancy. "And he could take it or leave it. We both like to stay busy and I think he saw me do it and he said, 'OK, my turn.'"
Tony received his MBA last May. "I wanted to complete my MBA to further advance my career," says the 40-year-old. "It was extremely convenient in that I could do my coursework at my pace and on my time."
The Aratas are examples of the flexibility demanded by today's graduate students pursuing advanced degrees, but their online experience is being duplicated at all levels of post secondary education, and for purposes as varied as the students who use distance learning to earn degrees. Last November the research firm Ambient Insight reported 12 million post-secondary students in the United States take some or all of their classes online right now, with that figure predicted to nearly double in the next five years.
"We are doubling in size every five years," says David Barnett, Brenau's associate vice president for nonresidential campus programs, referring to the number of students going online for traditional studies. Even freshmen are taking courses online to resolve schedule conflicts, save time or fit their education around extracurricular activities. Melding online studies with traditional classroom learning also is a means of expediting the trip to a degree. Such students are often referred to as "hybrids."
"There are 17 all-online degree programs here," Barnett says of Brenau. "The most interest is in graduate programs, and for undergraduates looking for a hybrid program of online and on-campus studies."
Online, or distance education semester credit hours on the campuses of the 35 institutions of the University System of Georgia (USG) increased 23 percent from the spring of 2008 to the same period in 2009; and online course offerings among those schools are increasing at a double-digit percentage rate with no end of such growth in sight, according to a USG study posted at GeorgiaOnmyLine last July. Is the classic college experience slipping into cyberspace? Are the ivy-covered walls going virtual? Is the alma mater becoming a techno tune?
Collaborative Effort
"We don't think the traditional college experience is going to go away," says Kris Biesinger (rhymes with messenger), associate vice chancellor for information and instructional technology services at the University System of Georgia. Biesinger sees the students of the future selecting online offerings according to their tastes, like campus jocks grazing at the training camp buffet. "I think what you are going to see is more and more of the on-campus, face-to-face students will augment their [course] selections with offerings from other institutions because it matches a need they have," Biesinger says. For instance, a student at the University of Georgia may choose to take online courses from Valdosta State University with full credit hours attached, she says.
And those often pesky required or core courses usually taken in the freshman and sophomore years are now just a click away. "The university system has eCore, that is the first two years of the college curriculum offered totally on-line," Biesinger says. "It's a collaborative effort across the university system to offer those courses to any student in the system to take during their college experience. It is working very well."
Students are going online to take what many of them see as the most critical step before they even sign up for a class: selecting a professor. "They can pick and choose faculty members based upon a whole array of information they can find about that faculty member," Biesinger says. "How that faculty member teaches; how much homework [is given]; what kind of grade spread was given last term; how many papers they asked for."
To be doing coursework, homework assignments, composing essays, crafting term papers and taking tests in a bathrobe at home would have been the dream of the Animal House generation that thought nothing of smuggling crib notes into the classroom. It would seem online study programs could foster an epidemic of cheating.
"There are a number of different measures that can be used in terms of pedagogical experiences: how the faculty design their assessments; how they go about interacting with their students throughout the course," says Catherine Finnegan, director of Online Instruc-tional Services for the USG. "And many of our faculty tell us they can tell. They put in essay questions and have their students put their voice into an assessment test." And there are new software programs that can work as plagiarism detectors, she says. Both Finnegan and Biesinger say they believe the incidence of online cheating today is no more or less than that in the classrooms of the past, a view held by most online learning authorities.
Another Level
The Georgia Technical College System has taken the online learning experience to another level with its Georgia Virtual Technical College (GVTC), where courses of study zip back and forth in cyberspace like excited atoms in a reactor. The GVTC is a consortium of all the technical colleges in the state, an Internet location where students can easily slide online courses from sites across the state into their on-campus experience. "It's almost like a family environment where I have my single household, which is my home technical college," says Robert Keown (pronounced Cowan), the executive director of the GVTC. "But if I need assistance from my extended family, my cousins if you will, my other technical colleges, then I can go to them via the virtual world and take [a course] online."
Georgia's technical college students find themselves drawn to this virtual world when courses they need are not being offered at their home college in a time slot suitable to them. "We're here to give the student as much flexibility and availability as we can," Keown says. The virtual college opened in the late 1990s to rave reviews from students and educators, and has since become a mainstay in the technical college system. "It is highly successful," Keown says. "There are thousands of individuals who now have training, have degrees, certificates or diplomas that otherwise would not have had that education had we not put this in place."
A new, one-of-a-kind online program that seeks to improve dropout rates was launched last year at Columbus Technical College. Called Starfish, the program integrates with ANGEL, the learning management system that structures coursework. Starfish monitors the work – and work habits – of online students, with a careful eye for those who might seem to be drifting off course or displaying other warning signs that they are struggling.
A student missing online work for an unusual period of time might get a "What's up?" email from the college's support center, a site where counseling is offered on financial matters, improving study habits and classroom performance. Danger signs shown by the student generate an email of concern that is also sent to counselors.
Columbus Tech is in the shadows of Fort Benning, the huge Army post where many soldiers are also enrolled in the school's online programs. "We have students in Iraq and Afghanistan and they have less issues [with coursework] than the ones who live two counties over," says Ray Mercer, who runs the Starfish program for Columbus Tech. A study done by the technical college before installing Starfish showed "a significant return on investment," according to Mercer. "If we retain seven students per year in the technical college system it will pay for this service," he says. "It is very cost-effective."
Some online studies in the Univer-sity System of Georgia are "franchised" by a system campus and can only be taken at one system member institution. Albany State University (ASU) offers the only criminal justice master's degree program in the state, and it's all online coursework. "That master's program was first offered in January 2009 so, of course, we started with zero students," says Virginia Stewart, vice president for Information and Instructional Technology at ASU. "Now we have 61 students in that program."
Stewart believes the online criminal justice master's program is destined to grow at a rapid rate. "Albany State is one of the few institutions in the Southeast that is fully accredited in the forensics sciences," she says. And there is the CSI factor, the explosion of television programs devoted to forensic mysteries and the scientists who solve them. "We are seeing a large number of [enrollment] leads coming in from that [television] program," Stewart says. "We've received more than 1,000 leads, and now our challenge is getting those students qualified for entry."
When Albany State moved some of its hybrid programs, those with some online study and some classroom study, into all-online study the results were a bit surprising. "The combination of moving some of the hybrid courses to online only, and the naturally growing interest in online studies resulted in a huge one-year jump in online registration from 506 to 1,445, an increase of 186 percent," Stewart says. Albany State has created another hybrid of sorts through Wimba, a software provider that puts professor and student face-to-face online.
Phoenix Rising
The granddaddy of all online study sites seems to be the University of Phoenix (UP), with classroom and online studies being offered in 41 states to more than 440,000 students. In Georgia, UP reported an enrollment of 19,200 at the end of last year. The school offers a wide variety of courses, all interchangeable with credits from the institutions in the USG. UP also offers hybrid coursework for online students, and has 11 physical campuses in Georgia, including sites in Augusta, Columbus, Savannah and eight locations in the Atlanta area.
These campuses feature a central building holding student resource centers where enrollees can receive tutoring and counseling, plus a reception area and sites for doing class assignments. Classrooms are set up in U-shape seating patterns and typically hold about 18 students. "These students are very engaged, speaking up and sharing experiences and talking about the curriculum and how they can apply it to their vocation on a daily basis," says Stephen Flatt, vice president/director for Georgia campuses of the University of Phoenix.
With an average student age of 34, there isn't much demand for proms, fraternities or sports. UP students, says Flatt, are enrolled to improve their earnings. "Our students do want to feel a sense of community, whether they are online or attending a local campus," Flatt says. "Here in Atlanta at Phillips Arena we recently held an event before an Atlanta Hawks game for our alumni [from] throughout the state of Georgia … and it was well received and well attended."
The institution offers diplomas from the two-year associate degree to the Ph.D. level. At present the most popular courses at the undergraduate level are in business administration degree programs, and the MBA programs rank highest among graduate students.