Thomson/McDuffie County: A Unique Economy
Retail sales, fox hunting and horticulture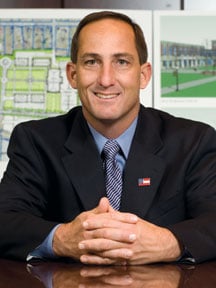 There are times when the residents of McDuffie County appear pleasantly distracted in the face of double digit unemployment, thanks to unique, even eccentric, sources for their economy.
This small county of 21,500 near Augusta enjoys annual retail sales of $360 million, due in large measure to the money deposited by travelers along Interstate 20, which slices through the community. About $40 million is generated here each year through revenues from the ornamental horticulture sector, the second highest county figure for such sales in Georgia.
In downtown Thomson, the county seat, a modest building boom has begun, with the promise of millions in new construction, renovations and other improvements slated for this year. The county is spending on infrastructure as if expecting an invasion of new residents and businesses, which leaders here say they are.
"We're just constantly doing something trying to be ready for when we get hit with the big growth [neighboring] Columbia County saw about 10 years ago," McDuffie County Commission Chair Charlie Newton says.
The Thomson-McDuffie County Regional Airport is expecting about 325 private jets to touch down during Masters Week this spring, bringing spectators to golf's premier event in nearby Augusta. If you want to see what the future will be in McDuffie County, you have to look up.
A Good Ride
Each fall hundreds of people show up in McDuffie County to ride with the hounds in pursuit of the wily foxes that patrol the woods and fields of the region. The hunters, and the visitors who watch them, are a significant part of the $17 million local tourism economy, according to Elizabeth Vance, executive director of the Thomson-McDuffie Conven-tion and Visitors Bureau.
"Fox hunting is kind of a hidden part of our local economy," Vance says. "The one-day public hunt attracts about 1,000 horseback hunters and spectators in tally-ho wagons every first Saturday in November when the Belle Meade Hunt opens the season. And they boost our lodging and food service revenues." But the sport's contribution to the local economy continues as the private hunters gallop across the landscape until March when the season ends.
"The private hunters come from all over the world, including England and Canada," Vance says. "These people come and stay for weeks, even months. They rent a house here and some of them may even own a house here that they will only use a couple of times a year."
While the familiar red riding jackets, brown breeches and black boots are part of the standard attire of riding to the hounds, these days the hounds are more likely to be chasing coyotes. "We haven't killed a fox in several years," says Epp Wilson, a master of the fox hounds and partner in Wilson Brothers, the organizer of the Belle Meade Hunt. "We chase about 99 percent coyotes. We kill about six or seven coyotes a year."
The hunters have about 20,000 acres over which to ride, including lands that have several different owners who see the coyote as threats to their livestock. "The coyotes are so bad on their sheep, goats and calves, and the coyote doesn't have a predator around here," Wilson says. "This is the only way we have to hunt the landowners' land."
Wilson Brothers boards and trains horses and hounds and teaches people how to fox hunt. "The deal is, it's the thrill of the chase; it's not about killing."
Other hunters descend on McDuffie County all through the year looking for treasure; and they, too, enjoy the thrill of the chase.
It's called geocaching, a kind of scavenger hunt in which items are hidden around the community, their location coordinates posted on the Internet and searched for by participants using handheld global positioning systems to ferret them out. Successful geocachers then post their finds on the Internet, with comments about the community. The treasures are supposed to be returned to their hideaways, but a few sometimes disappear, says the CVB's Vance.
"We started with four geocaches and now have about 100 in McDuffie County," says Vance. "We have twice now hosted the Central Savannah River Area Geocachers' annual meeting, and for three days we had 150 people in Thomson for that event." Many of the caches here are in businesses, whose owners hope treasure hunters might find something to purchase while on their quest.
New Jobs
McDuffie County has other GPS coordinates that economic developers are using to create jobs. Mike Carrington doesn't need a handheld location device to find Thomson Plastics, a manufacturer employing 270 people, with more just added. The company makes parts for Club Car, the golf cart maker in nearby Augusta. "Thomson Plastics is one of our big partners here and they just did a $3.5 million expansion, which is creating 160 new jobs for us," says Carring-ton, executive director of For-ward McDuffie, an economic development initiative and the umbrella for the Thomson-McDuffie County Chamber of Commerce, Industrial Authority and CVB.
Carrington is sitting in his car at a rusty industrial area in Thomson describing how many of the old buildings have been reclaimed and restored for new uses, including an ancient warehouse that was rehabbed and is now home to Thomson Plastics.
"This warehouse has been completely renovated and leased to them," he says. "It's about 30,000 square feet of space. The second building back there is leased partially to them and is also used for the storage of valuable old lumber and other materials." Two other aging buildings have been spruced up for use as barns for city and county vehicles.
Carrington points to a nearby wooded area recently approved by Georgia's Environmental Protection Division for building construction. "We hope to sell that pretty wooded parcel to become an active adult retirement community," he says. "Instead of wasting old properties, we're trying to reclaim them." But some old buildings are beyond repair and must be razed, allowing the land under them to find new and useful purposes.
When it became obvious that McDuffie County's 1860s-era courthouse was inadequate for the demands of the 21st century, elected officials urged residents here to approve a SPLOST (Special Purpose Local Option Sales Tax) to finance the construction of a new judicial facility and an adjacent city-county administration building, which voters did in the fall of 2008. Since then a number of declining downtown Thomson buildings have been razed to make room for the new complex.
For Commission Chairman Newton, the planned new buildings will cure a number of ills. "After the [2005] Atlanta courthouse shootings, security standards for courthouses became much more stringent," Newton says. "And this move allowed us to clear up a blighted area in downtown as well as create additional activity there and keep downtown Thomson alive."
The $12.7 million complex will use 70,000 square feet of space for city-county administrative offices and a judicial facility, and they should be ready for occupancy by the fall of 2011. "We have long-term plans for that campus area to include an amphitheater so we can have concerts downtown," Newton says. There was a time when the idea of having a crowd of concertgoers strolling through downtown Thomson might have seemed an unattainable dream. "We have such heavy traffic downtown it's dangerous," says Newton. "And that's why we don't have more activity downtown now."
Much of the truck traffic, Newton says, is generated by industries at Thomson-McDuffie West Industrial Park and by semis looking to access Interstate 20. But help is on the way. "We have an east truck route under construction right now . . . it will ease the truck traffic downtown." Planning is under way to complete a western route around town as well. And a new $13 million interchange out on I-20 will further reduce truck traffic through town, says Newton, who expects the new on-off ramps to be operational in the spring of 2012.
In addition, 70 miles of new water lines have been added to the county's infrastructure, and new sewer systems have been put in at the existing I-20 interchange and at two subdivisions. The water treatment plant has added two million gallons to its capacity. All this activity portends growth, says Newton.
Such sentiments seem widespread here and contribute to the kind of development bustle normally reserved for the best of times. But thanks to some nifty grantsmanship by leaders and some hard cash investments by citizens, Thomson and McDuffie County give every impression of being on the cusp of a new era of growth.
"That's what we think. That's what we feel. That's what we believe," says Thomson Mayor Kenneth Usry, in a measured tone. "When the government complex really gets well under way, we think we're going to see some additional traffic and activity downtown that will spur somebody to want to buy a building or rent a building and open a store."
And when that happens downtown will be ready for them, Usry says. "We got about a million dollars [in grants] we're about to spend in just one block downtown," he adds. "We have completed some streetscape projects at about $500,000 that include new sidewalks on Main Street, some streetlights and off-street parking."
A new museum with a full-time curator opened downtown in 2009. The curator is off on a treasure hunt of her own, looking for donations of local art and artifacts and tracking down traveling exhibitions for display. The old train depot downtown is about to receive a $500,000 facelift, with all the planned improvements downtown scheduled to be under way in the first quarter of this year.
Grow Dawgs
One McDuffie County business, R.A. Dudley Nurseries, Inc., is part of the robust local ornamental horticulture sector of the economy and must hold a special place in the hearts of many Georgians. The most ardent of University of Georgia football trivia fans will recognize the company's name and its link to UGA history. It was the Dudley nursery that was chosen in 1993 to take cuttings from the hallowed hedges of Sanford Stadium when its football field was reconfigured for a soccer venue in the 1996 Olympics. "We took the cuttings in 1993 and rooted them and took them out to the greenhouse," nursery owner Mike Dudley says. "We actually grew twice as many as we had to grow for fear that somebody would try to destroy them, and we had to hire security."
After the Olympics, the growing hedges were returned to Sanford Stadium in time for the first game of the 1996 season. The cuttings from the stadium were sold to Kroger for resale to fans wanting to own a little bit of history for their backyards. "The hedge cuttings were all in unique University of Georgia pots and sold from the back of a truck at the first game of the season," recalls Dudley. "But the problem was Georgia didn't have a good start that season – they lost [to Southern Mississippi, 11-7]. That hurt sales."
Employment Boost
Despite such robust activity here, there are still those who have fallen prey to a struggling national economy. Some of those who have lost jobs in McDuffie County have found new employment through the unique Georgia Work$ training program (GW$), a state Department of Labor (DOL) initiative. The GW$ is designed to offer employers a free look at a candidate for hire, paying the unemployed to audition for a job while on the job. "We find training opportunities in different businesses so they can get to the businesses and learn a new skill," says Ginger Rowland, a supervisor in the DOL's Thomson Career Center. "For the businesses it's a kind of interview in depth of a prospective employee."
Those drawing unemployment receive a small stipend attached to that check while they are enrolled in the program. "There is no guarantee that at the end of the training process they will be hired," Rowland says. "But they'll get a training certificate of completion showing that they have trained in specific skills, and that's something else to add to their resumes."
Georgia Work$ was launched by state Labor Commis-sioner Michael Thurmond in 2003, and has grown in use since 2008. More than 120 unemployed workers in McDuffie County have found jobs through the program since then, and 18 locals were participants as 2009 was ending. "It costs a lot of money to hire someone," Rowland says. "So Georgia Work$ gives the employer the opportunity to take a look at this employee and their skills to see if they are going to be a benefit to the company."
Community Snapshot
Local Leaders
Mike Carrington
Executive Director
Forward McDuffie
706.799.6353
mcarrington@thomson-mcduffie.net
Charlie Newton
Chairman
McDuffie County Commission
706.214.1233
cnewton@ thomson-mcduffie.net
Kenneth Usry
Mayor
City of Thomson
706.833.4583
kusry@thomson-mcduffie.net
Population
(2007)
County, 21,551; Thomson (county seat), 6,793; Dearing, 442.
Per capita income
(2007)
County, $27,537; Georgia, $32,095.
Unemployment
(October 2009)
County, 11.8 percent; Georgia, 10.2 percent.
Top 5 employers
McDuffie County School System, Shaw Industries, Advance Auto Parts, Walmart, McDuffie
Regional Medical Center.
Sources
U.S. Census Bureau, Georgia Department of Labor, Forward McDuffie.