The Game Changers
Georgia's 1,200-plus professional lobbyists jam the state capitol every year, spending money and wielding influence. This session they'll be facing increased scrutiny and, perhaps, tougher ethics legislation.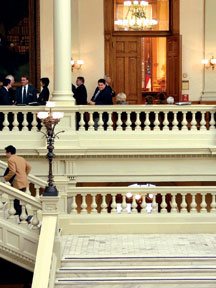 Abit Massey remembers how it was in the beginning. Fifty years ago, he was hired away from the state Department of Commerce to be the director of the Georgia Poultry Federation. As part of his job he would go to the state capitol occasionally to talk to lawmakers about matters affecting the state's chicken producers.
In other words, Massey, now a senior consultant for the federation, was a lobbyist, although it was technically a criminal activity at that time to engage in such a practice. While the provision has long since been deleted, the Georgia Constitution of 1945 (Section II, Paragraph 5) stated: "Lobbying is declared to be a crime, and the General Assembly shall enforce this provision by suitable penalties."
That was a standing joke among capitol types, of course, because lobbyists then and now have never really been brought under control and their ranks have only grown with the passage of the years.
When the lanky young man from Gainesville walked the halls in the early 1960s, he had plenty of room to maneuver and buttonhole legislators.
"There were not nearly as many lobbyists around," Massey said over lunch at a favorite lobbyists' hangout, the Six Feet Under restaurant near Atlanta's Oakland Cemetery. "There were no more than 25, would be my guess. The capitol was not as crowded. There were times when a [legislative] member would say, 'Come on in and sit with me [on the House floor] for a few minutes.' Life was simpler in those days."
Lobbyists tended to be full-time employees of the "big mules" among Georgia's corporate titans: Georgia Power, Southern Bell, C&S Bank, Atlanta Gas Light, the railroads. Nearly always they were middle-aged white males.
Legislators didn't have as much of a say in how the process worked back then. The governor appointed the House speaker and determined committee assignments for lawmakers. The budget was largely written by the governor with less input from the General Assembly.
"One year at the commerce department, we presented our budget to the governor and the state auditor, and never had to appear before a legislative committee a single time," Massey recounts.
"Not as much legislation was introduced, so you didn't have to review as many bills," he adds.
"There were not many rooms for committees. No one but the leadership had offices. You worked out of your desk and there was a secretarial pool. Many times, they'd hold a committee meeting around a chairman's desk on the floor after they'd adjourned for the day."
Numbers Growing
Simpler times, indeed. The number of lobbyists has grown over the years – it's now well north of 1,200 – with the influx of contract lobbyists, representatives of state agencies and advocates for public interest groups. They jam into the Gold Dome so tightly on some days that it's nearly impossible to get from one end of the third floor to the other.
"You almost have to wear shoulder pads and a helmet to get through the halls now," Massey observes.
Contract lobbyists started to become more prevalent in the 1980s as the number of policy issues and their complexity grew. State agencies such as the University System started sending their people to the capitol to protect their share of the budget (about 270 state employees are now registered to lobby). Hospital and healthcare lobbyists are big players who go after the huge pot of money administered by the Department of Community Health (DCH), which runs the Medicaid and Peach Care health insurance programs. DCH's budget has grown from about $5 billion (in state and federal funds) to more than $12 billion in a little more than a decade.
There was an influx of women lobbyists in the 1990s, spurred partly by the Republican upsurge in the 1994 elections. Black lobbyists also came on the scene during that decade and, while their numbers are still relatively small, people like Roy Robinson, Raymon White and Rufus Montgomery have a regular presence at the capitol.
There are more lobbyists clamoring for face time with legislators now, and they have had to adjust their tactics as the political landscape has shifted.
James E. "Jet" Toney started working for the House Information Office as a 19-year-old employee in 1976 and moved into lobbying 10 years later. He says legislators are not as much under the control of leadership now and are more likely to go their own way on an issue.
"Prior to the '90s, the seniority system held every new legislator in check for a decade," Toney says. "Because of the Internet, because of other digital means of distributing information, a new approach to serving in the General Assembly came on the scene – the advent of issues entrepreneurs.
"From that point on," Toney says, "younger legislators were less likely to seek leadership approval on issues and proposals before vetting those issues publicly. They will shop their issue in the media and on the Internet, bypassing the normal filtering process of the leadership and the committees.
"That means I have to pay attention to 236 legislators rather than 70 committee chairmen and 10 people in leadership positions. Which makes us busier."
The spread of digital technology has changed the most basic tool of a lobbyist, the face-to-face encounter with a legislator. In the old days, a page would hand-carry a message to a lawmaker on the floor asking that legislator to meet a lobbyist at the rope line outside the chamber.
"The biggest change in the last five years has been electronic communications, especially the BlackBerry," says David
Tatum, who directs the lobbying efforts of Children's Healthcare of Atlanta. "If you have a legislator's PIN number, you can get a message to them and not have to fight your way through the rope line. It's a lot more effective way to communicate."
Tatum muses: "I used to say you knew you had arrived when legislators came out of the chamber looking for you. The BlackBerry has changed that. Now, it's when they ping you and say, 'Come see me, I need your answer to the question now.'"
The use of Internet search engines has also become more widespread among lobbyists.
"If somebody makes a statement in a committee hearing, it's a very easy thing to Google that claim and see if it's accurate or not," Tatum says. "You can ping a committee member while the hearing is in process and say, 'That claim's not correct.'"
Muscle And Money
Some lobbying tactics never go out of style, especially when the stakes are high. That's when muscle and money come into play in the General Assembly.
During the 2009 session, the Georgia Power Company mounted an all-out effort to pass SB 31, a bill that was worth an estimated $1.6 billion – that's the amount of money the legislation allows the utility to charge residential and small business customers in advance payments during a six-year period when two nuclear power generators will be constructed in Waynesboro.
In the days before a crucial Senate vote on SB 31, Georgia Power bolstered its team of in-house lobbyists by hiring five contract lobbyists, including heavyweights like Pete Robinson, Arthur "Skin" Edge, Joe Tanner and Rob Willis. The legislation passed both the Senate and the House.
There was a huge outlay of money in 2007 and 2008 by Cancer Treatment Centers of America, which was trying to get legislation passed to carve out a special exemption in state law that would allow CTCA to open a facility in the Metro Atlanta area.
CTCA contributed more than $72,000 to the campaign accounts of legislators during the 2006-08 period, concentrating its money on the leadership and lawmakers who sat on the committees that handled the bill. The largesse recipients included Rep. Sharon Cooper (R-Marietta), who chaired both of the House committees that had jurisdiction over the CTCA legislation. Influential lawmakers like Sen. Tommie Williams (R-Lyons) were flown at corporate expense to visit CTCA facilities across the country.
The strategy worked, as the bill finally passed the Senate and House in 2008.
During the 2007 session, AT&T flooded the zone with an estimated 40 lobbyists to push through a cable TV deregulation bill that the legislature eventually adopted.
Feeding, Schmoozing
The number of free trips and meals lobbyists will provide to legislators, particularly those in leadership positions, can be staggering.
Reporters for Morris Newspapers and The Atlanta Journal-Constitution combed through the disclosure reports filed with the State Ethics Commission a couple of years ago and determined that lobbyists spent $11,809 entertaining House Majority Leader Jerry Keen (R-St. Simons) during 2007, an outlay that included at least 70 dinners.
Keen wasn't even the biggest beneficiary of lobbyist schmoozing that year – according to disclosure reports, lobbyists spent more than $13,000 apiece on then-House Speaker Glenn Richardson (R-Hiram) and then-Speaker Pro Tem Mark Burkhalter (R-Johns Creek).
"Everybody expects to be fed," one lobbyist observes. "The last day of the session, you used to see Varsity hot dogs and hamburgers for legislators. Now it's four-course meals with fine cuisine."
As the year 2009 came to an end, a bright media spotlight was trained on another trend in lobbying: the deployment of attractive young females to get attention and votes from the male-dominated legislative leadership.
This particular issue surfaced in a major way in January 2007 when Democratic Party Chairman Bobby Kahn filed an ethics complaint alleging that House Speaker Richardson had an "inappropriate relationship" with an Atlanta Gas Light lobbyist in 2006, a period when Richardson was also trying to get legislation passed that would have provided Atlanta Gas Light with a cross-state pipeline worth an estimated $300 million.
Richardson denounced Kahn's filing, although he didn't deny the specific allegation at the heart of it, and the complaint was quickly dismissed by a panel of legislators.
Richardson's wife Susan divorced him several months later, however, and on the evening of last Nov. 30, an Atlanta TV station broadcast an explosive interview of Susan Richardson conducted by Fox 5 investigative reporter Dale Russell.
When Russell asked Susan Richardson about the "alleged inappropriate relationship" between her former husband and a lobbyist, she responded, "It's not an alleged inappropriate relationship. It was a full-out affair and I knew about it."
Within 72 hours of that dramatic disclosure, Richardson was forced to resign as speaker, and politicians from both parties started clamoring for stricter ethics laws to control the behavior of legislators and lobbyists.
Both male and female lobbyists are reluctant to discuss these sexual dynamics on the record because of the sensitivity of the subject, but the phenomenon is widely acknowledged around the capitol.
"Women present an interesting challenge for us old, bald-headed farts," a middle-aged lobbyist confesses. "You can be having the most substantive conversation with a legislator, and if a young blonde in a short skirt walks up and says something to him, my conversation is over."
Still, not all female lobbyists at the Gold Dome are there simply as eye candy; many are committed advocates.
"There are women down there who really believe in the process, and they have causes they are passionate about," says Dawn Rudolph, who has lobbied for several public interest groups over the years.
"It sounds sensational and it's wrong for the sex scandal to happen, but there are good men and good women who practice the craft and do it ethically," she says.
"It still is, to some degree, hard to break in to the good ol' boy network," says another female lobbyist who emphasizes that she tries to do her job ethically. "I don't think the good ol' boy is gone. But I don't see it as a hindrance to me getting my job done. I made it a point to always have clear boundaries between my personal life and professional life."
She notes that legislators will be under a lot of pressure in the 2010 session to finally pull in the reins on some of the lobbyists' favorite practices, forcing them again to adjust the way they ply their trade.
"The last few weeks have shed a light on how big the stakes have gotten and how the world has changed," she said during an interview conducted the week after Richardson's resignation.
"It should be a wakeup call to the people in my world. It's going to result in a lot of ethics legislation, and I don't think that's a bad thing."
Abit Massey, who is not young, blonde or female, says that no matter how the controversy eventually plays out, lobbyists will always be judged by how well they get their message across to lawmakers.
"The same principle still applies, of course: having the right cause and the right information, and presenting it at the right time," he says.