Blairsville/Union County: Ready For Rebound
Planning for better times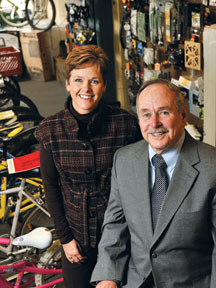 For the last decade a steady stream of people have been traveling north up Georgia Highway 515 bound for Union County and its lush forests and rushing streams. Many have stayed, fueling a home building boom that has transformed this once rural farming community into a destination for retirees and those who just want to get away from it all.
That was then. Now Union and its single city of Blairsville are a good example of what happens to an area when growth (which was averaging about four percent a year) comes to a halt.
In those days people were talking about how to manage all the people and expansion since it was pretty impossible to really control it, says longtime sole County Commissioner Lamar Paris.
"Now we're seeing that a lot of things we put in place to manage growth may be a little too restrictive," he says. "We want to encourage growth."
Sitting in his brightly lit office with glass walls overlooking the green fairways of Butternut Creek Golf Course, it's easy to understand what lured so many here. There are the green forests stretching out to misty mountains on the horizon. Lakes beckon boaters and fishermen alike. For many this natural wonderland has been the prefect respite from bustling cities such as Atlanta or the heat of Florida.
Over the years, Paris says, people come up to visit, eventually buy a cabin and finally retire to a house on an acre lot. Their children and grandchildren follow, looking for jobs and a chance to put down roots. Then the cycle starts all over again.
That was the pattern that helped create a construction and real estate industry that was a major employer. Now many of those folks are idle as home lots stand empty. The buyers just aren't arriving as they used to because they can't sell their first homes, or they may have lost their jobs thanks to this bear of a recession.
Like other counties in the state, Union is seeking to position itself to emerge from the economic downturn in good shape to start growing again. Unlike others, officials here are doing it without downsizing government employees or axing spending projects. In fact, money from local SPLOST (Special Purpose Local Option Sales Tax) funds is flowing freely these days as part of what Paris calls a local economic stimulus package.
"Maybe when this is all over they'll say we were dumb spending money when times are bad," Paris says. "But I feel like we need to do all we can to keep our people at work."
With Union boasting "more construction contractors per capita than any county in the state," Paris wanted to put as many idled workers back on the job as possible. It started with identifying some 20 road projects that, while not urgent, needed to be done. Then jobs were each assigned to different companies that provided a set price for the work. Over the last eight months, about $1 million has gone into construction efforts that have kept machinery and workers going. He expects to spend another half million before it's done.
From the commissioner's point of view, if the county is to emerge from this recession ready to compete for jobs and business, it can't pull back and let needed work and infrastructure im-provements go undone.
Pointing across the golf course to the hill where the aging pro shop and community center stands, Paris says that once final clearance comes down from Washington the county will start work on a new $5 million facility. It will include not just the shop, but a home for the chamber of commerce and economic development authority.
"When you walk out the back you'll be looking out on this scene," he says of the well-kept fairways and mountains in the distance. "I think that will also give us an edge when it comes to recruiting new business and industry."
Making Improvements
The scenery is a big part of what they call quality of life, but it doesn't end there. The county is also busy adding trails and footbridges to its popular Meigs Park – a prime attraction. A new 1,200-seat outdoor amphitheatre is to be constructed with $1.5 million in SPLOST money. Other funds will be used to remodel an old hospital building into a courthouse annex, construct a new library and perhaps expand the county jail.
Of course, Paris hasn't been able to do everything that he'd like. The recession has also depressed sales tax collections from a projected $31.6 million over six years down to about $20 million.
The improvements are designed to make Union more attractive to companies – particularly the small firms that have found homes in its two industrial parks. They include small operators such as Corrugated Replacements, a maker of machined replacement parts for corrugated box machines, and Panel-Built, Inc., which produces modular building products for warehouses and offices.
Although the phone hasn't exactly been ringing off the hook lately, economic developers are starting to detect the first hints of a recovery.
"In the past few months we've seen a slight uptick in interest," says Mitch Griggs, executive director of the Union County Development Authority. "It's a blip in the late spring, but it's clear that people are just not ready yet to pull the trigger."
When they do, the county wants to be ready as a place that is business friendly and has continued to build infrastructure even as competitors have pulled back. Locals think that a can-do attitude will attract those companies that are similarly inclined – as it has already.
A good example of the local entrepreneurial spirit can be found at the Blairsville plant that bottles water for shipment worldwide. After the company was acquired by beverage giant Cott, which distributes bottled and canned carbonated beverages under private label and branded names, it was faced with a dilemma.
The parent company wasn't interested in making further investments to up bottling capacity. That fact put the plant on the chopping block because its low output and relatively high costs made it uneconomical.
The answer was modernizing equipment, but how to do that when your parent company doesn't even want to pay for shipping it to you? First plant personnel began searching for equipment from other recently closed plants. The management team even rented a flat bed truck and drove to a plant in Indiana to retrieve equipment. Almost overnight they were able to double production.
To cut costs, the company acquired a "blow modeling" kit for shaping bottles. This process is used to produce hollow objects from compact thermoplastic, a process that fostered economies in shipping bottles to the plant.
Expanding companies also mean more people can stay in Union County rather than commuting to other areas for jobs. Currently about 28 percent leave every day for surrounding areas.
Supporting Tourism
Local officials haven't forgotten about their biggest driver for economic development – tourism. Getting people to visit has traditionally led to further development – whether it's retail stores to serve hikers or cabins and houses for those seeking a new home.
While the numbers have dropped recently, tourism will continue to drive the economy as it recovers in the long term, according to Cindy Williams, president of the Blairsville-Union County Chamber of Commerce. In fact, as the economy improves elsewhere it's going to drive further development here, she adds.
"We have found that a tremendous number of people from Florida are relocating and wanting to move up, but have a home to sell," she says. "Prior to the downturn we were seeing a lot of subdivisions pop up and, again, [construction] being a main industry here. People were building homes as fast as they could sell them and everything was great."
More people will also prove attractive to retailers. A new Walmart Supercenter recently opened just outside of Blairsville on 515, marking a major boost to retail activity. Prior to its opening, Union County was losing considerable sales to surrounding communities. "These were not only sales dollars that we as a community were losing and pumping into other local economies, but also sales taxes that we were losing," says Griggs.
The Walmart was not only eager to put down roots here but readily agreed to change the design of its outside façade to conform to the hometown look the county has been trying to achieve. About 300 locals are working there now and on a typical weekend the vast parking lot is filled with cars.
While Walmart is pulling in more traffic, businesses grouped around the Blairsville town square are holding on, hoping for an upsurge in year-end sales, according to Janet Hartman, director of the Blairsville Downtown Development Authority.
"It's been a tough year to get through, but they're hoping things will pick up," she says. "It's a struggle, and a few have said if the holiday season isn't strong for them they're not sure that they're going to be able to stay in business."
Blairsville Mayor Jim Conley agrees that times are harder now for local businesses as home building has suffered and tourism has dropped off.
"If you don't have the traffic, you don't have the opportunity to serve or sell," he says. "The numbers as far as people coming to the area are down. The fall numbers have been great, but during the course of the year they've dropped quite a bit."
Downtown Upswing
Yet retailers – at least new ones – can be eternal optimists. Even as some struggle, other stores continue to open. In recent months a new candle shop moved in, and a bike and skateboard store relocated to the downtown area from farther out. They have been joined by new restaurants, and more are beginning to look at the idea that Blairsville could be a good place for business.
"Some business folks feel that the downtown is going to have a spark here soon and they want to be a part of it," says Hartman.
To encourage that thinking, the development authority has been busy sponsoring local festivals and encouraging shop owners to band together to do joint marketing.
The centerpiece of downtown is the stately and historic courthouse, which now serves as a museum and headquarters for the local historical society. In recent months it's also been the venue for a series of concerts that are drawing more people to the city center.
To make the downtown more "pedestrian friendly," the city is planning to use federal transportation grants for streetscape improvements including better sidewalks and lighting, according to Conley.
In addition, stores can obtain funding for façade improvements, and several have taken advantage of the program recently, he adds.
"From a development authority standpoint we really want to maintain the look and feel of Blairsville," says Hartman. "We encourage the owners to maintain the character of the building or bring it back to its original state if they've made renovations in the past that added things to the façade that weren't part of the original. Our focus is to maintain the character and heritage of the small town Blairsville has always been."
That character and the natural beauty that surround it are at the heart of what makes this area such an attraction for both newcomers and long-term residents as well.
Community Snapshot
Local Leaders
Lamar Paris
Union County Commissioner
706.439.6000
Mitch Griggs
Executive Director
Union County
Development Authority
706.745.4500
mitch@ucda.net
Cindy Williams
President
Blairsville-Union County
Chamber of Commerce
706.745.5789
President@blairsvillechamber.com
Population
(2008)
Union County, 21,351, Blairsville (county seat), 720
Per Capita Income
(2008)
Union County $24,761Georgia $32,299
Unemployment
(September 2009)
Union County, 9 percent, Georgia, 10.2 percent
Major employers
Union General Hospital and Nursing Home, United Community Bank, Union County Schools, Walmart Stores, Brasstown Valley Resort, Union County Government, Blue Ridge Mountain EMC
Sources
Georgia Dept. of Labor, U.S. Census Bureau, Union County Development Authority