Americus/Sumter County: Renewal And Recovery
Healthcare leads the way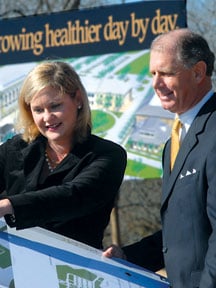 A marker in downtown Americus shows the site of a Confederate hospital that burned to the ground in an 1864 fire that forced thousands of patients into the homes of townspeople, and later into the tents of a makeshift hospital. History all but repeated itself 143 years later when a tornado leveled Sumter Regional Hospital in March 2007, forcing the evacuation of patients to Albany's Phoebe Putney Memorial Hospital some 45 miles away. The 21st century tragedy came just after the hospital had finished a successful capital campaign, opened a new wellness center and purchased new and much needed equipment. And the swirling winds took much more from the community.
"We lost, I would say, at least half of our medical staff," says Laura Gill, a hospital board member. "They had no place to practice and we were left with a shell." In fact, the hospital's employment dropped from 700 before the tornado to its present 400. But today the impromptu marriage made with Phoebe Putney after the tornado has yielded a healthy offspring, Phoebe Sumter Medical Center (PSMC), with some new faces arriving in Americus and some familiar ones returning.
A groundbreaking ceremony was held last November for the new hospital and three medical office buildings to be placed on 40 acres of a 240-acre site southwest of the downtown business district. Significant to Gill is the arrival of new physicians to Americus. "Two of them went to Phoebe and came back as hospitalists, doctors who are employed by the hospital," she says. "And we have a new general surgeon. In all, we have four new doctors. Recruiting new doctors is critical to Sumter County's economic development, and we're turning the corner now."
The new hospital is going up in an underdeveloped part of town, and many residents expect further development there. "We're starting a one-million-dollar water [system] expansion out there," says Americus Mayor Barry Blount. "And I do think you will see that area beginning to grow new businesses."
Healthy Atmosphere
For Paul Hall, the new hospital is but one of a number of unfolding stories that promise new businesses and a better quality of life in the community where he has lived and worked for 45 years. "Businesses looking to relocate here look first at healthcare facilities," says Hall, the chairman of the board of the Americus-Sumter County Payroll Development Authority (PDA). "And they look at the character of a community and its ability to pull together."
In his view, Sumter County has met those tests, and is building for the future with exciting innovations in a rail transportation network designed to get goods produced locally to the coastal ports and beyond.
Hall is also chairman of the board of Mullite Company of America, an Andersonville industrial mineral processor that sends one-third of its products to the Port of Savannah for shipment overseas.
"I do not know of another community where there is a short-line railroad that within a distance of 35 miles can connect you to the two major rail lines in the Southeastern United States," he says. That, he says, provides connections to the port at Savannah. "The climate here for small business development is excellent, with assets like the university and the technical college," Hall says. "The historic Americus downtown continues to develop and increase business."
After opening shop in 2008 with about 20 employees, PharmaCentra, a patient assistance contact center, quickly doubled its number of workers in Sumter County, thanks to a consolidation of two other Georgia centers at its Americus site and aggressive recruiting programs for both customers and new hires. "Our employees are actually healthcare specialists and are trained in pretty complicated disease therapy," says Dan Berman, PharmaCentra's CEO. "They get the same training that pharmaceutical reps are getting. We expect this year to grow our Americus operation to 100, if not larger, and we're constantly looking for qualified people in specific areas."
The company traces its past and anticipated growth to dramatic changes in marketing practices in the pharmaceutical industry. "Their whole business model has been turned on its head," Berman says. Instead of the traditional, and more expensive, pharmaceutical reps, the industry is turning to companies like PharmaCentra to get products before physicians and into the hands of patients.
Apollo Health Street (AHS) is a leading international technical support company for the healthcare industry with 113 employees at its Americus facility, a number that has fluctuated wildly during the highs and lows of the economy since the company arrived in 2004.
"We grown; we've shrunk; we've grown; and now we're going through the economic downturn like everybody else," says Joseph DiValerio, the director of global operations for the company.
"But we're in the process of bouncing back. We've changed our focus on the type of customer we're targeting. We're going with a new product set called managed services support, and we've had a lot of success with that over the past six months."
When Apollo and PharmaCentra bring their prospective clients to Americus, the out-of-towners also get a look at the healthcare education and training available. "I've been to just about all those meetings," says Wally Summers, vice president for economic development for South Georgia Tech-nical College. "PharmaCentra uses our regular courses in medical assisting, nursing and marketing. And with the layoffs we've had at the hospital because of the tornado, some of the hospital's former employees have found employment with PharmaCentra."
Coming Back
Brad Lafevers is a railroad entrepreneur who was riding high on a resurgence of freight traffic before the national economy went off track. "Back in 2007 before this recession began, railroads were experiencing record traffic to the point where we were in a capacity squeeze," says Lafevers at the railside offices of Atlantic Western Transportation, Inc. (AWT) in Americus where he serves as president and CEO. "We just didn't have enough rail out there to handle all the cars we were trying to move. This year rail traffic is down about 25 percent, but it is slowly starting to come back."
AWT is the parent of Heart of Georgia Railroad, known locally as "the HOG." It can be connected to Norfolk Southern and CSX, major carriers on the rail network of the Southeast; and that connection is central to a plan to link Americus to the ports of coastal Georgia via an inland port being developed in Cordele just 30 minutes away. "Both of the major eastern U.S. carriers are represented here in Americus," Lafevers says. "Railroads are still very impactful in this town. Without them much of the industry we have here would go away."
Lafevers' partner in the train business, Duane Broxterman, sees the landlocked port as having near magical economic powers. "The inland port facility will be for the next 10 or 20 years at the forefront of economic development in this region," Broxterman says. "Anybody that needs access to the Port of Savannah can locate in this area and essentially be overnight away from the port, and that means Americus. We anticipate over time we will have new distribution and manufacturing companies. We have the land, the buildings and the [tax] incentives to attract industry."
Broxterman heads up AWT's South-east Rail Car division, a train car repair facility in Americus that has a 90-day backlog of work orders. Begun in 2007 with "one little building and a welder and cutting torch," the repair shop has grown into a larger building and now has more than 20 employees and an annual payroll approaching $1 million. Much of the growth was funded with loans from the OneGeorgia Authority and the Americus-Sumter Payroll Development Authority.
Melanie Grace tracks another transportation issue for Americus – tourism, an industry that generated nearly $34 million in revenues in 2008, according to data collected by her Americus-Sumter County Tourism Council, which she serves as executive director. "People are not traveling the way they used to but they are still traveling," Grace says. "They may not be getting as far away from home and are exploring things closer to home. And that's led us to do a lot of collaborative marketing in the region."
Grace is forecasting further growth in tourism thanks to one particular collaborative effort called the Magnolia Highway, a cultural and sightseeing trail running from Atlanta to St. Petersburg. "We want to show travelers some things they can't see on the interstate," Grace says.
Playing Through
A new program being launched at Georgia Southwestern State University (GSW) will provide a unique approach to turning the skills and talents of golf-loving students into careers. Shaun Murie is director of the Professional Golf Management program at GSW's School of Business Administration, the only such program in the state and one of only a few in the nation.
"The old golf pro that stays out on the driving range and gives lessons all day has gone away," Murie says. "What is wanted now is someone who can run a business, someone who can make the revenue numbers and control expenses and someone who is well versed in all the areas of the golf business."
Approved by the Professional Golfers Association (PGA), the business-of-golf classes, which begin this fall, will lead to a BBA that can get its holder into sales, club management or product design, or lead to a job as a club pro.
"You do have to show the ability to play golf at a pretty high level," Murie says. With the popularity of golf rising across the globe, particularly in new and growing economies, Murie believes the golf business degree will easily open doors.
When the old Americus Golf Club was acquired by GSW several years ago, the 18 holes became a unique part of the university's campus, and opened the door for the new study program, with a little help from a friend of the university.
"Judge Bell was extremely instrumental in getting this program started," says Murie, referring to the late Americus native Griffin Bell, a former federal judge, attorney general of the U.S. and advisor to Presidents. "He was involved in almost every small detail you could think of." Sadly, Bell died just before the program was approved by the Board of Regents.
Georgia Southwestern is in line for another boost in the form of approval and funding from the University System of Georgia (USG) for the design phase of a planned $15-million Health and Human Sciences Building. The HHS facility would include a state-of-the-art simulation center, a kind of virtual hospital with authentic equipment specific to surgery, intensive care and all the other moving parts of a modern hospital. With the USG bombarded by construction funding requests from around the state, the design funds were in a holding pattern for a while.
"We finally got there," says GSW president Dr. Kendall Blanchard, who still waits for the funds to begin construction. "We'll add about 25 percent to our roughly 150 a year health care professional graduates," he says. "And 90 to 100 percent of our nursing graduates who take the [certification] test pass, which is very high."
Blanchard estimates that some $70 million in construction funding has landed on campus during the past five years, with significant amounts for new residences. "We want to become known as the place transfer students think about first when they complete their associate degree at one of the public two-year colleges … and are interested in going on to earn a four-year degree," Blanchard says.
Product Diversity
At TSG in Americus, the diversity of its products ranges from the chevron-shaped sticky applications that keep toupees firmly on bald pates to parts for smart bombs. The TSG manufacturing floor is dotted with workstations churning out parts for appliances, lighting fixtures, snow blowers, automobiles and air conditioners.
"Our core business is die cutting and gasketing," says Reagan Barks-dale, TSG's president. "Our focus is to be in the major OEMs (original equipment manufacturers). We want to be a supplier that's customer specific so we can be the best in supplying those specific customers. With those major OEMs you're talking about multimillion dollar accounts, accounts we can grow in." TSG has grown from 30 employees in 2004 to about 55 today, but there are hints of more to come. "It's been steady growth," Barksdale says. "We had a record year in 2008 and we feel like 2010 will be a record year for us."
For David Garriga, homegrown companies like TSG provide stability and build community pride. "I'm glad to have a cluster of small businesses because they provide the kind of diversity that can protect us in economic times like we're in now," says Garriga, executive director of the Americus-Sumter County Payroll Development Authority. "We've certainly lost companies, especially in the manufacturing sector. But we've also gained a lot of ground, particularly in the telecommunications side. Our new hospital is already drawing doctors and other healthcare workers. That tornado affected us, certainly, but we are not going to let it define us."
For Brent Williams, chairman of the Sumter County Commission, the de-struction wrought by the 2007 tornado affirmed a few long-held beliefs in his community. "Because of the close working relationship between the city and the county we were able to weather that storm, and in its aftermath we are seeing new structures going up and the community recovering. We see a brighter future. I think if anything, we are working closer together."
Sumter Countians in rural areas should soon see a reduction in the cost of fire insurance and may see faster responses to medical emergency incidents, according to Williams. "We are about to put fire departments throughout the county," Williams says. "And most of the firemen are also EMTs [emergency medical technicians]. Our estimate is that this wider availability will reduce insurance costs by several hundred dollars a year, and we'll be getting additional medical protection." Williams says all of this is being accomplished with no increase in taxes and only a small amount of funding from the county's Special Purpose Local Option Sales Tax.
Community Snapshot
Local Leaders
David Garriga
Executive Director
Americus-Sumter County Payroll Development Authority
229-924-7007
dgarriga@aspda.com
Wally Summers
Vice President for Economic Development
South Georgia Technical College
229-931-2040
wsummers@southgatech.edu
Barry Blount
Mayor
City of Americus
229-931-0111
bblount@psbcol.com
Population
(2007)
Sumter County, 32,532; Americus (county seat), 16,545; Andersonville, 338; DeSoto, 206; Leslie, 437; Plains, 608.
Unemployment
(September 2009)
Sumter County, 13.2 percent;
Georgia, 10.1 percent
Per Capita Income
(2006)
Sumter County, $25,059;
Georgia, $32,059
Top Five Employers:
Sumter County School System, Cooper Lighting, Phoebe Sumter Medical Center, Magnolia Manor, Habitat for Humanity
Sources
U.S. Census Bureau, Georgia Department of Labor, Americus-Sumter Payroll Development Authority.