Southwest Georgia: Optimism Reigns
An inland port and a strong agricultural base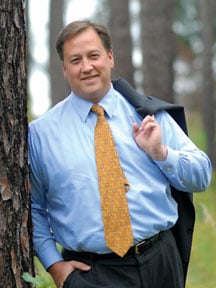 By the time unemployment figures for Southwest Georgia counties were announced last August the region's optimism index was already at a two-year high, thanks to a number of announcements that promised more jobs, the better-paying kind, and more capital investments, the large kind.
More than half of the region's 24 counties were enjoying improvements or at least stability in the jobless rate, with Albany and Valdosta, the two retail and finance anchors in the southwest corner of the state, showing unemployment drops of 5 percent and 2 percent, respectively, in the July to August period.
And if one recently announced project here stays on track, the demand for new workers could be in the thousands over the next five years. Meanwhile, a majority of the region's counties continue to depend on an ancient stabilizing force, agriculture, to help make themselves "recession resistant."
It's being called "the South Georgia equivalent of the Kia plant," but it once seemed like a wild idea that could never take root. Yet promoters of an inland port for Georgia in the heart of the state's farmlands, and 200 miles from the coast, saw the idea as a simple one that would use Interstate 75, rail lines and other highways to link the region to the Port of Savannah, creating 3,000 to 4,000 new jobs with higher-than-average wages.
So, to true believers it seemed perfectly natural when word came from Crisp County this year that the groundbreaking for the Cordele Intermodal Center (CIC) would take place around the dawn of 2010.
"We've got about 850 acres, so we envision [warehouses] of anywhere from 100,000 square feet to 1 million square feet," says Bruce Drennan, executive director of the Cordele-Crisp County Industrial Development Council. "We will be shipping containers from Cordele to Savannah in the first quarter of 2010."
The Cordele Intermodal Center is modeled after Front Royal, a successful inland distribution facility serving Virginia's Norfolk port, some 200 miles away. Under a plan designed by Georgia Tech consultants, the CIC will take cargo from southwest Georgia, put it in containers and ship it by rail to the Port of Savannah for delivery overseas. And it will take containers from the port and forward them by rail to the CIC to be distributed to cities within about a 400-mile radius of Cordele. The lure for industry in the region is obvious. "You can ship four containers by rail for what it costs to ship one by truck," Drennan says.
Drennan expects about 100 new jobs to be created immediately at the CIC, with another 3,000 to 4,000 well-paying logistics jobs coming over the next five years.
"The Front Royal port has been in existence for about 15 years and they attribute about 15,000 [regional] direct jobs being created as a result of that inland port," he says. "I don't see why we couldn't have the same economic effect here. The [state] economic development folks are looking at this as the South Georgia equivalent of the Kia plant."
Tifton Expansion
The regional logistics theme continues in Tifton, about 40 miles down I-75 south of Cordele where a recent expansion announcement has been linked to the ease of getting goods in and out of Tift County by truck. "We're looking at 350 new jobs, 300,000 square feet of space being added to our Heatcraft plant," says Brad Day, executive director of the Tifton-Tift County Economic Devel-opment Authority. "And that represents a $20 million private investment by the company."
Heatcraft, a division of Lennox, the heating and air giant, manufactures refrigeration coils. The company received about $2.5 million in local and state incentives to aid in the expansion.
"Heatcraft is a longtime member of the community, and this expansion brings their employment to more than 600,"
Day says. "We have also had some successes in small companies that see Tifton as a key location in a distribution corridor. I don't think a lot of people know that Tifton ranks fifth in the state in the volume of interstate trucking."
Tift County farmers produce some $101 million worth of vegetables annually, and all those local truckers help get that produce to the dinner table. "We continue to be a state leader in vegetable production. We're not going to be a factory town, and we're not going to be a one-industry town," Day says. "We stay recession resistant by having a lot of small and diverse farms."
Day is constantly looking for – and finding – economic development links to agriculture and, he says, it appears biomass energy production is the hottest prospect for new regional projects and jobs.
"For the fourth year in a row, Tifton was the host this year of the Southeastern U.S. Bioenergy Forum," Day says. "We welcomed people from 23 countries and more than 30 states, all Ph.D. types. And then we have these two biomass generating facilities announced for this region. And within 50 miles of Tifton we have more biomass [sources] than most parts of the rest of the world."
To help turn all that biomass into jobs, Tifton's University of Georgia campus and Abraham Baldwin Agricultural College have joined with Moultrie Technical College's Tifton campus to create a new study program in forestry, says Day. "That's important because there is a shortage of foresters in the state; we've always had to import them."
With trees being the prime source of biomass fuel, economic developers such as Valdosta's Brad Lofton have a heightened interest in the forests of the region and those who tend them. For more than two years Lofton, executive director of the Valdosta-Lowndes County Industrial Authority, had been working with executives of Wiregrass Power LLC to locate a biomass electricity-generating plant in his community. So the September announcement that Wiregrass would land a 40-megawatt biomass energy producing facility in Lowndes County was good news on a number of fronts.
"It's a $110-million investment and 25 new jobs," Lofton says. "And it's going up on a site next to our Mud Creek wastewater treatment plant." The Wiregrass plant will require about 750,000 gallons of water daily, which it will get, and pay for, in reclaimed water from the nearby treatment plant, offering an unexpected benefit. "We were just treating that water and putting it in the creek," Lofton says. "Now we'll be putting that reclaimed water to use, keeping it out of the creek and generating revenue for the city."
The Wiregrass facility will be powered by clean wood waste that would otherwise go unused, with the electricity sold to Georgia utilities. The plant is expected to break ground in 2010, with electricity flowing out in 2012.
Another alternative energy production facility in Mitchell County, FUEL LLC, celebrated its first anniversary of operations this year after battling through a hailstorm of adversity. The plant uses corn in the production of ethanol, a plentiful crop across the country. But availability wasn't the problem. "Everything that could have happened to that plant happened last year," says Marilyn Royal, executive director of the Mitchell County Development Authority, and part of the brainstorming team that gave birth to FUEL. "The economy sank, gas prices went up, corn prices went up, and that plant just kept chugging along with its 60 employees working every day."
FUEL represented a $170 million investment in Mitchell County when it began operations in October 2008, a sizable amount of money in a farming county of 25,000 people. "But there was more to that than those millions," Royal says. "We were trying to find something that would benefit our farmers, create jobs and get some money circulating in our retail sector."
Led by Mitchell County businessman Murray Campbell – locals call him an "ethanol pioneer" – FUEL was two years in the making and backed by a number of local investors, with farmers and retailers cheering it on, as well as Dan Bollinger, executive director of the Southwest Georgia Regional Commis-sion (RDC).
"They're running at 94 or 95 percent production capability and they're selling their product every day," says Bollinger, whose RDC is an economic development player in 14 counties at the heart of the region. "Their margins are not as healthy as they would like to see them, and that has to do with the price of corn. They are doing well, especially considering they are a startup operation. They are still the only ethanol plant in the Southeast and they have good, strong markets."
Bollinger regularly checks the health of the counties in his service area and is finding economic conditions are im-proving. "The region as a whole is holding its own," he says. "I think the job losses that have occurred are all that will occur. I think we're going to start seeing some jobs coming back."
Saving Jobs
In recent times economic developers such as Thomasville's Don Sims have found success can come with just keeping jobs from leaving. "We got some real good news when the announced closing of our Southwestern State Hospital mental health facility was rescinded," says Sims, president of the Thomasville-Thomas County Chamber of Commerce. "Some people might think we didn't gain anything, but that's 900 employees that will be saved for the community."
Sims credits the change-of-mind to the fact that the Southwestern State Hospital is the newest of seven such facilities in the state and has a low turnover rate due to tailored education and training programs at local and regional institutions of higher learning. "But when it comes to good news on new jobs, we couldn't be more excited about the building going up for Senior Life, the life insurance company," Sims says. "That company started here then looked in Florida and all around for a site for their headquarters and a call center and then in late summer announced Thomasville as their selection. That is going to add 200 jobs and will be about a $9 million investment on the site and a 40,000-square-foot building."
Lee County has been the region's fastest growing and most prosperous community for years, and though recent national and state economic conditions have slowed growth here from a sprint to a stroll, new jobs and investments continue to be announced. In the county's Oakland Meadows Industrial Park, Triangle Chemical Company is expected to open its new facility by the end of the month and add about 20 jobs to the local economy. "And we have closed on 14 acres in that park to an investor that plans to break ground in mid-2010," says Winston Oxford, executive director of the Lee County Development Authority. "That facility will employ 80 to 90 people. The name of the company is yet to be announced."
The county has long depended on taxes from a vibrant retail sales sector and that's only going to get better. "We're excited about the [recent] groundbreaking of a new Publix supermarket on [U.S.] Highway 19 and the Forrester Parkway," Oxford says. "That development is going to be the catalyst for more commercial development within that corridor. Heritage Bank will be going vertical across the street within the year, and we are expecting to see a new drugstore and several new professional buildings in that area. We are also pleased to see all kinds of due diligence being done on all three commercial corridors within Lee County.
Lee's neighbor, Dougherty County, is watching for activity on an underdeveloped area around its Marine Base, an economic engine that sends $600 million into the region in payrolls, pensions and contracts. This year's announcement of the military zone designation for three census tracts around the base should provide incentives for a wide range of businesses, says Ted Clem, president of the Albany-Dougherty Economic Development Commission.
"That is a great advantage for us because we can attract any type of economic development that employs two or more workers," Clem says. "That can be retail, healthcare, anything, and they can qualify for tax credits of $3,500 per job, a nice impact on the bottom line for any small business. And that should also generate interest among vendors and contractors for the Marine Base."
Albany has seen a number of closings by large employers during the last five years, but some employees have stayed and opened their own businesses. "A good example of that is Equinox Chemicals," Clem says. "That's a home-grown company started by former Merck employees. They have 35 or 40 employees and they're working on an expansion right now that will add another 25 or 30 employees."
In the nearby Worth County town of Sylvester, a full industrial park led Greg Sellars and his board to find and purchase 200 acres to provide homes for new industry. "We have a great location on U.S. Highway 82 that connects to I-75 in Tifton just minutes away," says Sellars, executive director of the Worth County Economic Devel-opment Authority (EDA). "And there is 1,500 feet of frontage on 82."
Worth County received a nice addition to the local payrolls late last year when Coca-Cola chose Sylvester as a site for a 40,000-square-foot distribution warehouse, bringing 40 new jobs to town in a consolidation move. "I think things are looking up. Our EDA board is proactive and we're trying to make things happen."
Few people in the region understand the value of agriculture to a community better than Darrell Moore, president of the Moultrie-Colquitt County Economic Development Authority and Chamber of Com-merce. "We had no major layoffs or plant closings this year," Moore says. "But most important to us was the fact that we were number one by far in the state again this year in agriculture production with $420 million from that sector of our local economy. That goes a long way toward making us more recession resistant. I'm not going to say we are recession-proof, but that strong ag base coupled with the large food processors we have here have prevented the kinds of economic troubles we've seen elsewhere."
Community Snapshot
Local Leaders
Bruce Drennan
Executive Director
Cordele-Crisp County
Industrial Authority
229.322.9200
brucedrennan@crispidc.com
Dan Bollinger
Executive Director
Southwest Georgia Regional Development Commission
229.522.3552
dbollinger@swgrdc.org
Darrell Moore
Executive Director
Moultrie-Colquitt County
Economic Development Authority
229.985.2131
dlmoore@moultriechamber.com
Population
(2007)
Georgia, 9.5 million, Crisp County, 22,125, Mitchell County, 24,139, Thomas County, 45,237, Tift County, 41,610, Worth County, 21,285
Unemployment
(August 2009)
Georgia, 10.2 percent
Crisp County, 12 percent
Mitchell County, 10.1 percent
Thomas County, 9.2 percent
Tift County, 10.6 percent
Worth County, 10.1 percent
Per Capita Income
(2007)
Georgia, $33,499, Crisp County, $24,229 Mitchell County, $20,970 Thomas County, $31,104 Tift County, $25,168, Worth County, $25,820
Sources
U.S. Census Bureau; Georgia Department of Labor, U.S. Bureau of Economic Analysis