Jeff Davis County: Forward Focus
Targeting new industries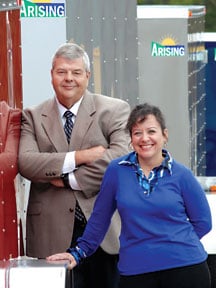 The city of Hazlehurst likes to think of itself as the "city of industry." In fact, says Mayor Bayne Stone, the slogan is right there on the side of every city vehicle. But that was true back in the days when trucks rolled out of this small southeast Georgia town loaded with carpet backing destined for mills in Dalton and beyond. In the past few years, economic forces have laid waste to many of the industries and jobs on which workers depended.
Stone ticks off a series of factories that once employed thousands in Jeff Davis County. "They're gone," Stone says. "But we don't like to concentrate on what's bad. We want to focus on how we can find new ones to replace them."
And, while the statistics on job losses are sobering, locals believe they can find a way back to economic prosperity.
"We're definitely not where we'd like to be, but we've got several things in the works," says Hazlehurst-Jeff Davis County Chamber of Commerce director Rebecca Burnette.
One of the hardest blows came when the venerable Hazlehurst Mills (now known as Propex) declined from 1,850 to about 350 employees. The plant had dominated life in this small community, providing most of the blue-collar jobs and employing many of the more highly educated people who contributed to life in Jeff Davis.
"You have to understand that the corporate office was here and a lot of corporate type jobs," says Keith Carter, executive director of the Joint Development Authority of Jeff Davis County, Hazlehurst and Denton.
The plant's contraction also left several buildings empty and available, and that fact sent economic developers into action. These ready-made structures could become the home of new businesses if they were marketed properly, Carter says.
Using $500,000 in OneGeorgia Equity loan funds, the authority acquir-ed a 140,000-square-foot building for a die cut and stamped parts fabricator, McPherson Manufacturing Corp. The company agreed to create 100 new jobs and consolidate three existing operations into one.
Trailer manufacturer Horizon Indus-tries also expanded its operations in a former Propex building as well.
"Those are the type of industries we are targeting," Carter explains. "We would like to be able to put lots of smaller industries in so that if you do lose one it doesn't hurt quite so bad. It's better to have ten operations with 100 people than one 1,000-person operation."
As the number of smaller companies has expanded, Propex announced recently that it's bringing in a new product line here. An expansion of the plant's backing product will mean additional looms and hopefully some new jobs.
While the county has added companies and jobs, it's still waiting for the big home run in the form of a project that could add a significant number of stable jobs to the mix. Hopes for that kind of success are focused on a 125-acre tract of land just outside Hazlehurst that the development authority is promoting as the site for a major facility.
"We are working on a project and keep thinking we are going to hear something any day," says Carter.
Slow Going
Southeast Georgia has also suffered from the economic downturn that has depressed nearly every business, from the main street gift shop to county and city government.
The city and county have struggled to provide services as declines in property values have pushed down tax collections. Keeping services going without a tax hike has been difficult, but local officials don't think citizens can tolerate a tax hike. That reality has prompted a search for other sources of revenue.
"One of the things that we'd like to see is another penny of sales tax that could be broken up to help with economic development and even some operating expenditures to keep the tax burden off the taxpayers," says County Administrator James Carter.
Getting such an increase with local sales tax already at the maximum seems unlikely without help from the General Assembly. Yet, in the current bleak economy it seems the best option.
These economic struggles are also being played out in Hazlehurst's downturn. It isn't hard to find empty storefronts and several businesses have closed recently, but that hasn't stopped the optimistic from testing the waters. A gift shop on one end of town shut its doors recently, even as another store down the street opened.
Interstate Connections
The county has been getting some help from outside. The newly completed Golden Isles Parkway cuts through the heart of Hazlehurst on its run from I-75 across the state to I-95, providing a perfect shot to the Port of Brunswick. The four-lane is already a favorite of truckers who can quickly reach the interstates without negotiating a series of two-lane country highways.
"With a four-lane highway being opened, that is going to help locate some warehousing type business," says the development authority's Keith Carter, who believes traffic will increase once the port's harbor is deepened and thus opened to bigger ships. "I see opportunities for our future there by working out deals with the port."
The county also has plans to expand its airport, which already accommodates about 300 flights a year. Length-ening the runway from 4,500 to 5,000 feet will make it suitable for any small corporate jet, says airport manager Cody White.
Along with new industry, the Golden Isles Parkway could make Hazlehurst a stop for tourists traveling from Atlanta to St. Simons Island for the weekend, adds Jeff Davis County Commission Chair Ray Wooten.
"They come down through Hazle-hurst and they've only got five or six stop lights," he explains. "Instead of going through Savannah they come through Hazlehurst, which saves them about 50 miles. It has really helped our motel business, I can tell you that. They are like 80 percent full all the time."
Although Jeff Davis hasn't become a major hotspot for tourism, an increasing number of visitors are beginning to discover its rural charms.
"Our objective is to have things to entice people to stop and see what we do have to offer," says Jim Sewell, chair of the Jeff Davis Tourism Board.
As the region where the Ocmulgee and the Oconee merge to form the Altamaha, this area is a favorite for sportsmen seeking abundant hunting and fishing. More recently, thanks to the expansion of the county sports complex, it's also the destination for recreational baseball and softball leagues. On a typical spring or summer weekend, 40 or more teams from throughout the state can be found playing here. These events bring parents and supporters who eat in local restaurants and fill up surrounding hotels.
"That's become a big tourism generator for our community," says Sewell, who adds that as many as 2,000 people a month attend these events.
Reclaimed Mansion
With the prospect of more people coming to Jeff Davis, local leaders have stepped up efforts to create unique local attractions. One of the most prominent is the so-called "Big House." This rambling antebellum mansion was rescued from dilapidation and restored with state grant funds.
Leaders purchased an adjoining tract of land housing an old gas station and oil company and are in the process of landscaping the property as a site for outdoor weddings.
Once a restaurant, the Big House still retains its commercial kitchen and sparked the idea of setting up a culinary arts program. Joining forces with Altamaha Technical College, the county recruited Jennifer Evans, a former chef at noted Atlanta eatery Floataway Café, to run the program.
The program has attracted students who love food and cooking. Evans says, "There's not a huge demand for restaurant workers here, but we need people who know much more about food than the people who are working in the industry now."
Students are well trained in preparing food – usually sourced from local farmers – in fresh and healthy ways, and that knowledge can help local businesses, she says.
While in school, students get practical experience in cooking and preparing for events, such as a recent lunch and learn program for local residents with Altamaha's president.
Evans also works with restaurants and businesses to place her catering specialist students who must perform a minimum of 60 hours of field work. "Some have gone out to work in those places," she says.
School Enrollment
A bright spot in the local picture is the county's first-rate school system. Despite the decline in jobs, enrollment has steadily risen from about 2,600 in 2000 to more than 3,000 today – significant growth for a small rural system. Those numbers led to a freeze on out-of-county admissions as classrooms have maxed out, says long-time superintendent Lula Mae Perry.
"We really thought [plant closures] would impact enrollment, but it has not," she explains. "The economy in our school district is very important to our schools in maintaining the kind of facilities and resources we need for our students. We're concerned about jobs in our area."
That concern hasn't meant diminished support for schools. In fact, the system is in the midst of a major building program. A new middle school is going up at a cost of $18 million, while $14.2 million has gone into renovating the primary and high schools.
That care has also created a sense of freshness and prosperity – just like the image that Jeff Davis wants to project to the world. While the recent past had its tough moments, the future looks bright and worth the investment.
Community Snapshot
Local Leaders
Ray Wooten
Chairman
Jeff Davis County Commission
912.375.6611
Rebecca Burnette
Director
Hazlehurst-Jeff Davis
Chamber of Commerce
912.375.4543
Keith Carter
Executive Director
Joint Development Authority of Jeff Davis County, Hazlehurst and Denton
912.375.4543
Population
(2008)
Jeff Davis County 13,486
Hazlehurst, 3,876; Denton, 292
Unemployment
(August 2009)
Jeff Davis County, 14 percent
Georgia, 10.2 percent
Per Capita Income
(2007)
Jeff Davis County, $22,828
Georgia, $33,499
Top Employers
Jeff Davis County Hospital, Propex/Hazlehurst Mills, Williams Brothers Trucking, Beasley Forrest Products, McPherson Manufacturing, Thompson Hardwoods, Inc., Palletone
Sources
Georgia Department of Labor,
Joint Development Authority of
Jeff Davis, Hazlehurst and Denton,
U.S. Census Bureau, U.S. Bureau
of Economic Analysis