Reward For Readiness
Georgia's Work Ready Program joins education and job development to benefit communities, companies and job seekers.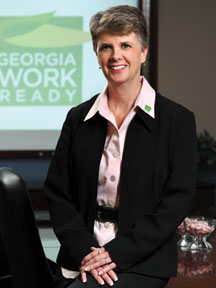 For years Donald Bates had struggled with keeping new hires in place at Tara Foods, an Albany plant that produces products such as sauces and peanut butter for its parent company Kroger, the supermarket chain, as well as custom orders for other brands.
Bates is Tara's human resources manager and had been using bits and pieces of an assessment process to identify the best prospects among the applicants, yet continued to see about 80 percent of his employees leave at the end of the first 12 weeks on the job. "We found that if a person stays with us for that 12-week period and then leaves, we have paid them $4,500 in training costs and wages," Bates says. "And then we have to start the process all over again."
Now Bates estimates his retention rate on new hires over the same period has risen to 50 percent, thanks to Tara's enthusiastic participation in Georgia's Work Ready program, an initiative launched in 2007 by Gov. Sonny Perdue. Designed to measure skills and aptitude, Work Ready has standardized the assessment process and made this workforce development tool available to every county with the desire to improve its pool of qualified job applicants and its ability to compete for new business. The state system of technical colleges is a key component of the program.
"I always tell companies [the Work Ready certificate] is not everything; it's a tool in their toolbox," says Debra Lyons, director of the Governor's Office of Workforce Development and chief architect of the Work Ready program (WRP). "But it's a good tool because the success rate is at 85 percent when they use this tool for placement purposes [along] with a job profile."
Lyons refers to the job profiles that employers may request from a local technical college, an example of the several Work Ready options a company may use to improve its applicant pool, and even to identify those on the payroll who may be better suited for other positions. Participation in the Work Ready program is strictly voluntary – for counties, employers and the general population.
In 2006, when the WRP idea was first publicly discussed and Lyons was charged by Gov. Perdue with joining education and workforce development, she saw the process depending on a grassroots buy-in. "He asked us to align it at the local, regional and state level," she recalls. "So when I looked at linking education and workforce together at the local level that's where the concept of Work Ready communities emerged."
To qualify as a Certified Work Ready Community (CWRC), and for the $10,000 to $30,000 grants that are available, counties must meet certain goals within three years, or they can opt for accelerated certification.
Becoming a Certified Work Ready Community requires a county to improve its high school graduation rate over a short period of time, as well as induce a percentage of several demographic groups to take an "assessment," a lengthy multiple-choice exam.
Georgia's 28 technical colleges, located throughout the state, administer the assessments, score them and offer "gap training" for those who choose to take courses to upgrade their skills. Skill levels are graduated from bronze, the basic skills, to the higher silver and gold levels and on to platinum, the highest level.
Albany-Dougherty County's leadership opted for the accelerated certification program which cut the three-year window for reaching certification goals down to 18 months, a daunting task that involved rounding up some 1,100 high school seniors, government workers, private industry employees and unemployed adults to spend up to half-a-day at Albany Technical College answering questions posed in four separate categories.
"We began in the summer of '07," says Harriet Hollis, WRP team leader at the Albany Area Chamber of Com-merce, the guiding force behind the Work Ready effort. "And we were certified in December of 2008."
By taking the fast-forward route, Albany qualified for a $30,000 grant from the governor's office that was used to reimburse expenses incurred in the effort.
The requirement that local government workers take the assessment was met easily enough, Hollis says. "Our city and county governments were kind enough to allow their employees to take it and apply the time spent to civic activity," she says. "The hard populations to get engaged are the unemployed adults, and the private industry adults who must find the time to take the assessment."
What might have seemed more difficult was raising the county's high school graduation rate by 3 percent in just 18 months. "We were able to do that and even surpass that goal," Hollis says.
Statewide Effect
Georgia's Work Ready program was launched in January 2007, with a hope of signing on 15 counties in the first 60 days, but the response was greater than expected, Lyons recalls. "Within 60 days we had 73 communities [counties] sign up," she says. "That told us we were very transparent. We set very straightforward goals and people knew exactly what they needed to do. And we put the resources in place to provide what I would call technical support."
The Work Ready effort got a big boost in the corporate community during those early days when a familiar company name signed on. "When [CEO] Mike Garrett and Georgia Power came aboard as a business champion that was tremendous help," Lyons says. "We profiled 10 of their jobs immediately and they began recognizing Work Ready credentials, and every month they made more and more progress using this as a pre-hiring tool. It was a help to them because they have to replace a big chunk of their workforce that is retiring."
Lyons believes reaching the goals required to become a Certified Work Ready Community is beginning to have a statewide effect. "The whole state [high school] graduation rates are up to 77.8 percent," she says. "We are above the national average in high school graduation rates."
She credits the use of graduation coaches and the CWRC team leaders who work with them for the rise in graduation rates. "So we have 72,000 people certified as Work Ready and we have this great increase in our graduation rate," Lyons says. "And we have this sustainable plan in place."
It is sustainable because communities continue to be required to meet graduation improvement targets and maintain the flow of Work Ready candidates through the assessment program to keep their certification.
Georgia is one of 30 states nationwide using Work Ready certificates or similar credentials to lure business and industry prospects, but the Peach State is getting a large portion of the media attention for its efforts, Lyons says. "Georgia was voted number one in workforce by CNBC last year and part of that recognition was because of the quality and availability of our workforce," she says.
Work Ready helps to attract industry, Lyons says, because companies find its uniform skill measurements an easy tool to use. "It's a national credential they can benchmark workforce readiness [of a state] against the entire country," she says.
Community Involvement
For Kay Read, president of the Cartersville-Bartow County Chamber of Commerce, signing on early for the certification program was as natural as breathing. "The chamber embraced Work Ready from the get-go because we saw this as something that could really make a difference in our workforce," she says.
"And for businesses and site selectors outside Georgia who see you are a Certified Work Ready Community, it gets their full attention. We've had more than 2,000 get their certificates. For the last three years our county school system had the graduating seniors take the assessment, and when those graduating seniors walk across the stage to receive their diplomas they are recognized for earning the Work Ready certificate."
Bartow County's Fred Kittle, a regional sales manager for an electrical firm, has seen both sides of the Work Ready equation, as a businessman and as Work Ready team leader for the local chamber of commerce. He carries with him memories of a time when Work Ready could have helped his community considerably.
"Back when Toyo Tire Company first came to Bartow County back in 2006 we had thousands of applicants show up for jobs there," Kittle says. "And [Toyo] HR folks had to go through a lot of applicants before they could find those they felt qualified."
The key step for any county beginning the Work Ready certification process occurs early on when community leaders, elected officials, educators and volunteers come together to hear a pitch from Fred McConnel, the state's Work Ready community manager. That group will later be pared down to a team leader and 10-15 Work Ready team members.
Initially there was a surprisingly strong interest in Work Ready certification in rural areas. "This is a statewide initiative," McConnel says. "But so many rural counties really saw this as a way to stand out above the crowd when it comes to attracting new business, to show them some reasons to move to that county."
Those freshly minted Work Ready communities immediately posted their numbers on their chamber websites. "That's so they can advertise not only within the state but to the entire nation they have these skills in the available workforce and they can break it down into demographic groups," McConnel says. "In simplest terms, it's a selling strategy for these counties that have struggled for so long to bring business into the rural parts of the state."
Not all counties eagerly jumped on the WRP offerings. When Kerry Waldron, director of the Cook County Economic Development Commission, first heard about the Work Ready program two years ago, he admits there were doubts about how it would fit into his south Georgia community's workforce development efforts. "Several of us in the community viewed it as just another government-run program with a bunch of hoops to jump through," he says. "We were very skeptical."
At the same time, Waldron was hearing complaints from Adel's industry executives who were having difficulties getting and keeping qualified workers.
After attending workforce meetings and getting a better feel for the program and how it could help assess the degree of skills in the local workforce, Cook County leaders made the decision to take a closer look at the assessment process.
"All the chamber board members, myself, our industry leaders, we all took the assessment," Waldron says. "And, man, was that an eye-opener. When we walked away from that assessment we were like, 'Holy cow, this really does assess what our industries are needing.'"
Cook County industry executive Kyle Clark was one of those taking the assessment, but for a different reason. Clark, superintendent of training and employee development for the Adel plant of the international chemical company BASF, was looking to install the Work Ready assessment as part of the local hiring process, and also to examine the basic skill levels of current employees.
"I wanted to go into management and tell them we wanted to pull all these people off the manufacturing floor where they were producing product and … assess their basic skills," he recalls. "There was no cost for the assessment, but there is a cost in pulling people off the job." His presentation was successful and, as he puts it, "We went deep into Work Ready."
Today the BASF Adel plant uses Work Ready as part of the annual evaluation of its 185 employees, and has put the WRP assessment into the company culture in other ways. "We now have incentives associated with particular levels of the Work Ready program," Clark says. "This was not the original plan but was put in by the site manager after the first 110 assessments."
Building Confidence
Brenda Russell sees the Work Ready program as an opportunity to instill in her students a sense of accomplishment and a degree of hope. Russell, a teacher in the online diploma program at Cairo High School in Grady County, has begun using the Work Ready assessment as part of her effort to improve prospects for those who might not earn their diplomas.
"We live in a world where credentialing is everything," Russell says. "We are working with kids and identifying the soft skills they may already have, things like working well with people, good customer service skills, working independently. But when it comes to hard skills, many high school students don't have any because they don't have work experience. That's when I saw Work Ready as something that could fit between high school and the next step."
Russell has begun steering kids who might not graduate into courses like workplace Spanish, team building and CPR. "I think when they leave school and don't have a plan for further education they need to be ready to go to work," she says. "These kids are going to be competing with people who have been laid off after many, many years of work experience, probably [more] education and certainly more life experience, and they're all going to be competing for the same jobs. The Work Ready certificate is part of what these students can do to help them market themselves."
Georgia's Certified Work Ready Communities
Barrow
Bartow
Bleckley
Brooks
Catoosa
Chattooga
Cook
Dougherty
Franklin
Grady
Greene
Hart
Jefferson
Jenkins
Laurens
McDuffie
Pike
Upson
Ware
Source: Governor's Office of Workforce Development