Milledgeville/Baldwin County: Gains And Losses
Downtown is the bright spot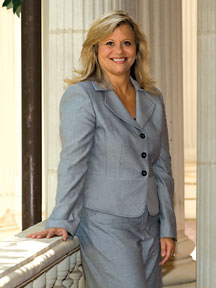 Despite job losses, the citizens of Milledgeville are heartened by some promising developments. New businesses downtown, ongoing construction, an exciting technology project and the forecast of a major transportation improvement are brightening what could be a much gloomier picture.
In the past 18 months, Milledgeville's home county, Baldwin, has watched more than 2,400 jobs disappear, including those of some 1,000 employees of two state prisons. In mid-September, it was announced that the Bill Ireland Youth Development Center will also close. But this community survived a pretty heavy loss of government jobs back in 1868 when Georgia's capital was moved from Milledgeville to that upstart railroad town called Atlanta.
This go-round, downtown Milledgeville is using an impressive and creative array of financing sources to nurture jobs and cash flow linked to the combined 13,000 students, faculty and staff of a University System of Georgia campus and the public Georgia Military College, which has a new building under construction.
As Baldwin County Commission Chairman Bubba Williams puts it, "We are in the process of reinventing ourselves."
Restaurant Revival
Jason Medders is a local who tries to use locally grown products in the dishes he serves at Aubri Lane's, a recently opened downtown restaurant where he is general manager (he's partnered with his father-in-law, Bobby Brown). Aubri Lane's is located in a circa 1820 bank building with pressed tin ceilings, a mezzanine enclosed by a balustrade and a sizable vault that serves as a wine cellar and, upon request, as a cozy candlelit dining room for two.
The restaurant is one of several downtown eateries recently opened or relocated here, and all are looking to build a customer base around the professors, personnel and students at Georgia College and State University and Georgia Military College, the two campuses flanking downtown. Since opening last May, Medders has seen business growing and is now hosting a monthly GMC class of 30 students studying the art of fine dining and proper etiquette.
There are about a dozen restaurants downtown in this city of just 20,000 people, and more are expected to open in the near future. A key ingredient in the area's retail growth has been the many historic buildings that open up creative financing possibilities for entrepreneurs such as Frank Pendergast, who launch-ed his downtown Milledgeville eatery, The Brick, 16 years ago and is working toward opening his second restaurant and a 32-room boutique hotel within the next two years.
"We have multiple layers of tax credits and jobs creation low interest loans," says Pendergast, standing under an awning in front of the 1904 building set to become his hotel. "All told, I think we're tapping into about 10 or 11 different styles of financing to make this project work, and it could very well be a $6 million project. The largest component of that is the historic preservation tax credit.
"We have Georgia College and GMC pull in a lot of people for events and they're both just a nine-iron away from this building."
Pendergast is close to completing the historic preservation application process and hopes to start construction on his hotel and adjacent restaurant in 2010.
Meanwhile, Belinda Washlesky is sitting in her office a short walk from Pendergast's hotel project. She's celebrating another piece of good news surrounding the renovation of the 1874 Dixie Financial Building. "That project had stalled," says Washlesky, executive director of Milledgeville Main Street and the Downtown Development Authority (DDA). "The property has been just kind of sitting there while the [new owners] were waiting to see if they were going to get the revolving loan fund money. They're getting their money and now can go forward on that $901,000 project."
The Dixie Financial Building will be converted to ground floor commercial/retail space with two large loft apartments on the second floor. "The rich history of Milledgeville and the proximity of those two campuses is what is attracting this downtown development and what is also sustaining these businesses when they open," Washlesky says.
Campus Construction
Just around the corner from Washlesky's office a new multi-story building is going up at the entrance to Georgia Military College. But this is no modern steel, glass and concrete box, says GMC's president, General Peter Boylan, a retired U.S. Army officer. "Everything we have done over the years is aimed at preserving the architectural integrity of the campus," he says.
Much of that integrity is inspired by the old capitol building, located on campus. Boylan says anywhere from 20,000 to 30,000 visitors a year tour the building and legislative chambers, drawn by the architecture and the history it represents. It is, says Boylan, "the first example of Gothic architecture in a public building in the United States, and from that perspective it is historically significant."
And so the brand new $25-million, 80,000-square-foot structure, which will house the GMC prep school set to open next year, is also being built in the Gothic style.
GMC, established in 1879 as a military school, is home to a two-year college with 6,600 commuting students as well as a prep school with enrollment capped at 500. There are also 250 ROTC cadets housed on campus. Only five such multimission campuses can be found in the nation.
The institution is a public, but independent, community college supported by tuition and other fees and governed by a locally elected board of trustees, although it does receive some state funding for its prep school through the Quality Basic Education Act.
"The military part of our name is sort of an anachronism," Boylan says. There's a long waiting list for entrance into the college preparatory school (grades 6-12), thanks to its long history of success. The two-year college routinely sends players from its 17-year-old football program on to four-year institutions, and the college has seen 25 of its football players go on to the professional level.
Jobs And Training
Angie Gheesling, director of the Development Authority of the City of Milledgeville and Baldwin County, is a native with a long-standing interest in the well-being of local companies. She and other local leaders grew concerned when Rheem, the air conditioning manufacturer with a big payroll and a 30-year presence in the county, began jettisoning workers; but efforts to stem the flow failed.
"They sent their jobs to Mexico," Gheesling says. "Around 1,500 people were out of work. We did a lot of things to make this community and Rheem more competitive, but there was about an $18 an hour differential for them to pay employees in Mexico versus paying them here."
Then a carpet manufacturer left and put 150 people out of work. "And in both instances we had people who had been with the same company for 25-plus years," Gheesling says. "You're talking about people in mid-life that are having to look around and say, 'What next? I thought I would hang up my cap [and retire] here.' Instead they're really trying to find jobs in an economy where there are no jobs."
Another manufacturer has begun laying off workers here, and carpet yarn manufacturer Shaw Industries shut its doors earlier this year. "And with the prisons closing we've been hit in all our vulnerable spots because we have always taken for granted that these jobs would be here," she says.
"Manufacturing is tough right now, and the state jobs are leaving; and all that has us more than a little bit concerned."
Gheesling and other local economic developers have begun channeling unemployed workers to the Milledge-ville campus of Central Georgia Technical College (CGTC), where they can find retraining possibilities and the means of financing their education. A wide variety of programs are available to the jobless, including Pell Grants, Georgia's HOPE program and Veter-ans' Education Benefits.
Baldwin is one of a dozen Middle Georgia counties benefiting from the Workforce Investment Act (WIA) program at CGTC. Dislocated workers qualifying for WIA assistance may find funding for tuition, textbooks, supplies and even child care and travel expenses. WIA benefits are the most specific to the Milledgeville layoffs, according to administrators.
By the end of summer only about 100 of the unemployed had sought out CGTC retraining programs, but that was mainly due to the gradual and staggered sequence of the plant and prison closings here.
That number is expected to grow through the winter, says Hank Griffeth, vice president of the CGTC Milledge-ville campus. The college is partnering with the Georgia Department of Labor to offer a transition center and unemployment benefits processing for workers affected by the closings.
"Everybody that is getting unemployment based on the Rheem closing, or any other closing, can come here to get their processing started for their unemployment benefits," Griffeth says. "And we have someone available in those sessions to let them know what training and education courses are available at Central Georgia Technical College."
Griffeth, another Milledgeville native involved in local economic development, admits he has emotional investments here that can come to the surface when he sees someone he knows who has lost a job. "I'm a hometown boy who's back home," he says. "And I've never seen an impact like this on the community. For years we thought the [government] jobs were golden, but when the prison jobs started going away that kind of woke us up to the fact that maybe they weren't."
Reinvention
Baldwin County Commission Chair-man Bubba Williams is hoping recent infrastructure improvements, including one big one coming down the pike, will help counter recent job losses. He believes a significant part of the area's reinvention and recovery will be in place with the anticipated 2012 completion of the 215-mile Fall Line Freeway, a highway connecting Augusta to Columbus.
Part of that four-lane road will pass through Baldwin County and is expected to bring with it economic development opportunities. "The Fall Line Free-way will cross U.S. Highway 441 in the south part of the county and that will give us quick and easy access to two interstates, I-75 going north and south and I-20 going east and west," Williams says. "And we have plenty of relatively cheap land at the freeway and 441 intersection. We couldn't be more excited about that."
The freeway's progress got a boost in late summer when $30 million of stimulus money was applied to its construction. Each leg of the highway is either completed or under construction and Williams is hoping traffic will be flowing through Baldwin County sometime in 2010.
Another bright spot in the local picture comes in the form of a new wireless communications project being launched in Milledgeville. Again using creative financing, this time a grant from the Knight Founda-tion, city leaders and economic developers have partnered with Clearwire to bring the technology to a 16-square-mile downtown area at a cost of $1.2 million, including state matching contributions, in-kind donations and Special Purpose Local Option Sales Tax revenue.
The new technology will improve police communications and provide 250 highly discounted accounts for low- and moderate-income users. "Part of our mission there is to bring connectivity to people who otherwise wouldn't have that access," says city planner Russell Thompson. "The technology access will give school children better tools to learn and job seekers better tools for employment."
For Milledgeville Mayor Richard Bentley, the wireless connection is another economic development asset to tout to business and industry prospects. "The wireless initiative is something that benefits the downtown area in a number of ways," he says. "Anyone who decides to invest in Milledgeville will have access to that, and I think that will put us ahead of our peer communities."
And the city is taking a positive approach to putting more residents downtown. "Over the last couple of years we have changed the ordinances pertaining to loft apartments," Bentley says. "We took a lot of the restrictions off them so they could more easily be developed, and now we're seeing downtown loft apartments about to begin being developed. We like to see new uses for historic buildings and we're excited about seeing more of that."
At the same time, city and county leaders are at work on a plan called Partners for Progress that includes efforts to improve graduation and literacy rates and gain certification as a Work Ready community.
"We're the hub of six counties whose residents come here to work," says Tara Peters, president and CEO of the Milledgeville-Baldwin County Chamber of Commerce. "And we want our workers here to be ready when the jobs open up again – and we are confident they will."
COMMUNITY SNAPSHOT
Local Leaders
Angie Gheesling
Executive Director
Development Authority of Milledgeville and Baldwin County
478.451.0369
agheesling@developmilledgeville.com
Tara Peters
President/CEO
Milledgeville-Baldwin County Chamber of Commerce
478.453-9311
tara.peters@windstream.net
Brenda Washlesky
Executive Director
Milledgeville Main Street/ Downtown Development Authority
478.414.4014/4015
bwashlesky@milledgevillega.us
Population
(2007)
Baldwin County, 46,057; Milledgeville (county seat), 20,039
Per Capita Income
(2006)
Baldwin County, $25,134; Georgia, $32,299
Unemployment
(August 2009)
Baldwin County, 11.8 percent; Georgia, 10.2 percent
Top Employers
Central State Hospital, Baldwin County Board of Education, Georgia College and State University, Oconee Regional Hospital, Georgia Department of Corrections, Voight Aircraft
Sources
U.S. Census Bureau, Georgia Department of Labor, Milledgeville-Baldwin County Development Authority