40 Under 40: Georgia's Best & Brightest
Georgia's Best & Brightest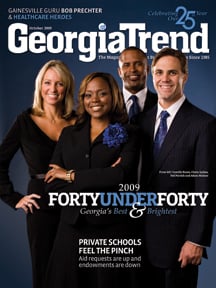 Each year, Georgia Trend's editorial staff asks the magazine's readers to help identify those individuals who will lead our state's business, cultural, academic and governmental institutions in decades to come. In a year that was supposed to have seen a marked decline in magazine readership, it was something of a surprise to note the record-setting level of individual participation in this year's 40 Under 40: Almost 350 readers nominated 165 candidates.
Selecting the top 40 is never an easy task for the editorial staff, but it always is rewarding. We're often asked what the selection criteria are, and while there is no set formula, we can boil it down to this: We're looking for people who are making an impact either on the entire state of Georgia or their own little corner of it.
This year's individual profiles were contributed by Matt Hennie, Karen Kennedy, Christy Simo and Shannon Wilder.
On these pages – photographed by Adam Komich – are four representatives of the class of 2009: from left, Adam Malone, partner, Malone Law Group; Theodore L. Parrish, director of investments and principal, The Henssler Financial Group; Chata Spikes, Southeast regional producer/coordinator, Network News Services, and adjunct instructor, mass communications, Fort Valley State University; and Camille Russo, regional manager external affairs/coastal Georgia, AT&T.
Adrienne Baker | 39
Principal Agent
State Medical Board
Atlanta
For the past decade, Adrienne Baker has traveled around the state talking to doctors, law enforcement officials and hospital staffers about safe and legal medical practices regarding prescription drugs. This, in addition to being a state firearms instructor and handling her usual caseload investigating those suspected of illegal prescription drug diversion.
With more than 30,000 physicians in Georgia, she's busy.
"Nowadays with healthcare, it's very time pressure-sensitive for doctors to see their patients," says Baker, who was named National Law Enforcement Educator of the Year in 2007 and is also president of the National Association of Drug Diversion Investigators (NADDI). "They simply do not have time to be up to date on the new trends."
While the spotlight on prescription drug abuse has grown brighter recently, Baker says it's been a big issue for years.
"Prescription drugs are easier to get, and they're falsely thought of as safer," she says, noting that many doctors are unaware of the laws related to prescription drug use. "We just want to get the word out." – CS
James G. Baker | 37
Attorney
James G. Baker, PC
LaGrange
You'd think that a bankruptcy lawyer who dabbles in estate work would have enough to keep him busy these days.
But LaGrange-based James Baker also serves as Troup and Heard County Administrator, handling estates for people who die without wills or whose wills are contested. If that's not enough, he's also a municipal court judge for the cities of LaGrange and Hogansville, an associate magistrate court judge in Troup County and a federal bankruptcy trustee. "I don't like to portray myself as a workaholic," he jokes, "but it's probably accurate." He attributes his varied duties to an entrepreneurial bent.
"You won't succeed in any business if you don't love it and want to do it and want to be there and want to make sure things get done … and that you're doing a good job and that people appreciate the work."
Baker met his wife, Markette Baker, Troup County solicitor and a former 40 Under 40, at law school in his native Mississippi. – SW
Derek A. Bennett | 33
Assistant Tufting Manager
Shaw Industries, Plant 4
Calhoun
The carpet industry may be restructuring itself, but when it gets to its new destination it will have a rock-solid workforce – that's if Derek Bennett has anything to say abut it. As assistant tufting manager at Shaw Industries' Dalton Plant 4, Bennett says the most rewarding part of his job is working with others, particularly the six supervisors he oversees.
"I have an opportunity to touch six folks and make an impact on 300 individuals' lives, and it's real time," he says. "That's probably the most rewarding thing for me, if I can leave some kind of legacy behind."
After relocating from south Georgia last summer, Bennett has quickly become involved in his new community, participating in Leadership Gordon-Calhoun. He is a charter member of the chamber of commerce's new Young Professionals Group.
When he's not engaged in business or civic activities, Bennett says, he spends all the time he can with his daughter, Kristina, who's 6. – SW
Jeanine Chambers Biron | 39
Executive Director
Angel Flight Soars
Norcross
Jeanine Chambers Biron intended to volunteer for six months with Angel Flight Soars while finishing her MBA. Ten years later Biron is executive director of the organization, which arranges air transport for folks who require medical treatment far from home.
She stayed, she says, "because it helped me so much to help other people. It gave me a purpose at a time when I needed it."
Angel Flight Soars, which is part of a national network of similar organizations (which Biron serves as executive vice president) opened branch offices this year in South Carolina and on St. Simons. Plans call for three more facilities, and Biron is currently at work raising money – and seeking stimulus funds – for a terminal at Angel Flight's home base, Atlanta's DeKalb Peachtree Airport, that will offer overnight accommodations and a hanger that doubles as an emergency shelter.
The West Georgia alum serves on the board of visitors for her alma mater, and established a scholarship there in the name of Richards College of Business Dean Faye McIntyre. – SW
Danny Bivins | 36
Faculty Member
Fanning Institute
Division of Public Service and Outreach
University of Georgia
Athens
As part of UGA's Fanning Institute, Danny Bivins travels around Georgia helping people make their communities better.
"A lot of the work has to do with poverty reduction [and] generational poverty is-sues," he says. "What we're shooting for at Fanning is to come up with solutions for these 100-year-problems."
RiverWay South, Inc. partnered with Bivins to develop a student-driven project to help towns within the Apalachicola, Flint and Chattahoochee river basins find new ways to encourage ecotourism and heritage tourism in their area.
"By working together," Bivins explains, "these communities have a better chance to succeed."
But for Bivins, the rewards are much greater.
"We get to go to work every day and help communities around the state improve. It's a calling, and it's a passion, but truthfully, it's a lot of fun. There's nothing more rewarding in the world than when you help somebody else." – CS
Jennifer Brett | 36
Social Editor
The Atlanta Journal-Constitution
Marietta
If there's a good party in Atlanta, you can bet Jennifer Brett will be there.
As social editor for The Atlanta Journal-Constitution, Brett covers the city's social scene, from big galas honoring big names to small backyard barbecues raising money for a friend with cancer.
But attending events is not a job she takes lightly.
"Every day is just such an inspiration, because there are so many good, creative giving, wonderful people in Atlanta," she says.
When she's not reporting on the capital city's busy social scene, Brett is happy to give her time to a variety of local charities and good causes. She's on the board of Cobb Landmarks and volunteers her time at MUST Ministries.
"While it's fun to go to all these big parties, it's really inspiring to me [to meet] the folks who make it all happen," she says.
"It's such a privilege to be in the presence of people who dedicate their energy, time and creativity to make their communities better places." – CS
George Lee Brown, Jr. | 34
Contracting Officer
U.S. Department of Defense
Kathleen
When George Lee Brown Jr., bought a new SUV three years ago, he approached the transaction with the same precision he employs during his day job. Brown assembled a list of specifications, created a Request for Proposal and solicited bids from several dealers. He jumped on the lowest bid that met his criteria.
Whether it's a $7 billion contract for aircraft maintenance or something considerably smaller, the attention to detail and by-the-book approach Brown utilizes as a contracting officer at Robins Air Force Base in Warner Robins stands him in good stead. He works on the civil service side, but backs it up with a four-year stint in the Air Force. His wife works in the same field, too.
"We know how to turn it off," Brown says. "We don't send out Request for Proposals for grocery lists to see who will give us the best deal."
In his time off-base, he's involved with Kappa Alpha Psi fraternity's Kappa league, which provides programs, role models, mentors and financial assistance for at-risk youth. – MH
Richard "Ritt" Carrano | 39
President and CFO
Purchasing Power
Atlanta
Talk about coming full circle – in the booming dot.com 1990s, Ritt Carrano was CFO for an internet startup called eTour that set the tech world alight and was ultimately snapped up by Silicon Valley-based search engine Ask Jeeves.com (now Ask.com).
Today Carrano is president and CFO of Purchasing Power, a voluntary benefit company that helps consumers purchase computers, big-ticket electronic items and home appliances through a payroll deduction plan – and he's doing it from the same midtown Atlanta space eTour used to occupy.
Carrano anticipates Purchasing Power will hit the $100 million mark in revenue this year. He credits some of its success to the dot.com experience, which he says compressed a decade's worth of leadership lessons into a two- to three-year window. "Without a doubt, I continue to leverage so much of that experience in what we're doing today," he says.
Carrano is a board member for the Atlanta Youth Soccer Association, Junior Achieve-ment of Georgia and is a mentor for MBA students at Emory. – SW
Lance Compton | 37
Founder
Red Clay Interactive
Gainesville
Lance Compton always wanted to go into politics – until, that is, he actually got there. A few years in his early 20s working in Washington for Sen. Paul Coverdell and then Rep. Nathan Deal cured him of that.
Maybe. He admits to helping unofficially with Deal's gubernatorial campaign, but only as an advisor. That's a role he relishes, and one he offers to all clients of Red Clay Interactive, the 20-person marketing firm he founded Gainesville. "I love being able to solve people's problems, grow their businesses," he says.
He's also helping plot the future for his native Hall County, working with Vision 2030, the Greater Hall Chamber of Commerce's long-range growth plan; he's on the Georgia Chamber of Commerce board as well.
He says one of his ultimate goals for Red Clay is to start a foundation that can impact the community and "take care of the people other people don't want to take care of." – SW
Lori Durden | 38
Co-owner
Tim Durden Construction and Building Design
Area Director
Small Business Development Center Georgia Southern University
Statesboro
Lori Durden knows small business, and she learned it from the inside out.
Durden married her college sweetheart, a football player at Georgia Southern University who later started Tim Durden Construction and Building Design in Statesboro. She joined the firm and in-between earning an MBA and raising three children, learned the business and now applies those lessons as a business consultant and area director for GSU's Small Business Development Center.
In five years, she's helped 60 clients launch new enterprises and attract $13 million in capital.
"The entrepreneur in me likes to take risks and now I feel like I have the best of both worlds," Durden says. "I get to help people and make a difference in their lives."
Even in business, she hasn't lost sight of the importance of education, volunteering in her children's schools and serving as member of the Board of Trustees for the Bulloch County Foundation for Public Education. – MH
Mark Ellis | 36
Vice President
S.M. Ellis Company
Columbus
When Mark Ellis drifted toward economics during his studies at Auburn University and considered a career in banking, his father made a simple offer: Give the family business a chance.
Ellis agreed, and 14 years later now helps oversee the Columbus-based S.M. Ellis Co., an electrical engineering firm for commercial buildings that employs about 30 people. After many 10- to 12-hour days side-by-side with his father, Ellis looks with pride at his four-year-old daughter, hoping she might one day come on board.
"My dad taught me how to work and my mother taught me how to serve," Ellis says. "Working with your father is something that every son or daughter should experience. It's good to have a mentor across the hall."
Ellis returns that mentoring experience by working with Jordan Vocational High School to recruit a few students each year as interns. The company later pays for their two-year technical degree through an apprenticeship program. – MH
Sarah Beth Gehl | 29
Deputy Director
Georgia Budget and Policy Institute
Atlanta
Sarah Beth Gehl says her typical working year at the Georgia Budget and Policy Institute, a nonprofit organization devoted to explaining the state's tax code, budget and proposed budget policies to legislators and citizens alike, can be divided into two distinct phases – when the legislature is in session and when it's out. During sessions, she spends her time at the capitol, attending – and occasionally testifying before – committee meetings, analyzing bills and educating citizens about goings on under the Gold Dome.
Off session, she says, is more relaxed, educating people about what happened during the session, what's coming up in the tax arena.
"The legislative session is a little bit more reactive as to what's going on that day, whereas off session I can write longer more thoughtful pieces," she says. It's all part of accomplishing the GBPI's agenda of "raising the level of debate around budget and taxes and bringing it more to a fact based place."
In her spare time, Gehl has committed to a three-year term as an elder for Morning-side Presbyterian Church. – SW
Erica Gordon-Roberts | 33
Human Resources Specialist
The Kroger Company
Lithonia
When Erica Gordon-Roberts was 15, she wanted to buy a dress. So she traveled across town to interview for a job bagging groceries at Kroger.
"A two-hour ride to make $4.15 an hour," she recalls. "But I tell you, it was the best train ride I ever took. I got that dress … and a career."
Gordon-Roberts has since moved up the ranks at Kroger, from cashier to store manager to her current position in human resources.
Among her many accomplishments is creating an innovative recognition program that has been implemented in 10 states. She also serves on the board of the Reach Them to Teach Them Foundation and volunteers with Big Brothers Big Sisters.
"I wouldn't have had the experiences I had if I hadn't had people looking out for me, giving me opportunities, teaching me, coaching me through the process," she says. "I think it's very important for me to take the time to give the same advice." – CS
Denise Ransom Grabowski | 36
Director of Community Planning
Lott + Barber
Savannah
Denise Grabowski hops on her scooter each morning for the commute to work, where she takes off her helmet and puts on her professional concern for the environment.
As part of the master planning and project development teams for Sustainable Fellwood, the redevelopment of Savannah's first public housing project, Grabowski is living her dream to make Chatham County the greenest county in the state. "I'm fortunate to have found my niche," which, she says, is the place where "natural environments and built environments interact."
Grabowski also is a member of the Chatham Environmental Forum and is on the board of directors for the U.S. Green Building Council's Georgia Chapter. – KK
Rep. Tom Graves | 39
State Representative District 12
Entrepreneur
Ranger
Tom Graves has spent most of the summer and early fall on the campaign trail hoping to make the leap from state representative to Congressman (he's seeking the 9th district seat that will be vacated when Nathan Deal resigns to run for Governor).
Currently in his fourth term in the Georgia House, Graves was recently named vice chair of the motor vehicles committee. This summer he was named Legislator of the Year by both the 9th District Republican Party and the American Legislative Exchange Council, which recognizes lawmakers who adhere to Jeffersonian principles.
When he's not under the Gold Dome, he manages multi-family housing and commercial real estate properties in north Georgia. If he wins, it will mean big changes for Graves' family – wife Julie and children JoAnn, John and Janey – "but it's something we've all agreed and committed to," he says. As for the opportunity itself, Graves says he is excited about the possibility of being able to "influence change on the federal level" at a time when "the American people are really engaged in the process." – SW
Henry B. "Hank" Hobbs | 39
Director of Economic Development
Altamaha Technical College
Hazlehurst
Hank Hobbs's personal and professional missions are to get people the training they need to go to work.
He spends his time developing relationships with local business and industry, then takes what he's learned in the community back to Altamaha Technical College where for-credit and customized training programs, such as the culinary arts program housed in a renovated 100-plus-year-old home in Jeff Davis County, are put together to meet the workforce needs in a seven-county area.
It's a win-win-win situation: Industry gets the educated workforce it needs; citizens get the training they need in order to get local jobs. And Hobbs fulfills his mission. – KK
Jon Howell | 33
President/CEO
Georgia Healthcare Association
Jefferson
Jon Howell hasn't made it to all 359 of Georgia's healthcare facilities – yet – but it's definitely part of his plan. Also in the works – what Howell calls the "marquee issue" – acquiring sustainable and adequate Medicaid reimbursement.
"I'm passionate about trying to improve the lives of the elderly, infirm and disabled," he says. "We're trying to improve the quality of life for those people we serve every day."
Howell, a Hampton native, interned with the then-Georgia Nursing Home Association after graduation, spent a year with SunTrust Bank and returned to the organization as government relations manager. After eight years, he made a brief foray into the private sector, then returned as president.
He also met his wife, former Miss Georgia Emily Foster, who's currently an orthodontist in Jefferson, at the annual Miss Georgia Nursing Home pageant in 2002. She was too well bred to give him her phone number, he says, but he did ask for – and get – her email address. – SW
Robert James | 37
Solicitor General
DeKalb County
Decatur
Robert James says he didn't even look at the salary when he decided to run for DeKalb County Solicitor. "I've always wanted to be in a position in my life where God would use me to make change in the world," he says. "I believe that is what he's doing, so I wake up every morning drunk with the possibility of a new day. What can we do to make this place better."
The answer is: Plenty. He's enacted programs to combat truancy (Perfect Atten-dance), give juvenile offenders a true second chance that includes work and school opportunities (Jobs Not Jail), provide emergency placement services for elderly and vulnerable adults when their caretakers are not available to them, and address community crimes such as pimping and solicitation.
He comes to the job well qualified, having served as the first African-American assistant DA in the history of Rockdale County (he was subsequently promoted to solicitor) and a crimes against children prosecutor in DeKalb County. – SW
Brian Johnson | 38
City Manager
Garden City
You'll have to forgive Brian Johnson for the big smile he's sporting these days – tiny Garden City, best known as home base for the Port of Savannah, has just set a national precedent with the EPA. The city applied for a brownfield grant with the EPA to clean up a site to a higher level than was done by the state. Cities do not usually receive such funds, the idea being that cleanup is the state's responsibility.
"We fought all the way up to the EPA administrator, Lisa Jackson, who called and said, 'Congratulations, you just caused us to relook and we changed national policy because of your appeal,'" he says. "Pretty cool."
The site is on the edge of Garden City's new 50-acre downtown located on the south side of I-16 from the original, which was incorporated in 1939. The move has created an area that's more livable and walkable than the original, highly industrial downtown.
Leave it to a man who earned his city manager stripes establishing order out of chaos in Iraq's Sadr City – and received three bronze stars during his two tours with the U.S. Army – to bring a plan like this to fruition. He remains active in the American Legion, VFW and USO; he and his wife also work with groups that support spouses left at home when soldiers deploy. – SW
Rand Knight | 37
Director of Global Enterprise Sales
QL2
Atlanta
Rand Knight is no stranger to taking the road less traveled. He studied environmental policy before "global warming" was a catchphrase, sold Apple computers before they were cool and was a candidate – unsuccessful – in the 2008 Democratic senatorial primary, vying for the chance to oppose incumbent Saxby Chambliss.
Now he blends all his skills as global enterprise sales director for QL2, a company that provides data to the federal government and top national companies. His work in renewable energy and energy efficiency concerns also informs his consulting for a handful of colleges in the state and volunteering with the Sierra Club.
"I've gained a lot of tool sets from the different places I've engaged myself," Knight says. "If I can understand why people care, then I can understand how to explain some of the longer term threats that we face in society." – MH
Michelle "Shelly" Lakly | 38
State Director, Georgia
The Nature Conservancy
Atlanta
Shelly Lakly followed a circuitous path to her current position. She parlayed a degree in entomology into a job as a river and stream ecologist, then became a conservation manager for Zoo Atlanta, traveling to China.
In her two years with the Nature Conservancy, she's worked with the Masai in Africa and hosted a delegation from along the Zambezi River to study watershed management along the Savannah River.
Now she's helping TNC kick off its first capital campaign in five years, Georgia For Generations. Even before the effort got under way last month, the organization had preserved 89,000 acres along the Altamaha River and received a $10 million grant for a five-year water conservation program on the Flint River.
"The best part of this job is when you talk about conservation impact. You can truly see protected corridors that are never going to be developed, and the fresh and clean water that results from that. You can really see increased water efficiencies where the river isn't continuing to drop, and that's going to be in perpetuity." – SW
Charles W. Lamb, Jr. | 38
Attorney
The Lamb Law Firm, PC
Albany
Charles Lamb has an advantage when it comes to helping clients in his Albany-based personal injury practice.
Lamb, who opened his own firm four years ago, suffered a catastrophic spinal injury after his freshman year at UGA. Despite being told he'd never walk again, he is able to walk unassisted and suffers a few sensory and motor limitations.
His work, he says, isn't about big payouts. "Really it's just trying to get you back to as even as you can. Obviously you can't restore physical losses, but there are lots of expenses associated with these injuries, and you still have to have a way to be able to pay."
He directs folks who need help but don't have a case to community resources such as the Albany ARC and the Georgia Brain and Spinal Injury Trust Fund Commission – he volunteers for both. He also served three years on the American Bar Association's General Practice, Solo & Small Firm Division. – SW
Adam Malone | 36
Partner
Malone Law Firm
Atlanta
Adam Malone knew he wanted to be a lawyer since he was a kid, because that's what his father did.
Though he jokes somewhat ruefully about mischief and indiscretion that landed him at North Georgia Military College, Malone says he had things figured out by the time he got to John Marshall Law School, and proved it by graduating first in his class.
After clerking at the state court of appeals and prosecuting criminal cases in Clayton County, he joined his father, Tommy, in the Malone Law Firm, which handles severe personal injury and wrongful death cases.
"I practice law with my partner, best friend and my lifelong hero, my father. We live a dream come true. We get to come to work every day and try to make a difference in the quality of life of other people. I can't think of anything more worthwhile or worthy than being able to be a part of that." – SW
Ellen Wynn McBrayer | 30
Chief Marketing Officer, Licensed Funeral Director
Jones-Wynn Funeral Home
Villa Rica
Even though she grew up with parents who worked in the funeral home founded by her grandparents in 1950, Ellen McBrayer says she didn't realize what funeral service really meant until 2001 when her father passed away.
"That was when my heart changed to want to help families go through something that I had to go through," she says.
Today, as a licensed funeral director, she's following in the pioneering steps of her grandmother, one of the first females so licensed in Georgia (McBrayer's mother holds a license as well).
McBrayer, who oversees marketing efforts for the company's two locations in Villa Rica and Douglasville as well as its cemetery in Villa Rica, is a licensed embalmer, a certified training counselor and is working to become a certified funeral service practitioner. She also volunteers with the National Funeral Directors Association. – SW
Colin Meadows | 38
Chief Administrative Officer
Invesco
Atlanta
It's no exaggeration to say Colin Meadows has a global impact. As chief administrative officer for Invesco, he's responsible for human resources, IT, operations, corporate communications strategy, corporate development and the company's trust division.
That's a lot to manage under any circumstances, but over the last three or so years, the company has been transforming itself from a holding company structure to an operating company structure, streamlining processes and integrating support functions among its 5,000 employees in 20 countries.
Meadows is well qualified for the job, having spent six years as a business consultant with McKinsey & Co., and a year and a half at GE Capital. Though he holds a degree from Harvard School of Law, he says he always wanted to be involved in business. "I enjoy solving problems and having new and interesting experiences," he says. "What I think was so attractive to me about the CAO role that I have now at Invesco, is the challenges are so varied." – SW
Louis Negron | 36
Director of Minority Outreach programs
Georgia Gwinnett College
Lawrenceville
The son of Puerto Rican immigrants, Louis Negron taught himself to speak English as a child by reading books and watching public TV. He transferred to Morehouse College from his native Cali-fornia, majored in Spanish, has since added an MSA and is working on his EdD. His ultimate goal: to become a college president.
At the moment he's working to ensure the recruitment and retention of underrepresented populations at Georgia Gwinnett College. He also provides the students a bit of life coaching along the way. "I really believe in education," he says, "because education changed my life and got me to the point where I am today."
Negron is involved with the Georgia Association of Latino Elected Officials; he also helps immigrants who were professionals in other countries become certified to work here and finds financial sponsors to cover the educational costs for undocumented students who graduate from local high schools with exceptional grades but because of their status can't qualify for the HOPE Scholarship. – SW
Theodore L. "Ted" Parrish | 37
Principal and Director of Investments
The Henssler Financial Group
Acworth
One of the voices heard alongside Gene Henssler's on 920 AM, WGKA radio's Sunday morning show, Money Talks, is that of Ted Parrish, a nationally recognized expert on the stock market and the economy.
Interviews with Parrish also have appeared in national media, including The Wall Street Journal and CNN. But Parrish prefers to be known as the co-portfolio manager with Henssler of the Henssler Equity Fund (HEQFX) and as a man who gives back to his communities, his adopted north-metro community and the south Georgia town of Folkston, where he was raised.
In Folkston he is involved with the Bailey Brothers Foundation, a new organization to help develop programs and facilities that advance the mental and physical development of area youth. – KK
Frank Pendergast | 39
Entrepreneur
Milledgeville
Frank Pendergast has spent most of his life bringing people back downtown. In the past 16 years, he has purchased and rehabilitated 12 buildings in downtown Milledgeville, where he owns a coffee shop and three restaurants.
As a result of his efforts, more than 100 jobs have been created, and downtown Milledgeville has become a model for other downtowns looking to revitalize and bring new jobs to their counties.
But he recognizes that one business alone cannot bring success to an area. "No matter how good my business is, if there's a bunch of empty buildings and vacant lots around me, it doesn't make downtown a good destination," he says.
At the time Pendergast opened his first restaurant, The Brick, in 1993, downtown had a 60 percent vacancy rate. Today, it's close to 95 percent full.
But for this entrepreneur, it truly has been a community effort. "It's a lot of people's work," he says. "I'm just a part of it." – CS
Mike Pennington | 36
Executive Director
Georgia Economic Developers Association
Atlanta
Mike Pennington didn't set out to become an economic developer; he more or less fell into the job when his father suggested he call the Georgia Department of Economic Development (then the Department of Industry, Trade and Tourism) and inquire about entry-level jobs.
Four jobs (one of them a stint with the Greater Rome Chamber of Commerce) and 12 years later, he's running an organization that serves some 800 economic developers around the state.
One challenge, he says, is crafting a message that speaks to communities large and small, successful and struggling. "Now is the time more than ever when economic development is important," he says. "The only thing that's going to get us out of a situation like this is economic growth, and that's what we do. We work to create jobs, which in turn creates wealth."
Pennington is making use of 21st-century communication such as LinkedIn, Facebook and Twitter to get the word out about association events. In just a few months GEDA has garnered some 200 connections on LinkedIn and about 150 friends on Facebook. – SW
Franklin James Richards II | 38
President and CEO
Second Harvest of South Georgia
Valdosta
During Frank Richards' 17-year tenure – he took the reins when he was just 21, Second Harvest of South Georgia has become one of the top 20 food banks of the 200-plus similar organizations that make up the Feeding America network.
"We supply food and personal care items to over 300 other nonprofit organizations in a 5,000 square mile area in south Georgia," Richards says. Second Harvest also maintains 22 Kids Café facilities, providing meals for youngsters in eight counties; the program has netted the organization an award from Voices for Georgia's Children.
Richards chaired the national network's Disaster Response Committee, developing national response models; and he headed a team from Valdosta that distributed supplies in New York following 9/11.
Richards also volunteers with Boy Scouts of America, leading the troop his two sons are in. "I really enjoy building those leadership values within the next generation," he says. – SW
Sally Riker | 33
Partner, Director of Sales and Marketing
Lowe Engineers LLC
Atlanta
Perhaps it's not surprising that the daughter of a Lockheed-Martin engineer and a high school counselor who once planned on a career in broadcast journalism would wind up as partner with one of Atlanta's premier engineering firms overseeing sales and marketing.
Among Sally Riker's many projects is the firm's Get Striped campaign, which has seen all company vehicles painted with zebra stripes. The effort started in New Orleans, after Hurricane Katrina, when employees painted the company's boat with zebra stripes to differentiate it from the crowd. Riker is extending the effort to promote environmental awareness in the greater community, and plans to launch an effort to encourage folks to email her examples of environmental good deeds, for which they will receive a car magnet that says "I earned my stripes."
Riker will earn stripes of a different sort herself later this fall, when she gives birth to her first child. – SW
Camille J. Russo | 37
Regional Manager External Affairs/Coastal Georgia
AT&T
Savannah
Camille Russo says her position used to be unofficially referred to as the face of BellSouth, but listening to a rundown of a typical day – which might include everything from meeting with a local business to picking blueberries with a state representative – it's clear that representing the telecommunications giant to the community at large is still very much her role.
"It's really relationship management I do," she says, "both on the legislative side of things as well as on the more philanthropic side."
Russo, who cut her telecom teeth in Atlanta with MCI, also worked at the Federal Reserve Bank of Atlanta while finishing up her MBA at Georgia State University.
She's currently board president for the local chapter of Junior Achievement, an organization that aims to teach school-aged kids how business works and is in her second term on the board of the Rotary Club of Savannah. – SW
Tammy Segura | 39
Business Consultant
University of Georgia Small Business Development Center
Columbus
Tammy Segura ran her own business in California for eight years before joining the UGA Small Business Development Center as a business consultant. So she knows what she's talking about when she advises startups and established small business owners on strategic planning, marketing, networking, and almost any information necessary to start or run a company. And her expertise is free.
"We ask people the hard questions," Segura says, "to increase the chance of success." And to weed out the tire kickers. The SBDC wants people who are serious and realistic about business.
Segura is also helping to raise the next generation of entrepreneurs through Junior Achievement, mentoring and teaching business classes at the local University of Phoenix campus. – KK
Said L. Sewell, PhD | 38
Executive Director
Academic Success Center
Associate Professor
Fort Valley State University
Fort Valley
During his tenure at the University of West Georgia, Professor Said Sewell – who himself entered college at 15 – noticed a need for a support system that would boost graduation rates among the school's young black men.
"The trend at the time was that African-American males in Georgia and particularly at West Georgia had the lowest retention rate, the lowest graduation rate, the highest dropout rate, highest loss of Hope scholarship, and the highest number of disciplinary infractions of their peers," he says.
In response, he created the Center for African American Male: Research, Success and Leadership (CAAMRSL). "For over nine years we worked to mentor encourage, chastise and advise roughly 190 guys. Of that 190 we graduated some 125 in the last five classes, most of them on time in four years."
Now, as executive director of the Academic Success Center at Fort Valley State University, Sewell is putting the practices he developed at the CAAMRSL to work for the entire student body. He still runs the CAAMRSL, which received the Best Practices award from the University System of Georgia, as a separate, nonprofit organization. – SW
Doug Shipman | 36
Executive Director
Center for Civil and Human Rights
Atlanta
In 2012, when Atlanta's Center for Civil and Human Rights is set to open, its programming will address what happened in mid-20th-century America as well as contemporary human rights issues worldwide.
Executive Director Doug Shipman, who's been with the project since its inception four years ago, says his goals for the center are twofold: "Every visitor, no matter who they are, should understand how the American Civil Rights Movement has impacted them and the kind of legacy [it] continues to have not only on America but on the world," he says.
Further, Shipman wants visitors to understand that history is relevant to their life today and to inspire each one to want to undertake social change wherever they live.
When he's not learning about museum management from the ground up, Shipman donates his time to Easter Seals of North Georgia, which he serves as board chairman. – SW
DeAllous Smith | 32
Media Relations Officer
Hartsfield-Jackson Atlanta International Airport
Atlanta
DeAllous Smith's first day on the job at the world's busiest airport involved putting together, on hardly any notice, a press conference and security for Preston King, who was arriving after 39 years of living in exile following a draft evasion conviction in the 1960s and a presidential pardon in 2000.
"That set the tone for everything else I've experienced at the airport," Smith says. He must have handled it well. He became, at 22, the youngest spokesperson for the airport and is now the longest-serving one in recent history. During weather-related emergencies, such as the snowstorm this past March, his position often requires him to work around the clock, getting news of flight delays or cancellations to the public through interviews with news outlets and press releases on airport conditions.
In his time off, he enjoys working with young people and is active in the 21st Century Leaders Program, which nurtures and develops the leadership potential in high school students. He works with Junior Achievement and Habitat for Humanity and currently serves on the PR committee for the 50th anniversary of Saints Peter and Paul Catholic Church. – KK
Chata M. Spikes | 30
Southeast Regional Producer/Coordinator
Network News Services
Adjunct Mass Communications Instructor
Fort Valley State University
Fairburn
If you watch Atlanta's TV news, or if you see a news story pertaining to the Southeast on Fox, ABC or CBS television national news, chances are Chata Spikes had a hand in shaping the coverage. As a regional producer for Network News Services, a cooperative that provides story packages to the three networks, she crafts the video packages viewers see.
She's also playing a major role in teaching the next generation of journalists at her alma mater, Fort Valley State University. This fall, students will produce a new TV show called Living It Up, for which they secure guests and an audience. She also has students blogging at Wildcat Expressions with a catch – they have to offer solutions and engage in reporting, not just post opinions.
"I enjoy teaching; I think that's what I'm supposed to be doing. I teach what I know. I teach what I do, and I enjoy pouring that into the students," she says. – SW
Joseph G. Surber, D.O. | 36
Chief Medical Officer
Southeast Regional Research Group
Columbus
While practicing in Columbus, Joe Surber was frustrated by the lack of time and support for physicians to do research. He and colleague Jeff Kingsley decided to do something about it and the result – Southeast Regional Research Group, or SERRG, a four-location clinic and multidisciplinary research facility (Col-umbus, Savannah, Rincon and Hinesville), is changing the way some physicians do business.
"We found that the system was broken," Surber says, so he and Kingsley created a company that will "allow regular, practicing doctors to do research and to practice medicine." The trick, he explains, is to provide the infrastructure – coordinators, nurses, regulatory document specialists and marketing and HR so doctors can concentrate on research.
As a side benefit, the SERRG facilities provide healthcare to people in clinical trials, and occasionally to those in the surrounding areas who need immediate care.
Surber, a pilot, devotes his spare time to Angel Flight and Young Eagles; he also plays fund-raisers with his band of fellow doctors, DNR. – SW
Michael Wall | 29
Senior Director of State Government Affairs
Comcast
Marietta
Michael Wall wanted out of his law firm in downtown Atlanta. But he didn't go too far.
He joined Comcast three years ago for a job that blends his interest in both law and policy into a position that puts him in the Gold Dome each legislative session. And if that's not enough, he recently took on the similar task of representing the company's interests before Alabama lawmakers.
In other words, he's a road warrior, all too familiar with the I-75 corridor between his Marietta home and the state capitol and I-85 from Atlanta to Montgomery.
"What's fun about what I do is that it affords me the opportunity to combine my love and passion – law and policy," Wall says. "The session flies by. It's like a sprint."
When he's not rubbing shoulders with legislators, Wall works at selecting sites for Comcast Cares Day, a 39-state initiative that has grown to become one of the country's largest single-day corporate volunteer efforts. – MH
Anne-Marie Wolff | 29
Planning and Zoning Administrator
Valdosta
No doubt about it, Valdosta is growing and City Planner Anne-Marie Wolff knows that good growth doesn't come without pains – specifically when the desires of longtime residents clash with those of new citizens. "As a planner," Wolff says, "it's my job to guide that discussion so we can come up with some compromise and work toward a common goal, which is not always easy."
Wolff, who's been with the city planner's office since its inception (formerly it was a joint city-county endeavor), cut her professional teeth at the South Georgia Regional De-velopment Center.
The Florida native also is working with Valdosta's chamber of commerce to help her adopted city engage and retain its young professionals via the Metro One Network, a networking group for 21- to 40-year-olds that's celebrating its third year.
She's recently become involved with a local literacy program, where she's helping a 53-year-old woman secure her GED in hopes of becoming an architect. "Probably the most rewarding thing I do right now is volunteer with her," Wolff says. – SW