2009 Heathcare Heroes
Meet four individuals who share a commitment to a healthier Georgia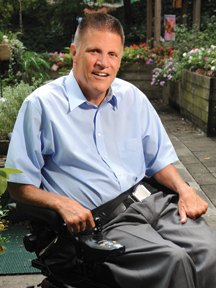 This year's heroes include an Atlanta advocate for people with disabilities, a Columbus hospital professional who helps fledgling doctors soar into their practices, and physicians in Albany and Brunswick dedicated to spreading the growing wealth of modern medical services to those who cannot always afford them. What they have in common is a decades-long devotion to unwavering high ideals in their service to the wide variety of constituencies depending on them.
Dr. Phillip Roberts
Medical Director
Phoebe Cancer Center
Phoebe Putney Memorial Hospital
Albany
Dr. Phillip Roberts has the kind and comforting bedside manner that inspires hope in patients, a demeanor essential to his treatment of cancer patients at Albany's Phoebe Cancer Center at Phoebe Putney Memorial Hospital.
In fact, when Roberts arrived in south Georgia 30 years ago, hope was about all a physician could offer those stricken by cancer. There were precious few medical resources and no facilities, and those who had the money found treatment far from home.
The region was beset by poverty, and the poorest cancer patients seemed to be out of options the minute they were diagnosed. "When I first came to Albany there were patients who could not have survived cancer because they did not have transportation or social skills or the economic wherewithal to go to Atlanta or to Houston or to wherever for treatment," says Roberts, now medical director of the hospital's cancer center.
So Roberts, then a hematologist, did what he saw he had to do: He "morphed" into an oncologist, at the time the only physician in the region specializing in the care and treatment of cancer patients. "I just happened along at a time of great needs and was able to meet those needs," Roberts says, with typical modesty.
Roberts poured all his energies into securing the technology and medicine needed to treat cancer in all its various forms, and in 1990 he found a valuable partner when he left private practice to join the staff at Phoebe Putney Memorial Hospital. That partnership is saving and extending lives by combining the hospital's resources with Roberts' passion.
"A lot of people are being cured from cancer now using molecular therapy," Roberts says. "That's a big, big breakthrough and that's where the future of cancer treatment is going to be. We're using designer drugs for specific diseases. We have those things and we have everything else that is available to any other practice in the country, and we have all that right here."
And it's all available to anyone who walks through the door. "We don't even know who has insurance and who doesn't," he says. "If you are a multimillionaire you get no better treatment than a poor farmhand. The hospital is very good about accessing resources so we can do this."
Roberts now comes to work each day at the hospital's Dr. Phillip Roberts Hematology/Oncology Center, a designation made this year to honor his devotion to providing the latest in cancer treatment for an entire region.
What's it like to walk into a facility that carries his name across the wall of the lobby? "I don't know," he says, "I usually come through the back door."
M.A. Dowdell
Residency Coordinator
Family Practice Residency Program
Columbus Regional Medical Center
Columbus
When M.A. Dowdell was a child, she suffered an injury to her finger so serious it was feared the finger would have to be amputated. The gravity of the injury was complicated by her family's circumstances.
"We were poor, impoverished, and we could not afford healthcare," recalls Dowdell, now residency coordinator for the Family Practice Residency Program at Columbus Re-gional Medical Center, a job she has held for 34 years. "I went to an indigent care clinic."
At the clinic, she was examined by an intern who was able to save the finger. She still carries the memory of that event, one that made her determined to find a career in healthcare. "I still have the scar and I look at my hand today and I think that because of that intern I have five fingers on my hand instead of four," she says.
Dowdell – the M.A. is for Mary Alice – is providing a few memories of her own for the dozen or so physician residents she helps shepherd through their residency at the Columbus hospital. Her job description covers a wide range of duties, from the mundane to the profound.
"I help with credentialing," she says, "I do their medical school loan deferral paperwork. I maintain all their confidential records. I find a place for them to live and turn on the utilities. I balance their checkbooks, open accounts for them, do alterations. I've made bridesmaid's dresses, wedding gowns. I go from the crib to the grave with them."
Sometimes she becomes a mother confessor for young physicians-to-be who become disheartened or doubt their ability to continue the rigorous residency program. When one resident walked in her office and dumped her badge and keys on the desk and said, "I can't do this anymore," Dowdell counseled the physician and convinced her to take a week off and think about her decision.
"I still see her today," Dowdell says. "She has a productive practice right here in the city and she thanks me every time she sees me, and so does her husband."
"M.A. Dowdell and I are a team," says Dr. John Bucholtz, clinical assistant professor of the Family Practice Residency Program at Columbus Regional. "I concentrate on the medical training and she focuses a lot on their personal lives and development. Between those two approaches, we think we have most of their lives covered. What she contributes to the lives of these residents exceeds what's in her job description. These residents become family members to her and leave [the program as] lifelong friends. This is one of the strengths of our program because at a lot of hospitals, residents are treated impersonally."
And with the initials M.A., do some residents refer to her as "Ma" Dowdell? "They do," she says. "But I don't mind because I know it's done with affection."
Dr. Neal Boswell
Rheumatologist
Brunswick
After Dr. Neal Boswell retired from a 25-year career in the Air Force as a teaching rheumatologist, he returned to private practice in his hometown of Brunswick. He brought with him a long list of accomplishments.
Included in his resume was an HIV program he founded that is now managed by the World Health Organization, along with successful research projects. His Air Force medical career was so exemplary that he was presented the Legion of Merit, the highest peacetime award a military officer can receive.
So, with retirement in hand, it seemed Boswell was ready for a limited private practice with lots of long weekends and plenty of time for leisure activities. He got the private practice, but devotes the rest of his time to long hours at the Coastal Medical Access Project (CMAP), a free clinic where he serves as "de facto medical director."
While many free clinics offer mainly primary care services, Boswell has led the effort to get his CMAP patients in to see specialists. "The thing that is so unusual about this free clinic is that the local physicians who are specialists and sub-specialists have been willing to see our patients in their offices [without charge]," Boswell says. "And the local hospital (Southeast Georgia Health System) provides the inpatient [services] free."
Foremost in Boswell's mission at the clinic is to get working people back to work, and that includes a large number of "watermen," those who troll Georgia's coastal waters to make their living. "I can take a shrimper who has a bad hip and needs to have a replacement and I can put him in the hospital for surgery and a [participating] orthopedic surgeon will do the surgery. We have a volunteer from a rehab office to help with the rehab." With the hospital providing the medicine, the shrimper's cost is nil.
"I'll bet you there's not a waterman in our three-county catchment area who can afford health insurance," Boswell says. CMAP is available to residents of the three counties whose income is less than 2.5 times the national poverty level.
In addition to making diagnoses and writing prescriptions, Boswell sometimes gives his clinic patients a little tough love – always for their own good. He's particularly dedicated to helping his patients stop smoking.
"I'm 66 years old and I tell them, 'What the hell would I be doing down here at the clinic, tired and in the middle of the night, taking care of you so you can smoke yourself to death?' To help a patient in a free clinic requires that they be willing to help themselves. I think I've had more success helping patients stop smoking in the free clinic that I ever have had in my own practice."
Boswell's voice grows soft when he describes the more than 100 physicians in region who donate their time and talents to the clinic's mission. "They are the real heroes," he says. "And so are the nurses and support staff at the clinic. Many of them work for less than they could earn in other places."
Mark Johnson
Advocacy Director
Shepherd Center
Atlanta
Mark Johnson can cause a little trouble when he thinks he needs to, and he often thinks he needs to. Johnson is director of advocacy at Atlanta's Shepherd Center, a private, nonprofit clinic that helps people with catastrophic injuries "reclaim their lives with dignity, independence and hope," according to the center's mission statement.
Johnson is charged with helping the center reach that goal, and he has the platform from which to do it – a wheelchair. After suffering a severe spinal cord injury in 1971, Johnson, now 58, learned he would spend his life using a wheelchair and he found himself on a constant obstacle course.
"Most people still see people with disabilities as living a wholly negative life," Johnson says. That perception was born in denied access to buildings and public transportation, among other things, he says.
Johnson's duties at the Shepherd Center include identifying and re-searching disability issues, educating staff and community on those issues, and serving as liaison with national groups dedicated to improving the lives of people with disabilities. He also counsels people with disabilities on how to access programs and services that will assist them.
Johnson has a long history of activism on behalf of people with disabilities, beginning in the 1980s when he joined a movement to improve public transportation access. "I remember those early days of literally chasing the American Public Transit Association, the trade group for transit, and disrupting their conventions," he says. "And from that to blocking a bus that was inaccessible and saying, 'If I can't get on, nobody gets on.'"
In 1986, Johnson led an awareness campaign that resulted in Atlanta's MARTA system adding wheelchair accessibility to its new buses. He's currently at work to get more consideration for the disabled in healthcare reform, and is active in Concrete Change, a movement begun in Atlanta to change residential housing by making it more "visitable" for people with disabilities.
"Concrete Change has a goal, if topography allows, that we include one no-step entrance to a house and a ground-floor bathroom with wide doors," Johnson says. "Some very basic features that would allow you to age in place, allow you to have anybody over to your house and … allow you to sell to anybody."
At the core of Johnson's activism is the passion to have the disabled carry on a normal life with a job and a home, and to take institutionalization out of the choices they face. "Most of the people with disabilities aren't employed," he says. "And what does that translate into? It translates into poverty and all the issues that go with that."
For his long dedication to improving the lives of people with disabilities, Johnson has been inducted into the National Spinal Cord Injury Associa-tion Hall of Fame. He currently serves on the boards of the Disability Law and Policy Center and the Healthcare Georgia Foundation.