Searching For The New Normal
Economic developers from Northwest Georgia talk about the effects of the recession and what they are doing to fight back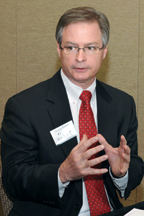 Northwest Georgia, hit especially hard by the recession, has a strong manufacturing tradition, thanks largely to the carpet industry. It has felt the pain of a diminished housing market as well as the effects of an economy that lacks diversification. Long before the state as a whole, northwest Georgia recorded double-digit unemployment.
To learn how this area is affected and how its communities are working to reinvigorate its economy, Georgia Trend's staff invited economic development and chamber of commerce officials to join us in Cartersville at the Tellus Northwest Georgia Science Museum for a roundtable discussion. Melinda Lemmon, director of the Department of Economic Development for Cartersville-Bartow County, and the museum staff coordinated and hosted the meeting.
Participants were Brian Anderson, president and CEO of the Dalton-Whitfield Chamber of Commerce; Al Hodge, president and CEO of the Greater Rome Chamber; Heather Seckman, director of economic development for the Greater Rome Chamber; Jimmy Phillips, president of the Gordon County Chamber; Brooks Mathis, regional project manager with the Georgia Department of Economic Development; Kay Read, president and CEO of the Cartersville-Bartow Chamber; and Melinda Lemmon.
Georgia Trend's Neely Young, Susan Percy and Ben Young questioned the panel. Following are edited excerpts from the discussion.
GT: Tell us what's going on in your area.
Seckman: In Rome, in Floyd County, we have four colleges and three medical centers. We have auto suppliers. We have food processing. The diversification in our community has helped us not get as hard-hit as we could have.
Hodge: At the same time we do have uncomfortably high unemployment, both percentage and in real numbers.
GT: What are the industries that help your economic diversification?
Hodge: A great example is Profile Extrusion Company. Their primary product has been aluminum frames for doors and windows. They invested $8 million in equipment to modernize and provide more flexibility. Their competitors are closing. They're picking up their business. Pirelli, the premier tire maker – they're getting ready to now go back to full production. But I don't want to sugarcoat. We still have some difficult times.
Phillips: Our number one employer is [the carpet company] Mohawk Industries. We've got some international diversification. Mahindra Tractor, they have an assembly plant in Calhoun. It's an Indian-based company and they are surviving. Their sales are down like most everybody else, [so] they've had to go to a 32-hour workweek. Mohawk and Shaw, our top two employers, have closed yarn-spinning plants in Calhoun.
GT: So the news isn't good?
Phillips: But when you call in and say, well, what are you going to do with your building they say, oh, we are going to hang onto it. To me, that's a good message. I see them retooling, doing the reinvesting and holding onto that property. They see that things are going to turn around and they'll be ready with more modern equipment and better technology.
Anderson: Industries are telling us for the first time that they're not going to come back with the same number of people or plants. We're not as diversified as many communities around us are. In the past we simply had to manage our water capacity and our labor capacity to meet [the carpet] industry that was already there. It's a new time for us. We've had our industries be very responsible, very creative in making sure they keep as much of their workforce as they could.
Read: I think that the strength of management is really showing up now. When we get through this, it's your strong businesses, those that are really making right decisions, [that] are going to be emerging very, very strong and surpass the others.
Lemmon: The drought kind of started the mindset of our manufacturers to work smarter with fewer resources. We've been fortunate that we have not lost too many manufacturing jobs. Much of our unemployment seems to be coming from service, from commercial. Restaurants are closing like crazy. In terms of manufacturing, what's been hit are those manufacturers that produce residential type products.
Mathis: We've had a lot of success with our existing industries. We don't have as much traffic as we're used to with new projects.
Read: What's hurting so many of our small and medium-size businesses is the lack of access to capital. It's just been amazing to see how the banks have pulled back. The chamber had a meeting with representatives from all of our local banks, and each one of them had a different story and said the word that needs to get out to people is that if we turn you down for a loan, don't give up. Keep knocking on doors.
GT: Any particular industries you are targeting to diversify your communities' economies?
Lemmon: We really appreciate the tourism industry. We've got one new hotel that just opened up and another one that's about to. This is a new facility – the Tellus Northwest Georgia Science Museum. The Booth Western Art Museum is expanding. Barnsley Gardens has expanded recently and renovations are still going on. So the tourism industry here is still alive and well – throughout all our region.
GT: You have a lot in common.
Lemmon: We share workforce, we share transportation issues, we share tourism, we share important strategic industries, such as automotive, floor coverings. And we have some of our own. The list includes Bartow County aerospace, agribusiness, automotive, biosciences, corporate headquarters, data centers, energy and environment, global trade, high-end retail, logistics and transportation, traditional manufacturing, of course, R&D and tourism and film.
We market our community for these segments. We talk about it in regional terms. We talk about workforce within a 30-mile radius, which people typically drive. Rome does the same thing, Dalton does the same thing. City and county lines just don't matter to workers.
GT: Does automotive hold potential for northwest Georgia?
Mathis: That's probably a strong point that we can sell for this region, being between Atlanta, Birmingham and Chattanooga, especially with Volkswagen [being] a potential opportunity for every community within our region.
GT: Could that work for a community like Dalton that doesn't really have an auto presence yet?
Anderson: Absolutely. Being so close to Chattanooga … we are certainly on the radar just by geography.
GT: Do you have the workforce?
Anderson: We had full employment up until very recently. One of the things that hurts us, our graduation rates haven't been what they need to be. So when you're looking at Dalton right now with 4,800 [or] 5,800 unemployed people, most of them are not going to have a high school diploma. We're certainly selling that manufacturing culture, and that ability to adapt across different skills within manufacturing.
GT: You believe manufacturing is the future for this region?
Anderson: Not just this region, but this country. You can't be a service economy. We are really selling hard. We can't become diversified tomorrow. When you look at the density of floor covering to Dalton, it's stronger than energy is to Houston. If we could bring $500 million of capital investment and 4,000 jobs over the next 10 years, we're still going to be 90 percent floor covering.
Hodge: Good point, though, related to manufacturing and reinforcing that it ties into the target sector. If you take a look all of this [area] designated as "Auto Alley," there is a reason for that. [It's] not a slogan. There is substance behind it, which the technical colleges have tied into most directly, which also, of course, is transferable to other manufacturing. Robotics is robotics.
Read: Brian's mention of education reminded me of an article I read [with] a quote by Richard Anderson, CEO of Delta. In announcing that Delta was bringing administrative jobs from Minneapolis to Atlanta, he commented on the need for Georgia to raise the quality of its education offering and hoped that Georgians would focus on raising the number of high school graduates as well as the quality of the graduates.
Hodge: Georgia is ranked 15th in the nation for advance placement courses. That's at the top. What are we doing at the bottom? Well, we are raising the floor. I'm encouraged, very encouraged that the achievement gap is closing at the same time that the overall scores are increasing. You can really see the difference in those school districts and in the classrooms where they've embraced the new curriculum and the standards.
GT: Let's talk about the immigrant workforce in your area. Are these workers leaving, and, if so, how is that affecting your situations?
Phillips: Even though our unemployment number is high, the fact that a lot of the international workforce may have left [meant] the community didn't hurt as bad.
GT: Are there any some hopeful signs that you may be seeing? Any green shoots?
Phillips: LG Kim, a South Korean company, invested $40 million five years ago, created 75 new jobs and … had plans for expansion. Last summer [2008], they were working seven days a week. I asked how do you stay busy with the residential market being what it is and you make countertops? They were shipping 30 percent of their product to Eastern Europe.
Seckman: We have a kind of a similar story. One of our companies did have to have some layoffs, but if it had not been for the fact that they were trading so much in Europe, then they would have had significantly more.
Phillips: We had a 300,000-square-foot manufacturing facility that had a 100,000-square-foot warehouse on a 70-acre site that used to be the Outboard Marine Corporation. After 18 years that shut down. Four or five years later a company from Spain makes a big investment, buys that property, creates 200-something jobs, and they make laminate wood flooring. They had to have some layoffs. However, they're saying now that, even as bad as it was last year with the economy, they're going to do an expansion. I think it's probably been moved out a couple of years now. But they're still planning to possibly bring the total production from Spain to Gordon County.
Read: In Cartersville, Bartow County, something we did [came] in response to a call from a church asking if the chamber had thought about anything we could do to help the people who are unemployed. That was a conversation that I'd been having with a couple of different people. So as a result of that we brought together a number of agencies, even people who'd never been involved in the chamber before, and put together what we called Bartow Together Reemployment Resources Expo.
Lemmon: Not a job fair but a reemployment expo.
Read: We brought together every conceivable resource that we could think of that could help somebody who was unemployed. We had workshops throughout the day on resume writing, networking. We had representatives of all the social agencies in Bartow County who could help someone who had never needed food stamps or donated items.
GT: In a recent speech, Sen. Johnny Isakson said in five years we will see the new normal relating to the economy. What do you think the new normal will look like in your community – in three to five years?
Hodge: Some of the new normal is what Jimmy started with his discussion about international trade. The new normal is Suzuki investing in northwest Georgia and exporting to Latin America, South America, Europe, Russia and so forth. New normal is also OTR Wheel Engineering Company headquartered in Rome with manufacturing plants in South America, South Africa, three plants in China.
Seckman: Hopefully, another new normal will be a much improved work ethic, where people are happy that they have a job and are going to work hard.
Mathis: That's been a constant comment from the plant managers – what a change in the attitude of employees.
Hodge: Some of the companies have cut back, at the same time keeping their employment intact as best they can. A lot of these employers are taking extraordinary steps to manage well.
Anderson: We met with a European client a few months ago. He said the big thing that is a concern to them is that in the U.S., the job description is the maximum, but in Europe it's the minimum. Americans have to realize you can't just do enough to get by. We could beat up on the education system all we want as businesspeople but unless it's a business case for change, it wasn't going to happen.
GT: How do you make that case?
Anderson: When you look at what BMW brought to South Carolina, they didn't come in and say to change education. They came in and said these are the skills we need for us to do what we've got to do. South Carolina said we'll embrace math and science and put more resources.
Read: I think that everyone's going to come out of this smarter and wiser, because it's forcing everyone to rethink everything that they're doing, and to question it.
Anderson: When I got to Dalton nine years ago, the comment was we've got to keep carpet from becoming off-shore. That's all anybody worried about. Well, that's not really going to happen, we don't think, unless some political things happen. If we have changes in the labor laws, if we have cap and trade come in at the way that it's currently discussed, we'll have some real issues of trying to be a manufacturing center in our state, in our community. Those things are cost-prohibitive to what we do … when you're competing with China and India and Pakistan and South Korea.
Seckman: That's why it's so important that we talk to our legislators and our representatives.
Hodge: Cap and trade really threatens the viability of a lot of manufacturing. We need to embrace green energy and let's provide incentives for it. Let's don't provide disincentives for companies that are dependent upon their traditional energy sources.
Phillips: In 2005 Gordon County had 2 million square feet of dark space or vacant industrial space. I can't say that today. As tough as it may have been the last couple of years, I also had a private developer build three new buildings and every one of them are full.
Mathis: They didn't sit long at all. Not even six months.
Lemmon: I think there is another new normal for those in our profession. In economic development there is an increased level of sophistication associated with those who are selecting sites. But we're stepping up to the challenge.